The global battery market size was estimated at USD 107.48 billion in 2022 and it is expected to hit around USD 475.37 billion by 2032, poised to grow at a CAGR of 16.03% over the forecast period 2023 to 2032.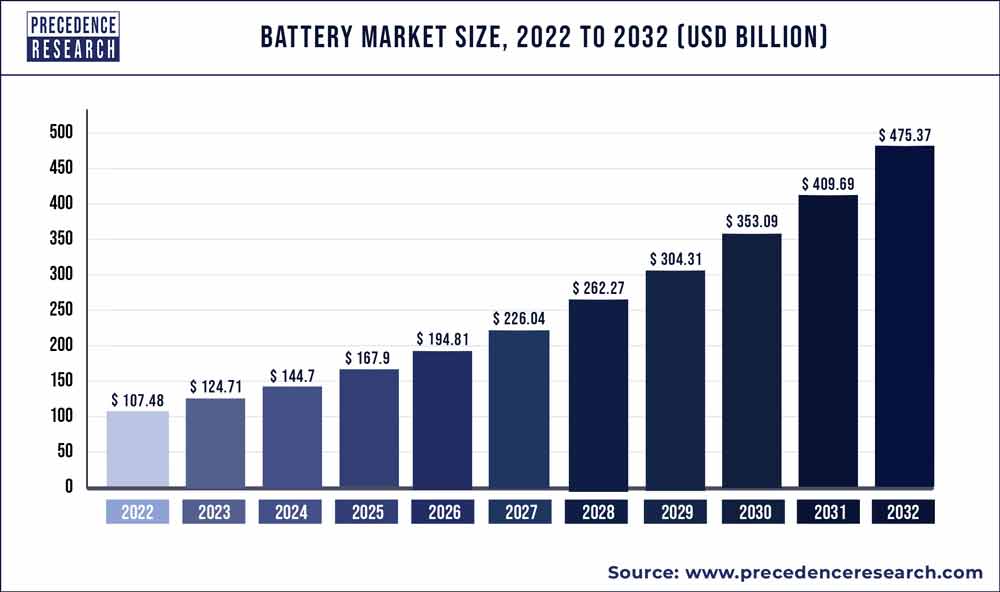 Access our Premium Real Time Data Intelligence Tool, Visit: Precedence Statistics
Key Takeaways:
Asia Pacific region generated more than 56% of the revenue share in 2022.
By Type, the lithium-ion battery segment has dominated the global market with revenue share of 40.8% in 2022.
By End-Use, the automotive sector contributed for the largest market share of around 32.4% in 2022.
By Application, the industrial batteries segment has held revenue share of 35.9% in 2022.
By Application, the automotive batteries segment has held revenue share of 34.7% in 2022.
The battery market is an area of activity that involves the manufacture, distribution, and provision of batteries which are energy storage devices. Batteries are an essential part of a wide range of applications, ranging from consumer electronics and automotive vehicles to renewable energy storage and industrial sectors. The growth of the battery market is expected to be driven by the growing usage of UPS equipment in industries such as health care, oil & gas, and chemicals for uninterrupted power supply. Owing to its reliability and low cost, the lead acid battery is used for heavy-duty applications. In view of their small energy density and lightweight, however, lithium-ion batteries are anticipated to represent a substantial part of the market for lead-acid batteries over the forecast period. With favorable government policy and growing consumer electronics sales, and electric vehicles the US market is expected to grow strongly during the forecast period.
Market growth is projected over the forecast period, supported by the rising number of battery makers in the United States. The growth rate of the market is expected to increase over the forecast period, owing to increased demand for EVs in Mexico and U.S. as a result of increasing government efforts aimed at reducing their carbon footprint by introducing Eco habitat products. In view of the rise in non-residential construction projects, such as colleges, schools, and hospitals this sector in the US is set to experience significant growth over the next few years. In the region, it is projected that an increased number of hospitals and health units will be built as a result of the implementation of the Affordable Health Act in the United States. In return, demand for UPS in the construction industry will be driven by a rising population of new office buildings, colleges, schools, and industrial plants, because of favorable demographics such as an aging population.
Report Scope of the Battery Market:
| | |
| --- | --- |
| Report Coverage | Details |
| Market Size in 2023 | USD 124.71 Billion |
| Market Size by 2032 | USD 475.37 Billion |
| Growth Rate from 2023 to 2032 | CAGR of 16.03% |
| Largest Market | Asia Pacific |
| Base Year | 2022 |
| Forecast Period | 2023 to 2032 |
| Segments Covered | By Type, By End-Use, and By Application |
| Regions Covered | North America, Europe, Asia-Pacific, Latin America, and Middle East & Africa |

Key Market Drivers:
Rising demand for electric vehicles
The rapid growth of the EV market represents an important driver for expanding the global battery market. EVs are vehicles which run on electric engines, meaning they use batteries to store and supply energy for propulsion. Environmental concerns, advances in battery technology and encouraging public policies were the main drivers for this shift towards mobility by electrical means. A key driver of market growth in the field of electric vehicles is increasing awareness and concern about the environmental impacts of traditional Internal Combustion Engines.
In view of the fact that EVs do not emit tailpipe emissions during operation, they offer a cleaner and more sustainable alternative. Efforts to reduce greenhouse gas emissions, combat climate change and improve air quality in towns are also supported by this attribute. Governments and regulators that have introduced a range of incentives, subsidies or rules to promote their adoption recognized the potential for electric vehicles to meet these objectives. These measures were of key importance in raising consumer confidence and enthusiasm for electric vehicles, thereby stimulating the market's growth.
Commitments by governments and vehicle manufacturers to electrification play a key role in the expansion of the EV market. In many countries, high targets and deadlines have been set to phase out the sale of new ICVs. In order to meet these mandates, automotive companies have been increasing their investments in research, development, and production of electric vehicles. That has led to a wider variety of electric cars with improved features, acceleration range, and affordability. In addition to supporting policies with a variety of EV options, which have contributed to increased market growth, consumers' trust and acceptance has been reinforced.
Thus, the growth of the battery market has become largely driven by the EV market. Increased demand for clean transport, advances in battery technology, reduced charges and supportive policies from the government have allowed the adoption of electric vehicles to accelerate. As electric vehicle sales continue to grow, the demand for battery cells is set to rise and new innovations and investments in energy storage technology such as recharging points and batteries will also be stimulated.
Renewable energy storage
As a major driver of market growth in the field of energy storage, renewables have proven to be an important factor. In view of increasing the uptake of renewables like solar photovoltaic and wind, it is becoming increasingly relevant to find efficient energy storage solutions. Renewable power generation is unpredictable, which means that energy storage is necessary to balance demand and supply while maintaining grid stability and maximizing the use of renewable energies in light of weather conditions and on a daily basis.
Market development is expected to be supported by the inclusion of intermittent renewable energy sources on the power grid. The variability in the generation of renewable energy from solar and wind is influenced by factors such as weather conditions and daylight availability. Storage energy storage devices like batteries are applied to capture and store excess electricity generated during periods of large power generation, which can be released if there is insufficient demand or production. This means that the ability will make it possible to supply electricity more reliably and homogeneously, without relying on traditional power plants or fossil fuels for energy generation, thus encouraging a shift towards cleaner sources of energy.
Besides the integration into the network, there are a number of other benefits to renewable energy storage. The congestion and transmission bottlenecks created by the lack of electricity in the network, as well as the strain on transport infrastructure, are reduced through the storage of surplus energy at the regional level. Energy storage systems that enable the control of frequencies and voltage supports also improve grid stability and reliability. Moreover, renewable energy storage systems allow electricity to be delivered in remote areas or on the grid, improving access to electricity at a time when there is less or no renewable energy generation; reducing reliance on costly diesel fuel imports; and reducing dependence on fossil fuels. Technological progress as well as cost reductions have also contributed to the growth of renewable energy storage.
Therefore, renewable energy storage has been a key driver of growth in the energy storage market. This will enable renewable sources of energy to be part of the electricity supply grid, increase its reliability and provide a wide range of economic and environmental benefits. Thanks to the support of public policies, technological progress and a decrease in cost, there is a growing trend toward the adoption of renewable energy storage solutions which offers new opportunities for market growth.
Key Market Challenges:
Limited density
The growth of the battery industry is being significantly hindered by a shortage in energy density. The energy density of a battery, for each unit of volume or weight, shall be the amount of energy that it is capable of storing. Increased energy density will make it possible to drive a longer distance for electrical vehicles and have more fuel storage capacity in renewables systems. But there are limits on the energy density of today's battery technologies, especially lithium-ion This could result in reduced driving ranges for electric vehicles, which may contribute to the "range anxiety" of potential buyers.
Moreover, the viability of a battery is also affected by low energy density in some applications like longer duration and power storage on grid level. Efforts are being made by researchers and manufacturers to develop innovative battery chemistries and technologies with a view to overcoming this restriction. This approach aims to enhance the energy density of batteries, increase their performance and eventually make them more comparable with traditional power sources. In order to overcome limitations of energy density and encourage market growth for the battery industry, continuous research and development in addition to advances in material composition and manufacturing processes are essential.
Key Market Opportunities:
Portable electronics and wearable devices
The battery market has a substantial opportunity for growth thanks to mobile electronics and wearable devices. Increased demand for small, lightweight, and high-performance batteries is being driven by the proliferation of mobile phones, tablets, laptop computers as well as wearables. For the sake of mobile and connected lifestyles, consumers are expected to have longer battery life and faster charging capabilities. This gives battery manufacturers the opportunity to develop advanced batteries with better energy density, longer cycle life and enhanced safety features. Furthermore, the need for compact and efficient energy sources is being further reinforced by the growing popularity of wireless devices such as smartwatches, fitness trackers or augmented reality glasses. The market for battery packs that are specifically designed to these devices is expanding, as the evolution of wearable technology continues and becomes more popular. The potential for a considerable share of this growing market to be captured by manufacturers able to meet the special power requirements faced by mobile electronics and wearables could have an impact on future innovation and growth in the battery industry.
Segments Insight:
Type Insights:
The market segmentation, based on type, includes flow batteries, lead-acid batteries, small sealed lead-acid battery, nickel-metal hybrid battery, zinc-manganese dioxide battery, sodium-sulfur battery, nickel-ion battery, lithium-ion battery, and others. The largest share of the battery revenue in 2022 was held by the lead-acid battery segment. lightweight solutions, and high energy density are the reasons for the rising demand for grid storage and EVs. Therefore, demand for batteries is expected to rise across industry sectors such as manufacturing, railways and solar power over the coming years due to increasing storage and backup requirements.
End-Use Insights:
In 2022, the automotive industry accounted for the majority share of the battery market. The anticipated rise in the demand for lithium-ion batteries in the end-use segment for passenger cars is expected to be supported by rising awareness about the benefits offered by electric vehicles operating in regions like Asia Pacific, Europe and North America.
The next largest segment was electronics, owing to its widespread use in portable consumer electronic devices such as laptops, mobile phones, laptops, desktops, flashlights or torches, tablets, vacuum cleaners, LED lights, wristwatches, digital cameras, hearing aids, and calculators.
Application Insights:
In 2022, Due to the increasing demand for reliable power supply and energy storage systems in different sectors, e.g. electricity generation, chemical production, shipbuilding, fishing or farm machinery & equipment, industrial batteries held a large market share of this application segment. Market growth is anticipated to be supported by the use of smaller-sized lithium-ion batteries for portable devices and consumer electronics over the forecast period.
In terms of revenue, automotive batteries represented the next largest application segment in the 2022 global battery market share. Growth in the market is expected to be enhanced over the forecast period by growing production of passenger cars in emerging countries such as China, India, Brazil, and Russia.
Regional Insights:
The Asia Pacific region has been the world's major market in 2022 and account for a high share of global battery sales. In view of many factors such as urbanization, industrialization, and increasing household income in emerging countries which are supported by desired regulations to attract investments from the region, residential, commercial or grid storage is estimated to grow strongly.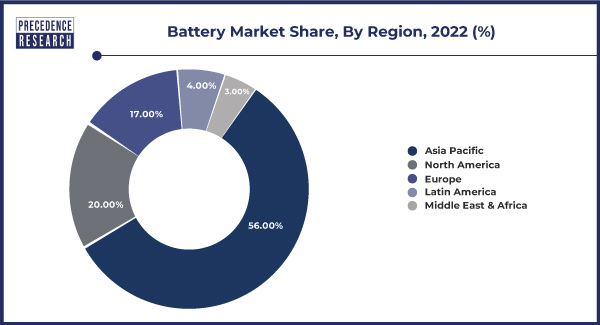 During the forecast period, North America has emerged as the next largest regional market for batteries. In response to the demand for non-residential infrastructures, Northern America's Building Industry is expected to see significant growth in the forecast years. It is likely that the expansion of the battery market will be supported by growing investments in eco-innovations such as cranes, electric bicycles and forklifts.
The market is expected to grow due to the growing demand for electric bicycles in Germany, the UK, and the Netherlands alongside solar energy systems. The Europe battery market is expected to be positively affected during the forecast period due to a continuously rising demand for lead acid batteries in Spain, Germany, France, Italy and the United Kingdom.
Key Industry Developments:
December 2022- Panasonic has entered into a contract with the Lucid Group, to provide electric vehicle batteries.
November 2022 - Panasonic has begun construction on a new lithium-ion battery production plant in De Soto, Kansas. The project is expected to have a major impact on the local Kansas economy and provide an opportunity for its development, making it one of the most important players in the national EV industry.
Key Market Players:
Delphi Automotive
Saft Groupe
Fengfang Co. Ltd
Penn Manufacturing Company Inc
Chaowei Power Holding Ltd.
The Furukawa Battery Co. Ltd.
Exide Technologies
Johnson Controls Inc
LG Chem
Panasonic Corporation
Segments Covered in the Report:
(Note*: We offer reports based on sub segments as well. Kindly, let us know if you are interested)
By Type
Flow Battery
Lead-acid Battery
Small Sealed Lead-acid Battery
Nickel-metal Hybrid Battery
Zinc-manganese Dioxide Battery
Sodium-sulfur Battery
Nickel-ion Battery
Lithium-ion Battery
Others
By End-Use
Military & Defense
Energy Storage
Electronics
Automobile Aerospace
Others
By Application
Portable Batteries
Industrial Batteries
Automotive Batteries
By Geography
North America
Europe
Asia-Pacific
Latin America
Middle East and Africa