The global sodium-ion battery market size was exhibited at USD 0.7 billion in 2021 and is projected to hit around USD 4.9 billion by 2030 with a registered CAGR of 24.14% during the forecast period 2022 to 2030.
The operation of sodium-ion batteries is the same as that of other commercially available batteries, such as lithium-ion batteries. A sodium-ion batteries is made up of a fluid electrolyte with sodium salts in polar molecules, an anode, and a cathode formed of any material containing sodium.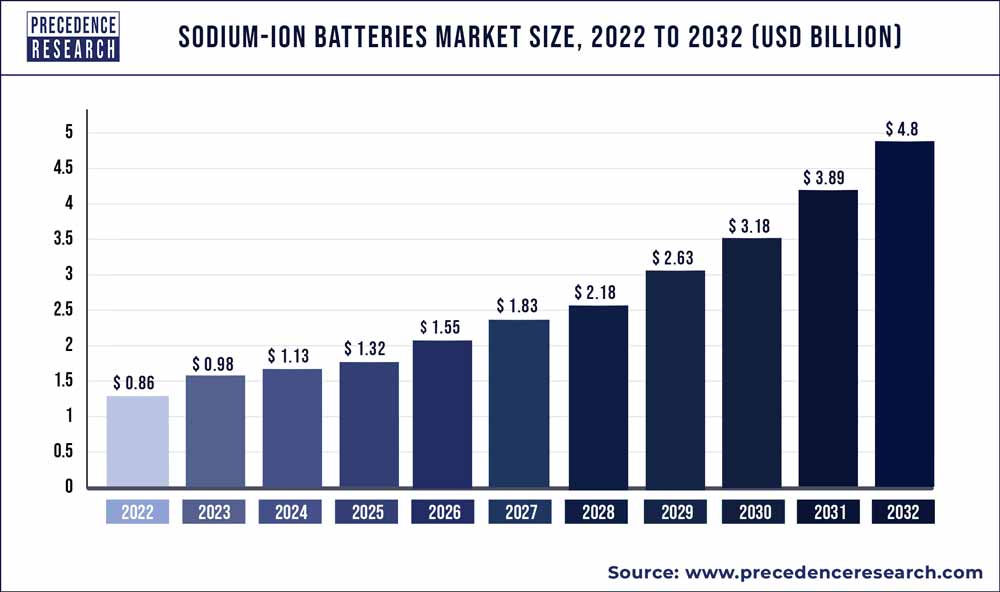 Key Takeaways:
By product, the sodium-sulfur batteries segment has captured 47% to the total revenue share in 2021.
The Europe market has captured 41% of the revenue share in 2021.
The North America region is growing at a notable CAGR of 9.4% over the forecast period.
Growth Factors
Due to the inherent advantages of sodium-ion batteries, the quick adoption of intermittent energy sources like wind and solar, as well as the rising popularity of low-speed electric vehicles like e-rickshaws and e-bikes, the market for sodium-ion batteries is predicted to expand at a healthy rate. The National Institution for Transforming India predicts that by 2030, India's need for grid storage batteries would reach 260-gigawatt hours (GWh).
By 2030, India wants to meet 50% of its energy demands with renewable energy, which would increase the demand for storage batteries. The International Energy Agency (IEA) also predicts that by 2050, solar photovoltaic (PV), wind, and hydro will produce around 80% of the world's power. The expanding solar and wind energy sectors are anticipated to generate large prospects for the sodium-ion batteries market since sodium-ion batteries are a significant energy storage technology with extra benefits. Globally, there is a growing need for cleaner energy as a result of rising greenhouse gas emissions. One of the main factors influencing the sector is this, together with the growing usage of sodium-ion batteries to store electricity produced by solar or wind energy. Furthermore, governments in numerous countries are encouraging the development of renewable energy to provide consistent power supplies and fuel diversification, which improves energy security, reduces the risk of fuel spills and reduces the demand for imported fuels. Aside from that, leading market players are heavily spending on research and development (R&D) activities to introduce improved stationary energy storage, which is projected to have a favorable impact on the market.
Projects to generate more renewable energy are expanding, primarily in China, Japan, Indonesia, and India.
Increasing sodium-ion batteries research and development efforts
Increasing Government Support through Investment in Advanced Energy Technologies
Pressure from numerous stakeholders on social and environmental fronts to cut greenhouse gas emissions
In order to limit CO2 emissions, economies are switching quickly to electricity.
Increasing consumer and microgrid demand for battery energy storage systems.
Report Scope of the Sodium-Ion Battery Market
Report Coverage
Details
Market Size in 2022
USD 0.87 Billion
Market Size by 2030
USD 4.9 Billion
Growth Rate from 2022 to 2030
CAGR of 24.14%
Base Year
2022
Forecast Period
2023 to 2030
Segments Covered

By Product
By Technology
By Application
By Industry Vehicle

Regions Covered

North America
Europe
Asia-Pacific
Latin America
Middle East & Africa

Key Market Drivers
Rising adoption of sodium-ion battery
The demand for sodium-ion batteries worldwide has increased along with customer desire, notably in the electrical and electronic sectors. The transition to sodium battery cells will be simpler for manufacturers as handling sodium-based chemicals may be accomplished using the same equipment that handles lithium-ion components. In order to fulfil the rising market, need for a dependable power source, sodium-ion batteries rely on sodium metal, which is widely accessible and helps to assure their long-term viability.
While lithium-ion batteries have been in use for some time, sodium-ion batteries are a more recent addition to the commercial scene. Since sodium-ion batteries are not well suited for active usage, as well as because there isn't a robust industrial supply chain, some market growth is restrained.
Increased demand for electric vehicles
The market for sodium-ion batteries is primarily driven by rising demand for electric vehicles. To reduce carbon emissions from fuel consumption, there has been a strong push toward electrifying transportation in recent years.
Governments have reacted to the continued threat that climate change poses to our planet's natural resources by taking steps to reduce our reliance on fossil fuels, such as by promoting the sale of electric vehicles and tightening regulations governing the use of alternative energy sources. Increased use of sodium-ion batteries, a technology that has the potential to offer far bigger capacities than standard lithium-ion cells while being more environmentally friendly, will undoubtedly be a result of the increased focus on renewable energy sources.
Key Market Challenges
Lack of a strong industrial supply chain - The active usage of sodium-ion batteries is not supported by a strong industrial supply chain, which limits the expansion of the sodium-ion batteries market.
Less lightweight than lithium-ion batteries - The weight of sodium metal is greater than that of lithium metal. As a result, the usage of sodium batteries in electric cars is constrained. The market for sodium-ion batteries is being constrained by this problem.
Key Market Opportunities
Cheaper than lithium-ion battery - Making lithium-ion batteries is expensive, and lithium is getting harder to get. While sodium-ion batteries have the same capacity as lithium-ion battery, it may be less expensive and more readily available. The public has recently become more aware of sodium-ion batteries technology as a prospective and environmentally acceptable alternative to lithium-ion batteries due to sodium's accessibility in all scientific circles. The expansion of the Sodium Ion Battery Market is being driven by this advantage of sodium-ion batteries.
Segments Insight
Application Insights
The market is split into two categories based on application: transportation and stationary energy storage. The worldwide sodium-ion batteries market was dominated by stationary energy storage in 2021, and it is anticipated that this dominance will throughout the whole forecast period. Renewable energy sources like solar and wind are producing more energy, therefore energy storage is essential to maintaining a steady supply of electricity. The stationary energy storage system can store energy when it's not needed and release it as electricity when it is. An array of batteries, an electronic control system, an inverter, and a thermal management system are typically found in stationary energy storage systems. The life cycle costs for stationary storage applications like grid-scale load shifting of fluctuating renewable energy or behind-the-meter home storage must be as cheap as feasible, even while volumetric energy density constraints are less strict than for other purposes.
Product Insights
A molten salt battery comprised of liquefied sodium and Sulphur is known as a sodium-sulfur battery. Good energy density, high charge or discharge efficiency, and a big lifespan are all characteristics of this kind of battery. It is built of inexpensive components.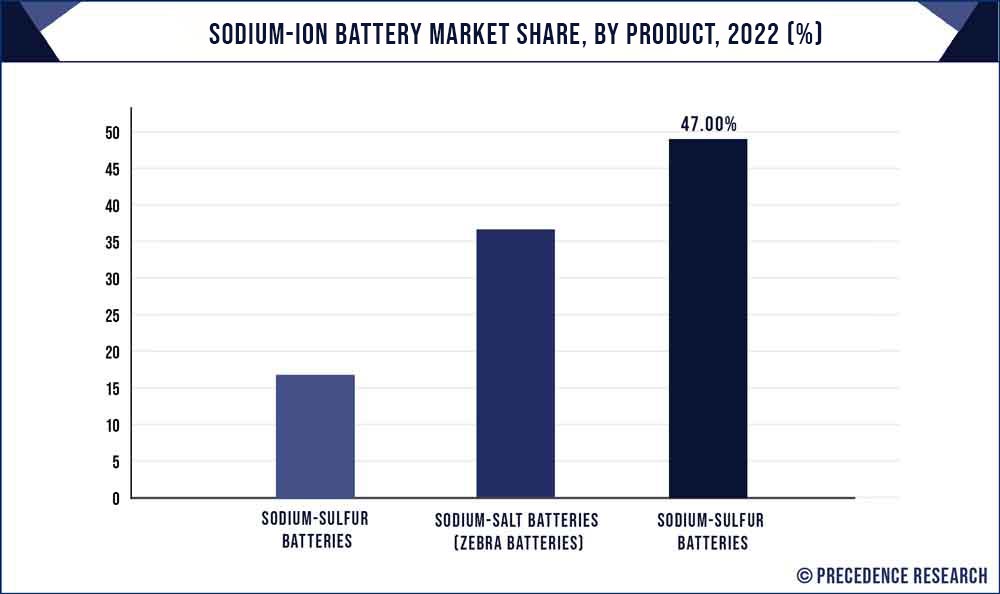 The electrolyte of a sodium-salt battery is a saline solution. These batteries are less combustible than those created with poisonous or flammable components, and they are also simple to recycle. Recently, interest in sodium-oxygen batteries has grown. The sodium-oxygen battery which is rechargeable has a theoretical specific energy of around 1600 W h kg1 and the potential for equilibrium discharge of 2.3 V. It also has an enticing new metal-air battery architecture for uses in transportation.
Industry Vehicle Insights
The worldwide sodium-ion batteries market has been driven by the growing popularity of sodium-ion batteries, notably in the electronics sector. Compared to the more expensive lithium-ion batteries, sodium-ion batteries are a better choice since sodium is a plentiful and accessible metal found in the earth's crust. The price of the cathode, as well as electrolyte, has decreased to around 50 percent of the cost of the complete cell due to the ample availability of sodium, thus reducing the cost of the battery as a whole.
Batteries are now being made utilizing sodium-ion batteries due to the reduction of lithium resources and increased expenses associated with processing and mining lithium. It may be possible to process sodium-based compounds using the same machinery that is utilized to process lithium-ion materials and make the transition to sodium-ion batteries simpler for producers. The long-term durability of sodium-ion batteries is influenced by the availability of sodium metal, which helps to satisfy the market's increasing need for a dependable power supply.
Sodium-Ion Battery Market Share, By Region, 2021 (%)
| | |
| --- | --- |
| Regions | Revenue Share in 2021 (%) |
| North America | 22% |
| Asia Pacific | 30% |
| Europe | 41% |
| Latin America | 4% |
| MEA | 3% |

Regional Insights
Due to plans for future major capacity extensions of wind and solar power as well as growing sales of electric vehicles in the area, the sodium-ion batteries industry in North America is predicted to be lucrative. Poor power distribution networks exist in certain Latin American nations, notably those in the Caribbean Islands, Venezuela, Columbia, and Chile. Local governments in the aforementioned nations, as well as Uruguay and Brazil, are concentrating on increasing solar capacity to fulfill the region's rising need for electricity. The expansion of the sodium-ion batteries market in the area is anticipated to be fueled by the increase in solar capacity in the area.
The European Union is emphasizing the switch to renewable energy sources and supporting local governments in putting electric car infrastructure into place. Over the expected period, it is anticipated that rising sales of electric cars and the growth of the region's renewable industry would propel the sodium-ion batteries market. The Middle East region's capability for renewable energy has considerably expanded. Some of the main forces behind the expansion of renewable energy in Africa and the Middle East include installations in Saudi Arabia, the UAE, and South Africa. The sodium-ion batteries industry is predicted to grow as a result of the increased renewable energy potential in the area.
A solid and quickly growing market for renewable energy appears to exist in the Asia Pacific area. One of the main factors propelling the expansion of the region's renewable energy industry is capacity expansions in China, Japan, and India. Future sodium-ion revenue growth in the Asia Pacific area is predicted to be boosted by the rise of the renewables sector.
Recent Developments
In October 2022, A company called CATL Signs a Sole Battery Supply contract with Primergy Solar for Monumental 690 MW Gemini Solar and Storage Project
In order to satisfy the demands for flexible power distribution, Natron Energy as well as Virtual Power Systems partnered to combine Natron's sodium-ion technology with VPS's ICE Platform, therefore extending VPS's Software Defined Power ecosystem.
Key Market Players
Aquion Energy
Faradion Limited
HiNa Battery Technology Co., Ltd
Ben'an Energy Technology (Shanghai) Co., Ltd
AMTE Power plc
Natron Energy, Inc.
Tiamat Energy
Jiangsu Zhongna Energy Technology Co., Ltd.
Contemporary Amperex Technology Co. Limited (CATL)
Li-FUN Technology Corporation Limited
BLUETTI Power Inc.
Indigenous Energy Storage Technologies Pvt. Ltd. (Indi Energy)
Altris AB
NEI Corporation
Blackstone Technology GmbH
Segment Covered in the Report
(Note*: We offer reports based on sub-segments as well. Kindly, let us know if you are interested)
By Product
Sodium-Sulfur Batteries
Sodium-Salt Batteries (Zebra Batteries)
Sodium-Oxygen (Sodium Air) Batteries
By Technology
By Application
Stationary Energy Storage
Transportation
By Industry Vehicle
Consumer Electronic Devices
Automobile & Transportation
Power Backup
Grid-Level Applications
Industrial
Aerospace & Defense
Marine
Others
By Geography
North America
Europe
Asia-Pacific
Latin America
Middle East & Africa (MEA)