The global electric vehicle market was estimated at USD 170 billion in 2021 and is expected to reach over USD 1103.17 billion by 2030, poised to grow at a compound annual growth rate (CAGR) of 23.1% during the forecast period 2022 to 2030.
Key Takeaway
By 2040, the Europe is expected to achieve 40% greenhouse gas reduction and net-zero by 2050
EV sales increased by 80% in the United States in 2019
Asia Pacific electric vehicle market was valued at USD 121.7 billion in 2021
By propulsion type, the battery electric vehicles (BEV) accounted largest revenue share 66% in 2021
The hybrid electric vehicle segment is expected to reach USD 301.67 billion by 2030 from valued at USD 77,581.7 million in 2021.
The plug-in hybrid EV segment is expected to hit revenue USD 385,617 million from 2022 to 2030.
The passenger car electric vehicle market was valued at USD 127,394 million in 2021 and is projected to hit at USD 598,735 million by 2030.
The commercial vehicle EV market was valued at USD 47,351.9 million in 2021.
The luxury EV market is projecte to reach USD 441,273 million by 2030 from valued at USD 104,380 million in 2021.
The growing funding and investments by key market players drive the electric vehicle market growth. Ford had previously stated that it would invest $11.5 billion in electrifying its vehicle lineup between now and 2022. It recently claimed that it had upped its spending on driverless and electrified vehicles to help boost vehicle sales in the face of ongoing lockdowns. Mercedes-Benz also confirmed that it will release 25 new plug-in hybrid electric vehicles and entirely electric cars by 2025. Companies' diverse product offers have attracted many customers, resulting in an expanding market for electric vehicles.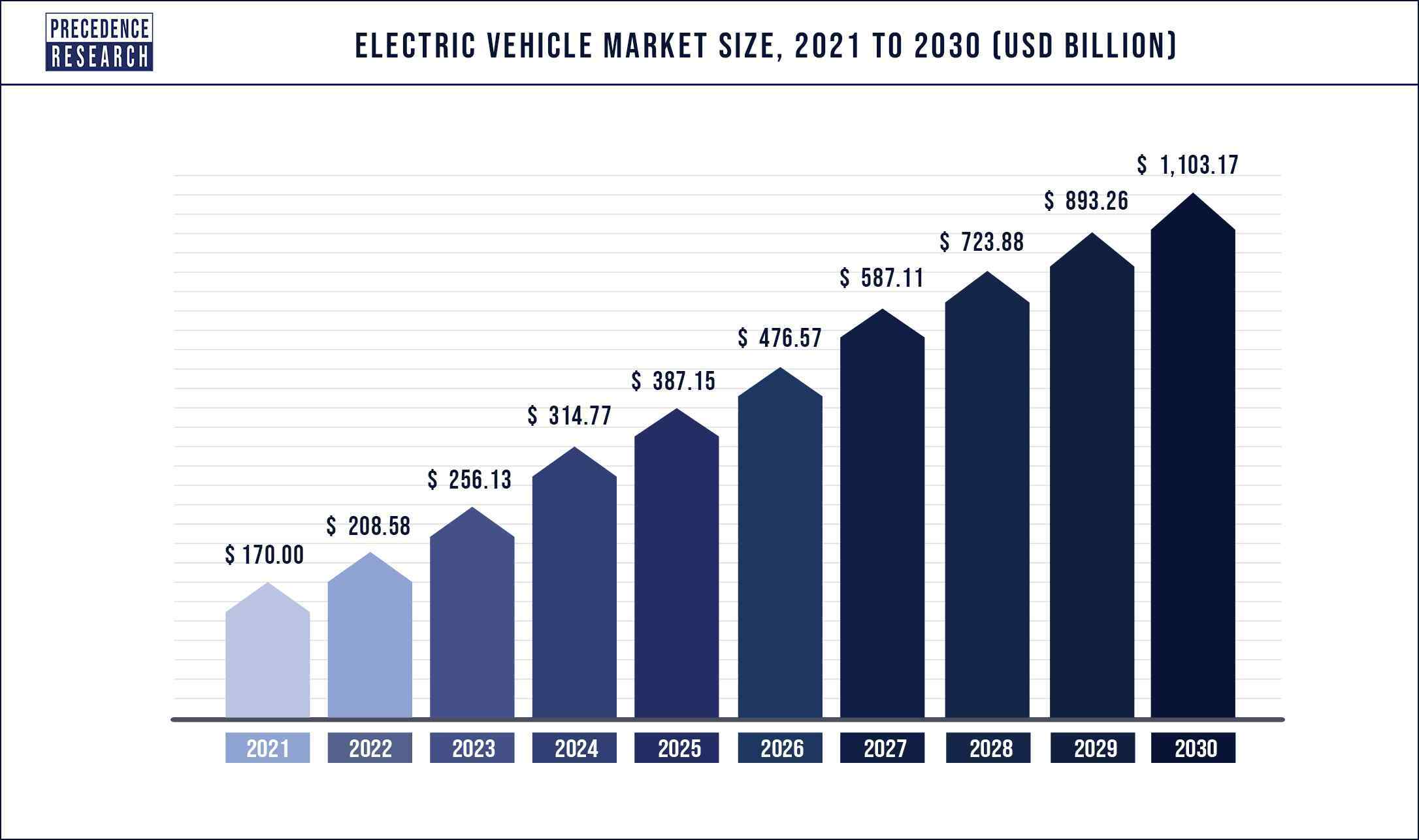 Growth Factors
A significant number of initiatives taken by the government of various countries, such as tax rebates, subsidies & grants, and other non-financial benefits in car registration and access to carpool lanes expected to drive the sale of electric vehicles in the coming years. For instance, in November 2019, German car manufacturers raised their cash incentives for electric cars to move away from the transition from combustion engines to battery-powered engines to reduce harmful emissions. Countries such as the U.S., China, and different countries in Europe, have registered significant growth in the sale of electric vehicles in the past few decades that, in turn, will contribute to the market growth.
However, lack of charging infrastructure, variations in setting load & lack of standardization are some significant factors hindering the market growth. Different regions, such as China, Europe, the U.S., Japan, Korea, and others, have different standards for electric vehicle charging. Some electric vehicle manufacturers, such as Tesla Inc., are focusing on global standardization of charging infrastructure to overcome this drawback. Nevertheless, the rising adoption of electric vehicles in government and commercial sectors is anticipated to drive the market. For instance, in 2020, the U.K. government approved 200 electric buses with an ambition to make all buses fully electric by 2025, which could save nearly 7,400 tonnes of CO2 every year.
Increase in demand for fuel-effective, high- performance, & low- emigration vehicles
Strict government rules & regulations toward vehicle emigration along with reduction in cost of electric vehicle batteries and adding fuel costs
Lack of high manufacturing cost, charging structure, and range serviceability and anxiety
The market of electric vehicles is likely to be affected positively by the recent trend of self-driving trucks. Furthermore, the top OEMs, similar to Volvo, Daimler Vera, and Tesla, are among others that have been developing automatic-driving electric vehicles for the market. Therefore, technology regarding self-driving will surge the demand for electric cars, in the long run, owing to the colorful advantages of decreased accident threat, easy use, and presence of value-added features. This technology is anticipated to develop in the coming 5-6 times. Therefore, the growth of self-driving electric vehicle technology will likely bring growth opportunities for the market in the forthcoming period.
Market Dynamics
Drivers
Growing government initiatives
Governments are spending a lot on incentives and subsidies to persuade people to buy electric cars. Governments worldwide are taking initiatives likely to boost demand for electric vehicles in the coming decade. Electric vehicles have been regulated in developing countries, and fuel economy criteria have been established in all countries. In addition, they offer incentives and subsidies to electric vehicle makers and buyers. Thus, this factor is driving the market growth.
Restraints
Lack of standardization
The non-presence of standardization among nations may affect charging station connections and hinder market expansion. Using several charging standards worldwide creates a hurdle to harmonizing electric vehicle charging stations. Standardizing charging points would make it easier to set up electric cars in public and contribute to a faster increase in electric vehicle demand worldwide. As a result, the lack of standardization restricts the market's growth.
Opportunities
Declining costs of electric vehicle batteries
Due to technological breakthroughs and the mass production of electric vehicle batteries in huge quantities, the cost of electric vehicle batteries has decreased over the last decade. Because electric vehicle batteries are one of the car's most expensive components, this has reduced the cost of electric vehicles.
Challenges
Lack of charging infrastructure
There are few electric vehicles charging facilities in many places around the world. As a result, public electric vehicle charging stations for electric cars are becoming less available, lowering uptake. Electric vehicle charging infrastructure is being installed in many countries. However, most countries, except a few states, have yet to be able to establish the requisite number of charging stations.
Report Scope of the Electric Vehicle Market
| | |
| --- | --- |
| Report Highlights | Details |
| Market Size in 2021 | USD 170 Billion |
| Growth Rate | CAGR of 23.1% from 2022 to 2030 |
| Largest Market | Asia Pacific |
| Fastest Growing Market | Europe and North America |
| Base Year | 2021 |
| Forecast Period | 2022 to 2030 |
| Segments Covered | Propulsion Type, Components, Vehicle Type, Vehicle Class, Top Speed, Vehicle Drive, EV Charging Point Type, V2G, Region |
| Companies Mentioned | BYD Company Ltd., Ford Motor Company , Daimler AG , General Motors Company, Mitsubishi Motor Corporation and Groupe Renault |
COVID-19 Impact Analysis:
The COVID-19 pandemic has had an adverse effect over electric vehicle industry.
The registration of all types of electric vehicles during the year 2021 dropped by more than 20%as compared with the number of new EV registrations in the year 2020.
During the pandemic various players are trying to implement different approaches in order to survive the condition by using electric vehicles for product supplies as it provides inexpensive transportation with excellent maneuverability.
Propulsion Type Insights
Battery Electric Vehicles (BEV) led the global market and accounted for more than 66% of the overall revenue share in 2021. The significant growth of the BEV is mainly due to the potential benefits offered, such as control over greenhouse gas (GHG) emissions, energy security concerns, and control over local pollutants. This can be due to people's growing awareness of the environment and the benefits of battery electric vehicles.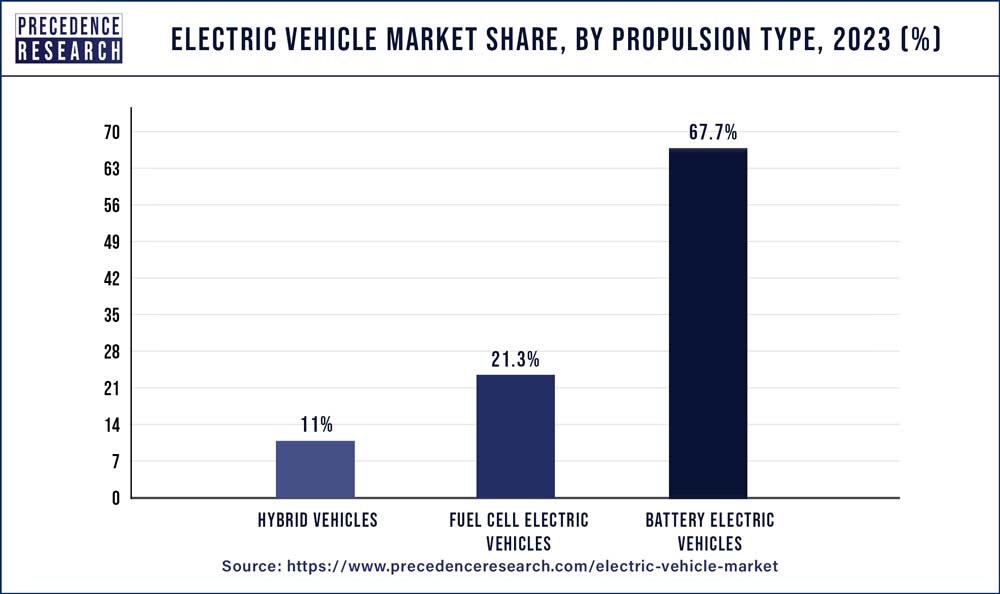 Moreover, the cost associated with BEV is more significant compared to the PHEV. The PHEV is expected to witness the fastest CAGR of around 43.5% owing to numerous benefits over BEV; some are low battery cost with smaller battery size and more extended driving range as they are equipped with liquid fuel tanks and internal combustion engines. Additionally, many EV manufacturers such as Volkswagen Group and General Motors are focusing on multi-platform technology with extensive attention towards PHEVs as they can be refueled at any gas station. At the same time, BEVs can only be charged at public charging stations, and public charging spots are far between and very few in the city. Thus, PHEV offers flexibility and freedom to drivers. In January 2020, Volkswagen AG increased its plug-in electric car sales by 60%, from nearly 50,000 to over 80,000 in 2019.
The fuel cell electric vehicles segment is anticipated to grow at the loftiest CAGR during the cast period. This segment's rapid-fire growth is substantially attributed to the adding demand for vehicles with low carbon emigrations, strict carbon emigration morals, and growing emphasis on the relinquishment of FCEVs owing to benefits associated with fast refueling adding government enterprise and investments for advancing fuel cell technology.
Vehicle Type Insights
Based on vehicle type, the electric vehicles market is segmented into heavy commercial vehicles, passenger vehicles, e-scooters & bikes, two-wheelers, and light commercial vehicles. The passenger vehicles segment dominated the electric vehicle market in 2021 with the largest revenue share. This is owing to the governments' substantial backing for electric passenger vehicles in these countries.
The light commercial vehicles segment is anticipated to grow at the loftiest CAGR during the cast period. This segment's rapid-fire growth is substantially attributed to the growing consumer awareness regarding the part of electric vehicles in reducing emigration, the surge in demand for electric cars to reduce line emigrations, and strict government rules and regulations towards vehicle emigration.
End-Use Insights
Based on end use, the electric vehicle market is segmented into private, commercial, and industrial use. The commercial use segment will likely grow at the loftiest CAGR during the forthcoming period. This segment's high growth is credited to the rise in fuel prices and strict emigration morals set by governments, the growing relinquishment of independent delivery vehicles, and the adding relinquishment of electric motorcars and cars.
The rapid expansion of this segment can be attributed to rising fuel prices and government-imposed severe emigration morality, the growing relinquishment of independent delivery vehicles, and the increasing relinquishment of electric motorcars and cars.
Regional Insights
Asia Pacific dominated the global electric vehicle market in 2021 and is expected to be the most lucrative region during the forecast period. China is the primary electric vehicle market globally, accounting for nearly half, i.e., 45% of the global electric vehicle sale. Other countries such as Japan, Korea, and India are also opportunistic markets as the governments of these countries are significantly investing in EV startups to promote the manufacturing and sale of EVs across the globe. In July 2019, the Japanese firm Mitsui & Co. invested USD 13.3 million in an Indian e-Vehicle startup, SmartE. The investment would help SmartE to bring multiple synergies in the global EV market for its long-term growth. Similarly, in June 2019, Toyota Motor Corp. invested USD 2 Bn to develop electric vehicles in Indonesia.
The governments of developing and developed nations are providing subsidies to market players, and stringent regulations are driving the growth of the electric vehicle market in the Asia-Pacific region. China's Ministry of Transport provides grants and other incentives for developing low-emission bus fleets, affecting the market even more favorably. Despite the COVID-19 outbreak, Chinese bus manufacturers sold 61,000 additional new energy buses in 2020.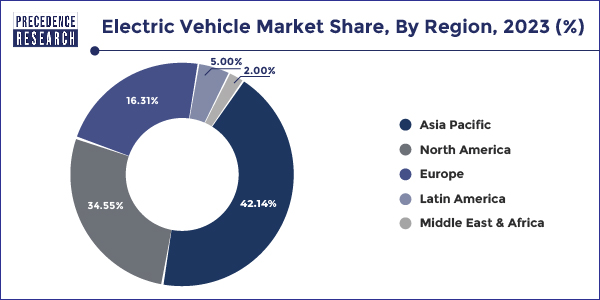 Europe and North America witness substantial growth in the global electric vehicle market. This is attributed to the increasing demand for electric vehicles in the U.S., Norway, France, and Germany. Germany and Norway are the leading markets in the European region, witnessing a CAGR of nearly 40%. Moreover, to promote electric vehicles in North America, policymakers, automotive manufacturers, and charging network companies have launched a non-profit organization called 'Veloz.' The organization aimed to attract innovation, investment, marketing, and growth in the electric vehicles market. Electrify America, a U.S.-based electric vehicle manufacturer, announced to invest of USD 2 Bn in Zero Emission Vehicle (ZEV) infrastructure across the U.S. over ten years from 2017 to 2027, out of which USD 800 Mn was invested in California, one of the largest ZEV markets across the world.
The upsurge in the growth of the electric vehicles market in the European region is highly attributed to the harmonious developments in implementing strict emigration regulations by the European Union and adding a focus on reducing the number of conventional buses. Norway leads the way for electric mobility relinquishment in Europe. The share of battery electric vehicles in new auto deals rose to 54.3% in 2020, which is anticipated to surpass 65% of the market share in 2021.
The U.S. is dominating the electric vehicle market in the North American region, and the rising demand for electric automobiles in the U.S. accounts for this proportion. In addition, Electrify America, a non-profit organization dedicated to promoting electric vehicle adoption, announced intentions to invest $200.0 million in California in 2018. As a result, demand for electric vehicles in North America is expected to rise over the projection period.
Key Developments in the Marketplace:
BMW will debut its new i4 electric vehicle in November 2021, with a range of 300-367 miles. In just four seconds, the car can reach 100 km/h. It has an automatic transmission and is equipped with linked car capabilities.
In April 2021, the key player named Toyota introduced the new Mirai & LS models in the city japan which come with the technology of advanced driving assessment.
In April 2021, the key player named BYD introduced four new electric vehicle models which were equipped with Blade batteries in Chongqing. The new vehicle models, Qin plus EV, E2 2021 Tang EV, and Song plus EV came with the advanced feature of battery safety.
In April 2021, the key player named Volkswagen reviled the 7 seater ID.6 X and EV ID.6 Crozz manufactured along with SAIC and FAW in China. Furthermore, these vehicles be sold in China only. Also, it comprises of 2 versions of battery, as 77 kWh & 58 kWh and comes in four powertrain configurations.
Tesla, Inc. declared the acquisition of Maxwell Technologies, Inc. in March 2019. The purchase was made with the goal of improving Tesla's batteries and lowering overall costs in order to obtain a competitive edge in the market.
The Nissan Motor Company has surpassed 180,000 consumers, which is the most significant milestone in the LEAF's launch. The latest vehicle from this business is the Ariya, an electric crossover coupe.
Key Companies & Market Share Insights
The global electric vehicle market is consolidated with high competition owing to the presence of many market players. The existing players are significantly focused on innovation and developing new models and technology to overcome the drawbacks and strengthen their roots in the global market. Some market players also invest in EV startups to boost their regional presence. In December 2019, an electric vehicle startup, Rivian, raised USD 1.3 billion in funds from Amazon.com Inc. and U.S.-based automaker Ford Motor Co.
Furthermore, rising initiatives from governments of several regions towards environmental depletion from CO2 emission have forced automakers to switch towards battery-powered or electric vehicles. Merger, acquisition, partnership, and joint venture are the strategies adopted by the companies to retain their market position. For instance, in March 2019, Alternet Systems, Inc. announced its merger and acquisition pipeline to expand electric vehicle technology innovation and production capacity. Some of the prominent players in the electric vehicle market include:
Ampere Vehicles
Benling India Energy and Technology Pvt Ltd
BMW AG
BYD Company Limited
Chevrolet Motor Company
Daimler AG
Energica Motor Company S.p.A.
Ford Motor Company
General Motors
Hero Electric
Hyundai Motor Company
Karma Automotive
Kia Corporation
Lucid Group, Inc.
Mahindra Electric Mobility Limited
NIO
Nissan Motors Co., Ltd.
Okinawa Autotech Pvt. Ltd.
Rivain
Tata Motors
Tesla Inc.
Toyota Motor Corporation
Volkswagen AG
WM Motor
Xiaopeng Motors
Segments Covered in the Report
This research report estimates revenue growth at global, regional, and country levels and offers an analysis of present industry trends in every sub-segment from 2017 to 2030. This research study analyzes market thoroughly by classifying electric vehicle market report on the basis of different parameters including product and region as follows:
By Propulsion Type
Hybrid Vehicles

Pure Hybrid Vehicles
Plug-in Hybrid Vehicles

Battery Electric Vehicles
Fuel Cell Electric Vehicles
By Components
Battery Cells & Packs
On-Board Charge
Motor
Reducer
Fuel Stack
Power Control Unit
Battery Management System
Fuel Processor
Power Conditioner
Air Compressor
Humidifier
By Vehicle Type
Passenger Cars
Two-Wheelers
E-Scooters & Bikes
Light Commercial Vehicles
Others
By Vehicle Class
By Top Speed
Less Than 100 MPH
100 to 125 MPH
More Than 125 MPH
By Vehicle Drive
Front-Wheel Drive
Rear Wheel Drive
All Wheel Drive
By EV Charging Point Type
Normal Charging
Super Charging
By V2G
By Geography
North America
Europe
Asia-Pacific

China
India
Japan
South Korea
Malaysia
Philippines

Latin America

Brazil
Rest of Latin America

Middle East & Africa (MEA)

GCC
North Africa
South Africa
Rest of the Middle East & Africa