The global petrochemical market size is projected to be worth USD 1,041.79 billion by 2032 from USD 584.5 billion in 2022, with a CAGR of 6% during the forecast period 2023 to 2032. Increasing adoption of petrochemicals in the production of thermoplastics and oil will boost the target industry growth in the near future.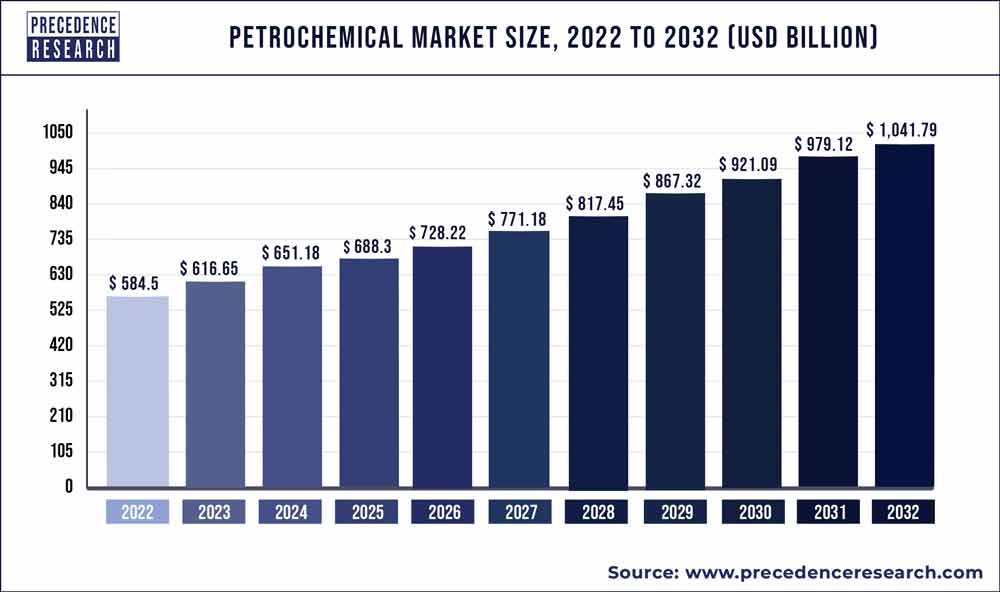 Access our Premium Real Time Data Intelligence Tool, Visit: Precedence Statistics
Key Takeaway:
By product, the ethylene segment has captured a revenue share of 40.6% in 2022.
The methanol segment is expected to grow at a CAGR of 7.9% between 2023 to 2032.
Asia Pacific has dominated the market with a revenue share of 52% in 2022.
North America accounted for 20% revenue share in 2022.
Europe is anticipated to grow at a CAGR of 5.7% during the forecast period from 2023 to 2032.
Key Market Insights:
Emergence of new applications of petrochemical is predicted to create potential opportunities for the crucial players operating in global market. According to the data published by International Energy Agency in 2018, the manufacturing of thermoplastics will be more than doubles over the period of 2020 to 2050, in order to satisfy the consumer demand worldwide. Further, major companies of the global petrochemical market are increasing their capacity to enrich position. As per the data by IEA petrochemicals report, almost all regions, will increase manufacturing of primary chemicals to 2050, except Europe.
Crucial Factors Accountable For Market Growth Are:
Increasing demand for petrochemical in commercial applications
Capacity expansion of petrochemical by major players
Growing adoption of petrochemical in construction and automotive industries
Evolution of shale gas in developed economies
COVID-19 Impact on Global Petrochemical Market
Outbreak of COVID-19 has affected most of industries operating across the globe. Most of the leading countries across the world announced their lockdowns that has resulted into the disruption of supply chain of companies. Irregular supply of raw materials, and leap in their off-premise sales has affected the production of petrochemical. Also, the COVID-19 has affected on the demand and prices of oil. Further decreased demand of petrochemical components from end-use industries hampered growth of the global petrochemical market in 2022.
Future of Global Petrochemical Market
Leading players operating in the global petrochemical industry are focusing on increasing production of petrochemical to enhance their position and to get competitive edge in the global market. Asia Pacific, United States, and Middle East regions are heavily investing in order to fuel the processing capacity of petrochemical for satisfying the customer demand. As per the data published by Hydrocarbon Processing's Construction Boxscore, from years 2016 to 2018, around 280 new petrochemical projects were announced which represents the year-over-year increase of 42%. That can have huge impact on the growth of the petrochemical industry.
Market Dynamics
Drivers
A decrease in demand for fuel drives interest in Petrochemicals
The fuel industry across various regions is declining, which leads to an increase in demand for petrochemicals. As per a survey, the need for gasoline is anticipated to be lower by 15% from 2018 to 2035. Similarly, the demand for diesel will decrease by 6%. The factors which are contributing to the decline are continuous improvement in technology, autonomous vehicles, renewable substitution, connected and shared vehicles, as well as changing demographics. The demand for petrochemicals is anticipated to expand 3 to 6 times. The need is expected to grow due to the rising middle class in developing countries. To boost the profitability of those investments, expansion into petrochemicals will be incorporated. A refiner is able to opt to cut crude capacity or diversify into higher-value petrochemicals to offset the predicted decline in US fuel consumption and dwindling export markets. The former would result in stranded capacity and reduced refining margins. Modification into petrochemical manufacturing allows the preservation of crude capacity and results in a considerably better margin than simply generating fuels.
The novel supply-demand relationship for the chemical sector is contributing to enhancing the global competition in the market. Owing to the shale gas resolution, the United States have again gained its position as a low-cost area for production of chemicals after many decades of decline. Presently, the United States manufactures approximately 40% of the global ethane-based petrochemical. Followed by U.S., Middle East led by Iran and Saudi Arabia remains the low-cost region for various petrochemicals, with various projects planned across globe. Europe and China accounts for approximately 1/4th of the global capacity for high value chemicals which are naphtha-based and have minor share of capacity.
Government Initiatives and PCPIRs Development
In April 2007, the Government of India (GoI) announced the Petroleum, Chemicals, and Petrochemicals Investment Region (PCPIR) program to encourage investment in the CPC sector and position India as a manufacturing powerhouse for domestic and international markets. PCPIRs are now being created in Andhra Pradesh (Vishakhapatnam), Gujarat (Dahej), and Odisha (Paradeep). Hindustan Petroleum Corporation Limited (HPCL) Rajasthan Refinery Limited is developing a new petrochemical cluster in Rajasthan's Barmer district. The government is actively working to reform the former PCPIR policy. Priority is given to completing all existing projects and streamlining processes to smooth out obstacles.
Market Restraints
Environmental Concerns and Regulations
The petrochemical sector witnesses rising scrutiny due to environmental factors such as greenhouse gas emissions, air pollution, and plastic waste. Strict regulations as well as carbon reduction targets are able to require significant investments in emission control technologies, sustainability practices, and waste management, along with potentially increasing production costs.
Various challenges faced by petrochemicals are climate, water pollution, and air quality. Along with this, petrochemical products provide advantages, such as the rising number of applications in various advanced technologies. However, the use, production, and disposal of petrochemical products act as a challenge that needs to be addressed. Though the chemical industry consumes a larger amount of energy than the cement and steel sector, it emits less amount of CO2. The rising demand for bio-based alternatives and renewable alternatives to petrochemical products, like bio-based polymers or biodegradable materials, are expected to impact the market growth potential.
Market Opportunities
Use of Machine Learning and Artificial Intelligence in chemical manufacturing and data mining
Machine learning techniques are processes that are able to mimic human thinking ability and are able to detect patterns and mine data. They are also capable of evaluating context and conflicting evidence at a faster pace than humans. These technologies are used to assist in the prediction of the outcome of a process or reaction, help in developing hypotheses, and determine gaps in existing scientific literature. A continued trend in the chemical production sector embraces AI, IoT, and machine learning. These advanced technologies are used to enhance efficiency and productivity, as well as decrease energy loss and risk.
Scope of the Petrochemical Market
| | |
| --- | --- |
| Report Highlights | Details |
| Market Size in 2023 | US$ 616.65 Billion |
| Market Size by 2032 | US$ 1,041.79 Billion |
| Growth Rate from 2023 to 2032 | CAGR of 6% |
| Base Year | 2022 |
| Forecast Period | 2023 to 2032 |
| Segments Covered | Product, Application, Manufacturing Processes |
| Regional Scope | North America, Europe, Asia Pacific, Latin America, Middle East & Africa (MEA) |
| Companies Mentioned | BP Plc, Total S.A., Exxon Mobil Corp., BASF SE, Sumitomo Chemical Co., Ltd., Dow, Chevron Phillips Chemical Company, Saudi Arabian Oil Co., DuPont de Nemours, Inc., China Petroleum & Chemical Corporation |
Segment Analysis:
Ethylene Product Type Segment Estimated Foremost Market Stake In 2022
Ethylene petrochemical recorded the prime market share in the global petrochemical market by source in 2022. Increasing consumption of ethylene due to rapid industrialization and growth of packaging industry are expected to augment growth of the segment. Polypropylene segment is predictable to raise at a noteworthy CAGR during the forecast time-frame. Increased adoption of polypropylene petrochemicals in automotive sector due to its good mechanical properties are expected to raise the share of polypropylene petrochemical in the near future.
Fluid Catalytic Cracking (FCC) Segment Estimated To Hold Significant Market Share over the Forecast Period
Fluid Catalytic Cracking (FCC) is anticipated to hold significant share in target market by manufacturing processes during the forecast period 2023-2032. However, steam cracking segment is expected to raise at a substantial CAGR during the forecast time-frame.
Building & construction Segment is Predictable to Dominate the Application Segment of Petrochemical Market Revenue
On the basis of application segment the global market is segregated into aerospace, agriculture, automotive, building & construction, consumer & industrial goods, and others. The building & construction application segment is expected to dominate in terms of revenue over the forecast time frame. Rapid growth in the construction industry due to increasing worldwide population in developed as well as emerging economies is expected boost growth of the segment in the near future. Additionally, automotive application segment will expand at a significant CAGR during the forecast time-frame. The growth is attributed to increasing demand for petrochemical from automotive industries in developing countries across the globe which is in tern fulling growth of the segment.
Asia-Pacific is estimated to be the Leading Market for Petrochemical
The global research scope offers key prospects of petrochemical products across various regions including North America, Europe, Asia-Pacific, Latin America, and Middle East and Africa. Geographically, petrochemical market is conquered by Asia Pacific owing to growing adoption of petrochemicals as raw materials in various commercial applications in the countries especially in the China of the Asia Pacific region. North America is expected to register the fast growth rate, on account of expanding petrochemical manufacturing capacity, coupled with presence of leading companies in the countries of North America. Further, evolution of shale gas in U.S. and Canada is major factor responsible for the growth of petrochemical market in North America. Middle East and Africa is predictable to hold moderate share in terms of revenue in petrochemical market in the near future owing to growing production of petrochemicals.
Top players contending in the market:
The companies focusing on research and development are expected to lead the global petrochemical market. Leading competitors contending in global petrochemical market are as follows:
BP Plc
Total S.A.
Exxon Mobil Corp.
BASF SE
Sumitomo Chemical Co., Ltd.
Dow
Chevron Phillips Chemical Company
Saudi Arabian Oil Co.
DuPont de Nemours, Inc.
China Petroleum & Chemical Corporation
In order to better recognize the current status of petrochemical, and procedures approved by the principal countries, Precedence Research expected the upcoming growth of the petrochemical market. This research study offers qualitative and quantitative insights on petrochemical market and assessment of market size and growth trend for potential global market segments.
Key Market Developments:
In 2019, ExxonMobil, oil and natural gas Company based in the United States entered into an agreement with the leading player GAIL Ltd. This partnership is in order to supply of natural gas to the India's transportation and power sector.
In 2019, Shell Chemical LP entered into manufacturing of fourth alpha olefins unit in its U.S. facility.
Major Market Segments Covered:
By Product Type
Ethylene

Polyethylene
Ethylene oxide
EDC
Ethyl benzene
Other (including alpha olefins, vinyl acetate, etc.)

Propylene

Polypropylene
Propylene oxide
Acrylonitrile
Cumene
Acrylic acid
Isopropanol
Other

Butadiene

SB Rubber
Butadiene rubber
ABS
SB latex
Other (nitrile rubber, mechanical belts, etc.)

Benzene

Ethyl benzene
Phenol/cumene
Cyclohexane
Nitrobenzene
Alkyl benzene
Other (including alkyl benzene, maleic anhydride)

Xylene
Toluene

Benzene
Xylenes
Solvents
TDI
Others (including pesticides, drugs, nitro toluene, etc.)

Methanol

Formaldehyde
Gasoline
Acetic acid
MTBE
Dimethyl ether
MTO/MTP
Other
By Manufacturing Processes
Fluid Catalytic Cracking (FCC)
Steam cracking
Catalytic reforming
By Application
Aerospace
Agriculture
Automotive
Building & Construction
Consumer & Industrial Goods
Others
By Geography
North America
Europe

Germany
France
United Kingdom
Rest of Europe

Asia Pacific

China
Japan
India
Southeast Asia
Rest of Asia Pacific

Latin America

Brazil
Rest of Latin America

Middle East & Africa (MEA)

GCC
North Africa
South Africa
Rest of Middle East & Africa