The global autonomous vehicle market size was estimated USD 121.78 billion in 2022 and is projected to hit around USD 2,353.93 billion by 2032, poised to grow at a compound annual growth rate (CAGR) of 35% from 2023 to 2032. U.S. autonomous vehicle market was valued at USD 36.4 billion in 2022.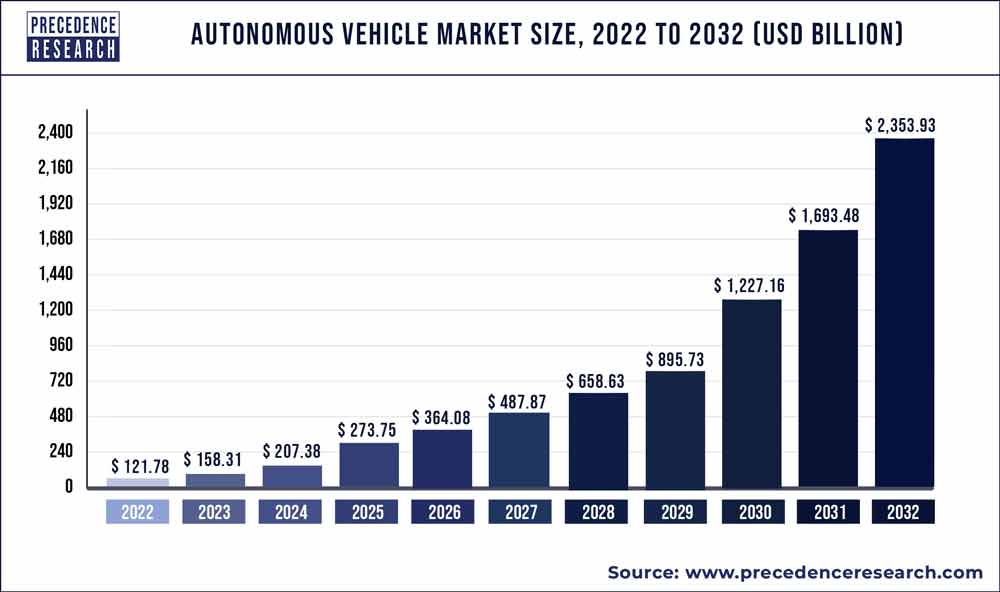 A driverless vehicle, also known as an autonomous vehicle, is a vehicle that can operate without the assistance of a human. It can carry out required functions by sensing and responding to external conditions and surroundings using superior and built-in programs.
The autonomous vehicle also known as self-driving cars have propelled significant shift in automation and connectivity. The internet, computers, smartphones, and other advanced technologies are being integrated into vehicles to help and automate driving operations.
Key Takeaway
North America reached at highest revenue share of over 40.15% in 2022.
Application, the transportation segment accounted largest revenue share of 93.74% in 2022.
The Asia-Pacific region is expected to hit at a CAGR of 35.6% from 2023 to 2032.
By vehicle type, the passenger segment accounted for 74.15% of revenue share in 2022.
By propulsion type, the semi-autonomous vehicle segment accounted for 95.06% of revenue share in 2022.
Growth Factors
The government funding, supportive regulatory framework and investment in digital infrastructure are pretended to positively drive the demand for autonomous cars during the forecast period. In addition, it provides independent mobility for the person suffering from disability as well as for the non-drivers. They offer high-level of flexibility and comfort to rest, read, or even work while traveling that improves their efficiency. Further, rising technological advancement and diversity in the automotive industry has introduced autonomous cars. Autonomous vehicles are a breakthrough technology in the automotive industry after the introduction of electric vehicle and hybrid vehicles. Rising number of accidents because of human error has triggered the need for the autonomous technology to invade in the automobile sector.
Apart from the benefits, high cost of autonomous vehicle, rising concern for security & safety, and lack of proper infrastructure to support automated vehicles in the developing countries restrict the growth of the market. On the other hand, government initiatives to support electric and hybrid vehicles expected to propel the market for autonomous vehicles in the coming years.
Report Scope of the Autonomous Vehicle Market
| | |
| --- | --- |
| Report Highlights | Details |
| Market Size in 2023 | USD 158.31 Billion |
| Market Size by 2032 | USD 2,353.93 Billion |
| Growth Rate from 2023 to 2032 | CAGR of 35% |
| Largest Market | Asia Pacific |
| Fastest Growing Market | North America |
| Base Year | 2022 |
| Forecast Period | 2023 to 2032 |
| Segments Covered | Application, Level of Automation, Propulsion, Vehicle, Region |
| Companies Mentioned | BMW AG, Audi AG, Ford Motor Company, Daimler AG, Google LLC, General Motors Company, Nissan Motor Company, Honda Motor Co., Ltd., Toyota Motor Corporation, Tesla, Volvo Car Corporation, Uber Technologies, Inc., and Volkswagen AG |
Market Drivers
RISING NEED FOR ROAD SAFETY
The number of road accidents are increasing day by day. According to the Association for Safe International Road Travel (ASIRT), more than one million people die in road accidents each year. The primary cause of accidents is human error that occurs in an uncertainty of events, for instance, head-on collisions due to misinterpretation of the driver. Accidents may also occur due to machine or parts failure, such as the failure of brakes or breakage of axles. The governments of many nations are strengthening the regulations that can resolve road safety concerns.
Autonomous vehicles are safer than traditional vehicles as they are technologically advanced vehicles with various driving assisting systems, such as navigation systems, lane management systems, anti-collision systems, among others, and are connected to a central processing and decision-making system.
According to Automotive World Ltd., a leader in automotive industry information, there would be more than 2 billion cars across the globe in 2050. Thus, with a large number of cars, there would be a high concern for traffic congestion. Autonomous vehicles could assist in resolving traffic congestion issues. Autonomous cars can communicate with other cars and thus avoid traffic congestions. Also, with rising sharing economy self-driving cars can provide the travelers with an easy and convenient point to point travel with optimal efficiency and minimum traffic congestion.
GROWING R&D SPENDING IN AUTONOMOUS VEHICLE DEVELOPMENT
An autonomous vehicle is a combination of various sensors and networking system that assist the computer in driving the vehicle. In 2018, BMW Group is expected to spend the largest share of its revenue in research and development operations. The usual amount spent by the company is in the range of 5 to 5.5% of the sales, but in the recent annual report, the company has stated that it would spend 6.5 to 7% of its sales toward the development of technology. It is mainly focusing on the development of autonomous and electric vehicles. For better and rapid development of autonomous technology in vehicles, several companies such as Audi and Tesla Motors collaborate with technology developers. For instance, collaboration companies such as Nvidia will assist automobile manufacturers in developing object recognition.
Also, auto manufacturers such as Waymo have partnered with Intel Corporation to enhance automobile infotainment systems. In addition, several other competitors conduct in-house research for developing cutting edge technologies for autonomous vehicles. In the luxury car segment, Tesla and Mercedes are investing more than 60% in internal research. Many OEMs in Japan, such as Toyota, have also initiated in- house research that enhances the technological capabilities of the companies.
ENVIRONMENTAL IMPACT DUE TO TRADITIONAL VEHICLES
The rising environmental impact of the pollution caused by traditional vehicles has increased the global temperature as well as health hazards to humans. According to Environmental Protection Agency (EPA), in the U.S. more than 75% of the carbon monoxide is emitted by motor vehicles. It causes various respiratory and cardiovascular diseases such as asthma. Thus, with the rise of autonomous vehicles, the percentage of pollution caused by cars and trucks is expected to reduce owing to optimum usage of fuel by vehicles and the growing implementation of ecofriendly automotive solutions such as electric cars.
Furthermore, the growth of the sharing economy would act as a catalyst in the rise of autonomous vehicles. As the cars would be self-driven, they could be shared, thus decreasing the impact on the environment. For instance, Uber, a company that provides ride sharing and food delivery, has initiated the development and testing of autonomous vehicles in Arizona, U.S. Moreover, other ride sharing companies such as Lyft and Gett have started collaborating with OEMs that develop autonomous vehicles.
INCREASED ENERGY SAVINGS BY AUTONOMOUS VEHICLES
The rising development of autonomous cars that are integrated with artificial intelligence would increase the efficiency of the car as compared to human drivers. Autonomous vehicles can increase the efficiency of the vehicle as they would have real-time traffic updates, enhanced telematics and connected cars, the self-driving vehicle would change the routes accordingly. Thus, the vehicles would be more efficient as they would not result in the wastage of fuel at traffic jams.
Autonomous vehicles have enhanced fuel efficiency since they use proper acceleration and gear shifts as compared to human drivers who tend to accelerate or deaccelerate the vehicle aggressively and ending up wasting more fuel. Platooning of vehicles is possible with autonomous vehicles. This would also assist in increasing the efficiency of the vehicle, owing to reduced aerodynamic drag caused by the platooning. The rise of hybrid technologies used in traditional cars and trucks currently, along with the use of pure electric and hybrid electric technologies in future autonomous cars and trucks, would together assist in saving energy and increasing the efficiency of the drive. The sharing economy would also increase energy savings with the use of autonomous cars and trucks.
Market Opportunities
Increasing Focus on Vehicle Platooning
Vehicle platoon comprises group of vehicles equipped with advanced technology, running together in a row from nose-to-tail at a high speed. A lead vehicle is followed by the other vehicle at a same speed and maneuvers to the lead the vehicle. Each vehicle communicates with lead vehicle, which controls
the speed and direction of the other vehicles. Additionally, vehicle platooning is a result of one the technological advancement in the automotive industry, which aims to enhance vehicle & passenger safety, improve fuel efficiency and decreases time travel. Numerous vehicle manufacturers and
government bodies are investing huge amount in R&D to develop vehicle platooning technology. For instance, in February 2018, the Europe government launched "ENSEMBLE", an EU funded project for truck platooning. DAF, Daimler, Iveco, MAN, Scania, and Volvo are the partner of this program. The ENSEMBLE consortium will develop autonomous trucks for vehicle platooning and will demonstrate multi brand truck platooning over the period of next three years. Additionally, in January 2018, after the successful test of truck platooning in Europe, Daimler AG is testing truck platooning in Japan through its subsidiary "Fuso". Moreover, rising implementation of vehicle platooning is expected to boost the demand for autonomous vehicle.
INCREASED TECHNOLOGICAL ADVANCEMENTS BY OEMS FOR THE DEVELOPMENT OF AUTONOMOUS VEHICLES
The driver assistance technology offers adaptive headlights, passive cruise control, lane departure warning, night vision, blind spot detection, and self-parking features. The security features entail remote keyless entry and passive car entry. Autonomous cars enhance comfort by integrating air conditioning, LED lighting, electric windows, rain sensitive wipers, electric seats, power sliding doors, and electric roof. The electrical suspension offers an active as well as passive suspension. The power train features offer engine management, electrical power steering, electro-hydraulic power steering, automatic gearbox, and steer-by-wire. Instrumentation offers head-up displays. Braking advancements offer ABS without as well as with electronic stability. The safety features incorporate airbags and occupant detection.
NEW BUSINESS MODEL FOR INSURANCE COMPANIES
The rising emergence of autonomous vehicles is expected to innovate automobile insurance. Traditional automobile insurance is secured by the owner of the vehicle. For instance, car owners must insure their vehicle as a preventive measure against accidents. More than 90% of the accidents are caused due to human error. Thus, considering such accidents, insurance companies provide aid in terms of monetary benefits. However, with autonomous vehicles on the roads, the rate of accidents is expected to reduce as it would be driven by robotic drivers.
Self-driving cars would be less susceptible to accidents and also the ownership of the vehicles would shift to automakers as they can boost the sharing economy by providing autonomous vehicles as per requirements 24/7. With the less individual ownership of vehicles, auto insurance is expected to experience a decline. Moreover, along with the rise of autonomous vehicles, innovative insurances such as enhanced cyber-security insurance, sensor insurance/algorithm insurance, and insurance against bad infrastructure. Thus, insurance would be provided for services instead of physical products. Furthermore, autonomous vehicles are expected to increase automobile insurance exponentially over the forecast period.
Below mentioned are the benefits of vehicle platooning
Lower fuel consumption
Reduce CO2 emissions by up to 10%
Reduction in road congestion
Reduction in traffic accident
Optimises transportation system by using roads more effectively
Reduce up to 30% of total operating costs of a truck
Transition from Car ownership to Mobility-as-a-Service (MaaS)
With the changing landscape of how passengers commute on daily basis, the demand for an integrated mobility service platform which combines various modes of transportation such as public transit, private vehicle, and bikes, among others in a compact service package has increased in the recent years.
According to the United Nations, the total population living in urban areas is estimated to reach 68% by 2050 from 55% in 2018 and along with this rapidly rising urban population, the demand for sustainable transportation system which consumes less time, is affordable and reduces hassle is expected to grow as well. As MaaS helps in decongestion of traffic, cost reduction, and efficient travel, the future of mobility services is expected to change rapidly. As the platform is flexible to integrate new modes or products without interfering with the existing service operations, integration of autonomous vehicle is expected to be adopted on a commercial scale thereby increasing car-pooling services; reducing the use of privately-owned cars autonomous cars. As the Mobility-as-a-Service becomes sustainable in the future, it is expected reduce the travel costs such as fuel costs and toll cost by reducing traffic congestions.
Most of services for MaaS will be delivered by the robo-taxi or self-driving taxi, a Level 4 or Level 5 autonomous cars operated for on-demand mobility services such as ride haling and ride sharing. Additionally, autonomous driving technology providers such as Waymo, Uber, and Zoox, among others are spending a humongous amount in R&D to develop Level 4 or Level 5 robo-taxis. For instance, Uber invests $125 million to $200 million in a quarter for self-driving vehicle projects. Additionally, autonomous technology providers are collaborating with automotive OEMs and tier 1 component providers to develop advanced autonomous vehicles. For instance, in August 2018, Uber partnered with Toyota and as per the partnership agreement Toyota invested $500 million in Uber and both companies will work jointly for the development of self-driving cars. The combined self-driving technology will be integrated with Toyota Sienna minivans and will be deployed on Uber ride-hailing networks starting from 2021. All these factors are anticipated to create immense opportunities for the market growth.
Wide Ranging Opportunities for Luxury Cars (Level 1 and Level 2) in Emerging Economies
The demand for luxury cars is on a rise, automotive OEMs such as Volvo, BMW, Audi, Mercedes- Benz, among others are developing luxury vehicles, which are level 1 and level 2 autonomous vehicles. In the recent years, the automotive sector has witnessed unprecedented growth in emerging economies such as China, India, Vietnam, Malaysia, and Indonesia, which are also becoming major manufacturing hubs for global automotive players. In order to efficiently make use of rising consumer automobile preferences, leading global automotive OEMs are entering into new and emerging markets for business expansion in terms of product launches, acquisitions/partnerships. For instance, BMW will launch X7, X4 in India in 2019. BMW X7 comprises ADAS features such as adaptive cruise control, lane departure warning, blind spot detection, and speed limit information, among others. This form of expansion will further strengthen the company's position in emerging countries and enhance its market share.
Additionally, leading automotive OEMs are expanding their geographical footprint in emerging countries by increasing manufacturing capacity in an order to fulfil the gap between the demand and supply of the vehicles. For instance, in July 2018, BMW and its Chinese partner "Brilliance Automotive Group Holdings" signed an agreement to expand their Chinese joint venture "BMW Brilliance Automotive". This expansion will help the company to boost its production capacity to 520,000 cars in 2019.
Market Restraint
VEHICLE SAFETY AND CYBERSECURITY CONCERNS
Autonomous vehicles are a cyber-physical system as they have elements of both physical and virtual worlds. The physical system comprises the car and all the mechanical components, while the virtual system comprises the AI-based driving assisting systems, such as car-to-car communication, navigation, and cloud connectivity. Thus, Connectivity also poses a threat to the security of the autonomous car. Autonomous vehicles can be hacked by traditional hackers for personal data, such as behavior patterns. Moreover, autonomous vehicles can be infected by ransomware that can cause accidents while also increasing the chances of vehicle theft. In 2015, Jeep Cherokee was hacked by researchers from IOActive, Inc., a company that provides cybersecurity solutions. The car was hacked using the entertainment system that was connected to the cloud through the internet. Thus, the hackers were successful in taking control of the car.
The LiDAR and image recognition system can also be tricked by portraying false images and road signs. Also, Lidar is unable to sense glass while radar can mainly sense metal objects only. Thus, it poses a threat to the passengers travelling in autonomous cars. The malfunctioning of autonomous cars can be fatal, which emerges as the biggest social perception inhibiting their espousal. Extensive and scrupulous testing is indispensable, as is redundancy in autonomous systems. In case something miscarries, there are alternatives or back-ups in place, which permit the continued safe operation of these cars. However, this would further increase the cost of autonomous cars. Moreover, people are highly concerned about the cars' performance in different driving conditions as regards weather and traffic. Functional safety is another key concern that hampers the adoption of autonomous cars. It is referred to as the absence of unreasonable risks that occur due to hazards caused by the malfunctioning of electronic systems. Moreover, random failures are unpredictable.
NON-AVAILABILITY OF INFRASTRUCTURE IN DEVELOPING COUNTRIES
The main pillars of autonomous vehicles are policies and regulations, technological innovation, infrastructure, and adoption by customers. The self-driving vehicle is dependent on factors such as continuously maintained road infrastructure, road signs, and updated maps or navigation systems. In many developing countries such as India, Mexico, and Brazil, the road infrastructure is not as developed as compared to developed countries such as the U.S., Singapore, and Sweden. Thus, it would cause a hindrance in the development of autonomous vehicles.
The networking and development of roads also plays an important role in enhancing the adoption of self-diving vehicles. For instance, in 2017, according to the World Economic Forum, Brazil was ranked 107th out of 144 countries in infrastructure development. Thus, such issues in developing nations would act as a restraint in the development of autonomous vehicles. The investments in developing the infrastructure would play a vital role in the adoption and growth of autonomous vehicles. Also, upgrading the existing infrastructures and building new ones would act as a restraint in the development of autonomous vehicles in the growing economies.
Market Challenge
SYSTEM RELIABILITY AND UNCERTAINTY IN USER ACCEPTANCE
The surging technological advancements aiming at offering enhanced features while reducing the social perception pertaining to the adoption of driverless cars is a key concern. Moreover, people would prefer to spend a little more on their current cars and equip them with features such as crash avoidance and lane keeping systems, which form the basis of autonomous cars. Furthermore, several social equity concerns associated with driverless cars may hinder their adoption as these cars may have unfair impacts.
In addition, autonomous cars would affect business activity as well. There would be a decline in the demand for car repairs owing to reduced crash rates, thereby impacting the maintenance & repair department revenue. Moreover, if the frequency of accidents drops then a complete "crash economy" of insurance firms, chiropractors, automotive body-shops, and others will be disrupted. The adoption of autonomous cars is emphasized due to the increased safety that it offers in driving as compared to humans. A computers faulty reading from a sensor or miscalculation may trigger a car to perform unsuitable tasks, which could catch the driver off-guard. This may possibly result in uncommon and highly complex types of accidents that are difficult to predict.
Regional Insights
Surge in adoption of hybrid and electric vehicles in North America has projected the region as the global leader in the year 2022 and expected to witness explicit growth over the forecast period. This is attributed to the changes in traffic regulations in the U.S. that allow autonomous vehicles to operate on public roads. In order to make transportation fully autonomous, the government is taking initiatives for road infrastructure.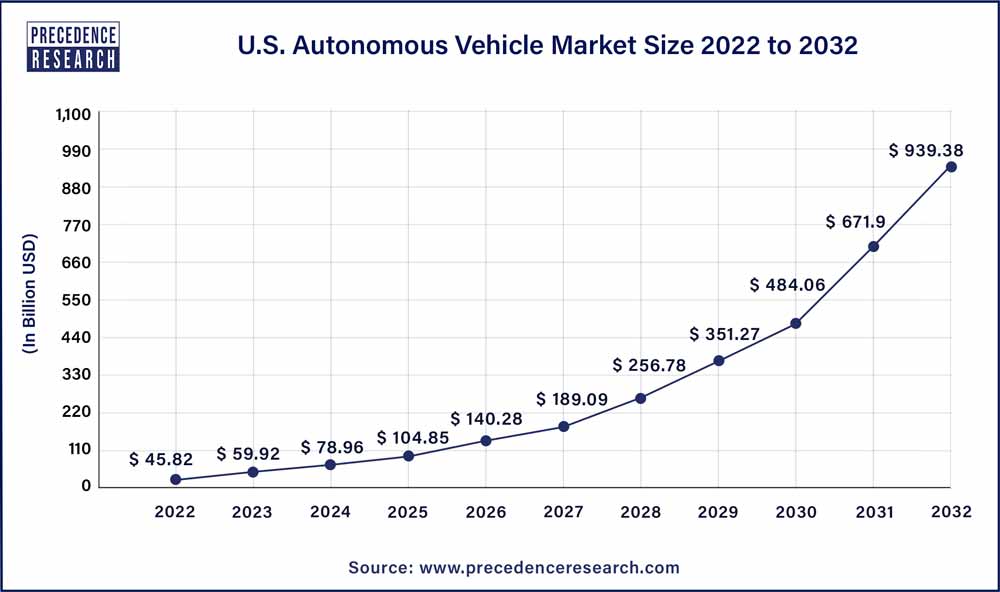 The prime factor supporting the accelerating growth of the region is amendments from government in the traffic regulations to support the autonomous mobility on public road. For example, in 2013, a traffic regulation institute in the U.S., the National Highway Traffic Safety Administration (NHTSA), allowed testing for self-driving cars in various states, including California, Nevada, Michigan, Florida, and Washington D.C.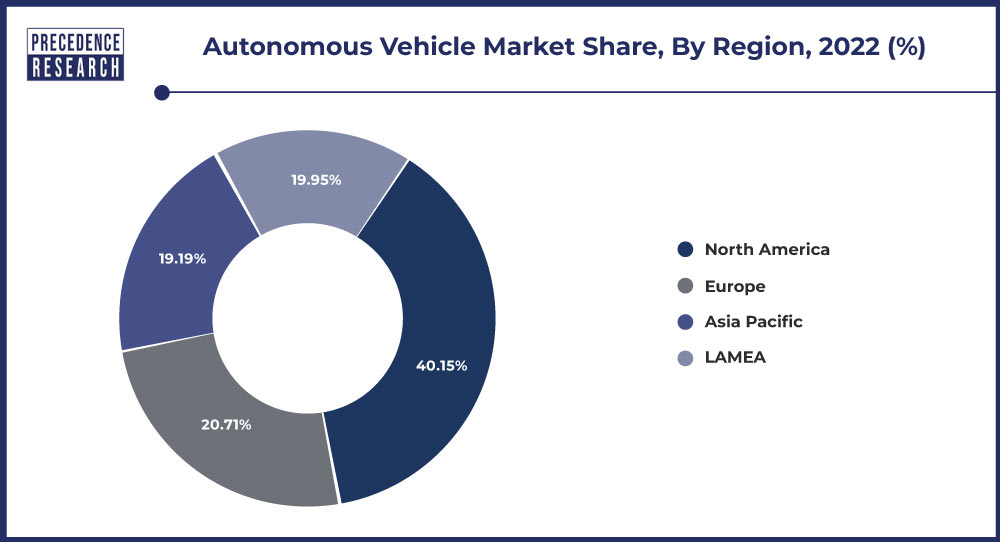 On the contrary, Europe expected to emerge as the most lucrative region for autonomous car market in the coming years due to shifting consumer preference towards automated product along with rising adoption of autonomous vehicles. In 2018, the U.K. Department of Transport announced a jurisdiction to permit autonomous vehicles on any public road without the requirement of extra insurance or permits. In 2018, the country has successfully established centers for autonomous and connected vehicles. Further, the government of UK has shown its commitment towards autonomous vehicles and planned to convert all vehicles on-road into autonomous one by the year 2021 by making necessary changes in the regulations.
Global Autonomous Vehicle Market Revenue, By Region, 2022-2032 (USD Billion)
| | | | | |
| --- | --- | --- | --- | --- |
| Region | 2022 | 2023 | 2027 | 2032 |
| North America | 48.90 | 63.81 | 199.67 | 981.59 |
| Europe | 25.22 | 32.96 | 103.70 | 513.16 |
| Asia Pacific | 23.37 | 30.52 | 95.84 | 473.14 |
| LAMEA | 24.29 | 31.01 | 88.66 | 386.04 |
Application Insights
By application, the global autonomous vehicles market is bifurcated into defense and transportation segments. Among them transportation segment cover nearly 93.74% of the market value share in 2022 and anticipated to witness a proliferating growth over the analysis period. The transportation segment is further categorized into commercial and industrial applications. Rising adoption of electric and hybrid vehicles with various level of automation has significantly triggered the demand for autonomous vehicles in transportation application. Furthermore, public awareness and government support for shared mobility in commercial sector has prominently boosted the trend of autonomous vehicles in the segment. For instance, in December 2019, a manufacturer and supplier of Internet-related services and products, Baidu, announced to secure 40 licenses that help company to test its driverless cars. Other than commercial application, industrial segment also projected to expand at a rapid rate owing to surge in logistics and e-commerce platform that require heavy vehicles for goods transportation.
Due to increasing adoption of autonomous vehicles in transportation, the transportation segment is expected to grow significantly in the coming years. This is also due to technological advancements and a growing acceptance of autonomous vehicles by governments around the world.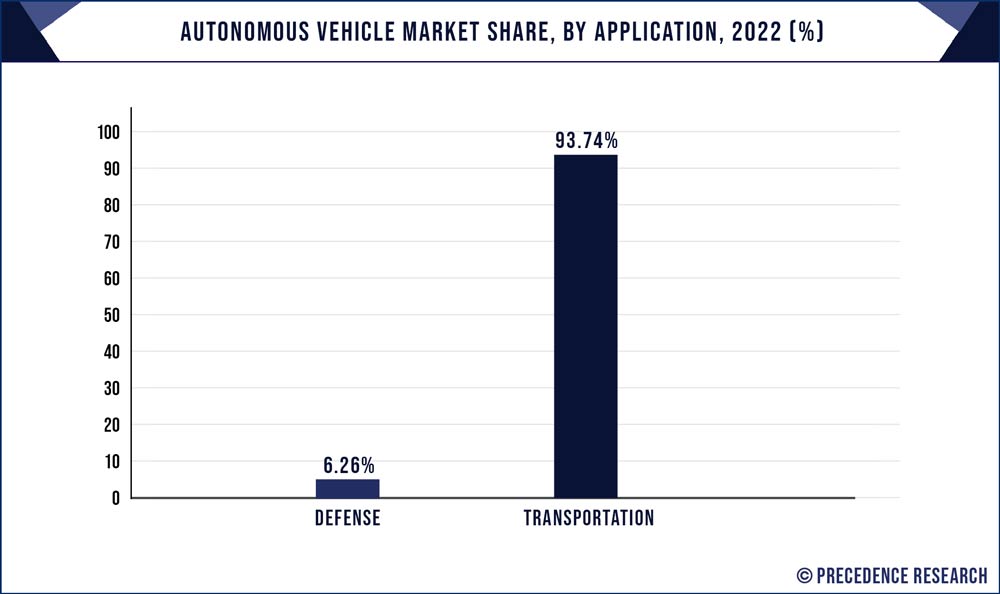 However, defense sector experience flourishing growth in the demand for autonomous vehicles and expected to emerge as one of the most prominent application during the forecast period owing to various initiatives across different regions such as North America. For instance, in April 2019, the U.S. military announced to deploy autonomous combat trucks to assist soldiers while driving to avoid accidents especially in rough terrain.
Global Autonomous Vehicle Market Revenue, By Application, 2022-2032 (USD Billion)
| | | | | |
| --- | --- | --- | --- | --- |
| Application | 2022 | 2023 | 2027 | 2032 |
| Defense | 10.05 | 13.22 | 42.75 | 218.47 |
| Transportation | 111.73 | 145.09 | 445.12 | 2135.46 |
Key Companies & Market Share Insights
The global autonomous vehicle market is highly competitive and dominated by the presence of major automotive giants. Leading market players are significantly focused towards inorganic growth strategies such as collaboration, partnership, merger & acquisition, and regional expansion. In August 2017, Intel Corporation, BMW AG, Fiat Chrysler Automobiles (FCA), and Mobileye, affiliated business of Intel Corporation contracted a memo of understanding for Fiat Chrysler Automobiles to link companies for the development of autonomous vehicle driving platform. The memorandum aimed at collaborating capabilities, resources, and strengths of all the companies to reduce the product launch time, in addition, also enhances the development efficiency and platform technology.
Moreover, industry participants also invest significantly for the product development as autonomous vehicles require high-end electronic devices for advanced automotive features. Rapidly changing consumer preference and increasing awareness among the people for environment-friendly vehicles motivate the market players to incorporate such features in their vehicles. These market players tie up with the electronic hardware manufacturing companies to meet the consumer demand.
Some of the prominent players in the autonomous vehicle market include:
BMW AG
Audi AG
Ford Motor Company
Daimler AG
Google LLC
General Motors Company
Nissan Motor Company
Honda Motor Co., Ltd.
Toyota Motor Corporation
Tesla
Volvo Car Corporation
Uber Technologies, Inc.
Volkswagen AG
Segments Covered in the Report
This research report includes complete assessment of the market with the help of extensive qualitative and quantitative insights, and projections regarding the market. This report offers breakdown of market into prospective and niche sectors. Further, this research study calculates market revenue and its growth trend at global, regional, and country from 2020 to 2032. This report includes market segmentation and its revenue estimation by classifying it on the basis of application, and region:
By Application
Defense
Transportation

Commercial transportation
Industrial transportation
By Level of Automation
Level 1
Level 2
Level 3
Level 4
Level 5
By Propulsion Type
Semi-autonomous
Fully Autonomous
By Vehicle Type
Passenger Car
Commercial Vehicle
By Regional Outlook
North America
Europe
Asia Pacific

China
India
Japan
South Korea

Rest of the World