The global polymers market size reached USD 716.83 billion in 2022 and is expected to reach around USD 1,207.11 billion by the end of 2032, growing at a compound annual growth rate (CAGR) of 5.4% from 2023 to 2032.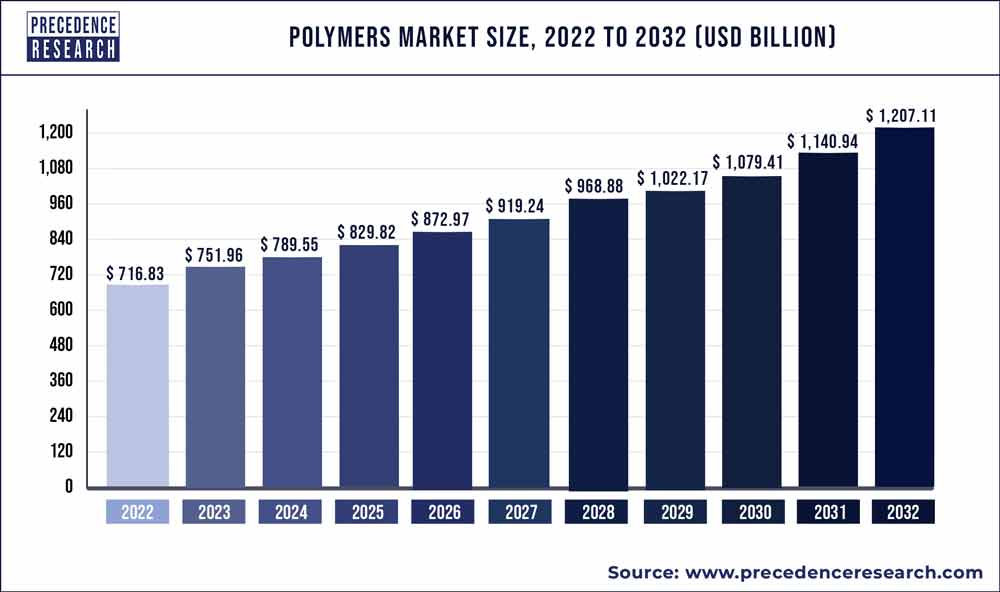 Access our Premium Real Time Data Intelligence Tool, Visit: Precedence Statistics
Key Takeaways:
Asia Pacific region accounted for 44% of revenue share in 2022.
Asia Pacific is expected to grow at a CAGR of 7.9% from 2023 to 2032.
By type, the thermoplastics segment held a 43% revenue share in 2022.
By material, the polyethylene segment has held the highest revenue share in 2022 and growing at a CAGR of 7.4% during the forecast period.
By process, the injection molding segment is growing at a CAGR of 6.9% from 2023 to 2032.
The global polymers market is booming because polymer is one of the most commonly utilized chemical products in practically all industries, including the medical, aerospace, packaging, automotive, construction, and electrical appliances industries. Because of their great performance, light weight, cost-effectiveness, and polymers are frequently employed as alternatives to items made of metal and mineral materials. The importance of the polymers market is being impacted by the expansion of the retail sector and the thriving e-commerce sector's desire for additional packaging materials.
One of the main factors driving the growth of the polymer market is the increase in demand across several end-use industries. The main factor propelling the market for polymers is the rising demand for them across a variety of sectors. The polymer is suitable for a range of end-user applications in the industry owing to a variety of advantageous characteristics. It is utilized in toys, sports, and fashion because of its great strength, stiffness, and flexibility; because it allows for simple product shaping and packing, it will expand rather than break. Polymer-based products give electrical trembling resistance, although they are electrostatically charged.
Growth Factors
In the past, polymer goods were discarded after use, which increased the quantity of the garbage that accumulated in landfills and had negative environmental impacts. Manufacturers of polymers have started utilizing cutting-edge mechanical and chemical ways for recycling these goods as time has gone on. Because less new or fresh raw materials are used during production, reusing polymer materials has the significant benefit of lowering manufacturing costs. The main trend in the polymer industry is hence toward optimum resource usage through the recycling of polymer resources to decrease waste and foster a sustainable environment.
The growing end user demand.
Increasing demand for eco-friendly products.
Report Scope of the Polymers Market
| | |
| --- | --- |
| Report Coverage | Details |
| Market Size in 2023 | USD 751.96 Billion |
| Market Size by 2032 | USD 1,207.11 Billion |
| Growth Rate from 2023 to 2032 | CAGR of 5.4% |
| Base Year | 2022 |
| Forecast Period | 2023 to 2032 |
| Segments Covered | Product Type, Material, Application, Process, and Geography |
| Companies Mentioned | Dow Inc., Evonik Industries AG, Eastman Chemical Company, Covestro AG, Mitsui Chemicals Inc., Exxon Mobil Corporation, Royal DSM, BASF SE, Clariant International Limited, Huntsman Corporation |

Key Market Drivers
Rising demand among end-users
Due to numerous advantageous characteristics, polymer is suitable for a range of applications in the end-use industry. Despite its low strength and hardness, it will stretch as opposed to shatter because of its excellent ductility and robust impact resistance. Polymer-based products provide great electrical insulation and provide resistance to electric shaking, but they also run the risk of electrostatic charge.
Several sectors, including automotive, electrical and electronics, food and beverage, and consumer items, are becoming more dependent on polymers as a result of these properties. The growing demand, which also ensures its future prospects, further positions the polymers market positively. Car manufacturers are focusing on making their vehicles lighter in order to increase efficiency.
The advantages of polymer material are its light weight, ease of manufacturing, sealing, and stiffness properties. The use of polymers in the food and beverage industry is rapidly increasing as a result of the rising demand from the production of materials for food and beverage packaging. To reduce the danger of food contamination and quality loss, producers prefer packaging that is effective. Polymer is being utilized more frequently in toys, sports, and fashion because of its resilience to physical stress, durability, packaging flexibility, and simplicity of product shape.
Rising demand for bio-based polymers
Bio-based plastics are produced entirely or in part from biological resources that are renewable. For instance, the processing of sugar cane results in the production of ethylene, which is subsequently utilised to create polyethylene. Lactic acid and then polylactic acid may be created by processing starch (PLA).
Bio-based polymers are ideal for lowering global energy consumption, cutting back on carbon emissions, and protecting the environment. As a result, a lot of businesses are turning to this wonderful plastic substitute since it benefits both consumers and packaging businesses. It's also important to realize that renewable carbon components are included in bio-based polymers like bio-based polyethylene. This is one of the key causes for which many firms are switching to plastics derived from biomaterials rather than fossil fuels. A bio-based plastic will return to the atmosphere at the end of its life cycle, but it won't release any additional carbon dioxide into the atmosphere.
Key Market Challenges
Plastics' damaging impact on the environment
Plastics may be utilized in a wide range of residential, commercial, and industrial applications because they are lightweight, strong, and corrosion-resistant. They also have excellent thermal and electrical insulation capabilities. Plastic products are less expensive than those constructed of other metals. As a result, ordinary plastic has been used more often globally during the past 20 years.
Plastic cannot dissolve due to a number of dangerous chemical components, which limits its use in a number of end-use applications. Exposure to harmful chemicals also has a negative impact on the environment, living things, and people's health. The damaging effects of plastics on the environment are a problem for the polymer sector.
The usage of microplastics is currently posing a greater hazard to land-based creatures and plants, including people. Thus, stricter laws are being enacted as a result of the increased environmental concern, which is impeding market expansion. Whereas, Governments all across the world have taken efforts to prohibit the plastic.
Key Market Opportunities
Increasing opportunities in different sectors using polymers
The polymer industry has a promising future with opportunities in the automotive, building and construction, industrial, and packaging areas. The market for high performance polymers in the automotive sector is projected to grow by 2030. As a consequence of the increased demand for these materials for various composites used in exteriors, interiors, chassis, and structural components of cars, the market for high performance polymers in the automotive sector is growing.
Due to the stringent pollution control regulations that have been implemented by many governments across the world, the automotive industry is placing a lot of focus on component downsizing and functional integration. As a result, OEMs are looking for novel polymers with low weight and high strength to provide affordable components with improved efficacy and performance.
Segments Insight
Product Type Insights
On the basis of product type, the thermoplastics segment is expected to have the largest market share in the coming years period this segment has dominated the market in the past with the maximum share in terms of revenue and it will continue to grow well in the coming years.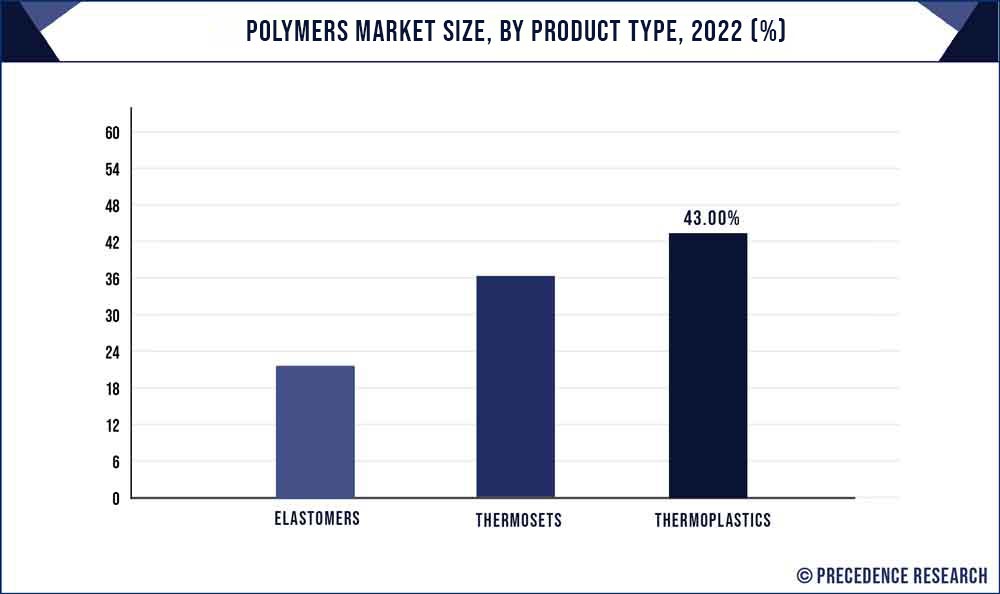 This is a result of thermoplastics' rising popularity in the food packaging sector because to their great mechanical strength, low cost, and simplicity of production. The need for thermoplastics has also increased as a result of similar qualities in other sectors, such as the building of lightweight constructions, storage tanks, and window frames and panels.
Material Insights
On the basis of base material, the polyethylene segment is expected to have the largest market share in 2022. The market is developing because to the expanding applications for HDPE and LDPE in food and beverage packaging, including milk and fruit juices, crates, caps for food packing, drums, and other liquid food packaging. Polyethylene is utilized as sheets, foils, films, plates, and strips that provide plastic protection for floors in the construction sector.
Application Insights
On the basis of application, the packaging segment is expected to held largest market share in the 2021. Due to polymers essential qualities, such as high flexibility, protective packaging, high resistance to shock/vibration, and high resistance to surface abrasion, polymers are replacing conventional materials. Additionally, due to technical developments, the physical, mechanical, and barrier characteristics of the polymers have been improved by the addition of nanofillers to polymer matrices, which has increased their demand in this area.
Polymers Market Share, By Region, 2022 (%)
| | |
| --- | --- |
| Regions | Revenue Share in 2022 (%) |
| North America | 19.50% |
| Asia Pacific | 44% |
| Europe | 28.50% |
| Latin America | 5% |
| MEA | 3% |

Regional Insights
Why had Asia-Pacific hit majority revenue share in the polymers market?
On the basis of geography, Asia-Pacific accounted highest revenue share in the market throughout the projection period. The developing economies of Southeast Asian nations, rising disposable income, the low cost of the raw resources needed to make plastics, and a rise in population are all driving this market's expansion in the Asia Pacific region.
The market will advance in the upcoming years as a result of expanding petrochemical and plastic usage in the food and beverage sectors, as well as rising demand for environmentally friendly substitutes for conventional plastics from developing nations like China and India. Due to continual expansion of its downstream capacity by developing nations like India and Japan, the Asia Pacific area has consumed the bulk of polymers.
The need for polymer plastics in the Asia-Pacific area is also being driven by the rapidly growing electrical and electronic sector. The restriction and strict regulations on new capacity additions in the western area, which have forced some corporations to establish their production base in the Asia Pacific region, contribute in the continuous increase in production capabilities of polymers.
Why North America is fastest growing region in the polymers market?
Due to its strong growth in the automotive industry over the course of the forecast period, North America is anticipated to expand at a leading rate and drive the market for polymer. The market for polymers is being driven by the expanding need in a number of different industries in this area, including aerospace, construction, and others.
Recent Developments
In October 2020 – A $2 billion transaction was announced by LyondellBasell Industries N.V., a multinational plastic and chemical firm, to purchase 50% of Sasol's 1.5 million metric ton ethane cracker, 0.9 million ton low and linear-low density polyethylene units, and related infrastructure. The transaction would be carried out through a 50:50 joint venture between LyondellBasell Industries and Sasol, an integrated energy and chemical firm with headquarters in Sandton, South Africa.
Segments Covered in the Report
(Note*: We offer report based on sub segments as well. Kindly, let us know if you are interested)
By Product Type
Thermoplastics
Thermosets
Elastomers
By Material
Polyethylene
Polyvinyl Chloride
Polyethylene Terephthalate
Polystyrene
By Application
Packaging (Rigid and Flexible)
Building and Construction (Roofing, Windows, Flooring, and Others)
Automotive (Engine, Tires, Body Panel, and Others)
Electrical and Electronics
Agriculture
Medical/Healthcare
Others
By Process
Injection Molding
Extrusion
Others
By Geography
North America
Europe
Asia-Pacific
Latin America
Middle East & Africa (MEA)