The global super absorbent polymers market size is projected to be worth USD 19.94 billion by 2030, growing at a CAGR of 7.5% over forecast period 2021 to 2030. The global super absorbent polymers market size was valued at USD 9.68 billion in 2020.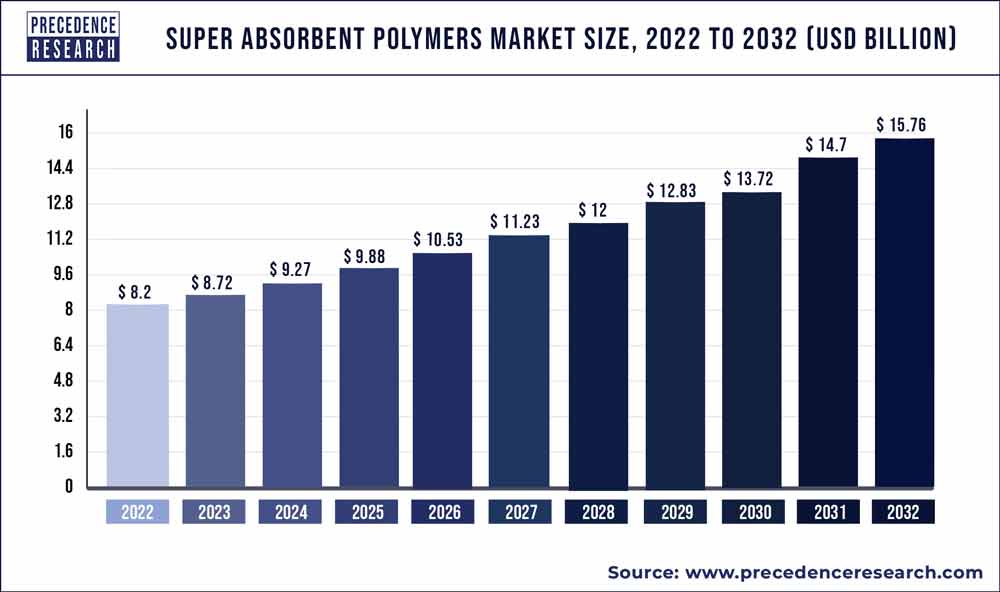 Key market Insights:
Super absorbent polymers, mainly used in disposable personal care goods, are polymers with superlative absorbing strength. Depending on their structure and ingredient presence, they may be synthetic or natural in nature. In several vertical industries, such as agriculture, horticulture, healthcare, manufacturing, automobile, industrial water, packaging, super absorbent polymer is commonly used. Key players in the target industry are focusing on quickly degradable bio-based SAP products, in order to avoid disposal issue associated with baby diapers and adult diapers which can have positive impact on the growth of the target industry. Furthermore, rising social media campaigns about personal hygiene and use of baby diapers expected to offer additional sales improvement opportunities for the key players in Asia Pacific and Africa region.
Crucial factors accountable for market growth are:
Increasing demand for the manufacturing of disposable babies diapers, feminine hygiene products, and adult incontinence products
Rising birth rate and growing geriatric population
Growing demand for SAP in solidification of medical waste
COVID-19 Impact on Global Super Absorbent Polymers Market
Outburst of COVID-19 has impacted on most of the key markets across the globe; super absorbent polymers market in no exception. Asia Pacific is the biggest market for the super absorbent polymers, but to the spread of coronavirus and lockdown situations in China, India, Japan has led to reduced supply and demand for the super absorbent polymers. Due to COVID-19, supply chain disruption, fluctuations in the raw material supply, insufficient man power in the manufacturing facility and low demand form the end use costumers hampered target industry growth in the developed as well as emerging economies worldwide. However, COVID-19 situation is resolving slowly and most of the industries are started their facilities at full capacity.
Future of Global Super Absorbent Polymer Market
Major companies of the global industry including SUMITOMO CORPORATION and Evonik Industries AG are pointing towards commercial growth by adopting strategies like capacity expansion, heavy investments in the manufacturing facilities that is predictable to flourish the global market growth in next few years. This trend is probable to continue and will augment growth of the target industry in the near future. Further, bio-based of SAP products is predictable to create profitable opportunity in the target market. Rising initiative for bio-based products by government of developed as well as emerging countries across the globe is expected to boost the industry.
Segment Analysis:
The Sodium Polyacrylate Segment Is Projected To Dominate the Type Segment of Super Absorbent Polymer Market Revenue
On the basis of type segment the target industry is segregated as ethylene maleic anhydride copolymer, polysaccharides, sodium polyacrylate, polyacrylate/polyacrylamide copolymer, among others. The sodium polyacrylate type super absorbent polymersis expected to dominate in terms of revenue over the forecast time frame and expected to continue its growth in the near future. The growth is accredited to its ability to absorb several hundred times of its mass in water as well as other liquid mixtures. However, the polyacrylate/polyacrylamide copolymer super absorbent polymers will expand at a substantial CAGR during the forecast time-frame.
Hygiene Grade Segment Is Predictable To Take over the Grade Segment of Super Absorbent Polymers Market Revenue
On the basis of grade, hygiene grade segment is anticipated to take over in terms of revenue over the forecast time edge. This is attributed to growing adoption of SAP in the manufacturing of baby diapers, female as well as adult's hygiene products in the leading countries worldwide. Industrial grade segment will expand at a noteworthy CAGR during the forecast period of time due to increasing demand from the agricultural industries across the world.
Asia Pacific is estimated to be the Largest Market for Super Absorbent Polymer
The research report covers key trends and prospects of super absorbent polymers products across different geographical regions including North America, Europe, Asia-Pacific, Latin America, Middle East, Africa. Geographically, super absorbent polymers market is conquered by Asia Pacific owing to increasing demand from personal care and agricultural industries for the end-use applications especially in the India, China, and Japan of the region. The China super absorbent polymers (SAP) industry market is anticipated to dominate in terms of revenue in the Asia Pacific region. Rapid industrialization, large agriculture sector, technological innovations, rising birth rate and improved living standard are major factors fuelling growth of the target market in APAC region.North America is expected to register the fastest growth rate, on account of increasing huge investment by key market players and growing adoption of the super absorbent polymers in the medical industries of the region.The growth of the super absorbent polymers industry in the countries of the North America is attributed to increasing demand for super absorbent polymers for personal hygiene applications, owing to increasing demand for SAP based hygiene products in the U.S. and Canada of the region. Further, increasing demand for industrial and construction applications is expected to fuel growth of the industry in North America. Latin America industry market is estimated to grow at moderate growth rate over the forecast year. The Brazil industry market is anticipated to dominate in terms of revenue in the region owing to growing population and increasing investment in the construction sector in the Brazil.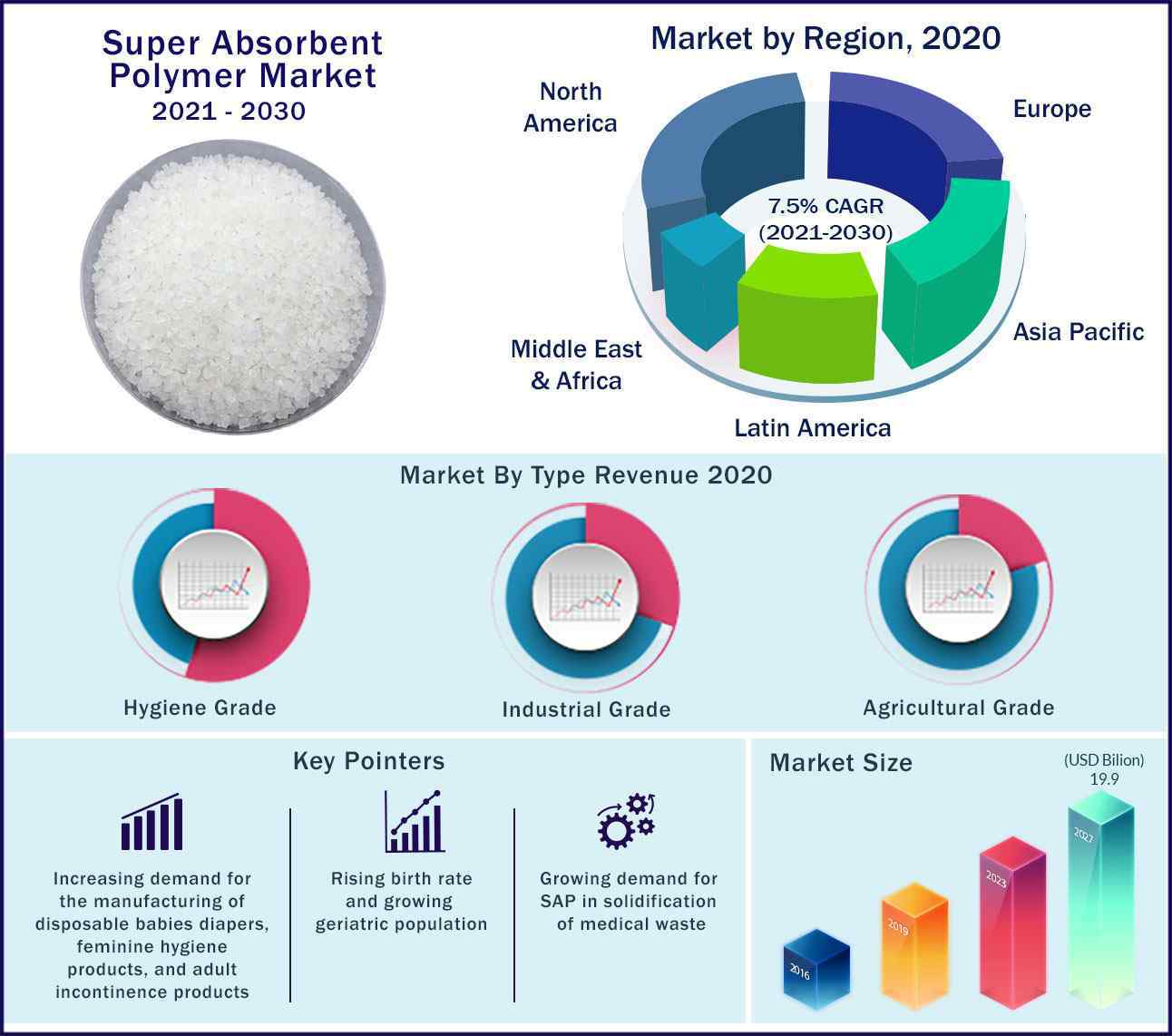 Top Players contending in the Market:
The companies focusing on research and development are expected to lead the global super absorbent polymers market. Leading competitors contending in global super absorbent polymers market are as follows:
Satellite Science & Technology Co. Ltd.
Kao Corporation
Formosa Plastics Corp
Sdp Global Co., Ltd.
LG Chem Ltd.
SUMITOMO CORPORATION
Evonik Industries AG
BASF
NIPPON SHOKUBAI CO., LTD.
Others
For the better understanding the recent situation of the global super absorbent polymers market and for most policies of the country, Precedence Research forecast the future evolution of the super absorbent polymers industry. This research study offers qualitative and measureable insights on super absorbent polymers market and valuation of market size and development trends for global market segments.
Key Market Developments:
In year 2019, a leading player in the global SAP industry , Sumitomo Corporation and SACI-CFPA, a Paris distributor came in agreement within which, Sumitomo Corporation company has taken ownership of SACI-CFPA. This step has been taken in order to expand its footprint in the global personal care industry in the near future.
In year 2017, major player in SAP LG Chemicals Ltd. declared that the company was heading for increasing production capacity of super absorbent polymers and acrylic acid by the end of year 2019. Company invested around USD 300 billion in order to upsurge the yield of SAP from 100 KT to 500 KT per year.
Major Market Segments Covered:
By Type
Sodium Polyacrylate
Polyacrylate/Polyacrylamide Copolymer
Ethylene Maleic Anhydride Copolymer
Polysaccharides
Others
By Grade
Agricultural Grade
Industrial Grade
Hygiene Grade
By Manufacturing Process
Suspension Polymerization
Solution Polymerization
Gel Polymerization
By Application
Personal Hygiene
Agriculture
Medical
Industrial
Packaging
Construction
Oil & Gas
By Geography
North America
Europe

Germany
France
United Kingdom
Rest of Europe

Asia Pacific

China
Japan
India
Southeast Asia
Rest of Asia Pacific

Latin America

Brazil
Rest of Latin America

Middle East & Africa (MEA)

GCC
North Africa
South Africa
Rest of Middle East & Africa