The global electric vehicle polymers market size was valued at USD 7 billion in 2022 and is expected to hit around USD 693.86 billion by 2032 and is poised to grow at a CAGR of 58.4% from 2023 to 2032.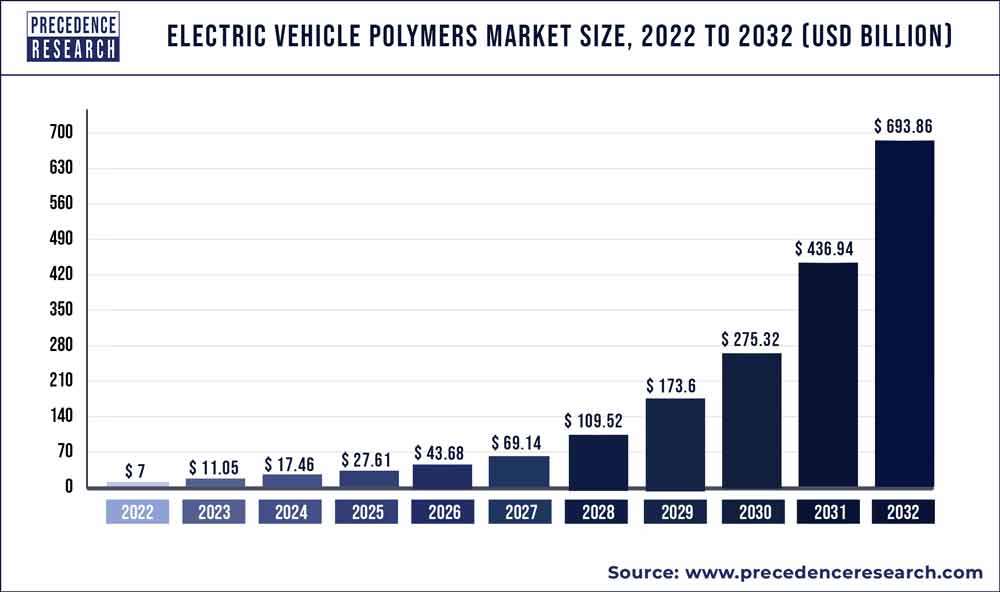 Access our Premium Real Time Data Intelligence Tool, Visit: Precedence Statistics
Key Takeaways:
By type, the elastomers segment accounted major market share of over 69% in 2022.
By component, the interior segment held the highest revenue share in 2022.
Asia-Pacific region made up 46% of the total revenue share in 2022.
North America and Europe regions are growing significantly over the forecast period.
Electric vehicle polymers are the types of plastics used in electric vehicles to lighten them up without sacrificing performance. Only materials that can replace metals are polymers since they share many of their characteristics, including heat resistance, abrasion resistance, stiffness, and toughness. For the makers of electric vehicles, replacing metals with polymers is a crucial strategy for reducing the total weight of the vehicles. A vehicle's heavy weight is a major obstacle to running entirely on electricity for a lengthy period of time, however some lighter materials can lower a vehicle's weight without compromising its strength and endurance. Whether a vehicle is using gasoline or electricity as fuel, its total weight may be decreased to increase fuel efficiency.
Electric vehicles (EVs) are more effective for daily use since lighter cars can go farther with fewer batteries. Long-term performance, weight reduction, and improved fuel economy are all provided by polymers. Over the past several years, polymer technology has advanced quickly, expanding the range of applications for it in the automobile industry. Over the course of the projection period, the market will see revenue growth due to strict laws aimed at reducing vehicle emissions and rising consumer demand for lightweight and fuel-efficient vehicles.
Additionally, a lithium-ion battery pack made of an innovative polymer can boost battery power, guarantee temperature stability, and expand EV range on a single charge. These battery packs help protect car batteries from any negative events. The market for electric vehicle (car) polymers is primarily driven by the rising demand for electric vehicles in the emerging economies of the Asia-Pacific region, including China and India, the rapid escalation of governmental regulations aimed at reducing CO2 emissions, and the development of EV charging infrastructure in both developing and developed countries.
Growth Factors
Demand for electric vehicle (car) polymers is rising as consumer taste for battery-powered, lightweight vehicles shifts, which is increasing market revenue growth. Government regulations that are encouraging and beneficial as well as incentives for EV owners have boosted the use of electric vehicles. In addition, the development of a wide range of electric automobiles with cutting-edge features and innovations is anticipated to increase demand for polymers, supporting the expansion of the worldwide electric vehicle (car) polymers market. However, changes in the price of polymer raw materials may partially restrain the market's revenue expansion for electric vehicle (car) polymers.
Report Scope of the Electric Vehicle Polymers Market
| | |
| --- | --- |
| Report Coverage | Details |
| Market Size in 2023 | USD 11.05 Billion |
| Market Size by 2032 | USD 693.86 Billion |
| Growth Rate from 2023 to 2032 | CAGR of 58.4% |
| Base Year | 2022 |
| Forecast Period | 2023 to 2032 |
| Segments Covered | Component, End User, Type, and Geography |
| Companies Mentioned | Asahi Kasei Corporation, BASF SE, Celanese Corporation, Covestro AG, DuPont de Nemours, Inc., Evonik Industries AG, Kumho Polychem, Lanxess AG, LG Chem Ltd., Saudi Basic Industries Corporation, Solvay. |
Key Market Drivers
Increase in adoption of electric cars: The expansion of the electric vehicles polymer market is projected to be influenced by the rise in electric vehicle production and sales around the globe. The rise in usage to lower the weight of electric vehicles. Additionally, it is anticipated that favourable government laws and significant investments in the construction of charging infrastructure would have a good effect on the development of the polymer market for electric vehicles.
BEV revenue share of market is forecasted to increase constantly- The revenue of BEVs are predicted to rise at positive rate as BEV technology advances along with battery capacity and energy density and as cars become more autonomous and networked. The use of polymers in the automotive industry is predicted to increase steadily, with growth rates dependent on the applications and types of plastic used in vehicles, regional recycling initiatives, and inter-polymer substitution.
Key Market Challenges
Various legislations for electric vehicle polymers: Since there are many regulations and laws governing polymer recycling, certain polymers are not recycled and create irreversible chemical linkages. According to a research, millions of End-of-life Vehicles (ELVs) are improperly maintained each year in Europe and cause environmental issues. The wide range of polymers used in EVs makes recycling difficult. Governments from several nations enacted laws and rules governing the recycling of polymers. Electric vehicle polymers market growth is constrained by the high cost of technologies and sophisticated recycling facilities as well as recycling regulations that limits the use of polymers in EVs.
Key Market Opportunities
Use of polymers in interiors: Over the projection period, the highest rise is anticipated in the usage of polymers in automotive interiors. An important element fueling the expansion of the industry is the ability of polymers to reduce the inadvertent danger and safety concerns related to the inside of the vehicle. Another reason promoting the segment's growth is the manufacturer's increased usage of polymers to reduce the total weight of the electric car.
Increasing governmental support - The segment is expanding as a result of rising political support for favourable laws and regulations that will reduce global warming. Additionally, the manufacturing of long-range electric vehicles is receiving more attention from top manufacturers, which is promoting category growth. A totally electric model Y that can simultaneously transport seven passengers and their luggage was also introduced by Tesla in 2019. The torque of the front and rear wheels is managed by two separate electric motors in the car.
Segmental Insights
Component Insights
The interior section of components is undergoing a considerable shift as metals are being replaced by polymers, which have reduced accident risk and safety concerns. As a result, the interiors of electric cars now use polymers rather than metals, which also helps to lighten the total weight of electric vehicles. Due to its durability, aesthetic appeal, and ability to dampen noise, vibration, and harshness (NVH), polymer has proven to be the best material for automotive interior parts. During the projection period, all of these elements are anticipated to fuel the segment's expansion.
End-user Insights
Due to increased PHEV sales globally, which are fueling high demand for polymers, the plug-in hybrid electric vehicles category is anticipated to show a consistent CAGR in the global EV (car) polymers market over the forecast period. Vehicles that are plug-in hybrids provide a choice of fuels and can run on both internal combustion engines and electric motors. PHEV cars may run on conventional fuel or alternative fuel sources, such batteries and gasoline. In this market, polymers are in great demand because to the widespread use of polymer technologies, particularly carbon fibre for PHEV inside and exterior components.
Type Insights
Due to the widespread use of elastomers in different vehicle components including the braking system, chassis, tires, and interior portions of vehicles, the elastomers segment is anticipated to see a substantially quick rate of revenue growth over the projected period. The use of elastomers in the aforementioned sections improves force and impact resistance in both hot and low temperatures. The infrastructure for electric vehicles is still in its infancy, but it is driving the quick development of elastomeric materials that can survive extreme weather conditions. Additionally, the need for elastomers in electric cars is growing, which drives businesses to create new products. For instance, Freudenberg Sealing Technologies created thermally conductive elastomers for EVs in July 2020.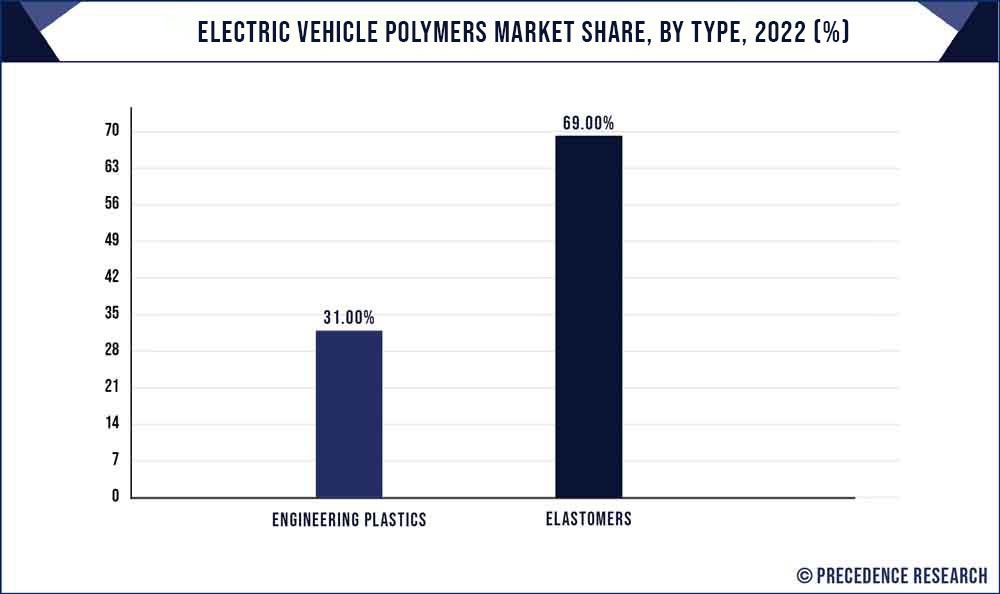 Due to the growing usage of engineering plastics by original equipment manufacturers to provide consumers with sophisticated EVs, the engineering plastics segment revenue is anticipated to account for the biggest revenue share in the worldwide market during the projected period. OEMs create items and sell them with some or all customised attributes such great machinability, dimensional stability, strength and safety, and design flexibility. Additionally, a few of the biggest OEM producers worldwide set an electrification objective by 2032.
Electric Vehicle Polymers Market Share, By Region, 2022 (%)
| | |
| --- | --- |
| Regions | Revenue Share in 2022 (%) |
| North America | 46% |
| Asia Pacific | 17% |
| Europe | 30% |
| Latin America | 4% |
| MEA | 3% |
Geography Insights
During the projected period, the Asia-Pacific region is anticipated to lead the global market for polymers used in electric vehicle (car) manufacturing. Due to the rapid increase in the manufacture of electric automobiles in countries like China, Japan, and South Korea, among others, the area has become the largest user of electric vehicle (car) polymers. The primary drivers driving the expansion of the market for electric vehicle (car) polymers in the Asia-Pacific region are the rising concern for decreasing carbon footprints, growing government backing, and decrease in the total weight of electric automobiles. During the projection period, North America and Europe are also anticipated to present potential development possibilities.
Recent Developments
Saudi Basic Industries Corp. (SABIC), located in Riyadh, Saudi Arabia, and Heng Hiap Sdn Bhd (HHI), based in Malaysia, joined up in March 2021 to create circular polymers from improved recycling of discarded plastics that are headed for the ocean and recovered mixed plastic. According to SABIC, its clients will use circular polyolefins from the Trucircle range of the company as solutions in new products. SABIC's Trucircle portfolio consists of certified circular goods made from advanced plastic recycling, certified renewables made from bio-based feedstock, and mechanically recycled products.
On March 22, 2022, BASF SE and Zhejian REEF Technology Co Ltd agreed into a strategic cooperation agreement to develop cutting-edge recyclate formulations for application in the packaging, automotive, and consumer industries. Through this arrangement, BASF SE will provide technical assistance and consulting for recycled polymer formulations carried out at BASF's test labs, as well as its recently announced IrgaCycle additive solutions. In a variety of end-use applications, IrgaCycle additive solutions help raise the proportion of mechanically recycled material.
On March 8, 2022, a new sort of battery pack called a "Pure Performance Battery" was produced by Evonik Industries, which is working to provide lighter, more cost-effective, and more efficient battery EV solutions utilising composites. The novel holistic battery system concept is anticipated to be advantageous to the automobile sector. The fact that this battery pack is built on sheet moulding compound technology makes it a more affordable, secure, and lightweight alternative to metal-based options.
Key Market Players
Asahi Kasei Corporation
BASF SE
Celanese Corporation
Covestro AG
DuPont de Nemours, Inc.
Evonik Industries AG
Kumho Polychem
Lanxess AG
LG Chem Ltd.
Saudi Basic Industries Corporation
Solvay
Segments Covered in the Report
(Note*: We offer report based on sub segments as well. Kindly, let us know if you are interested)
By Component
Powertrain System
Exterior
Interior
By End User
Hybrid Electric Vehicles (HEV)
Plug-In Hybrid Electric Vehicles (PHEV)
Battery Electric Vehicles (BEV)
Fuel Cell Electric Vehicle (FCEV)
By Type
Engineering Plastics

Acrylonitrile Butadiene Styrene (ABS)
Polyamide
Polycarbonate
Polyphenylene Sulfide (PPS)
Polyurethane
Polypropylene
Fluoropolymer
Thermoplastic Polyester
Others (Polyethylene, Polyacetal, Polyphenylene Ether, Polyphenylene Oxide, Polysulfone, Polyethersulfone, Polyetherimide, Polyphthalamide, Polyetheretherketone)

Elastomers

Synthetic Rubber
Natural Rubber
Fluoroelastomer
Silicone Elastomer
Others (Thermoplastic Olefin, Styrenic Block Copolymer, Thermoplastic Polyurethane, Thermoplastic Vulcanizate, Thermoplastic Copolyester, Polyether Block Amide)
By Geography
North America
Europe
Asia-Pacific
Latin America
Middle East & Africa (MEA)