The global electric vehicles engineering plastics market size was estimated at USD 9.39 billion in 2022 and it is projected to surpass around USD 92.83 billion by 2032 with a registered CAGR of 25.80% from 2023 to 2032.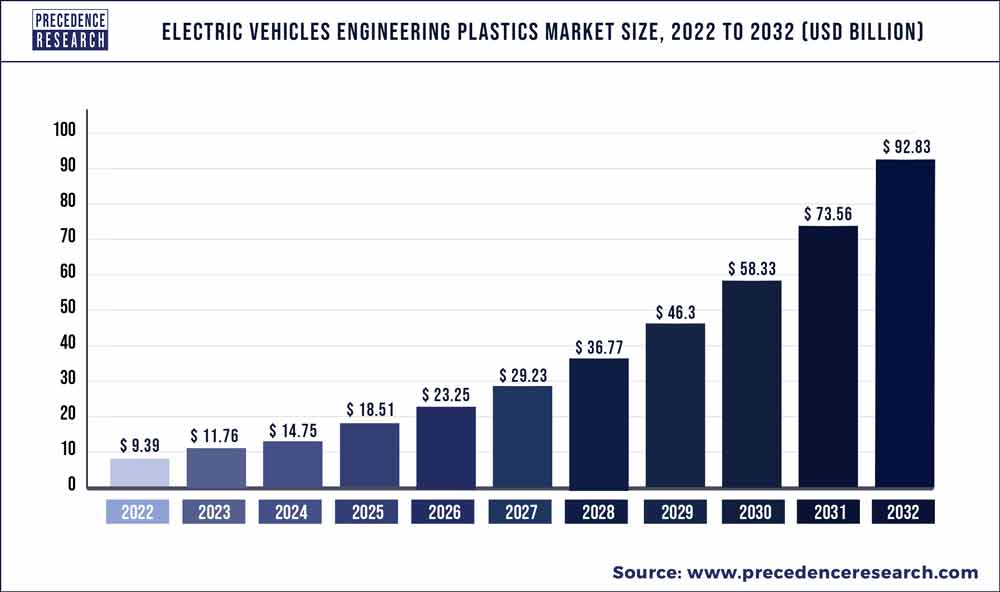 Access our Premium Real Time Data Intelligence Tool, Visit: Precedence Statistics
The need for plastics in the sector is anticipated to rise in response to consumer demand for lighter BEV/PHEV and HEVs and improved plastic performance in challenging environments. Growing environmental concerns, strict emission regulations that encourage electrification as well as weight reduction, greater use of anti-microbial polymers in EVs, and other reasons are important market drivers. America, the United Kingdom, India, Japan, China, Germany, and Canada are the principal nations with the greatest potential for industry expansion on a worldwide scale.
Since electric vehicles produce less heat than internal combustion engines (ICE), manufacturers may utilise polymers rather than pricey metals. Over the projection period, these elements are anticipated to fuel product demand. Plastics are appropriate for use in EVs due to their customizability, formability, affordability, performance, and organic fit. Low weight, part consolidation, moulding components which fit in non-linear areas, and noise and vibration dampening are important properties of plastics. The need for plastics in EVs is anticipated to be driven by these factors as well.
Growth Factors
Governments have imposed strict emission rules as a result of rising CO2 emissions and expanding environmental concerns. Thus, rising laws throughout the globe are anticipated to lead to a huge increase in demand for electric vehicles (EVs) in the upcoming years, which is anticipated to increase demand for plastics during the forecast period. In terms of heat generation, electric cars function differently from internal combustion engines (ICE).
Report Scope of the Electric Vehicles Engineering Plastics Market
| | |
| --- | --- |
| Report Coverage | Details |
| Market Size in 2023 | USD 9.39 Billion |
| Market Size by 2032 | USD 92.83 Billion |
| Growth Rate from 2022 to 2030 | CAGR of 25.80% |
| Base Year | 2022 |
| Forecast Period | 2023 to 2032 |
| Segments Covered | Resin, Components, Vehicle Type, and Geography |
| Companies Mentioned | BASF SE, SABIC, LyondellBasell Industries Holdings B.V., Evonik Industries, Covestro AG, Dupont, Sumitomo Chemicals Co. Ltd., LG Chem, Asahi Kasei, LANXESS, INEOS Group, Celanese Corp., AGC Chemicals, EMS Chemie Holding, Mitsubishi Engineering Plastics Corp. |
Key Market Drivers
A growing interest in electric vehicles and weight loss
PHEVs, HEVs, and BEVs all in the civilization we live in today, transportation is significant. Fossil fuels have been utilised in vehicles for transportation since ancient times. As a result, there are growing worries about maintaining fossil resources for future generations. in particular because to the growing scarcity of resources and environmental issues. Thus, the necessity to safeguard the environment and the rise in pollution provide a significant challenge to both society and government worldwide.
The advent of e-bikes is having revolutionary impacts as the ideal response to this problem. This is driving up demand for e-bikes, which in turn drives up demand for plastic, an essential raw material for electric vehicles. Further driving the need for electric vehicle plastics and, by extension, the market growth during the projection period is the trend of weight reduction in PHEV/ HEV and BEV vehicles.
Stringent mechanical and chemical property requirements for EV components propell innovations
During the projection period, it is anticipated that the market for engineering plastics for electric vehicles will grow at a CAGR of 27.3%. Innovations in polyamide 6 reinforced with glass fibres, which is known for its insulation and flame-retardant qualities, make this clear. Additionally, the assembly of EV batteries is made simpler and lighter thanks to this technology.
A battery module enclosure for electric vehicles has been created in partnership between resin supplier Lanxess and Korean auto part manufacturer Infac. Glass-fiber reinforced polyamide 6 is highly processable and enables the integration of complicated functionalities necessary for housing components, therefore manufacturers are boosting R&D in this material due to the strict mechanical and chemical property requirements for electric car components. As a result, producing fewer parts and streamlining the battery assembly process for electric vehicles is made easier.
Key Market Challenges
Legislation for recycling electric vehicles engineering plastics - Engineering plastic recycling is governed by a number of laws, thus some plastic does not get recycled and forms permanent chemical connections. According to a research, millions of end-of-life automobiles are improperly managed each year in Europe and cause environmental issues. For recyclers, the wide range of plastic used in EVs is a hurdle. Governments from different nations enforced rules and laws on electric car engineering and plastic recycling. The market's ability to develop in terms of revenue is constrained by the high cost of technology and information recycling facilities as well as recycling regulation that restricts the use of engineering plastic in EVs.
Key Market Opportunities
R&D in glass-fiber-reinforced polyamide-6 boosts prospect: Due to their capacity to satisfy strict mechanical and chemical property criteria for OEMs, a number of polymer producers are observing a significant market potential for glass-fiber reinforced polyamide-6. These are distinguished by parameters for heat management, shock absorption, and insulating quality.
OEMs look for engineering plastics for electric vehicles to meet strict emission standards: International standards, particularly the numerous ISO/IEC and LSR Standards, have a significant impact on how OEMs use EV engineering plastics. The need for polymer solutions, which aid participants in the EV sector in adhering to rigorous emission standards regarding fuel economy and the utilisation of recyclable waste and residues, is increasingly generating cash for chemical businesses.
Segments Insight
Resin Insights
In 2022, the Polyurethane (PU) sector led the industry globally and was responsible for the biggest portion of revenue—more than 27%. It has improved chemical resistance, toughness, radiation resistance, water resistance, and other properties. In EV batteries, polyurethane increases power and enhances crash safety. Additionally, it is utilised in foam seats, cushions, electrical compounds, suspension bushings, and insulation panels. Over the projection period, these elements are anticipated to fuel the need for plastics in EVs. The PP segment, on the other hand, is anticipated to develop at the quickest rate over the projection period. Different grades of polypropylene are being developed by manufacturers in order to decrease the weight of the car and increase the range of electric vehicles. Its use extends to both interior and external components as well as structural and non-structural components. Additionally, it's employed in things like carpet fibres, bumpers, tailgates, and cable insulation.
Vehicle Type Insights
In 2022, the Electric Vehicle Battery (EVB) type category led the global market and was responsible for the highest revenue share of more than 75%. The need for plastics in EVs is rising as a result of the expanding population and strict emission laws. In order to enhance the range of the EV, BEV is focused on decreasing the vehicle weight, which is made possible by the use of plastics. Vehicle safety and durability are top priorities for manufacturers, who also use economical polymers for the battery compartment. It is anticipated that these developments would increase demand for plastic over costlier metals.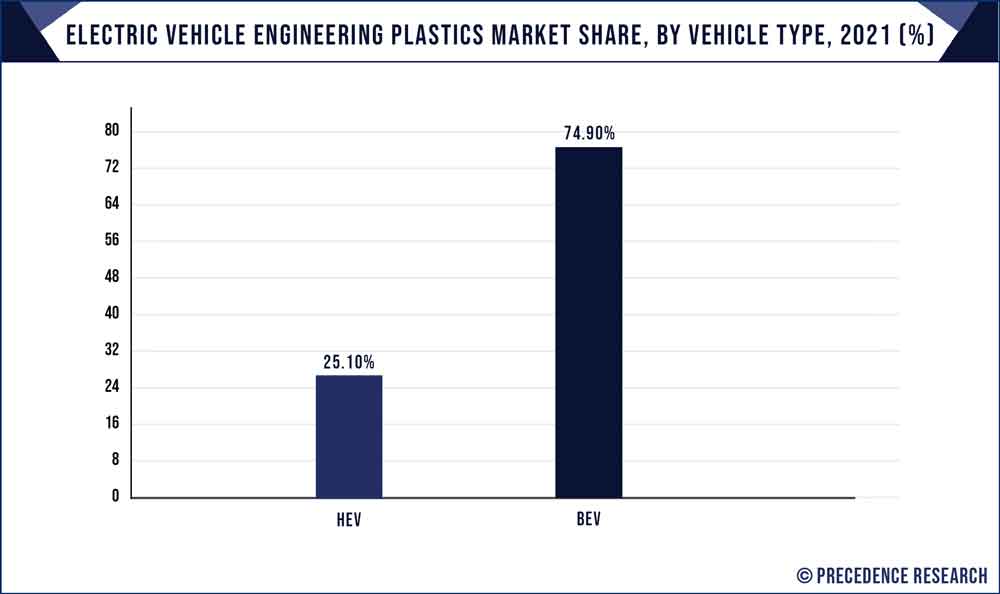 The Plug-in Hybrid Vehicle (PHEV) & Hybrid Electric Vehicle are two other types of electric vehicles (EVs) in addition to BEVs (HEV). PHEVs feature an alternate fuel supply to power the ICE in addition to batteries to power the electric motor. When the battery is totally discharged, the car turns over to the ICE. However, because they are more cost-effective and efficient than PHEVs, BEVs are favoured. HEVs combine an ICE with an electric engine that draws power from batteries. A smaller ICE and less idle time while the car is stopped may be possible because to the increased power the electric motor produces. These elements improve performance while while offering superior fuel efficiency.
Components Insights
In 2022, the exterior application segment controlled the majority of the market and generated more than 30% of the total revenue. The need for plastics is rising as more plastics are used in place of metal in various components of automobiles, such as the bumper, lights, door assembly, and other sections. Utilizing plastics, which function as an absorbent body in the case of an accident, reduces danger. Plastics also improve the looks of vehicles, reduce total vehicle weight, and offer the necessary strength. Interior components are more aesthetically pleasing than practical. Their main functions are to provide the interior of the car a nice appearance and make it comfortable. Plastics offer physical and electrical characteristics that are anticipated to drive the market, including heat resistance, chemical stability, abrasion resistance, and others. Metals were previously used for the under-the-hood parts of automobiles, but plastics are gradually taking their place since they contribute to lighter vehicles.
Some of the most common plastics used in automobiles include nylon, polypropylene, and polyphenylene sulphide, which offer advantages such component consolidation, resistance to corrosion, sound dampening, cost savings, and others. Given its strong strength and ability to tolerate high temperatures, nylon is the thermoplastic that is used in engine compartments the most frequently. Polyethylene can be employed in applications wherein moisture resistance is needed because of its low density, strong impact resilience, and robust durability. It may be utilised to produce inexpensive electrical insulations. PVC is also used to manufacture the sheathing for electrical cables.
The interior component sections include things like the steering cover, seat trim, steering lining, and roof lining. The goal of interior trim is to make the interior of the car comfortable and suitable. Wheel covers, headlamp covers, fenders, and other exterior trim components give the car its aesthetic appearance. Plastics reduce the cost of battery manufacture and eventually take the place of metallic components. Plastics, like PP, offer improved shock-absorbing capabilities and shield the batteries from harm from unintentional shocks. PET also serves as a separator and an excellent insulator that guards against short-circuiting.
Electric Vehicles Engineering Plastics Market Share, By Region, 2022 (%)
| | |
| --- | --- |
| Regions | Revenue Share in 2022 (%) |
| North America | 16% |
| Asia Pacific | 52% |
| Europe | 26% |
| Latin America | 4% |
| MEA | 2% |
Regional Insights
In 2022, Asia Pacific held a commanding position and generated more than 52% of worldwide revenue. The principal nations with high production capacities in the area are China, Japan, South Korea, and India. The simple accessibility of raw resources and the affordable, competent labour force facilitate this. One of the biggest EV markets in the world is China. Over the projected period, it is predicted how an increase in disposable income and growing preference for EVs from the middle-class population in emerging nations like China and India would propel the growth of the sector. Additionally contributing significantly to income in 2021 was Europe. On a vast scale, the chemical businesses in the area produce polymers for EVs. The region's market for EVs is growing thanks to tax exemptions, subsidies, and supporting regulations, which will fuel product demand throughout the projected period. Volkswagen, a major global automaker, is to spend USD 7.1 billion to expand its current lineup of electric vehicles in North America by adding 25 new models. In addition, the firm projects that in the upcoming years, electric vehicles will account for 55% of all car sales in the United States.
Recent Developments
The first parallel commercialization of bio-based polypropylene as well as bio-based low-density polyethylene was announced in 2019 by LyondellBasell and Neste, the world's largest producer of renewable fuel from waste and leftovers.
Segments Covered in the Report
(Note*: We offer report based on sub segments as well. Kindly, let us know if you are interested)
By Resin
Polypropylene (PP)
Polyamide (PA)
Polycarbonate (PC)
Polyethylene (PE)
Polyurethane (PU)
Polyvinyl Chloride (PVC)
Polyvinyl Butyral (PVB)
Polybutylene Terephthalate (PBT)
Acrylonitrile Butadiene Styrene (ABS)
Polyethylene Terephthalate (PET)
Others
By Components
Steering & Dashboards
Car Upholstery
Bumper
Door Assembly
Exterior Trim
Interior Trim
Connector and Cables
Battery
Lighting
Electric Wiring
Others
By Vehicle Type
Electric Vehicle Battery (EVB)
Hybrid Electric Vehicle (HEV)/ Plug-in Hybrid Vehicle (PHEV)
By Geography
North America
Europe
Asia-Pacific
Latin America
Middle East & Africa (MEA)