The global polyamide market size was estimated at USD 34 billion in 2022 and it is expected to hit around USD 59.47 billion by 2032, register a growth at a CAGR of 5.8% over the forecast period 2023 to 2032.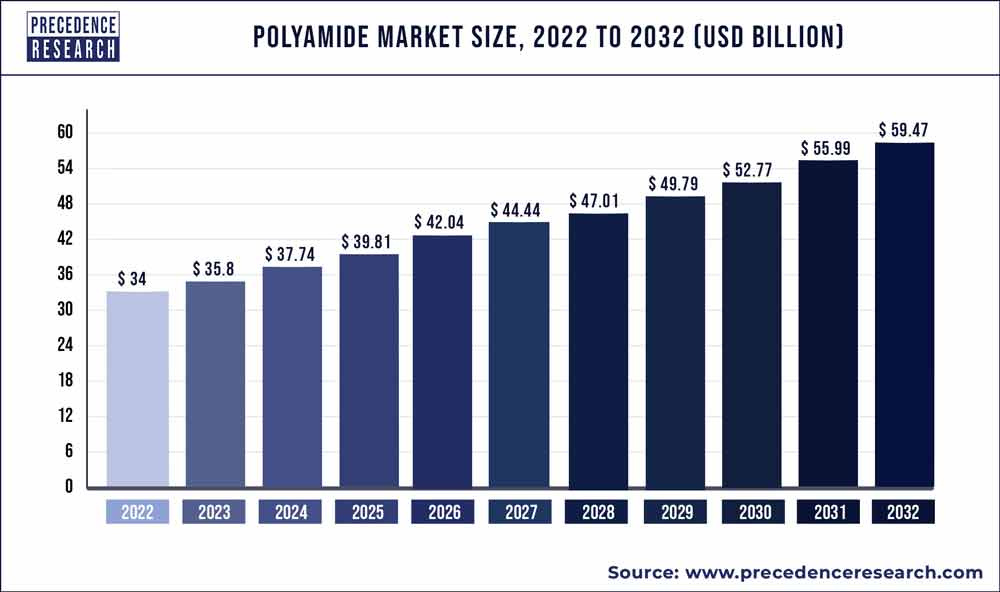 Key Takeaway
By type, the aliphatic polyamides segment hit 83% market share in 2022.
The aromatic polyamides segment accounted for 17% of revenue share in 2022.
Asia-Pacific region is projected to grow at a CAGR of 3.8%.
North America is expected to reach a CAGR of 2.7% from 2023 to 2032.
The polyamide 6 product segment is growing at a registered CAGR of 2.7%.
The engineering plastics application segment is poised to reach a CAGR of 2.8% from 2023 to 2032.
Polyamides can be found as the naturally in wool and silk, also the synthetically in nylon, polyamide 6, and with aramid. Artificial polyamides have properties such as wear resistance, high mechanical strength, low gas permeability and chemical resistance. Because of their eco-friendliness, bio-based polyamides are gaining favor. Polyamide predates polyester by a few years. Polyamide was invented before World War I, but it wasn't commercialized until 1938. Water, petroleum, and other chemicals are also used to make polyamide. However, the way the chemicals are mixed in polyamide differs from how they are in polyester, giving polyamide somewhat different qualities than polyester. Polyamide is widely used in textiles such as carpets and garments. It is also frequently used in the manufacture of things that require both flexibility and strength, including as gears, guitar picks, fishing line, electrical connections, strings, and medical implants.
International demand for the polyamide materials is now increasing at a CAGR of up to 3%. By 2032, the worldwide adoption of the new energy vehicles (those include g pure electric, hybrid, and the fuel cell car) is predicted to reach 45% and the automakers are more and more employing sustainable materials to construct components, which are major growth drivers for the polyamide market. Furthermore, the need for smaller contactors, plugs switches, circuit breakers and other components in the electricals and electronics, and as well as in the industrial consumer goods sectors, expands polyamide materials application potential.
Asia is the world's fastest expanding polyamides market, with China accounting for the majority of that increase. Players are strengthening and extending their production facilities in China as an integrated manufacturer of PA 6/66 in order to enhance capacity and build a strong presence. This will assist local producers in keeping up with evolving trends and developing innovative, high-performance, and environmentally friendly goods and applications.
Report Scope of the Polyamide Market
| | |
| --- | --- |
| Report Coverage | Details |
| Market Size in 2023 | USD 35.8 Billion |
| Market Size by 2032 | USD 59.47 Billion |
| Growth Rate from 2023 to 2032 | CAGR of 5.8% |
| Base Year | 2022 |
| Forecast Period | 2023 to 2032 |
| Segments Covered | Product, Type, Applications, Class and Geography |
| Companies Mentioned | BASF SE, AdvanSix Inc., Ube Industries Ltd.,Domo Chemicals, Toray Industries, Inc., Ashley Polymers Inc., Ascend Performance Materials LLC, Toyobo Co. Ltd., Lanxess AG, Huntsman Corporation, Goodfellow Group |
Growth Factors
Polyamides have long been recognized as important polymers for building and producing products. Polyamides 6 and 6.6, in particular, have emerged in the realm of commercial polymers, with possibilities for future expansion due to their remarkable qualities. Polyamide resins are utilised in the manufacturing of engineering plastics, as well as film and extrusion applications, in addition to textile filaments, technical yarn - particularly tyre cable - and carpet yarn.
The recent years, the vehicle industry has experienced rapid expansion, notably in the Asia Pacific region. Improving socioeconomic trends and infrastructural development are two significant aspects that have led to the sector's growth. Because of the availability of labor, advantageous rules, and government attempts to provide attractive FDI regulations, major firms are relocating their developed bases to countries like India, China and also Indonesia. Furthermore, the increased necessity lightweight automobile parts is likely to boost the market. Furthermore, rising worldwide demand for electric vehicles is expected to increase the requirement for a comprehensive charging network, which would boost growth.
Ribbed polyamide 6, unreinforced polyamide 6, as well as other grades are the most common injection moulding polyamide 6 types. Reinforced polyamide 6 is a kind of polyamide created through the ring-opening polymerization of synthetic rubber. It is frequently utilised as a metal substitute in a variety of applications. Automobile, electronics, industrial/machinery, consumer goods and utilities, constructions, and other end-users employ injection moulding polyamide 6.
Furthermore, increased energy saving consciousness in developing nations is expected to drive growth. Another important element that is projected to drive development is the growing adoption of bio-based fibres for a variety of high-performance applications in the electronics, naval, and automobile industries.
Growing size concerns are projected to drive polyamide demand in the electrical and electronics industries. Polyamides (PAs) were first used as a moulding material in the 1940s and have since evolved into real engineering thermoplastics. These kinds of polymers have gone a long way in establishing themselves as materials of choice for varied application types due to outstanding heat and chemical resistances combined with exceptional mechanical durability. Recent technological improvements, such as the introduction of additional functions into the fundamental amide structure of PAs, have further improved their performance, contributing to an exponential increase in high-demand applications, particularly in the automotive and electrical sectors.
Polyamide 12 (PA12) is a material of engineering grade from the polyamide thermoplastic family. The interior structure of PA12 is semi-crystalline. While it is mostly employed in traditional manufacturing methods, SLS, and related AM techniques, it has also shown tremendous promise in FFF applications. Because of its semi-crystalline structure and rather constant thermal performance, PA12 does not require any particular setup for 3D printing (i.e., closed-heated printing chamber). As a consequence, PA12 might be utilised in "everyday" manufacture in standard FFF-based 3D printers. In addition to its printability, PA12 functions as a fine matrix material for a wide spectrum of nanoparticles, allowing for the development of PA12-based nanocomposites in 3D printing applications. Nylon 6 or polycaprolactam are other names for polyamide 6 (PA6). It is one of the most widely used polyamides in the world. It is created through the ring-opening polymerization of caprolactam. Polyamide 6 has a melting point of 223°C.
While Polyamide 66 (PA66) or Nylon 66 is one of the most common engineering thermoplastics, it is mostly utilised as a metal substitute in a variety of applications. Nylon 66 is created by the polycondensation of hexamethylenediamine with adipic acid (two monomers each containing 6 carbon atoms). Polyamide 66 has a melting point of 255°C.
Market Segmentation
Product Insights
Polyamide 6 led the global market in year 2022 it has accounted so for more than 51% of the total global sales. It is further expected to carry on its advantage all the way through the projection period.
Aside from the currently dominating and traditional classes of polyamide-6 and polyamide-66, this effort focuses on the synthesis of novel classes of amides by discriminatory compounding of various diamine and dicroboxlyic acid monomers, with a particular emphasis on niche markets. Furthermore, certain reactive and long fiber-reinforced PA items produced by worldwide commercial organizations to replace some metal-based appliances in household and precision machine products are discussed.
The urgent need to avoid hospital-acquired illnesses throughout the world is expected to increase market expectations for antimicrobial polyamide fabrics. Furthermore, implementation of severe rules by governments throughout the globe to decrease the danger of infection is likely to propel development.
Application Insights
In 2022, the engineering plastics kind led the global market, accounted for more than 56% of total sales. Electrical and electronics, automotive, consumer goods and appliances, and other industries packaging, are included in the engineering plastics section.
Polyamide is commonly used in the automobile industry to make air intake manifolds, engine covers, valve covers, and airbag canisters, as well as exterior components like as handles, grilles, wheel covers, and fuel caps and lids. These components were formerly made of metal, but polyamide allows for lighter, more fuel-efficient vehicles while also lowering production costs.
Food and beverage: Polyamide systems are used in the food and beverage sector to provide good cleanliness in locations where components may come into touch with food. These systems are widespread in food-processing and manufacturing operations.
Robotics: Robotics demands components that are very flexible and robust, and polyamide offers practical answers. It is also used in robotics for wire and cable protection.
Moulding and extrusion compounds have various uses as metal part replacements, such as in the automotive engine components. Nylon intake manifolds are corrosion resistant, lighter, robust, and very less expensive than the aluminum (once tooling expenses are deducted), and they provide greater air flow due to a smooth interior hole rather than a rough cast one. Because of its self-lubricating characteristics, it is beneficial for gears and bearings. Nylon is a strong option for high load parts in electrical applications such as switch housings, and the ubiquitous cable insulators, ties due to its corrosion resistance, electrical insulation, and durability. Power tool housings are another important use.
The use of oleochemicals in a variety of sectors including such cosmetics, beverages, and pharmaceutical is a major driver driving market expansion. This chemical is widely utilized as the emulsifier in culinary goods like cake, pies, and others, increasing market demand.
Polyamide Market Share, By Region, 2022 (%)
| | |
| --- | --- |
| Regions | Revenue Share in 2022 (%) |
| North America | 31.40% |
| Asia Pacific | 56% |
| Europe | 15% |
| Latin America | 4% |
| MEA | 3% |
Regional Insights
Asia Pacific dominated the market with the highest revenue share of over 56% in 2022. The Chinese automobile industry is in the world's biggest. Polyamides are most commonly used in the automotive industry. Polyamide utilization in the automotive sector is increasing at a reasonable rate. After the United States, China has the world's second biggest defense budget. The state's aviation sector is expected to have collected around 6,000 airliner planes by 2033. The increase in travelers prompted the government to invest more in the production of additional flights, which increased the use of polyamide. In the medium term, the China PA ETP market is expected to increase at a rate of 6-8 percent each year. The automotive market will increase at the fastest rate. By 2022, China is expected to control 40% of the worldwide PA market. Leading worldwide ETP manufacturers will expand and improve their supplying capacities in China.
Furthermore, the rapid expansion of the global electrical and electronics sectors is likely to boost market growth. Growth is predicted to be driven by consumers' high disposable income and improved understanding of the usage of bio-polyamides in low-power applications.
Key Market Developments
Domo Chemicals, the top provider in the European polyamide sector, made its TECHNYL branded goods accessible to clients worldwide in January 2022. TECHNYL's key application are in demand, those include high thermal and chemical resistance with materials, lighter engineering solutions, the flame-retardant materials for the increased electrical protection, and the high aesthetic materials, with novel solutions for the extrusion and the friction and a wear resistance. The global rollout of TECHNYL will create new doors for DOMO as a global company serving our clients worldwide.
BASF will build a new R&D center in Ansan, Korea's Engineering Plastics Innovation Center, in November 2021. The new building houses the integrated R&D team and competences from Solvay's polyamide business, as well as additional new capabilities and a Consumer Electronics Competency Center. In South Korea, its R&D capabilities include innovative innovations, technical skills, enhanced materials, and part testing services. More materials testing, including polyamide, polybutylene terephthalate, and polyoxymethylene, can be conducted in South Korea.
Key Market Players
BASF SE
AdvanSix Inc.
Ube Industries Ltd.
Domo Chemicals
Toray Industries, Inc.
Ashley Polymers Inc.
Ascend Performance Materials LLC
Toyobo Co. Ltd.
Lanxess AG
Huntsman Corporation
Goodfellow Group
Segments covered in the report
(Note*: We offer report based on sub segments as well. Kindly, let us know if you are interested)
By Product
Bio-based Polyamide
Polyamide 6
Specialty Polyamides
Polyamide 66
By Type
By Applications
Engineering Plastics

Automotive
Electrical & Electronics
Consumer Goods & Appliances
Packaging
Others

Fibers
By Class
Aliphatic Polyamides
Semi-Aromatic
Aromatic Polyamides
By Geography
North America
Europe
Asia-Pacific
Latin America
Middle East & Africa (MEA)