In 2021, the global circuit breaker market accounted for USD 13.99 billion and is expected to reach around USD 29.41 billion by 2030, poised to grow at a CAGR of 8.61% during the forecast period 2022 to 2030.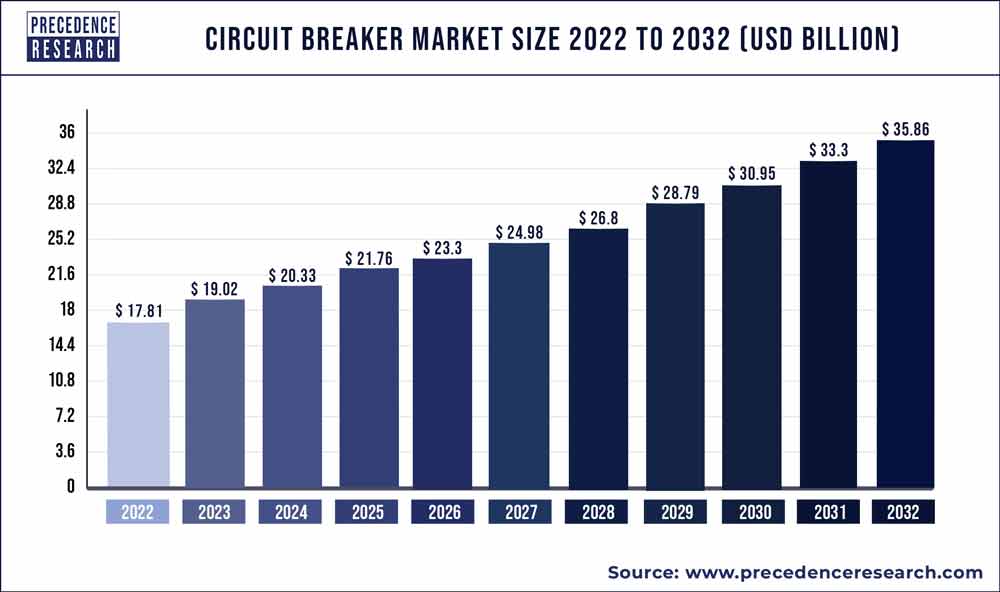 Key Takeaways:
Asia pacific circuit breaker market was reached at USD 6.25 billion in 2021
The medium voltage type segment accounted largest revenue share of around 45% in 2021
In 2021, the gas insulation type segment accounted 40% revenue share
The outdoor application segment has garnered 62% market share in 2021 while Indoor segment accounted 38%
The low voltage class will create $6.9 billion in deals by 2030, ascending at a strong compound annual growth rate of 7.5%
Commercial is the quickest developing classification, with deals of USD 3.9 billion of every 2020 and expected to surpass $7.4 billion by 2030
residential segment is projected to reach at a CAGR of 7.1% by generating revenue of $7.3 billion by 2030.
Covid's general effect has been remarkable and puzzling, with the thing experiencing a negative interest shock across all district all through the plague. According to our survey, the market will fall by - 12.8 percent in 2020, appeared differently in relation to the average year-on-year increase from 2017 to 2019. The unforeseen extension in CAGR is a direct result of this market's revenue and improvement getting back to pre-pandemic levels after the pandemic has passed. An circuit breaker is an electrical trading part used to supply safeguard and manage an electric power. It might be controlled actually or normally.
WHO pronounced in March 2020 that the world was going through an overall pandemic, provoking far reaching caution. To confine the spread of the infection, a few government organizations gave orders for the impermanent conclusion of endeavours and organizations other than those connected with food and drink and drug. At the point when countries ordered countrywide lockdowns to forestall the spread of the infection, interest for energy and power fell. Government and business workplaces were covered, and the world stopped for a couple of months.
During a short out or other sort of electrical issue, solid areas for a stream routinely go through the contraption that shorts the circuit. This contributes in the affirmation of the electrical system. It is used to protect the electrical system in little and medium substations, rail course structures, high voltage transmission and assignment lines, and various applications. Exactly when a mistake occurs, the machine identifies the over current and establishes the instrument, causing the moving contact to lose contact with the legitimate contact and thusly opening the circuit. Exactly when the two contacts lose contact in light of the colossal voltage differential between the fixed and moving parts, arcing could occur. Therefore, growing safety efforts and care for protecting electrical structures increase overall interest for breakers.
Growth Factors
Extended revenue in the cutting edge region, as well as extended use to utilize present day establishment, drive up revenue for electrical trading contraptions in the overall market. These contraptions are for the most part used in current and business settings. According to the World Investment Report 2021, Asia-Pacific got USD 537 billion in Foreign Direct Investment in 2020, with China and Singapore driving the way. Accordingly, extended present day hypothesis demands the course of action of these contraptions in many end-use and creation undertakings. A couple of arising countries have energized plans set to interface natural districts to the framework. Various nations are moreover trying to organize various system zones to spread out a super open organization. These components have additionally fostered the market opportunities for utility-scale switches. The rising availability of power is driving fast infrastructural improvement, achieving plentiful electrical energy. Quick overall gathering of maintainable power, got together with rising revenue for new confidential turn of events, is expected to drive the global circuit breaker market.
One of the principal contemplations driving the improvement of the circuit breaker market is the colossal development in supportable power age. For example, close to the completion of 2016, the globe had conveyed around 5.9 TWh of harmless to the ecosystem power, addressing a 5 to 6-wrinkle increase since the 1960. Plus, a flood in confidential endeavours and industrialisation, as well as quick expansion in building and improvement practices generally through the world, should fuel the improvement of the general circuit breakers market.
Report Scope of the Advanced Circuit Breaker Market
| | |
| --- | --- |
| Report Coverage | Details |
| Market Size by 2030 | USD 29.41 Billion |
| Growth Rate from 2022 to 2030 | CAGR of 8.61% |
| Asia Pacific Market Share in 2021 | 44% |
| Medium Voltage Type Market Share in 2021 | 45% |
| Base Year | 2021 |
| Forecast Period | 2022 to 2030 |
| Segments Covered | Type, Application, Insulation Type, Rated Voltage, End User, Geography |
| Companies Mentioned | GENERAL ELECTRIC, Powell Industries., Hitachi Industrial, Siemens, Equipment Systems Co. Ltd., Eaton, CG Power and Industrial Solutions Limited, Schneider Electric, Mitsubishi Electric Corporation, Toshiba Corporation, ABB |

Type Insights
Low voltage is the quickest developing class, with deals of $3.9 billion out of 2020 and expected to surpass $7.5 billion all through the assessed period. This colossal ascent is attributable to its boundless use in business and private applications. Besides, worldwide companies like as ABB are putting more in R&D of low voltage circuit breakers, which may altogether expand the development of the low voltage class. The high voltage circuit breaker market size was worth $7.2 billion in income in 2020 and is expected to surpass $12.8 billion by 2030, attributable to specialized progresses in switchgears.
The market is partitioned into three voltage classifications: low voltage, medium voltage, and high voltage. Low voltage breakers are turning out to be more famous in both home and business applications. Medium voltage breakers are all the more normally utilized in modern, foundation, and utility applications. The medium-scale breaker applications have the most different purposes and are anticipated to increment at the quickest rate. High voltage consequently worked circuit breakeres are used for the most part in utility-scale applications and less rarely in different businesses.
With the advancement of electrical innovation, these breakers have built up some forward momentum. The coming of high voltage DC wires has expanded the market size of high voltage breakers. The market is separated into two segments in light of establishment: indoor and outside. Most of the breakers introduced are outside circuit breakeres that capability consequently. Outside breakers have almost twofold the market size of inside breakers. It is used in the establishment of switchgear, which is generally utilized outside for utility-scale applications. Barely any modern machines and hardware require the utilization of outside breakers. Indoor breakers are broadly used in private, business, and modern circuit breakers.
Technology Insights
Designing and technical upgrades have given alluring possibilities in the overall circuit breaker market. The overall circuit breaker market is seeing a plenty of chances as a result of this headway and increasing reception paces of savvy framework and computerized circuit breaker frameworks. The expanded interest in brilliant city building, for example, the NEOM shrewd city projects in Saudi Arabia and the Zayed Smart City Project in the UAE, is driving up interest for environmentally friendly power sources. Since strong state circuit breakers are the most sustainable type of power insurance, there is a rising requirement for such circuit breakers.
Besides, in May 2020, Germany's Technical University shipped off gigantic progression of electrical circuit breakers for electrical devices and systems. The endeavour is wanted to be done in 2023. The Federal Ministry of Economic Affairs and Energy has committed USD 1.54 million to this drive at TU Ilmenau. In this way, the recently referenced factors are well affecting the improvement of the overall circuit breaker market.
Application Insights
The market is partitioned into two segments in view of application: indoor and open air. Most of the breakers introduced are outside circuit breakeres that capability naturally. Outside breakers have almost twofold the market size of inside breakers. It is used in the establishment of switchgear, which is for the most part utilized outside for utility-scale applications. Not many modern machines and hardware require the utilization of outside breakers.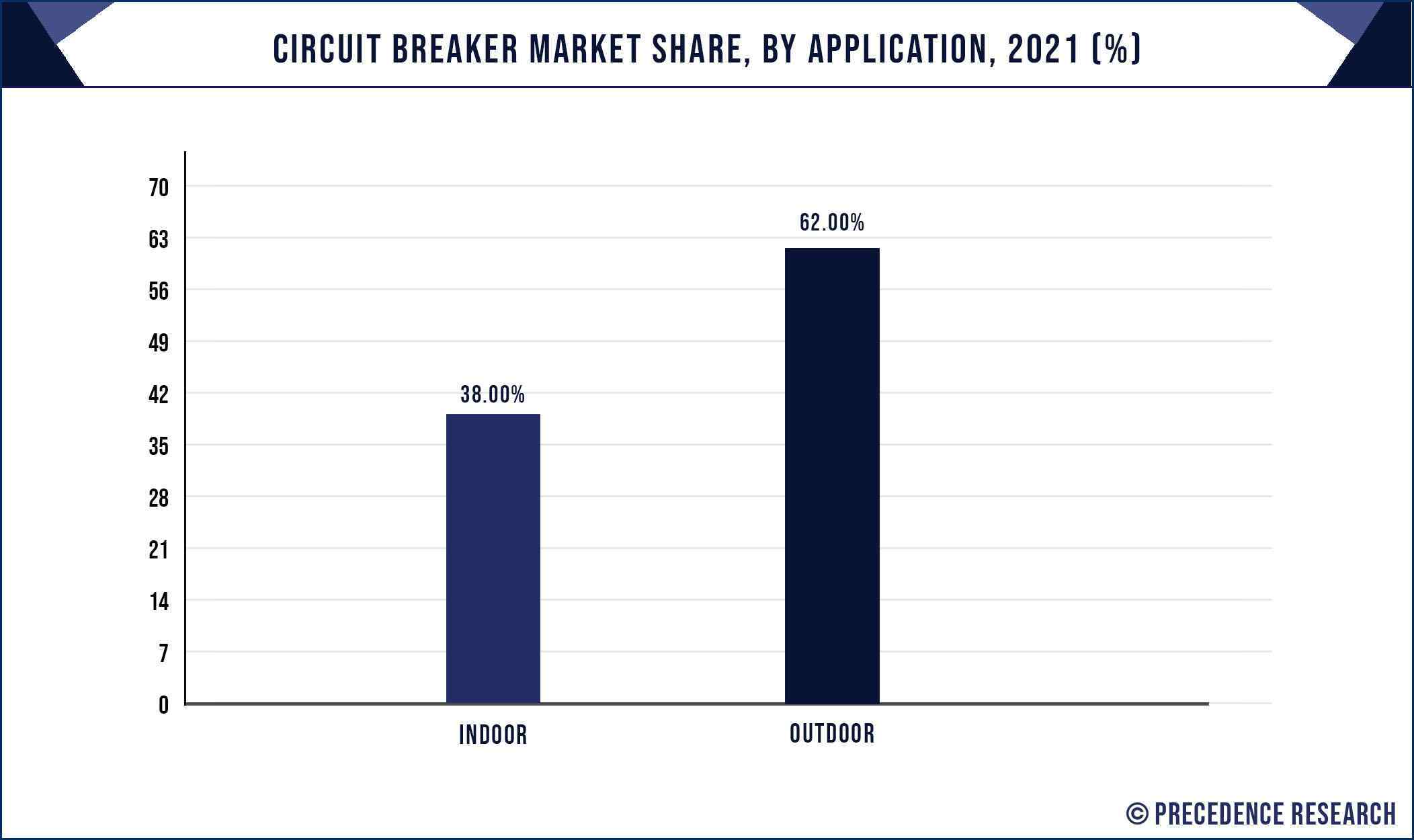 Indoor breakers are broadly used in private, business, and modern circuit breakers. Besides, expanded foundation advancements, like age, transmission, and dispersion, as well as fast development in the sustainable power industry, are supposed to drive interest for open air establishments of circuit breakers in these areas, driving business sector development during the estimated period.
End User Insights
During the projection time frame, the commercial segment is anticipated to increment at the quickest CAGR. Business building surfaces with customizable optical characteristics, better programming for overseeing business building activity, and interoperable business building correspondence frameworks are supposed to drive the business circuit breaker market. Moreover, rising business project building, monetary improvement in arising countries, and a developing worldwide populace are supposed to support worldwide market extension.
The confidential circuit breaker market is expected to augment at a CAGR of 6.9 percent, making USD 8.1 billion by 2030. The Asia-Pacific locale has the world's greatest part of the general business for circuit breakers. By 2030, the Asia Pacific region circuit breaker market will be esteemed at $8.9 billion. Various Asian nations, including as China, by and by hold the greatest piece of the electrical change market up here. The construction market in China is the world's most prominent circuit breaker region, and the Chinese government supporting rules and rules offer comparable chances to improvement and progression practices in the country. Besides, extending populace in laid out and non-industrial countries, as well as expanded interest for building, are anticipated to drive this district's development.
Geography Insights
The Asia Pacific region locale as of now has the greatest piece of the pie and is supposed to rule the overall market over the projection period for circuit breakers. The district's extension might be credited to expanded framework advancement, business adventures, and enterprises. The Asia Pacific region is a worldwide assembling centre point, and various circuit breakeres are utilized in each modern and creation unit.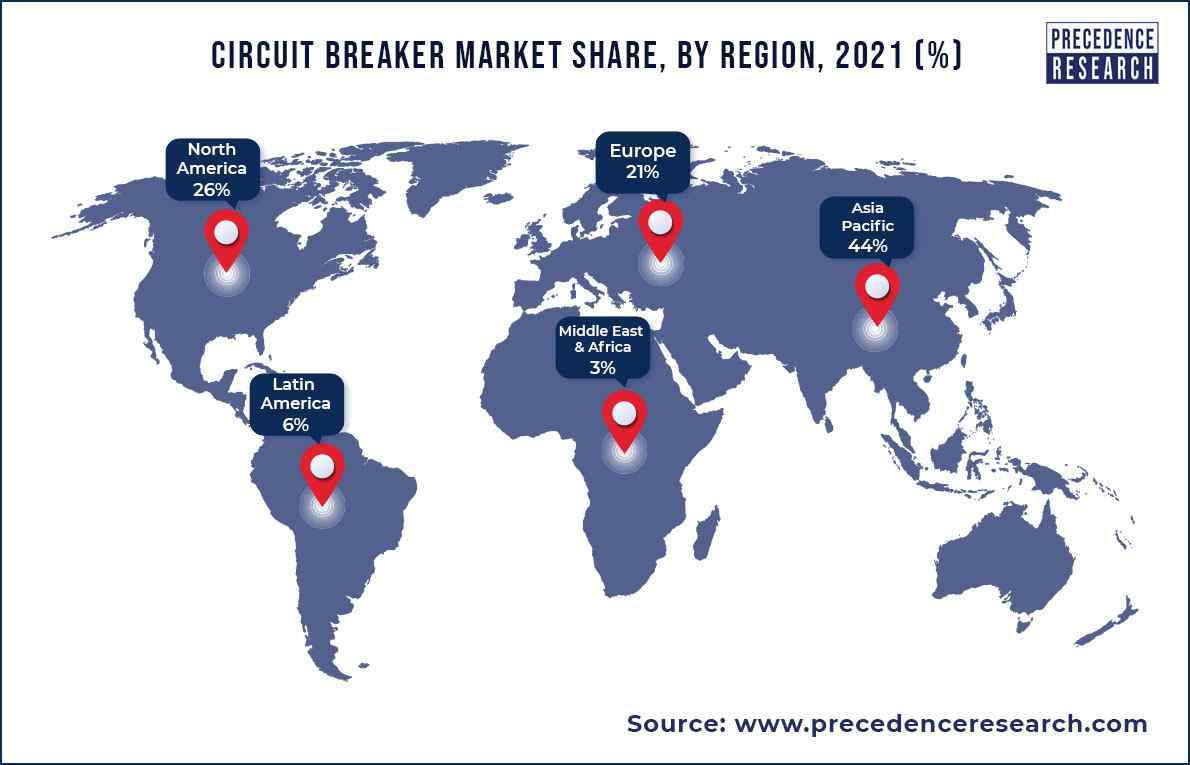 The Asia Pacific region's rising number of assembling and modern outing units is probably going to drive interest for this industry in the area. Breakers are likewise used in rail lines, metros, business regions, slug trains, data innovation focuses, and different puts that expectation a steady and reliable power supply. The requirement for electrical changes has extended because of fast urbanization. The extension of force creation plants and transmission foundation has raised the interest for circuit breakeres that capability consequently. South Korea, China, India and Japan are among the worldwide forerunners in the innovation and assembling of these breakers.
In the overall market, Europe and North America are anticipated to consistently rise. The market is supposed to develop because of the modernisation and robotization of current organizations here. Expanded uses in framework improvement have supported market development in North America and Europe. Africa offers the best potential for market extension. The African landmass' developing turn of events and urbanization will help the market later on years.
Key Market developments
Eaton Cummins Automated Transmission Technologies pronounced the introduction of the Endurant XD series in September 2020, expanding the Endurant Automated Transmission portfolio. The series is a prevalent display modified gearbox made arrangements for on-highway applications, for instance, twofold and triple 18 wheelers, as well as unshakable on/off-road applications, for instance, dump and officer-administration trucks.
Siemens bought C&S Electric, a maker of electrical and power electronic stuff, in January 2020 to meet the rising necessity for charge stock. The acquirement integrates C&S Electric's Indian undertakings for low-voltage switchgear parts and sheets, low and medium voltage power transport bars, and protection and metering contraptions.
Key Market Players
GENERAL ELECTRIC
Powell Industries.
Hitachi Industrial
Siemens
Equipment Systems Co. Ltd.
Eaton.
CG Power and Industrial Solutions Limited
Schneider Electric
Mitsubishi Electric Corporation
Toshiba Corporation.
ABB
Segments Covered in this report
(Note*: We offer report based on sub segments as well. Kindly, let us know if you are interested)
By Type
Low voltage
Medium voltage
High voltage
By Application
By Insulation Type
By Rated Voltage
Upto 500V
500V – 1kV
1kV – 15kV
15kV – 50kV
50kV – 70kV
70kV – 150kV
150kV – 300kV
300kV – 600kV
600kV – 800kV
Above 800kV
By End User
Residential
Commercial
Industrial
Others
By Geography
North America
Europe
Asia-Pacific

China
India
Japan
South Korea
Malaysia
Philippines

Latin America

Brazil
Rest of Latin America

Middle East & Africa (MEA)

GCC
North Africa
South Africa
Rest of the Middle East & Africa