The global automotive electronics market size was estimated at USD 289 billion in 2022 and is predicted to hit over USD 609.61 billion by 2032, representing impressive CAGR of 7.80% during the forecast period 2023 to 2032.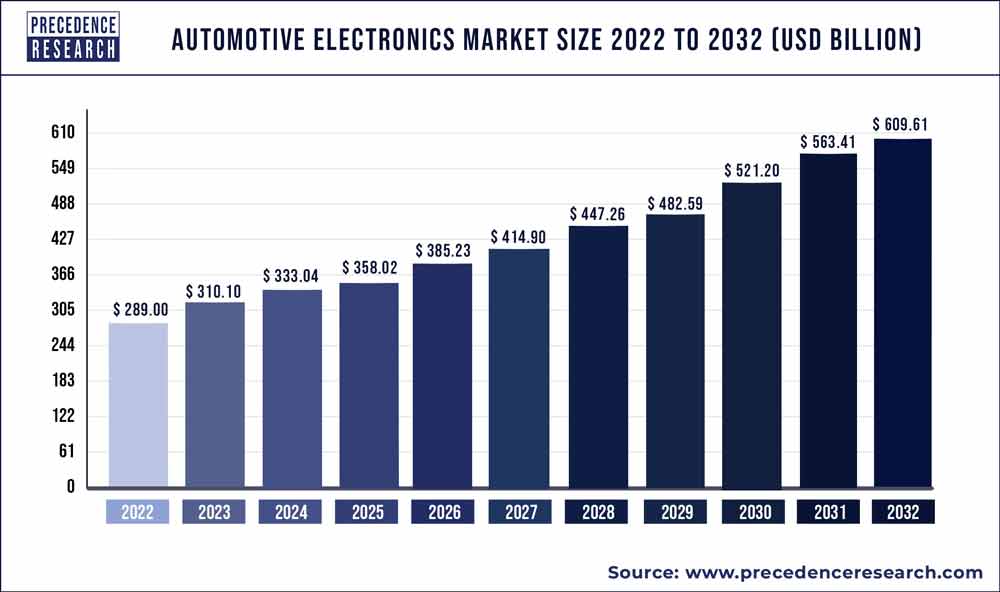 Access our Premium Real Time Data Intelligence Tool, Visit: Precedence Statistics
Key Takeaways:
By component, the current carrying devices segment has generated a market share of 41% in 2022.
The sensors segment is expected to grow at a CAGR of 9.7% from 2023 to 2032.
By application, the safety systems segment has captured market share of 29% in 2022.
The ADAS segment is registering growth at a CAGR of 11.1% from 2023 to 2032
By sales channel, the OEM segment has accounted market share of around 69% in 2022.
The aftermarket segment is expected to grow at a CAGR of 7.4% from 2023 to 2032.
Asia Pacific automotive electronics market has held market share of around 41.2% in 2022.
Crucial factors accountable for market growth are:
Rising adoption and incorporation of automotive electronics in recent vehicles to carry improved comfort and safety boosts the growth of automotive electronics industry
The escalating automotive production right away influences the revenue sales and volume of electronic components
Increasing focus of automotive manufacturers on increasing safety of vehicles
Growing popularity of Driver-Assisted technology.
Launch of electric vehicles
Automotive Electronics Market Size in the Asia Pacific 2023 To 2032
The Asia Pacific automotive electronics market size surpassed USD 118.49 billion in 2022 and is projected to be worth over USD 252.27 billion by 2032, growing at a CAGR of 7.90% between 2023 and 2032.

Asia Pacific is Estimated to be the Largest Market for Automotive Electronics
Globally, Asia Pacific emerged as leading regional market for global automotive electronics market and is predictable to mirror this trend during years to come. With the snowballing importance of the automotive markets particularly in India and China automakers comprehend that electronics innovations can match production inventions in attaining a competitive gain. The amalgamation of a need to lessen production price, comply stricter standard, tailor vehicle features and upsurge product quality all during shorter business cycles is motivating an augmented emphasis on the role of electronics in the automakers of this region. Further. North America is predictable to advance at the robust growth rate during the estimate period.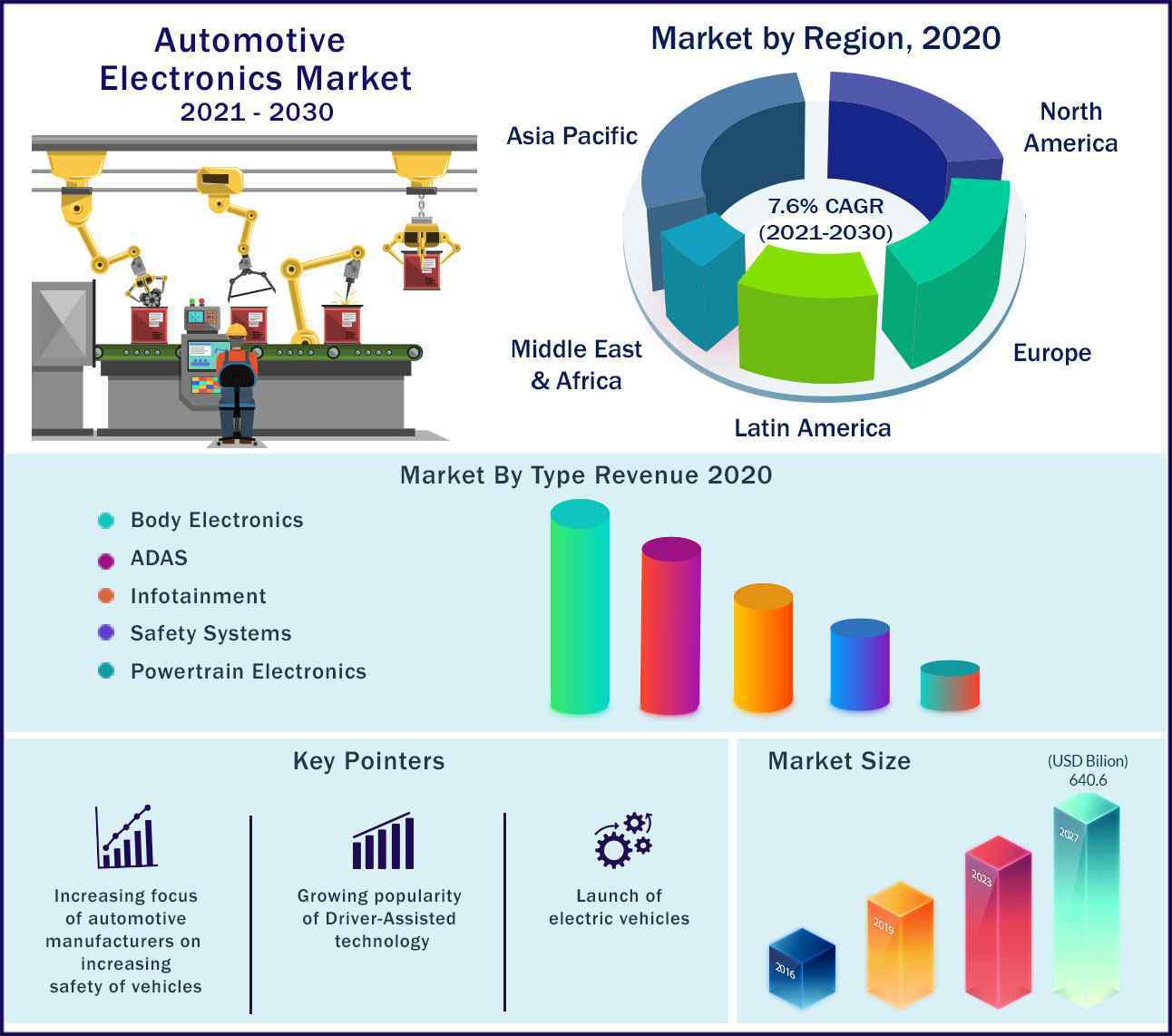 Key market Insights:
Automotive electronics are customized electronics designed for use in vehicles. These types of electronics can be exposed to, and are thus rated at, more severe temperature ranges when compared with regular electronics. Over the last decade, vehicle sensor improvements have led to pioneering autonomous driving mechanism that permits better visibility and consciousness. The special cutting-edge features in the modern vehicles include adaptive cruise control, park assistance, lane-keep support, traffic-sign identification and pedestrian recognition among others. Multiple features presented by original equipment manufacturers (OEMs) such as mechanized emergency braking organization, lane departure warning and airbag system among others have suggestively reduced road accidents across the world. Automotive electronics along with the existence of connected features and comprehensive computing technologies are improving automobile competences. These developments have been probable due to the substantial progress of electronic component in recently manufactured vehicles.
Scope of the Automotive Electronics Market
| | |
| --- | --- |
| Report Highlights | Details |
| Market Size | US$ 609.61 Billion by 2032 |
| Growth Rate | CAGR of 7.80% from 2023 to 2032 |
| Base Year | 2022 |
| Historic Data | 2020 to 2021 |
| Forecast Period | 2023 to 2032 |
| Segments Covered | Type, Sales Channel, Application |
| Regional Scope | North America, Europe, Asia Pacific, Latin America, Middle East & Africa (MEA) |
| Companies Mentioned | HELLA GmbH & Co. KGaA, Altera, Broadcom Ltd, Infineon Technologies AG, Panasonic Corporation, Hitachi Automotive Systems, Ltd, Microchip Technology, Inc, NXP Semiconductors N.V, Texas Instruments Incorporated |

COVID-19 Impact on Global Automotive Electronics Market
The COVID-19 pandemic has led to several changes in the attitude and behavior of car-buyers. Digital facilities and features are getting readily accepted by consumers as a way to stay trackable, connected, and safe. Growing usage of in-vehicle screens has resulted in easy integration of several of these digital specifications.
Furthermore, in-vehicle digitalization is projected to increase as consumers are opting for personal automobiles rather than public transportation. Prevalent connected features comprise digital keys, navigation, and Wi-Fi hotspot. Among these, the digital keys feature will see a high requirement in the near future due to its lower cost of implementation. Voice recognition, virtual assistant, gesture control, and personalization will also observe increasing requirement on growing apprehensions over physical contact of surfaces.
Future of Automotive Electronics
Increasing speed of modernization in automotive electronics industry is expected to pave the way for customers to better exploit their time in transportation to enjoy innovative services. As a result, customers will have additional time to participate in personal activities. Thus, an electronically smart automobile will consist of enhanced features. It is more relaxed, secure, and energy efficient. New reports and investigation on smart cars assert that higher than 65% of new cars will consist of smart technology by the end of 2022. As per a report published by BI Intelligence, around 94 million smart cars will be shipped by the end of 2022. And, approximately 82% of all cars transported by 2022 will be equipped with connected technology. This would result in a CAGR of nearly 35% from the present 21 million connected automobiles.
Significant Market Trends:
Current-carrying Devices Segment gathered Mainstream of the Market Cut in 2022
The current-carrying devices segment dominated the global automotive electronics market due to high cost of components including connectors and wiring harness. Furthermore, government initiatives comprising Make in India and influences such as fewer labor costs and intensifying disposable income in evolving economies have led to an upsurge in the production of passenger cars and light commercial vehicles.
OEM held Considerable Revenue Share of the Market in 2022
The original equipment manufacturer or OEM segment occupied the leading market portion in 2022, as most of the electronic components are incorporated while the vehicle manufacturing phase. As electronic components provided by the OEMs are extremely durable OEM market is projected to develop at a momentous growth rate during years to come.
ADAS is Projected to Depict the Fastest Growth Rate Over Years to Come
Safety Systems led different application segments and reported more than 24% market share in terms of revenue in 2020. Some of the prominent driving forces for the market growth include government guidelines that aim to minimalize road accidents and loss of passenger lives, rising requirement for transportation management systems, specially in the logistic industry.
Top Players contending in the Market:
Due to prevalent electronics systems in automobile operations, manufacturers have been able to enhance the driving performance, riders' and driver's comfort and fuel efficiency. Number of electronics components is increasingly growing with time due to need to recover everything from fuel effectiveness and driver security. As a consequence, more mechanisms are getting converted from mechanical systems to electronic ones.
Prominent market participants are emphasizing on tactics such as novel product launch, business development, collaborations and acquisition to withstand the strong market rivalry. Leading competitors contending in global automotive electronics market are as follows:
HELLA GmbH & Co. KGaA
Altera
Broadcom Ltd
Infineon Technologies AG
Panasonic Corporation
Hitachi Automotive Systems, Ltd
Microchip Technology, Inc
NXP Semiconductors N.V
Texas Instruments Incorporated
In order to better recognize the current status of acceptance of automotive electronics, and policies adopted by the foremost countries, Precedence Research predicted the future evolution of the Automotive Electronics market. This research study offers qualitative and quantitative insights on Automotive Electronics market and assessment of market size and growth trend for potential market segments.
Recent Developments
In January 2021, Renesas Electronics Corporation announced its partnership with Microsoft to fast-track the development of connected automobiles. The R-Car Starter Kit of Renesas, created on R-Car Automotive SoC, is now accessible as a development environment for the MCVP (Microsoft Connected Vehicle Platform).
Major Market Segments Covered:
By Type
Sensors
Electronic Control Unit
Current Carrying Devices
By Sales Channel
By Application
Body Electronics
ADAS
Infotainment
Safety Systems
Powertrain Electronics
By Geography
North America
Europe

Germany
France
United Kingdom
Rest of Europe

Asia Pacific

China
Japan
India
Southeast Asia
Rest of Asia Pacific

Latin America

Brazil
Rest of Latin America

Middle East & Africa (MEA)

GCC
North Africa
South Africa
Rest of Middle East & Africa