The global transparent plastics market size was valued at USD 139.1 billion in 2022 and it is expected to reach around USD 214.1 billion by 2030 and poised to grow at a CAGR of 5.54% during the forecast period 2022 to 2030.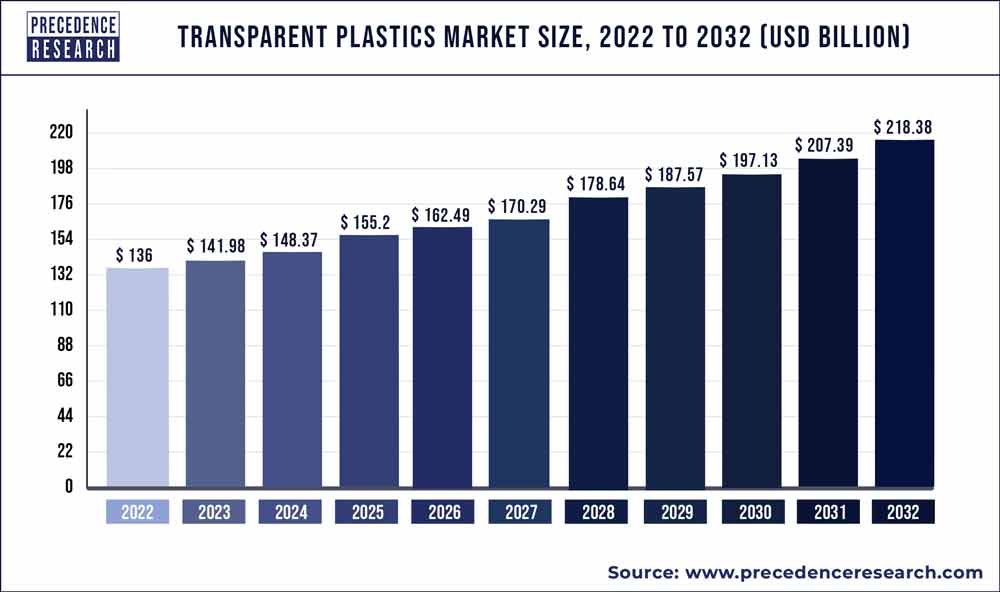 Key Takeaways:
Asia Pacific region accounted highest revenue share of over 42% in 2021.
Asia Pacific market is growing at a CAGR of 6.8% over the forecast period.
By end users, the packaging segment is expected to grow at a CAGR of 6.4% from 2022 to 2030.
By form, the rigid segment is growing at a CAGR of 6.6% over the forecast period.
The rigid segment accounted 62.5% revenue share in 2021.
The global market for transparent plastic is anticipated to grow during the projected period as a result of increased demand from end-use sectors including construction, automobile, and consumer products. Additionally, it is anticipated that the worldwide transparent plastic market would grow due to the prolonged shelf-life of packaged food items and the ease of customizing. In addition, rising demand for transparent plastic is predicted to support the expansion of the global transparent plastics market in emerging nations like China and India, where it is widely utilized for food and beverage packaging.
Growth Factors
Compared to other materials like glass and metal, plastic has the benefit of being lighter. Plastics are widely used in many end-use sectors because of their strength, beauty, performance, and ease of handling. Due to their great energy efficiency, aesthetics, design, flexibility, and cost-effectiveness, plastics are replacing conventional materials like glass in building applications including the construction of windows and frames. For instance, the windows use polycarbonate material. Plastics have a low thermal conductivity, which lowers heating and cooling costs while providing protection from severe weather. Transparent plastics are also proven to be more lucrative than other materials in the packaging business.
Report Scope of the Transparent Plastics Market
| | |
| --- | --- |
| Report Coverage | Details |
| Market Size in 2022 | USD 139.1Billion |
| Market Size by 2030 | USD 214.1 Billion |
| Growth Rate from 2022 to 2030 | CAGR of 5.54% |
| Base Year | 2021 |
| Forecast Period | 2022 to 2030 |
| Segments Covered | Type, Application, Polymer Type, Form and Geography |
| Companies Mentioned | Eon Reality, Inc, Layar, Bioflight VR, WorldViz, TheraSim Inc, CAE, GE Healthcare, Koninklijke Philips N.V., Intuitive Surgical, Siemens Ltd, Mindmaze |
Market Drivers
Key Market Drivers
Increasing adoption by end-use industries - End-use industries are using transparent plastics more frequently since they are lighter than other materials like glass and metal. Plastics are becoming more and more popular across a range of end-use sectors because to their strength, beauty, performance, and ease of handling. In architecture and construction, plastics are displacing conventional materials like glass. In the manufacture of windows and frames, plastics are replacing glass because they provide superior energy efficiency, design flexibility, aesthetics, and cost effectiveness. For instance, windows are made of polycarbonate plastic. Transparent, lightweight, and shatterproof polycarbonate is a popular material. Plastics have a low thermal conductivity, which lowers heating and cooling expenses while yet providing protection from adverse weather.
Increasing Electric Vehicles in automotive production - In the automotive sector, transparent plastic is frequently used for packaging and in vehicle parts. These applications have seen an increase in recent years, and they have a propensity to continue growing when compared to other materials used in autos. Transparent plastics are preferred over other materials for use in electric vehicles because they are comparatively less fuel-hungry, lightweight, affordable, and easy to manufacture. Every year, particularly more lately, the manufacturing of cars, mostly electric vehicles, has increased globally. Despite a pandemic, the international energy agency (IEA) reports that electric cars made up roughly 1% of worldwide automotive stock and 2.6% of global auto sales in 2019. This is a 40% year-over-year gain. EVs and the automotive industry have shown to be resilient in the face of a worldwide crisis, supporting the market need for transparent plastics as the automotive sector quickly moves towards lightweight materials for usage in electric cars.
Key Market Challenges
Stringent Government regulations: Regarding the use of transparent plastics, several nations have created their own sets of regulations and laws. For instance, the Nigerian house members outlawed the importation, use, and manufacture of plastic bags in the nation in May 2019. Taiwan revealed its plan to outlaw petroleum-based plastics in stores in 2018. The plan calls for a comprehensive ban on petroleum-based bags by 2030, followed by price increases starting in 2025 and 2020. Thailand adopted a road map in 2019 for cutting back on trash plastics by 2030. As part of the plan, the government planned to outlaw cups, plastic bags smaller than 35 microns, and even plastic straws by 2020. This will encourage more people to use bioplastics as these items are needed by stores, supermarkets, and shop vendors. As a result, nearly 127 nations have passed legislation to control the use of common plastics. The use of plastics is thus prohibited or subject to regulations, which significantly slows the market's expansion.
Key Market Opportunities
Growing demand for transparent plastics in healthcare and pharmaceuticals - Since it is used to make many practical items like medical equipment, implants, pharmaceutical consumables, and packaging materials like medication bottles, syringes, and others, the need for transparent plastics from the pharmaceutical industry and healthcare facilities is always on the rise. Because of their great performance characteristics, such as low density, simple recycling, various processability, and most importantly cost-effectiveness, transparent polymers like polyethylene terephthalate are employed in numerous applications. The transparent plastics business is rising thanks to increased investment in healthcare and pharmaceuticals. For instance, the Indian Brand Equity Foundation (IBEF) estimates that the Indian healthcare market will reach US$372 billion by 2022, driven by rising income, improved health awareness, lifestyle diseases, and increased access to insurance. Additionally, the Australian government announced that it will invest US$1.3 billion in a plan to grow the pharmaceutical and medical industries in order to usher in a new era of better health care. Thus, the market for transparent plastics is growing significantly due to all of the aforementioned aspects.
Demand for Biodegradable Plastics is growing exponentially - The market for biodegradable plastics is expected to be dominated in the future by clear biodegradable polymers that can be disposed of right in landfills. One of the major areas that is expected to offer excellent prospects for bio-based plastics is food and beverage packaging.
Segmental Insights
Type Insights
According to type, the flexible transparent plastics market is anticipated to expand at a rapid CAGR over the next years. In this area, polytetrafluoroethylene (PTFE) is the substance that works well. Flexible packaging is coveted for its affordability, sustainability, use, and beauty.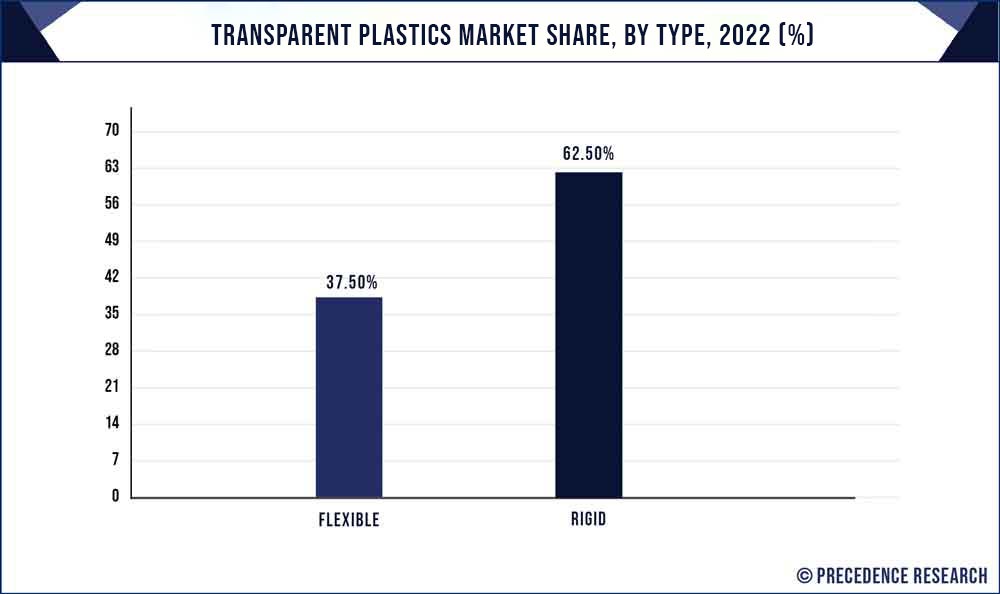 This type of packaging also has the advantage of allowing textual information, such as product instructions, to be printed on the label. Additionally, PTFE is an affordable alternative for a variety of sectors, including oil and gas, chemical processing, industrial, electrical/electronic, and construction.
Application Insights
The packaging and films category, which in 2021 held a sizeable portion of the transparent plastics market, is anticipated to expand at a CAGR of 7.5% from 2022 to 2030. Due to the majority of customer demands, the packaging and film sectors are quickly moving toward lightweight, transparent, and durable materials. As a result, there is an increasing need for polyethylene terephthalate films and sheets since they have these qualities and are relatively affordable. Transparent polymers like polyethylene terephthalate films are mostly replacing conventional films because they are safer, more cost-effective for food packaging, and stronger across a wider range of temperatures. According to the Ministry of Economy, Trade, and Industry of Japan, polyethylene films and sheets totaled 2.4 million metric tons of processed plastic in 2020. This significant production volume demonstrates the rising demand for and consumption of plastic films as well as the wide range of packaging uses in the automotive, food and beverage, chemical, pharmaceutical, and other sectors.
As a result, throughout the forecast period, the packaging and films sector will be the largest and fastest-growing section within the application segmentation of the market. During the projected period, the aforementioned reasons are anticipated to fuel demand and market expansion for transparent plastics.
Polymer Type Insights
The majority of the transparent plastics market in 2021 belonged to polyethylene terephthalate (PET), which has received approval from the Food and Drug Administration in several nations and numerous other health-safety organizations worldwide for its suitability for contact with food and drinks. PET, also known as polyethylene terephthalate, is becoming the material of choice for packaging foods and drinks across the world because to its distinctive qualities, which include clarity, good barrier characteristics, ease of handling, low weight, safety, and recycling.
PET, an affordable thermoplastic polymer with exceptional mechanical, thermal, chemical, and high tensile qualities, is made of polyethylene terephthalate. For the production of water bottles, fibers, films, and soft drink containers, it is the most extensively used transparent material. They are widely utilized in a variety of sectors, including electrical and electronic, building and construction, automotive, and medical. Additionally, the most recycled plastic in the world is polyethylene terephthalate (PET). The market for transparent plastics is dominated by polyethylene terephthalate due to the aforementioned characteristics.
Form Insights
In 2021, the rigid category controlled a large portion of the transparent plastics market. T Since rigid clear plastics are excellent for usage in a variety of applications thanks to their advantageous characteristics including the nature of the mix, physical features, and simplicity of consumption, the rigid plastics market is anticipated to maintain its dominance during the projected period. Because of their affordability, sustainability, beauty, and rigidity, rigid transparent polymers are favoured. These translucent polymers also have the benefit of enabling the labeling of textual information, such as product instructions. Thus, it is anticipated that the rigid segment would rule the transparent plastics market throughout the projected period as a result of all the aforementioned aspects.
Transparent Plastics Market Share, By Region, 2021 (%)
| | |
| --- | --- |
| Regions | Revenue Share in 2021 (%) |
| North America | 26.10% |
| Asia Pacific | 42% |
| Europe | 20.50% |
| Latin America | 7% |
| MEA | 4.40% |
Geography Insights
During the forecast period, the Asia-Pacific region is anticipated to lead the market. The explosive demand for transparent plastics from major end-use industries including construction, packaging, electronics, and automotive, among others, is responsible for this region's rise. The expansion of these end-user businesses fuels the need for transparent plastics by driving up industrialization while also upgrading consumer lifestyles and per capita income. Through innovation, sustainable change, reasonable pricing, and sales execution techniques, businesses in this region are quickly adjusting to this changing landscape and generating attractive revenues. Therefore, as a result of the aforementioned reasons, this region is anticipated to hold a large market share for transparent plastics throughout the projected period.
Recent Developments
During the COVID-19 epidemic, DuPont has been supplying community organizations and individuals making face shields to safeguard the hospital and care facility employees in Tees Valley with supplies. DuPont manufactured polyester films and coatings in 2021 from its factory in Teesside.
Dow revealed additional material options for its Asia-Pacific plastics range in 2021. Products and applications in sustainable growth, mobility, Industry 4.0, healthcare, and consumer experience are among the new materials that have been presented.
Key market players
EI. Du Pont De Nemours and Company
Dow Chemical Company
Lyondellbasell Industries,
Holdings B.V.
SABIC, Covestro
BASF SE
INEOS
PPG Industries
Evonik Industries AG
LANXESS AG
Segments covered in the report
(Note*: We offer report based on sub segments as well. Kindly, let us know if you are interested)
By Type
By Application
Packaging
Building & Construction
Electrical & Electronics
Automotive
Consumer Goods
Healthcare
Others (Aerospace, Agriculture)
By Polymer Type
Polyethylene Terephthalate (PET)
Polyvinyl Chloride (PVC)
Polypropylene (PP)
Polystyrene (PS)
Polycarbonate (PC)
Polymethyl Methacrylate (PMMA)
Others (Polyamide, ABS & SAN, Polyethylene, TPU)
By Form
Rigid Transparent Plastics
Flexible Transparent Plastics
By Geography
North America
Europe
Asia-Pacific

China
India
Japan
South Korea
Malaysia
Philippines

Latin America

Brazil
Rest of Latin America

Middle East & Africa (MEA)