The global polyethylene terephthalate market size reached USD 29 billion in 2022 and is projected to hit around USD 43.97 billion by 2032, poised to grow at a CAGR of 4.3% during the forecast period from 2023 to 2032. The Asia Pacific generated more than 40% of the revenue share in 2022.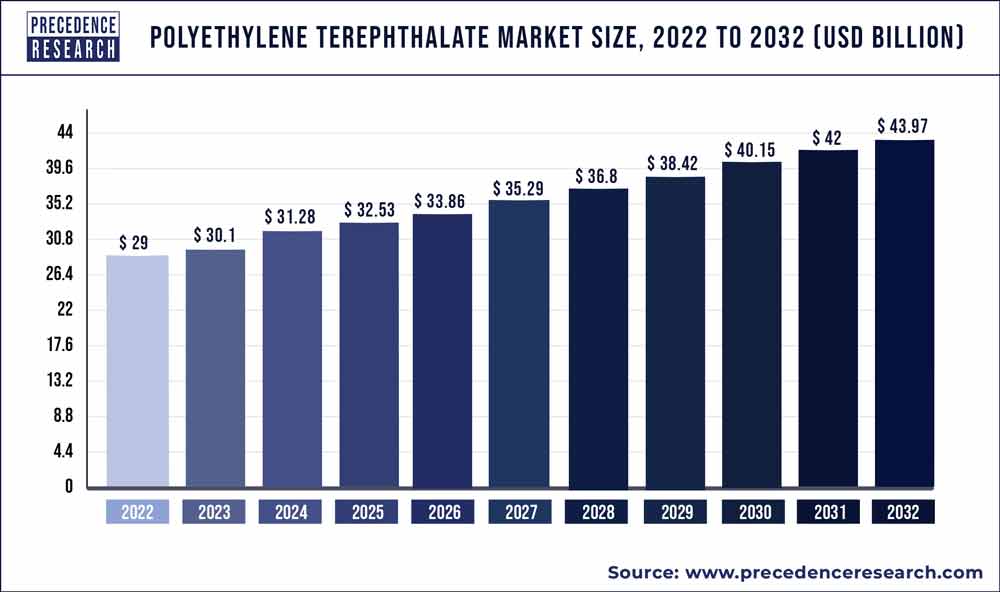 Access our Premium Real Time Data Intelligence Tool, Visit: Precedence Statistics
Market Overview:
Polyethylene terephthalate, also known as PET or PETE is a non-toxic, lightweight, and flexible polymer that is effectively recyclable and reusable. Without losing its chemical qualities, it can be treated three to four times. Due to these qualities, polyethylene terephthalate is a great material for use in a wide range of sectors, including textiles, food and beverage, automotive, electronics, and more. PET material is made of polymerized units of the ethylene terephthalate monomer, and it gains strength when combined with other substances like carbon nanotubes or glass fiber.
PET polymers are now the packaging industry's preferred material. Due to its hygienic qualities, durability, low weight, ability to maintain product freshness, and lack of fragility, it is frequently used for food and beverage packaging. Water and carbonated soft drink containers are the ones that use it the most frequently. It is easy to recognise the containers (bottles or jars) due to the triangle resin identifying code found on PET containers.
Growth Factors:
Polyethylene terephthalate due to its distinct physical properties, such as being shatterproof and non-reactive to food and water is frequently used in flexible packaging applications. It is anticipated that the market will grow as a consequence of rising technological developments and advances in packaging applications, particularly through weight reduction. The market for Polyethylene Terephthalate (PET) is expanding as a result of rising usage of textiles and fabrics, increased PET recycling and collection rates globally, and rising consumer demand for environmentally friendly and recyclable goods. Market expansion is projected to be hampered by stringent environmental regulations that restrict the use of PET and increased demand for environmentally friendly substitutes like High-Density Polyethylene (HDPE). New opportunities for PET are anticipated as the need for lightweight packaging solutions for electronics and food increases.
Furthermore, it is anticipated that competition would grow over the forecast period. Players are therefore concentrating on creating distinctive technologies in order to strengthen their market position. Companies are developing high-quality and economical PET manufacturing technologies to get a competitive edge in the market.
Report Scope of the Polyethylene Terephthalate Market:
| | |
| --- | --- |
| Report Coverage | Details |
| Market Size in 2023 | USD 30.1 Billion |
| Market Size by 2032 | USD 43.97 Billion |
| Growth Rate from 2023 to 2032 | CAGR of 4.3% |
| Largest Market | Asia Pacific |
| Base Year | 2022 |
| Forecast Period | 2023 to 2032 |
| Segments Covered | By Packaging Application and By Application |
| Regions Covered | North America, Europe, Asia-Pacific, Latin America and Middle East & Africa |

Market Dynamics:
Driver:
Increase in the use of polyethylene terephthalate in food and beverages packaging
The global polyethylene terephthalate market expanded as a result of the growing demand for polyethylene terephthalate in food and beverage packaging, such as the packaging for carbonated soft drinks. Due to its versatility in shape and size, polyethylene terephthalate is suitable to glass and metal containers for the growing demand for bottled beverages.
Restraint:
Environmental concerns
PET is not biodegradable so it may take a very long time for it to decompose in the environment. This prompts concerns regarding PET packaging effects on the environment, particularly in terms of trash management and recycling.
Opportunity:
Polyethylene terephthalate (PET) is widely used in the textile industry
In the textile business, polyethylene terephthalate (PET) is frequently used to create synthetic fibers like polyester. The expansion of the textile sector offers the PET market various opportunities. The growing world population is one of the major factors boosting the textile industry. The need for textiles is increasing along with the global population. Due to its excellent strength, longevity, shrinkage resistance, and durability, PET is the perfect material for the production of synthetic fibres. PET is a popular material for apparel and household textiles because of these qualities.
The growing demand for sustainable textiles is another factor fueling the expansion of the textile sector. Customers are looking for sustainable solutions as they become more aware of the negative effects that textile production has on the environment. The environmental impact of textile production can be reduced by recycling PET and using it to create new textiles. Additionally, PET-based textiles have advantages including simple maintenance, quick drying, and stain and odour resistance. PET fabrics are suitable for sportswear and outdoor clothes because of these characteristics.
Innovation in the PET market is also a result of the expansion of the textile sector. New technologies are being developed by producers to make PET fibres that are stronger, lighter, and more environmentally friendly. For instance, some producers are creating textiles with bio-based PET, which is derived from renewable resources. The need for recycled PET is also being fueled by the growing usage of PET in the textile industry. The creation of fresh PET fibres from recycled PET can lessen the requirement for virgin PET and the environmental impact of PET production.
PET is being used in new applications outside of the traditional textile sector, such as technological textiles, which include things like airbags, seat belts, and geotextiles. The increased demand for technical textiles is growing due to their high performance and durability.
Impact of COVID-19:
The polyethylene terephthalate (PET) market has experienced a substantial impact as a result of the COVID-19 epidemic. The pandemic has changed consumer behaviour, disrupted supply networks, and changed demand for PET products. The pandemic effected more the bottled water sector. The need for bottled water drastically fell as restaurants, cafes, and other public spaces closed. However, there was an increase in PET bottle sales at supermarkets and online merchants as a result of the rise in demand for domestic consumption. Due to this change in consumer demand, the PET sector had to quickly adjust to shifting market conditions.
The epidemic has also had an effect on the textile sector. The amount of textiles produced significantly decreased as a result of factory closures and travel restrictions. The downturn in textile output resulted in a drop in demand for synthetic fibres based on PET, which had an effect on the PET market.
The epidemic also caused a shortage of the basic materials needed to make PET. Purified terephthalic acid (PTA) and monoethylene glycol (MEG) were two examples of raw materials whose availability declined as a result of factory closures and travel restrictions. The PET supply chain was hampered as a result of this raw material scarcity.
In addition, the pandemic has increased the demand for eco-friendly materials. Customers are looking for sustainable solutions as they become more aware of the effects that textile production has on the environment. Since recovered PET-based textiles are thought to be more environmentally friendly than conventional textiles, demand for them has surged.
The shift in consumer preference for eco-friendly textiles has increased demand for recycled PET, spurring innovation in the PET sector. The pandemic has also changed consumer habits, with people increasingly choosing to buy clothing and bottled water online. Due to this change in consumer behaviour, there is now a higher demand for PET-based packaging for online deliveries, which is boosting the PET industry.
Segments Insight:
Packaging Application Insights:
Based on packaging application, bottled water, carbonated soft drinks, juices, alcoholic beverages, thermoforming trays, food packaging, non-food packaging, and others make up the segments of the polyethylene terephthalate market. Due to its qualities of strength and low weight, PET is frequently employed in packaging applications. The substance has a wide range of applications in the packaging of carbonated drinks and bottled water. As PET-based packaging is more easily recyclable than other materials, the juices packaging category is anticipated to develop at the highest rate among all application segments.
The advantages of polyethylene terephthalate, such as its light weight, enhanced flexibility, high strength, and 100% recyclable nature, make it a popular material for use in the packaging industry. Due to its availability in both homopolymer and copolymer forms, a polyethylene terephthalate is a desirable option for beverage packaging applications. Many businesses have begun to make efforts to produce goods utilizing eco-friendly packaging materials. For instance, the World without Waste effort of Coca-Cola aims to collect and recycle the equivalent of every bottle or can that the company sells worldwide.
Application Insights:
Based on application, PET's market has been divided into three categories: packaging, films & sheets, and others. With a majority market share, the packaging application overtook other segments in 2022. Over the forecast period, it is anticipated that the expanding packaging sector, which is fueled by high levels of consumption in emerging economies, will increase demand for plastics like polyethylene and PET. The demand for PET in this market is being influenced by the regulatory bodies' varied rules for the safe use of packaging materials in food contact applications.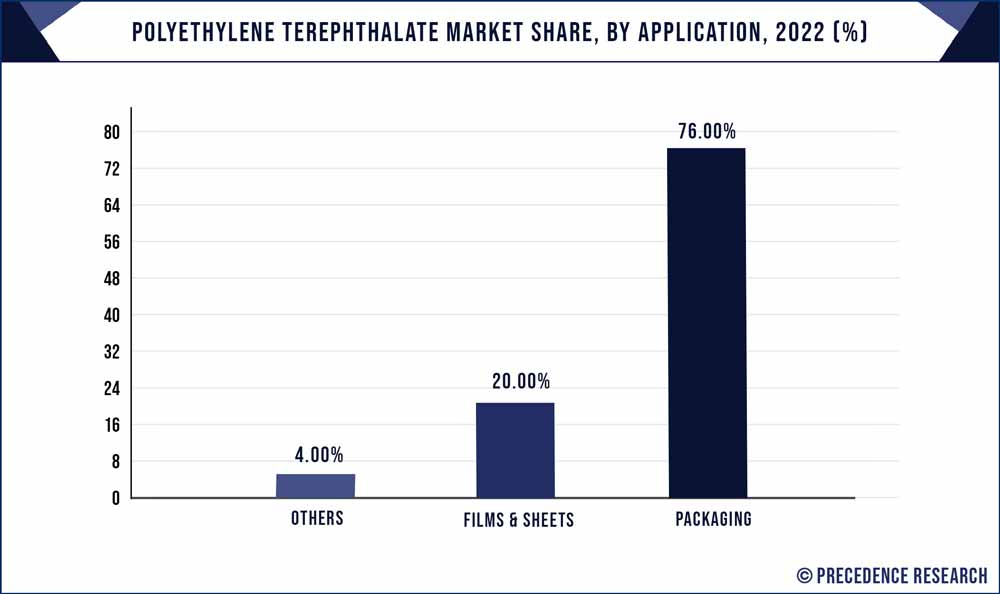 Meanwhile, it is anticipated that the rising need for food containers in developing nations like China and India will greatly increase the demand for PET in films and sheets applications. These containers provide visual appeal as well as thermal insulation for the goods kept inside. Additionally, microwave-safe containers are facilitating the expansion of the films & sheets market. To cut down on preparation time, consumers all around the world prefer to use food containers that can be heated in a microwave.
Regional Insights:
The Asia Pacific dominated the Polyethylene Terephthalate market in 2022, accounting for a maximum market share. Increasing consumption of packaged food coupled with the growing demand for automobile films in countries such as China, India, Indonesia, and Malaysia is expected to drive the demand for polyethylene terephthalate in the Asia Pacific. This is due to a number of environmental laws passed by international organisations like the Environmental Protection Agency (EPA), International Union for Conservation of Nature (IUCN), and Intergovernmental Panel on Climate Change (IPCC), which are likely to affect the demand for polyethylene terephthalate in the area.
Considering an expanding GDP per capita and a better domestic consumer goods production landscape, China and India, the region's two fastest growing countries, offer various growth potential for the consumer goods market. Population expansion, booming economies, and rising spending power in Latin American and Asian countries are projected to increase consumer goods sales, which will have an effect on the PET industry.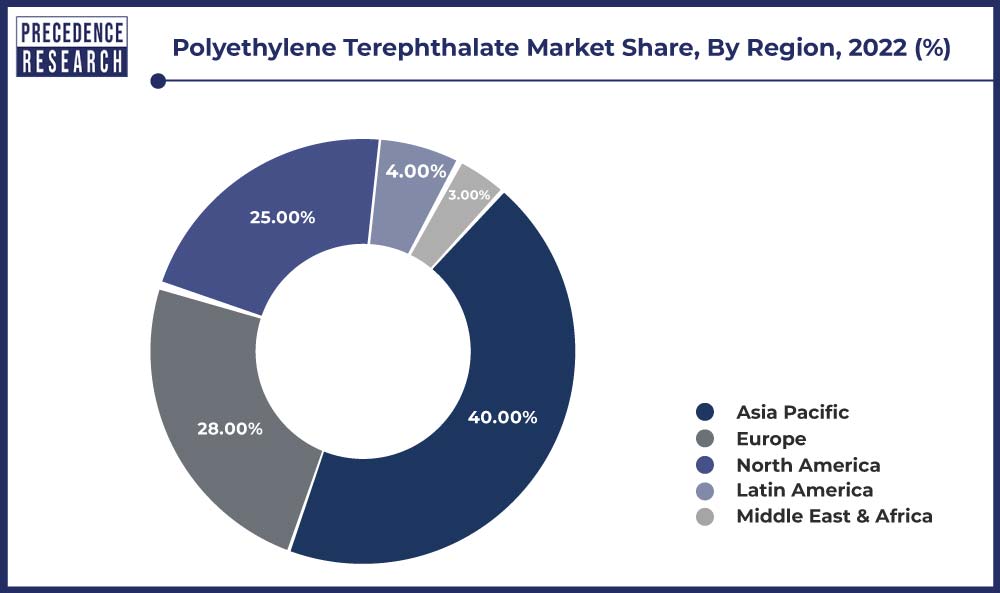 Additionally, factors including the products' price sensitivity and the presence of several companies in the PET market are anticipated to increase competition in the area. It is anticipated that emerging economies like China, India, and Indonesia will soon see rapid economic expansion. In the future years, it is anticipated that significant expenditures in the building and construction industries for the development of infrastructure in Europe and the Asia-Pacific region will increase demand for films and sheets.
In comparison to Asia Pacific, North America and Europe are more developed markets. The manufacturers have been obliged to transfer their manufacturing landscape towards developing economies in Asia Pacific, such as China and India, due to strict laws in both of the aforementioned regions. These nations provide skilled labour and land at comparatively reduced prices. Because of the high demand from numerous end-use sectors such as the automotive, construction, electronics, packaging, and other ones, the U.S. presents a relatively mature but expanding market for PET. Consumer spending and confidence have significantly increased as a result of the economic recovery.
Additionally, the U.S. government and a number of federal agencies are investing more money in regional development, infrastructure, and programmes to support it. These characteristics are probably going to cause the construction and infrastructure markets to increase quickly, which will be good for the PET industry because PET materials are lightweight, highly effective, and bind quickly.
Recent Developments:
In September 2021, a new production facility with a 2 billion PET bottle annual capacity was being built in Karawang, West Java, according to an announcement made by Indorama Ventures Public Company Limited (IVL).
Sibur began producing PET using recycled feedstock in September 2022. The new product, called Vivilen rPET granule, contains 25 to 30 percent recycled polymer.
Key Market Players:
RTP Company
BASF SE
Dupont

DSM
M&G Chemical Group
Lanxess Corporation
Lyondell Basell Industries N.V.
Indorama Ventures
Toray Industries
Eastman Chemical Company
Segments Covered in the Report:
(Note*: We offer report based on sub segments as well. Kindly, let us know if you are interested)
By Packaging Application
Bottled Water
Carbonated Soft Beverages
Juices
Alcoholic Beverages
Thermoforming Trays
Food Packaging
Non-Food Packaging
Others
By Application
Packaging
Films & Sheets
Others
By Geography
North America
Europe
Asia-Pacific
Latin America
Middle East and Africa