The global ethylene market size was exhibited at USD 132 billion in 2022 and it is projected to surpass around USD 228.69 billion by 2032, anticipated to reach a registered CAGR of 5.7% during the forecast period 2023 to 2032.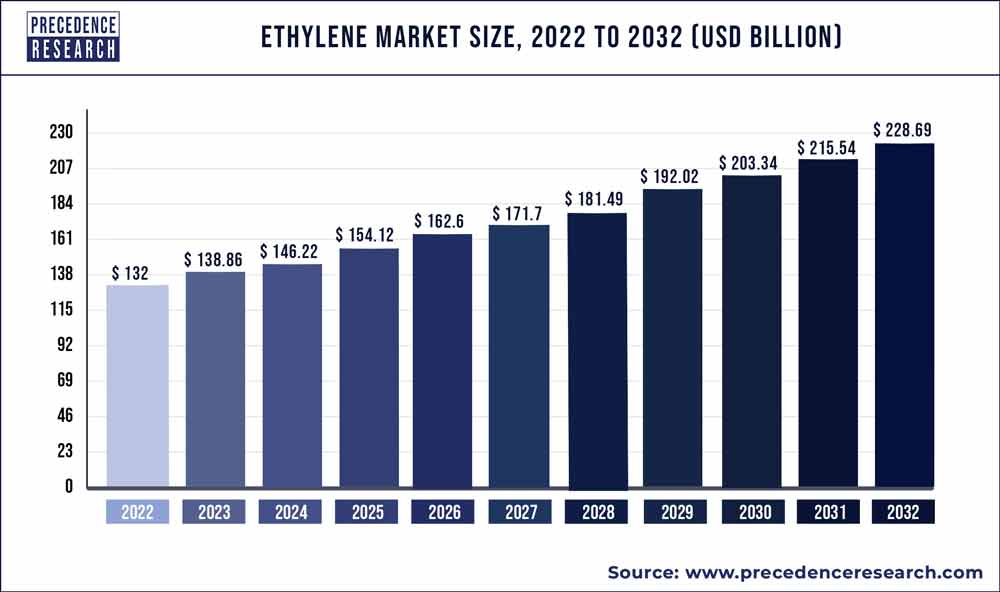 Key Takeaways:
The Asia-Pacific region has contributed the highest revenue share of around 42.6% in 2022.
By application, the polyethylene segment has captured a 56% revenue share in 2022.
By end use, the packaging industry has accounted for 51.8% of revenue share in 2022.
The size of the ethylene market will increase through 2022 as a result of rising expenditures meant to increase the production capacity for gas. The widespread use of ethylene in sectors including packaging, building, and automobiles will further increase demand for ethylene internationally. The demand for ethylene has increased globally, but mainly in the Asia-Pacific area due to the increasing number of goods made using various types of polyethylene, such as linear low-density polyethylene and high-density polyethylene. It is projected that the rapidly shifting consumer preference toward bio-based products will have an impact on the expansion of the ethylene industry. As a result, the demand for processed food and beverages has increased, acting as a major factor favoring the market's growth over the anticipated period. This is related to the sudden increase in spending on infrastructure and construction improvement, in addition to the increase in the number of people employed globally. Furthermore, it is projected that price fluctuations for ethylene will restrict growth.
The COVID-19 pandemic has hindered the growth of the market for the product because of international trade prohibitions and complete lockdowns of industrial facilities. The global economic slump and declining product demand are also expected to have a negative impact on the market expansion. The pandemic scenario has had a significant negative impact on industries that heavily rely on ethylene, including those in packaging, building, automobile, textiles, and consumer goods. Despite the declines in the aforementioned businesses, the production lines for detergent and sanitizer have managed to maintain some semblance of profitability.
Growth Factors
Lightweight plastics are growing in popularity due to increased consumer convenience, creating new opportunities for small- as well as large-scale cosmetic companies. Consumer awareness of the many types and forms of plastic products will contribute to further business expansion. As lightweight plastic products gain popularity in the construction and automotive industries, demand is rising. Companies that produce ethylene are concentrating more on lightweight as well as high-quality packaging to provide consumers with greater alternatives.
Scope of the Ethylene Market
Report Coverage
Details
Market Size in 2023
USD 138.86 Billion
Market Size by 2032
USD 228.69 Billion
Growth Rate from 2023 to 2032
CAGR of 5.7%
Largest Market
Asia Pacific
Fastest Growing Market
North America
Base Year
2022
Forecast Period
2023 to 2032
Segments Covered

Source
Feedstock
Application
End-Use
Sales Channel
Geography

Key Market Drivers
Rise in demand for ethylene derivatives - Because of the growing use of ethylene derivatives as well as a modest expansion into new applications, the ethylene market is becoming more and more dependent on increases in global GDP. Major market players are investing, growing, and using a variety of methods to increase their manufacturing capacity and extend their market share. Additionally, the growing emphasis on circular economy and ecological solutions led to the creation of creative methods for ethylene development. For example, on September 9, 2021, Braskem and SCG Chemicals signed an MOU for collaborative investment in the manufacture of bio-polyethylene using ethylene produced from renewable sources. Companies will be able to produce twice as many bio-based products thanks to this investment.
Demand for ethylene in the packaging industry - The packaging industry's increasing need for ethylene in form of polyvinyl chloride and polyethylene is also anticipated to provide profitable growth potential for the industry. An increasing trend has been observed in the demand for plastic used in packaging, including sacks and bags, as well as various types of packaging, polyethylene bottles and jars, and containers. The rise in ethylene oxide consumption is also probably going to affect the growth of the market.
Key Market Challenges
Strict government regulations - Because it is flammable and carcinogenic, ethylene poses a threat to the environment. When exposed, it is quite explosive and can make people feel faint, woozy, and unconscious. Environmental protection laws are being implemented in a number of nations, which will put a burden on ethylene-producing businesses. Additionally, governments everywhere are outlawing single-use plastics to reduce plastic waste. For instance, China declared in January 2020 that it will outlaw single-use plastics to encourage recycling and eco-friendly packaging. The output limitations imposed would impede the market's expansion.
Key Market Opportunities
Rising rapid industrialization and urbanization
In emerging nations, the demand for packaging materials based on ethylene is increasing dramatically as a result of rising urbanization and industrialization. Additionally, the market for ethylene is expanding since ethane is utilized as a raw ingredient in both auto and electrical products, which is driving demand in APAC nations like China and India. The middle class is predicted to grow in emerging nations over the next several years, which will increase demand for vehicles and electronics in such nations. As a result, the growing demand for gas from end-use industries will create new opportunities for market participants to expand.
Increase in adoption of bio-based green polyethylene compounds
Companies that produce ethylene are engaging in initiatives to create green polyethylene compounds based on biomaterials. These polymers are just as versatile as chemically manufactured plastic and are simpler to make while using less energy. Following the fashion, Braskem, a Brazilian biopolymer manufacturer, collaborated with the Danish toy manufacturer LEGO Group to provide it with I'm green polyethylene. I'm green polyethylene is a plastic derived from sugarcane that is completely recyclable and lowers greenhouse gas emissions.
Segments Insight
Source Insights
Throughout the projected period, the natural gas category is anticipated to have a considerably quicker revenue CAGR. The adoption of new extraction techniques, such as horizontal drilling and hydraulic fracturing, has led to easier extraction of natural gas, also known as shale gas, trapped in low permeability rock formations. As a result, natural gas availability has increased significantly over the past few years. Natural gas is now one of the main energy and feedstock sources on the market as a result of price reductions brought about by its availability.
Feedstock Insights
Throughout the projected period, the naphtha segment is anticipated to post a considerably quicker revenue CAGR. It may also be broken down into three other categories: light naphtha, heavy naphtha, and full-range naphtha, which combines light and heavy naphtha. It is one of the most often utilized feedstocks in the petroleum sector and is also employed in the production of fertilizers. By synthesizing ammonia, it is also utilized to create fertilizers or public gas. Currently, naphtha steam cracking is nearly entirely used to create ethylene. Pyrolysis Gasoline (PG), mixed-C4, ethylene, and propylene are just a few of the petroleum feedstock that may be produced from naphtha using this technique.
Application Insights
The market category for ethylene oxide had the highest CAGR growth share in 2022. It is a gas that is used to sterilize a wide range of application areas in the medical industry, including bespoke procedure packs, wound care dressings, multi-lumen tubing products, constructed complicated devices, and catheters. Because of its low-temperature parameter, ethylene oxide sterilization is one of the most effective sterilizing techniques and can be used effectively on a variety of materials.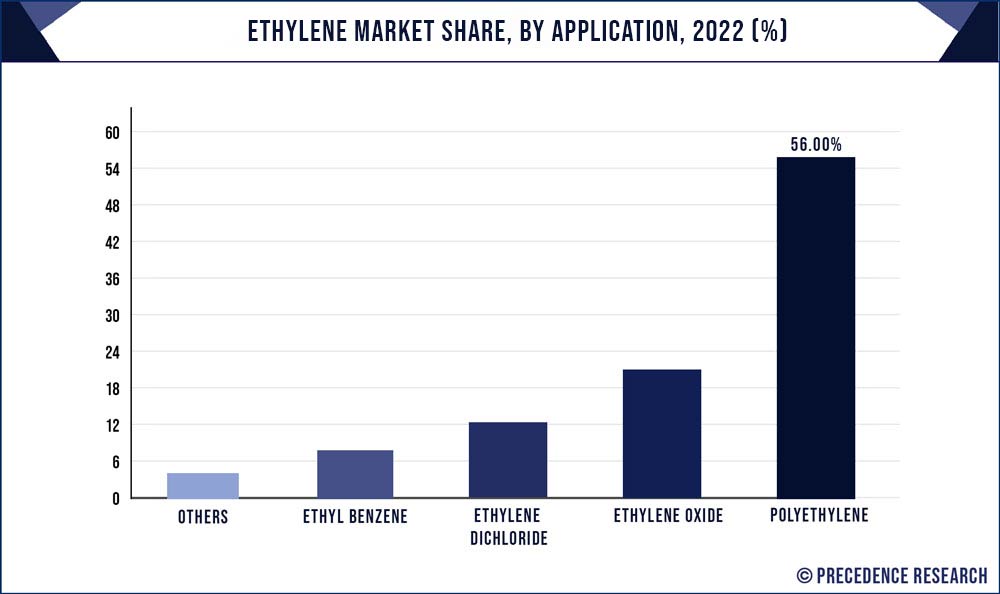 It thoroughly penetrates the surfaces of the devices. In addition, the product is a significant chemical made mostly from the catalytic oxidation of ethylene. A wide range of chemicals, including ethoxylates, ethylene glycols, glycol ethers, ethanolamine, polyethylene glycol, and polyether polyols, may be produced using it as a chemical intermediary.
End-Use Insights
The worldwide market has been divided into categories for automotive, building and construction, packaging, textiles, agrochemicals, and others based on end-use. In 2022, the packaging category had the greatest revenue share worldwide. The market for the packaging product will be largely driven by increased consumption of consumables made of polyethylene, rising PET fiber, bottle, and packaging demand, and rising demands for Polyvinyl Chloride (PVC) used in pipe and construction applications. One of the most common polymers utilized in this industry is polyethylene. The product may be used to create flexible and soft films for packaging and storage needs. It provides basic packaging plastics with a significantly lower softening point, which lowers processing energy costs. Additionally, ethylene vinyl acetate is a copolymer of vinyl acetate, and because it has more anti-blocking chemicals than polyethylene, it is frequently used in food packaging as a shrinkage film. The demand for ethylene would thus increase throughout the predicted period as a result of the vast range of applications for it and its derivatives in packaging.
Ethylene Market Share, By Region, 2022 (%)
| | |
| --- | --- |
| Regions | Revenue Share in 2022 (%) |
| North America | 20.3% |
| Asia Pacific | 42.6% |
| Europe | 25.7% |
| Latin America | 7% |
| MEA | 4.4% |

Regional Insights
The Asia-Pacific accounted for 42.6% revenue share in 2022. Positive economic and demographic trends, rising demand for petrochemical derivatives, and other factors have all contributed to the market's revenue growth. The availability of conventional feedstock and the rising expansion capacities of industry participants are additional significant variables boosting market revenue development. The need for ethylene-based derivatives in end-use sectors including packaging, automotive, and construction dominates this industry. Due to the expansion of the manufacturing sector in nations like China, India, and Japan, the region will continue to dominate the worldwide market over the projection period.
North America had a 26% revenue share in 2022 and is anticipated to grow at a quicker CAGR than the rest of the world over the projected period. The United States demand for ethylene is anticipated to rise as a result of expanding shale oil output, strong automotive sales, an uptick in building activity, and a booming flexible packaging sector. In addition, the expansion of the region's ethylene production, increased demand for plastics and basic chemicals, and technological developments will all contribute to an increase in market revenue.
The third-largest revenue share in 2022 came from Europe. Public and private investment in this region has increased as a result of Europe's ongoing growth in the construction and packaging sectors. The growth engine for the European construction sector may also change from end-use industries like packaging, construction, and automotive, among others. Product demand in this area is being driven by rising spending on residential, non-residential, and civil engineering operations in many European Union (EU) countries, including Germany, the U.K., and France, among others.
Recent Developments
Exxon Mobil Corporation said on November 8 that it will establish a chemical manufacturing complex in Huizhou, Guangdong Province, China.
The Dow Chemical Company announced on October 6 that it would construct the world's first ethylene and derivatives facility with net-zero carbon emissions.
Key Market Players
BASF SE
Chevron Phillips Chemical Company, LLC
Exxon Mobil Corporation
Ineos Group Ltd
LyondellBasell Industries N.V.
Royal Dutch Shell plc
Saudi Basic Industries Corporation
China Petroleum & Chemical Corporation (Sinopec)
The Dow Chemical Company
Lonza Group.
Segments Covered in the Report
(Note*: We offer reports based on sub-segments as well. Kindly, let us know if you are interested)
By Source
Coal
Natural Gas
Hydrocarbon Steam Cracking
By Feedstock
Naphtha
Ethane
Propane
Butane
Others
By Application
Polyethylene

High-density Polyethylene (HDPE)
Linear Low-density Polyethylene (LLDPE)
Low Density Polyethylene (LDPE)

Ethylene Oxide
Ethyl Benzene
Ethylene Dichloride
Others
By End-Use
Building & Construction
Automotive
Textiles
Packaging
Agrochemicals
Others
By Sales Channel
Direct Company Sale
Direct Import
Distributors & Traders
By Geography
North America
Europe
Asia-Pacific
Latin America
Middle East & Africa (MEA)