The global polyvinyl chloride (PVC) market size was estimated at USD 82.50 billion in 2022 and it is expected to reach USD 109.26 billion by 2032, poised to grow at a compound annual growth rate (CAGR) of 2.90% during the forecast period 2023 to 2032.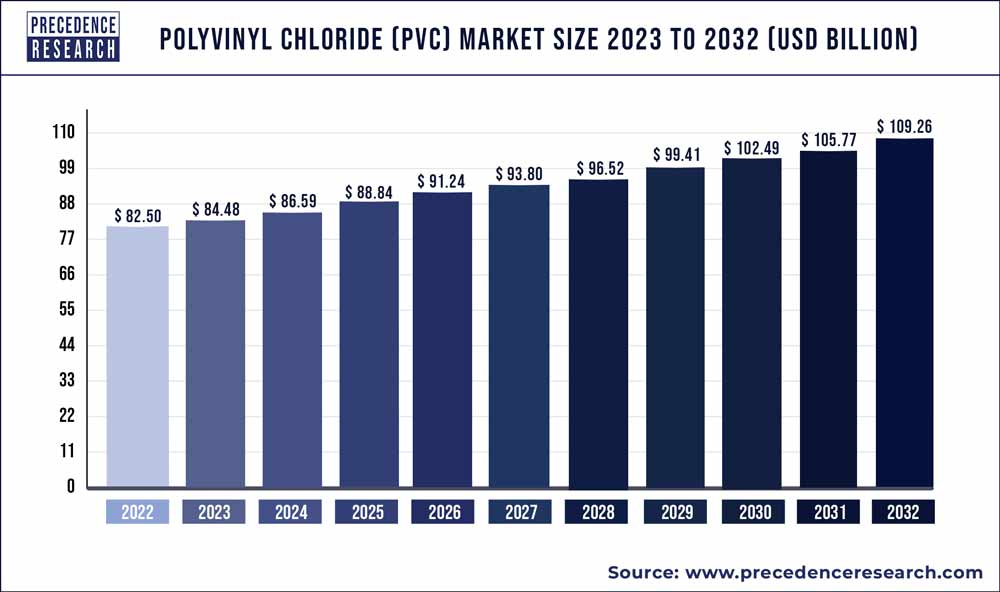 Access our Premium Real Time Data Intelligence Tool, Visit: Precedence Statistics
Key Takeaways:
The U.S. PVC market has accounted for USD 19 billion in 2022.
China market size is projected to reach USD 19.2 billion by 2032 with a CAGR of 8.1% between 2023 to 2032.
Germany is projected to grow at a CAGR of 4%.
Latin America is anticipated to grow at a CAGR of 8.1% from 2023 to 2032.
Polyvinyl chloride is the generally used thermoplastic resin polymer. It is white in color and fragile in nature. The bulk manufacture contains disruption polymerization. It is an artificial resin formed from vinyl chloride polymerization. Initially, the raw material vinyl chloride monomer is formed and dissolved, and then carried to the polymerization device, which has suspending essentials and water. The water controls and expels the temperature generated due to the polymerization method. PVC produces minute elements that progress and afterward, they get the essential size and the reaction is completed. Polyvinyl chloride is mainly organized into two groups Rigid and Flexible PVC. The PVC is detached and desiccated to form white snowy dust which is termed PVC resin. It is used in numerous importance like automobile, health care, electronics, building and construction, and other segments. They are widely used for the production of cables, wires, fittings, films, profiles, tubes, pipes, sheets, and bottles.
Growth factors:
The global market of polyvinyl chloride observed more growth mainly during the period fostered by the fast growth rate of the electrical, and electronics, construction business, packaging industry, and automotive. Growing non-refundable revenues with increasing development and lashing population have given resistance to building expenditure which curses a stable request for service biochemical products. In the construction of pipes, window frames, and doors, stiff polyvinyl chloride is used. A rise in the usage of un-plasticized Polyvinyl chloride instead of the use of wood in sills and frames of windows will increase the requirement for PVC in the sector of the building during the period of the forecast. Additionally, polyvinyl chloride is used for specific wrappings like apparatus packaging, medical devices, bottle sleeving, and wrapping of electronic and other useful products. An increasing packaging business, mostly utilizing plastics is expected to increase the global market for Polyvinyl chloride.
The features like the banned usage of polyvinyl chloride in the structure of green buildings and rigid rivalry between concrete pipes & steel constrain the development of the market. However, the developments in types of machinery, usage of highly effective pumps, & renewable energy, rising electronic vehicle demand, renewable PVC expansions, development of wood-plastics complexes, and unexploited latent in emergent markets proposal increases the growth chances. There are some limitations and restrictions come across will restrict the growth of the market. Additionally, the financial stoppage has exaggerated construction and automotive markets in the Canada and U.S. This is also a possible limitation hindering the global market growth of polyvinyl chloride. Polyvinyl chloride is the most broadly used plastic. It is formed by vinyl chloride monomers polymerization. It is further converters to adjust its belongings conferring to the demand of end users in the market of polyvinyl chloride. It is extensively working for industrial pipes, tubes, fittings, sheets, bottles, profiles, films, cables, wires, and others. Several belongings like lightweight, better mechanical strength, abrasion resistance, and durability permit its extensive usage in automotive, construction, electrical industries, and packaging.
Report Scope of the Polyvinyl Chloride (PVC) Market
| | |
| --- | --- |
| Report Coverage | Details |
| Market Size in 2023 | USD 84.48 Billion |
| Market Size by 2032 | USD 109.26 Billion |
| Growth Rate from 2023 to 2032 | CAGR of 2.90% |
| Base Year | 2022 |
| Forecast Period | 2023 to 2032 |
| Segments Covered | Type, Stabilizer Type, End Use, Application, Raw Material, Geography |
| Companies Mentioned | 3M (U.S.), ADEKA CORPORATION (Japan), Afton Chemical (U.S.), Akzo Nobel N.V. (Netherlands), Arkema (France), Avient Corporation (US), Braskem S.A., Chemplast Sanmar Limited (India), China National Chemical Corporation, Clariant (Switzerland), Dorf Ketal Chemicals (I) Pvt. Ltd. (U.S.), Dow (U.S.), DuPont (U.S.), Eastman Chemical Company (U.S.), Ercros SA, Finolex Industries Limited, Formosa Plastics Corporation, Hanwha Chemical Corp, INEOS Group AG, Innospec (U.S.), Kaneka Corporation, LANXESS (Germany), LG Chem (South Korea), LSB INDUSTRIES (US), Lubrizol Corporation (U.S.), Mayzo, Inc. (U.S.), Mexichem S.A.B de C.V., Mitsubishi Chemical Corporation (Japan), Occidental Chemical Corporation, PMC Specialties Group (U.S.), SABIC (Saudi Arabia), Sekisui Chemical Co. Ltd., Shin-Etsu Chemical Co. Ltd., Sika AG (Switzerland), Solvay (Belgium), Taiyo Vinyl Corp., Thai Plastic and Chemical Public Co. Ltd., Vestolit GmbH & Co. KG, Westlake Chemical Corporation (US) |

Type Insights
The flexible section grasps the most important share of the market and is projected to view the uppermost CAGR throughout the forecast. The features that can be credited to extensive tradition in structure importance like cables, pipes, wall & floor lids, fencing, and landfill liners need elasticity owing to composite assemblies. So, this boosts the market demand for this part. Stiff Polyvinyl chloride is a robust, rigid, low-priced polyvinyl chloride that is relaxed to produce and promises to use epoxy resin or diluents.
The rigid PVC part is expected to increase at a fast step throughout d Polyvinyl chloride is a type of PVC used in the production of machining shapes, pipes, sheets, fittings, ducts, and valves. Rigid polyvinyl chloride suggests the importance of shrill owing to its low price and more strength-to-weight relation. It is projected to preserve its dominance throughout the forecast.
End User Insights
The segment of construction grasps the major share of the market during the period of forecast. The features credited to the growing demand for improved organization amenities owing to growing development and fast industrial development improve the segmental demand. Construction is the foremost important end-use industry for the market for polyvinyl chloride (PVC). The segment of the construction business is expected to enlarge at a stable leap. It is an extremely common substantial working in the building segment, due to its small manufacture rate, the comfort of lightweight, and processing.
PVC is useful in diverse end-use industries, due to its appropriate chemical, physical, and automatic belongings. Its huge ductile strength is extremely valued for alternative building events. However, the stiff type of PVC is further trying to connect as associated to its elastic complement, conclusions of the description have composed a dissimilar yield of end users. This tendency is expected to increase throughout the forecast.
Application Insights
The segment of pipes & fittings created a foremost segment of the market for polyvinyl chloride. pipes & fittings are expected to uphold the situation supremacy during the estimated period. The segment of pipes & fittings is likely to enlarge at a quick step throughout the estimate. The petition for polyvinyl chloride pipes and fittings is knowingly more owing to their strength and durability in coarse situations. PVC piping has extensive application for moving harmful chemicals due to their more rust resistance.
On the justification of the high strength, robustness, and cost-effective characteristics of PVC piping, the petition remains to rush in the segment of pipes & fittings. It is expected to increase at a noteworthy step throughout s generally formed flexible and is widely working in outlines, as it is inexpensive, strong, and relaxed to accumulate. Recent organization events need the usage of polyvinyl chloride in an extensive selection of high importance like the transference of waste water drainage, drinking water, and water drainage on the ground or roof.
Raw Material Insights
Polyvinyl chloride is amongst the more commonly used polymers that discovered its residence in an assorted variety of tenders, due to its belongings and value efficiency. It is industrial by paying vinyl chloride monomer as feedstuff stock, which can be industrial by acetylene and ethylene dichloride. Ethylene dichloride (EDC) created development is more widespread owing to ecological anxieties connected to the acetylene-based course to vinyl chloride monomer.
Polyvinyl Chloride (PVC) Market Share, By Region, 2022 (%)
| | |
| --- | --- |
| Regions | Revenue Share in 2022 (%) |
| North America | 31.3% |
| Asia Pacific | 39% |
| Europe | 22.4% |
| Latin America | 4.3% |
| MEA | 3% |

Regional Insights
Asia-Pacific grasps the major share of the market. Asia Pacific inhabits an important revenue portion in the market of polyvinyl chloride (PVC). India and China are the main local marketplaces for the justification of rushing structure actions. Also, the growing population, quick development, and disposable value income is credited for the considerable local market part. China has a major microchip technology manufacturing base. Electrical products like OLED TVs, smartphones, and tablets observed the maximum development in the customer microelectronics section of the market. It suggests hard rivalry with the current ambitious manufacturers, like Taiwan, South Korea, and Singapore. The Market for Polyvinyl chloride is controlled by China with the intake of the extreme capacity of PVC.
In China, the market for medical devices is the wildest-rising segment. Remote clinics in the nation are rarer, and the finding of health care products is mainly obsessed by huge municipal clinics, important to the growing tradition of medicinal strategies in community clinics. These issues troop the petition for polyvinyl chloride in the segment. The growing construction business, formation of industrial amenities, development of customer and electric & microelectronics businesses, and current developments will increase the market in the Asia Pacific region. The market for therapeutic devices in China has observed durable development owing to an increasing number of clinics and the growing demand for therapeutic support. Such features are likely to increase the market for polyvinyl chloride (PVC) in the region of Asia-Pacific.
Key market developments:
Westlake Chemical Company declared the introduction of GreenVin™ Polyvinyl chloride, GreenVin™ is a lower-carbon substitute PVC, through its Vinnolit subordinate in Germany in November 2021. The substitute PVC furthermost used plastic in the medical, construction, and automotive segments. The inauguration of GreenVin™ PVC is in series with the overview of GreenVin™ acidic soda with the creation is predicted to increase the Corporation's hydrogen products and vinyl chloride in the coming years.
The National Oil Co.of Abu Dhabi, and UAE's AD Ports, or ADNOC, strategies to collaboratively harvest liquors mortal and logistics amenities located in the manufacturing center of Ruwais to help TA'ZIZ petrochemical developments allocated for a start-up in November 2021. ADNOC Services & Logistics and AD Ports Gathering will concept plants to aid residents of the TA'ZIZ Manufacturing Substances Region in Ruwais.
Shintech declared a principal venture to boost its combined PVC professional, Shin-Etsu Biological Co. Ltd in January 2021. Shintech's PVC manufacture volume is anticipated to influence million metric tons each year. US subordinate will additionally increase the manufacturing volume of Shintech Inc.
Orbia deliberate trading its PVC Component owing to appeal restrictions in January 2021. Though, the concluding result on the divestment is not formally exposed.
AGR gum of Xinjiang Zhongtai Biochemical Fukang Energy Firm effectively approved the Evaluation of the General Standard Project in October 2020. AGR mastic is a superior anti-scrub polyvinyl chloride gum prepared due to the drawback of the little influence asset of worldwide polyvinyl chloride gum. It is an altered polyvinyl chloride gum.
KEM ONE combined with Polyloop to grow PVC salvaging in July 2020. This partnership leads to the mixture of assistance and knowledge to grow new PVC salvaging explanations in the Balan place.
UPM and INEOS Biofuels proclaimed a long-term contract to source renewable raw important for innovative and advanced bio-credited polymers formed at INEOS Köln, Germany in February 2020. The world's first commercially available bio-credited PVC usages the deposit since the wood paste business.
Key market players:
3M (U.S.)

ADEKA CORPORATION (Japan)

Afton Chemical (U.S.)

Akzo Nobel N.V. (Netherlands)

Arkema (France)

Avient Corporation (US)

Braskem S.A.

Chemplast Sanmar Limited (India)

China National Chemical Corporation

Clariant (Switzerland)

Dorf Ketal Chemicals (I) Pvt. Ltd. (U.S.)

Dow (U.S.)

DuPont (U.S.)

Eastman Chemical Company (U.S.)

Ercros SA

Finolex Industries Limited

Formosa Plastics Corporation

Hanwha Chemical Corp

INEOS Group AG

Innospec (U.S.)

Kaneka Corporation

LANXESS (Germany)

LG Chem (South Korea)

LSB INDUSTRIES (US)

Lubrizol Corporation (U.S.)

Mayzo, Inc. (U.S.)

Mexichem S.A.B de C.V.

Mitsubishi Chemical Corporation (Japan)

Occidental Chemical Corporation

PMC Specialties Group (U.S.)

SABIC (Saudi Arabia)

Sekisui Chemical Co. Ltd.

Shin-Etsu Chemical Co. Ltd.

Sika AG (Switzerland)

Solvay (Belgium)

Taiyo Vinyl Corp.

Thai Plastic and Chemical Public Co. Ltd.

Vestolit GmbH & Co. KG

Westlake Chemical Corporation (US)
Segments covered in the report
(Note*: We offer report based on sub segments as well. Kindly, let us know if you are interested)
By Type
Rigid PVC
Flexible PVC
Low-Smoke PVC
Chlorinated PVC
By Stabilizer Type
Calcium-based Stabilizers (Ca-Zn Stabilizers)
Lead-based Stabilizers (Pb Stabilizers)
Tin and Organotin-based (Sn Stabilizers)
Barium-based and Other Stabilizer Types (Liquid Mixed Metals)
By End Use
Construction
Electrical Cables
Automotive
Footwear
Transportation
Packaging
Other
By Application
Pipes & Fittings
Films & Sheets
Profiles & Tubes
Wire & Cables
Pastes
Bottles
Others
By Raw Material
Ethylene dichloride
Acetylene
By Geography
North America
Europe
Asia-Pacific

China
India
Japan
South Korea
Malaysia
Philippines

Latin America

Brazil
Rest of Latin America

Middle East & Africa (MEA)

GCC
North Africa
South Africa
Rest of the Middle East & Africa