The global polyvinyl butyral market size was evaluated at USD 4.26 billion in 2022 and is expected to hit around USD 8.06 billion by 2032, growing at a CAGR of 6.58% during the forecast period from 2023 to 2032.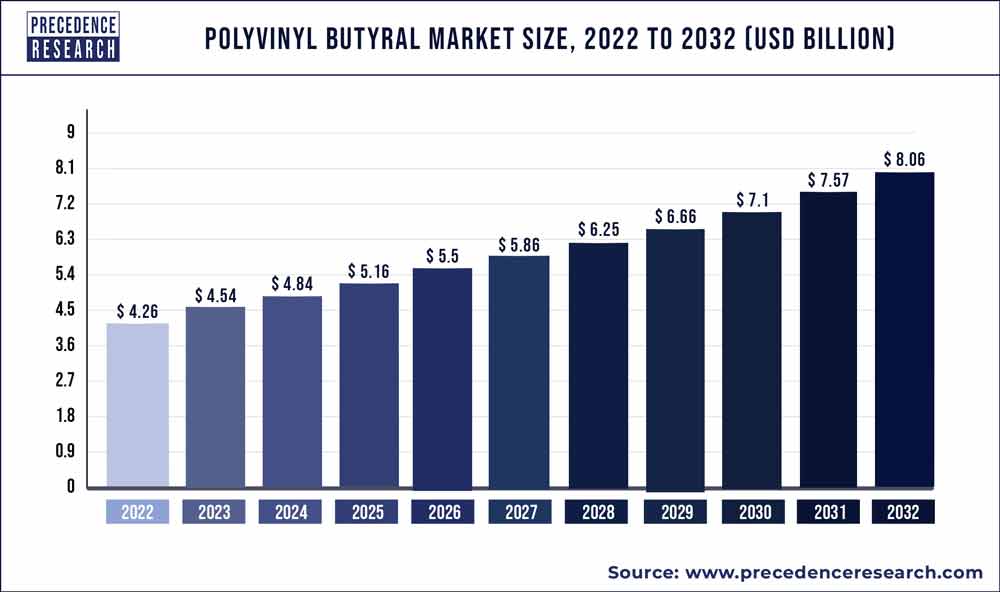 Access our Premium Real Time Data Intelligence Tool, Visit: Precedence Statistics
Key Takeaways:
Asia Pacific region generated more than 34% of revenue share in 2022.
By Type, the automotive segment dominated the market with a 50% of revenue share in 2022.
By Application, the films and sheets segment captured over 75% of revenue share in 2022.
Polyvinyl butyral is a resin with high binding efficiency, adhesion, excellent elasticity, flexibility, and toughness. It is used in a variety of commercial and industrial applications, including printing ink, films for lamination, adhesive, coatings and premiers, and binders for metal powders and ceramics. Increased demand for polyvinyl butyral has compelled manufacturers to increase production capacity.
Eastman Chemical Co. Ltd company has taken this step in order to serve global customers' needs in the region with a shorter lead time; the polyvinyl butyral produced is primarily for automotive windscreen applications. The shift in consumer preferences from private car ownership to shared mobility services has resulted in a slight decrease in automotive vehicle sales. Despite this, global automotive sales are expected to remain positive in the coming years due to an increase in global middle-class consumers and a positive economic outlook. During the forecast period, such trends are expected to drive the use of polyvinyl butyral in automotive windscreens. Polyvinyl butyral material is used in the construction industry as laminated safety and security glass. During the forecast period, the polyvinyl butyral market is expected to be driven by rising infrastructure and construction activities around the world.
Report Scope of the Polyvinyl Butyral Market:
| | |
| --- | --- |
| Report Coverage | Details |
| Market Size in 2023 | USD 4.54 Billion |
| Market Size by 2032 | USD 8.06 Billion |
| Growth Rate from 2023 to 2032 | CAGR of 6.58% |
| Largest Market | Asia Pacific |
| Base Year | 2022 |
| Forecast Period | 2023 to 2032 |
| Segments Covered | 2023 to 2032 |
| Regions Covered | North America, Europe, Asia-Pacific, Latin America and Middle East & Africa |

Key Market Drivers:
Increased demand for sunroofs in the automotive industry - In the automotive industry, PVB is used for windshield and side window applications. The trend towards larger and more complex windshields has resulted in an increased demand for PVB with higher impact resistance and clarity. In addition, the growing popularity of electric vehicles is expected to boost demand for PVB as these vehicles tend to have larger windshields to accommodate more advanced driver assistance systems. PVB interlayers for laminating glass will be used in material science innovation as well as growth-oriented end-use industries such as automobiles. PVB is a chemically stable, high-temperature material. PVB films and sheets are frequently used in applications to improve passenger safety, reduce noise, and block UV radiation. PVB can be used to make designer windscreens, rear glass, quarter glass, and sunroofs, as well as provide the best light transmission and glare reduction. The PVB market will expand as the production of electric vehicles grows and the demand for qualities such as light weighting, sophisticated solar control, and design freedom is met.
Rising usage in the construction industry - A complex reaction of alcohol and aldehyde, which is both efficient and dynamic, produces polyvinyl butyralPVB, which is suitable for construction applications. In order to live a sustainable and eco-friendly lifestyle, polyvinyl butyral is used in the manufacture of laminated glass. Energy is saved, and we're protected from damaging UV radiation by Laminated Glass. The use of polystyrene butyral also occurs in the production of films that are then used to manufacture buildings. Inside, PVB film is designed for the protection of furniture and plastic products from UV light.
Key Market Challenges
High recycling activities - The presence of PVB recycling facilities has been an important barrier to the PVB market. Producers are focusing on recycling PVB due to the higher costs and energy consumption of producing PVB from raw materials. Manufacturers have found that recycling can be more cost-effective because recycled PVB contains a low carbon footprint and similar material properties.
Stringent environmental regulations - During the manufacturing process, PVB generates a large amount of water and waste from raw materials. To protect the environment from industrial waste, regulatory authorities in Europe and North America have enacted a variety of laws and stringent regulations. PVB film and sheet manufacturing generate laminating glass waste that is difficult to process, and the cost of recycling has an impact on manufacturer profitability. As a result, government regulations continue to be a major challenge for PVB manufacturers.
Opportunities
Growing demand from the photovoltaics industry: Rising investment, R&D activities, and technological advancements in the electronics and electrical industries are creating new opportunities for PVB photovoltaic applications. PVB consumption has increased in the development of photovoltaic thin-film solar modules. Leading manufacturers are focusing on thin-film efficiency, low-cost processing, and manufacturing techniques to increase production capacity and solar panel life span.
Advancements in Packaging Technology: The demand for security and safety in buildings and vehicles is increasing due to a growing awareness of the need to protect people and property from potential threats such as theft, vandalism, and natural disasters. PVB is a key material in the production of laminated safety glass, which provides a high level of protection against these threats. Laminated safety glass is made by sandwiching a layer of PVB between two or more layers of glass. In the event of an impact, the PVB layer holds the glass together, preventing it from shattering and reducing the risk of injury or damage. This makes laminated safety glass ideal for use in applications where safety and security are a top priority, such as in the construction of high-rise buildings, bridges, and stadiums, as well as in the automotive industry for windshields and side windows.
As the demand for safety and security continues to grow, the use of laminated safety glass is becoming increasingly common. This presents an opportunity for PVB manufacturers to expand their customer base and develop new products that meet the evolving safety and security needs of their customers. For example, manufacturers can develop PVB with enhanced performance characteristics, such as higher impact resistance, to meet the requirements of specific applications. In addition, manufacturers can work closely with architects and designers to develop custom laminated glass solutions that meet the unique safety and security needs of individual projects. This presents an opportunity for PVB manufacturers to broaden their customer base and develop new products that meet their customers' evolving safety and security needs.
Segmental Insight:
Type Insights:
In 2022, the automotive segment dominated the market, accounting for more than 50.0% of total revenue. PVB films provide superior visual protection and a long durable finish, preventing bubbles forming on the surface. To minimise noise, light transmission and to enhance safety, transparent protective glass has proved effective with regard to windscreens and is now being applied in the manufacture of roof and side windows for luxury vehicles. Furthermore, because of their low flammability and low smoke generation, PVB film and sheets are used for safety in the construction and automotive industries. The increased use of renewable energy sources is expected to increase the use of PVB in the electrical and electronics industries. PVB films are a cost-effective and convenient encapsulation material for solar photovoltaic modules that improves the UV protection and performance of the glass. In addition, demand for PVB in the electrical and electronics sectors is anticipated to increase as a result of energy efficiency legislation and an increasing demand for Solar Cells.
Application Insights:
The films and sheets segment dominated the market with a 75% of revenue share in 2022. PVB films and sheets are used as an interlayer in the production of laminated glasses used in the architectural and automotive industries. Laminated glass is a type of safety glass that maintains the integrity of the components even when broken. It is held in place by a PVB interlayer between two or more layers of glass. In the event of a collision, the interlayer holds these two layers of glass together, and the high strength of PVB prevents the glass from shattering into large, sharp pieces. Demand for PVBs based paints and varnishes is anticipated to increase as the industrial sector expands. There is rapid growth of industrial production in China, India, Mexico, South Korea and Brazil. In developing countries, for instance in manufacturing, construction, FMCG and transportation industries, the growth of this industry is driven by thec increase in population as well as better living conditions combined with fast urbanization. Growth in industrial facilities in Asia Pacific and Latin America is expected to boost demand for paints and coatings, boosting market growth during the forecast period. Adhesives are a range of multifunctional products which have been used by industries and manufacturing.
The demand for these products is increasing as manufacturers focus on better performance of bonding materials, alternative substrate material substitution to conventional materials, reduction in VOC emissions through recyclization and the application of decorative bonded solutions with a variety of substrates. Because of its superior strength, adhesion, and binding properties in a variety of environmental conditions, PVB is widely used in adhesives.
Regional Insights:
On the basis of geography, In 2022, Asia Pacific dominated the market with a revenue share of more than 34%. Demand for PVB based paint, coating and adhesive in industrial machinery, equipment and containers is expected to be stimulated by the expansion of production in Asia Pacific. In addition, demand for PVB inks and packaging materials is expected to grow as a result of increased demand from fastmoving consumer goods in the region. PVB is expected to be used more in packaging applications as hospitals in urban and rural areas in emerging economies increase their demand for laminated glass and adhesives.
PVB films are used as an encapsulation material of double-glazing elements with integrated solar cells in the photovoltaic industry, which significantly increases the life of solar panels. The Asia Pacific photovoltaic industry is a developing one that is experiencing rapid growth due to an increase in solar energy generation projects. Key manufacturers are expanding their PVB resin facilities in developing economies, increasing PVB resin consumption in the photovoltaic industry.
It is expected that the construction sector will be driven by increased EU funding, coupled with a variety of policy support measures undertaken by governments in the area, such as subsidies, tax breaks and incentives. The growth of the construction sector in this part of the world will also be stimulated by the start of the Construction 2020 Action Plan. The demand for polyvinyl butyral is expected to increase in the upcoming years due to an expansion of the housing sector throughout Europe, including the United Kingdom, Netherlands, Germany, Italy and others.
Key Industry Developments:
August 2021 - Avient, a global manufacturer of specialised polymer materials based in Avon Lake, Ohio, announced the addition of laminated architectural glass and the recovery of polyvinyl butyral (PVB) from car windscreens to its portfolio of reSound R thermoplastic elastomers (TPEs). Following the completion of the collaboration with Shark Solutions, a Danish-based global leader in advanced sustainable PVB, Avient's reSound R TPEs will contain 25% post-consumer recycled PVB. The new reSound R grades, available in durometers ranging from 45 to 55 Shore A, are ideal for general-purpose applications in the automotive and consumer industries. Moldable injection TPEs can be over-molded to polypropylene (PP) and are available in a natural grade that can be easily coloured.
March 2021- Eastman Chemical Company announced an investment in its Springfield, Massachusetts, production plant to improve and expand its extrusion capabilities to manufacture interlayers product lines. The investment will strengthen Eastman's supply capability to meet local and global demand for Saflex polyvinyl butyral (PVB) products in the architectural and automotive markets, as well as improve facility capabilities to enable the production of specialty architecture and automotive PVB products, such as advanced tri-layer formulations and thicker gauges like Saflex acoustic interlayer products. The project is anticipated to be finished in the fourth quarter of 2021.
September 2019 - Kuraray Co. Ltd. launched a new SentryGlas production line to meet the growing demand in the laminated safety glass market for residential and commercial buildings, and in 2021, the company upgraded the Holesov production line to enable the production of wider films.
Key Market Players
Anhui Wanwei Group Co., Ltd
DuLite
Everlam
Chang Chun Petrochemicals Co. Ltd
Zhejiang Pulijin Plastic Co., Ltd
Tiantai Kanglai Industrial Co., Ltd
Kingboard Chemical Holdings Limited
Sekisui Chemical Co., Ltd
DuPont
Kuraray Co., Ltd
Eastman Chemical Company
Tridev Resin Pvt. Ltd.
Huakai Plastic
Qingdao Jinuo New Materials Co.
Specialty Resins
Kingboard
Hubergroup
Segments Covered in the Report
(Note*: We offer reports based on sub segments as well. Kindly, let us know if you are interested)
By Type
Electrical & Electronics
Building & Electronics
Automotive
Others
By Application
Printing Inks
Adhesive & Sealants
Paints & Coatings
Films & Sheet
By Geography
North America
Europe
Asia-Pacific
Latin America
Middle East and Africa