The global biopolymers market size was evaluated at USD 33 billion in 2022 and it is expected to hit around USD 90.78 billion by 2032, growing at a CAGR of 10.7% during the forecast period 2023 to 2032.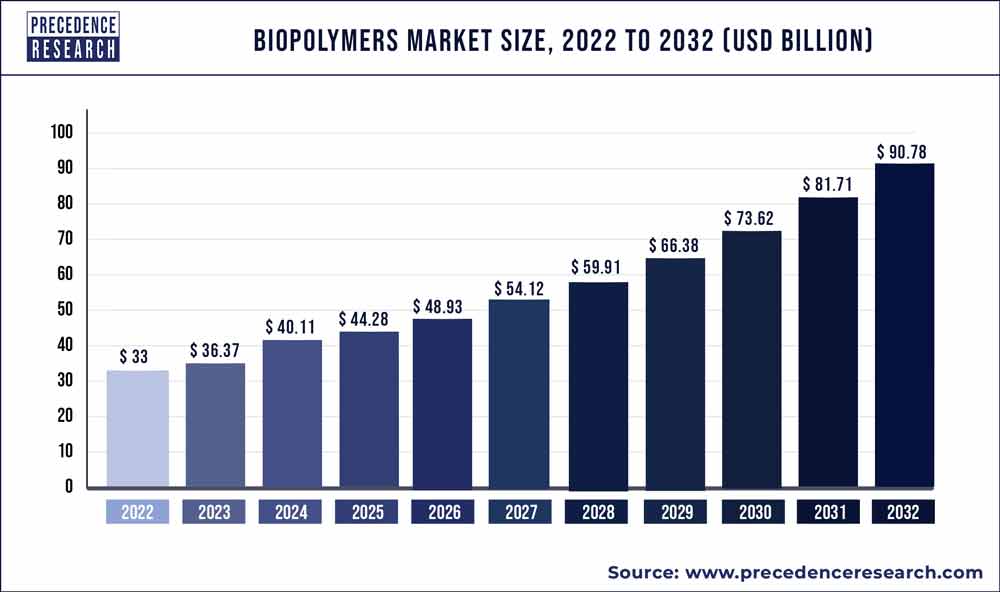 Access our Premium Real Time Data Intelligence Tool, Visit: Precedence Statistics
Key Takeaways:
By region, Europe accounted highest revenue share of around 43.5% in 2022.
By product, the bio-based PET segment garnered a revenue share of around 57% in 2022.
Flexible plastic produced using synthetic mixtures got from or incorporated by microorganisms like microbes or hereditarily adjusted plants. Bioplastics are thermoplastics produced using bio-based materials like sugar, kelp, and starch. Biopolymers are a general class of materials that incorporates bioplastics as well as regular polymers like silk, chitosan, and fleece. Starch, alginate and cellulose are instances of polysaccharides, which are straight or stretched polymeric sugars. Regular rubbers, suberin and lignin, cutin and cutan, and melanin are instances of biopolymers. Human and creature squander, plant items, and agrarian waste are utilized to make bio-plastics, which are then reused and transformed into new items utilizing state of the art innovation.
Biopolymers are produced using waste starch, biomass and other sustainable feed stock. There are a few economically accessible polymers, (for example, polylactic corrosive, bio-nano composites and poly-hydroxy-alkanoate, and so on) which are utilized in the hardware and car businesses.
Legislatures are empowering the utilization of biodegradable polymers over ordinary polymers to diminish carbon impression. A few significant auto organizations are presently choosing biopolymers in their vehicles; for example, the Ford Motor Company is involving biopolymers for inside applications.
Growth factors
Polymers and plastics are by and large utilized in covering and packaging applications. Around 80% polymeric materials are created from the petrol business, while handling non-renewable energy sources. The expanding utilization of plastics is troubling the climate with its rising carbon impression because of ozone depleting substance discharges, alongside different factors, for example, soil and ground water contamination.
Hence emerging a requirement for climate cordial other options. The developing concentration towards practical improvement is supposed to set out a freedom for bio-based plastics and polymers before very long. Biopolymers are polymers that are degradable when exposed to dampness and intensity, under the activity of miniature creatures.
Increasing cases of land pollution.
Increasing prevalence of chronic diseases due to its consumption by mistake.
The rising demand for the eco-friendly products among customers worldwide.
Report Scope of the Biopolymers Market
| | |
| --- | --- |
| Report Coverage | Details |
| Market Size in 2023 | USD 36.37 Billion |
| Market Size by 2032 | USD 90.78 Billion |
| Growth Rate from 2023 to 2032 | CAGR of 10.7% |
| Base Year | 2022 |
| Forecast Period | 2023 to 2032 |
| Segments Covered | Type, Application, End User and Geography |
| Companies Mentioned | NatureWorks (US), Braskem (Brazil), BASF (Germany), Total Corbion (Netherlands), Novamont (Italy), Biome Bioplastics (UK), Mitsubishi Chemical Holding Corporation (Japan), Biotec (Germany), Toray Industries (Japan), Plantic Technologies (Australia). |

Key market Drivers
Shift in purchaser inclination toward eco-accommodating plastic items- Purchaser awareness in regards to sustainable plastic arrangements and unavoidable endeavors to dispense with the utilization of non-biodegradable regular plastics are adding to the market development of bioplastics. Conventional plastics, which are for the most part oil based, require a very long time to separate or corrupt and lay in the landfills for a significant stretch. Biodegradable plastics separate quicker when they are disposed of and are retained once more into the normal framework. Likewise, the pace of decay of biodegradable plastics by the exercises of microorganisms is a lot quicker than that of customary plastics.
Biodegradable plastics separate 60% and more in the span of 180 days or less as contrasted and conventional plastics, which require about 1,000 years to separate. Expanding landfills and waste heaps have arisen as serious ecological risks and brought about various unfavorable consequences for the verdure of the biological system.
The developing shopper awareness with respect to these unfriendly impacts (emerging from the utilization of conventional plastics) is empowering the utilization of biodegradable plastics. Besides, the utilization of regular polymers might represent a danger to human wellbeing and security because of their poisonous substance. For instance, PVC might cause hereditary issues, ulcers, deafness, and vision disappointment. The table underneath records the dangers related with the utilization of traditional polymers/plastics. Such high dangers increment the interest for items that are alright for human wellbeing. Subsequently, expanding shopper awareness, alongside administrative regulation, is driving the utilization of bio-based items like biodegradable plastics and bio-based plastics.
Key market challenges
Higher costs of bioplastics than traditional plastic- The greater expense of bioplastics than that of customary polymers controls the development of the market in numerous application fragments. By and large, the expense of creation of bio-based polymers is 20% to 100 percent higher than that of traditional polymers. This is principally because of the great polymerization cost of bio-based polymers as the vast majority of the cycles are still in the formative stage and thus have not accomplished economies of scale. For instance, PHAs, which have various applications in fasteners, manufactured papers, clinical gadgets, electronic parts, food packaging, and agribusiness, have high creation costs, low yields, and restricted accessibility. PLAs, which have a much lower cost of creation contrasted with PHAs, are even more costly than oil based PE and PP. By and large, the bio-based materials are currently at the improvement stage and have not been marketed to similar level as their petrochemical partners, which have been growing quickly for over 50 years.
As of now, the expense of biodegradable plastics differs from USD 2/kg to USD 6/kg as contrasted and that of customary plastics, which is around, USD 1/kg to USD 2/kg. Higher R&D and creation costs because of limited scope creation and the huge cost contrast in contrast with customary oil based plastics are the key variables, which add to the low entrance of bioplastics in different ventures.
Key market opportunities
High possible in arising nations of APAC- The bioplastics and biopolymers market players are persistently executing natural and inorganic methodologies for their development. Lately, the players have made numerous essential advancements in the arising nations of APAC. For example, in 2019, Total Corbion set up a PLA Plant in Rayong, Thailand, with a creation limit of 75,000 tons each year. Moreover, Indonesia is investigating bioplastic choices, like kelp. Evoware, a neighborhood player, gives licensed ocean growth based packaging. The organization is delivering compartments produced using ocean growth. The guidelines connected with the climate are supposed to expand, which would ultimately push the interest for bioplastics in these nations later on. Also, Southeast Asia is rich in bio-based feedstock expected to deliver bioplastic as it has nearby admittance to sustainable natural substances. Consequently, guidelines, combined with the simple accessibility of feedstock, will, thusly, assist with supporting the interest for bioplastics during the estimate time frame.
Segmental Insights
Type Insights
Focal point of states on green acquirement arrangements and guidelines to expand the interest for bioplastics and biopolymers.
The developing need to decrease the reliance on regular petroleum derivatives is impelling the interest for bio-based items. This is likewise upheld by the new strategies and guidelines carried out and took on by the public authority bodies around the world. These guidelines incorporate prohibiting or executing extra additional charges on the utilization of regular plastics in applications, like shopping sacks, packaging materials, and disposables. These rising guidelines and denials against plastic packs and other plastic things are driving the market for bioplastics, particularly biodegradable plastics, around the world.
End User Insights
The packaging is projected to represent the biggest portion of the bioplastics and biopolymers market, by end-use industry, during the estimate time frame.
Packaging is the biggest end-use industry for the utilization of bioplastics and biopolymers. They represented the portion of 62%, in 2022, for the worldwide bioplastics and biopolymers market. Expanding ecological guidelines and changes in the way of life of buyers have expanded the interest for bioplastics and biopolymers in the packaging business. Plastics have high strength and impermeability to water, which has supported their utilization in packaging. Packaging utilizations of bioplastics and biopolymers incorporate food packaging, medical services packaging, corrective and individual consideration packaging, shopping sacks, and others.
The packaging business utilizes bioplastics and biopolymers. Therefore, bio-based unrefined components like starch and vegetable waste yield side-effects, are being utilized to agree with rigid government natural guidelines. Thus, item quality is lower in this industry than in customary plastic item producing enterprises.
Food and refreshment packaging, drug packaging, and convey sacks are conceivable packaging portions for bioplastics and biopolymers. Organizations in the PLA business utilize recyclable items, which help to drive the market. The interest for PLA-based polymers is being driven by the developing interest for harmless to the ecosystem packaging produced using bio-based polymers.
Geography Insights
APAC is supposed to represent the quickest developing business sector during the figure time frame.
In view of district, the bioplastics and biopolymers market has been sectioned into APAC, Europe, North America, RoW. APAC is the quickest developing bioplastics and biopolymer market attributable to the rising purchaser inclinations towards eco-accommodating plastic items with the quickly developing populace of the area. Expanding purchaser buying power has pushed the development of different end use businesses around here. These variables are supposed to prompt expanding interest for bioplastics and biopolymers in the district during the gauge time frame.
Europe held the biggest piece of the pie in the bioplastics and biopolymers market, and this strength is supposed to go on all through the figure period. The district's significant driving element in the worldwide market is fast utilization of plastics and rising buyer mindfulness about bio-based items.
Biopolymers Market Share, By Region, 2022 (%)
| | |
| --- | --- |
| Regions | Revenue Share in 2022 (%) |
| North America | 26% |
| Asia Pacific | 22% |
| Europe | 43.50% |
| Latin America | 5% |
| MEA | 3.50% |
Recent Developments
In April 2021, NatureWorks reported another essential organization with IMA Coffee, which is a market chief in espresso taking care of handling and packaging. This organization targets expanding the market go after high-performing compostable K-cup in North America.
In August 2019, Braskem and Ledesma (Argentina), maker of regular agro-industrial items, have teamed up to convey Ledesma + Bio, which is a line of 100 percent sustainable journals made completely of sugarcane. Such drives are supposed to take special care of the requirements of the bioplastics and biopolymers market.
Key market players
NatureWorks (US)
Braskem (Brazil)
BASF (Germany)
Total Corbion (Netherlands)
Novamont (Italy)
Biome Bioplastics (UK)
Mitsubishi Chemical Holding Corporation (Japan)
Biotec (Germany)
Toray Industries (Japan)
Plantic Technologies (Australia)
Segments covered in the report
(Note*: We offer report based on sub segments as well. Kindly, let us know if you are interested)
By Type
Biodegradable

PLA
Starch Blends
PHA
PBS
Others
PCL
PBAT

Non-Biodegradable/Biobased

BIO-PET
BIO-PABIO-PE
BIO-PTT
Others
BIO-PP
BIO-PEF
By Application
Films
Bottles
Fibers
Seed Coating
Vehicle Components
Medical Implants
Others
By End User
Packaging

Rigid Packaging
Flexible Packaging

Consumer Goods

Electrical Appliances
Domestic Appliances
Others

Automotive & Transportation

Interior
Exterior
Under Hood

Textiles

Medical & Healthcare Textile
Personal care, clothes and other textiles

Agriculture & Horticulture

Tapes & Mulch Films
Others

Others
By Geography
North America
Europe
Asia-Pacific

China
India
Japan
South Korea
Malaysia
Philippines

Latin America

Brazil
Rest of Latin America

Middle East & Africa (MEA)