The global biomaterials market was valued at USD 135.87 billion in 2022 and is expected to hit USD 431.49 billion by 2032, growing at a noteworthy CAGR of 12.3% from 2023 to 2032.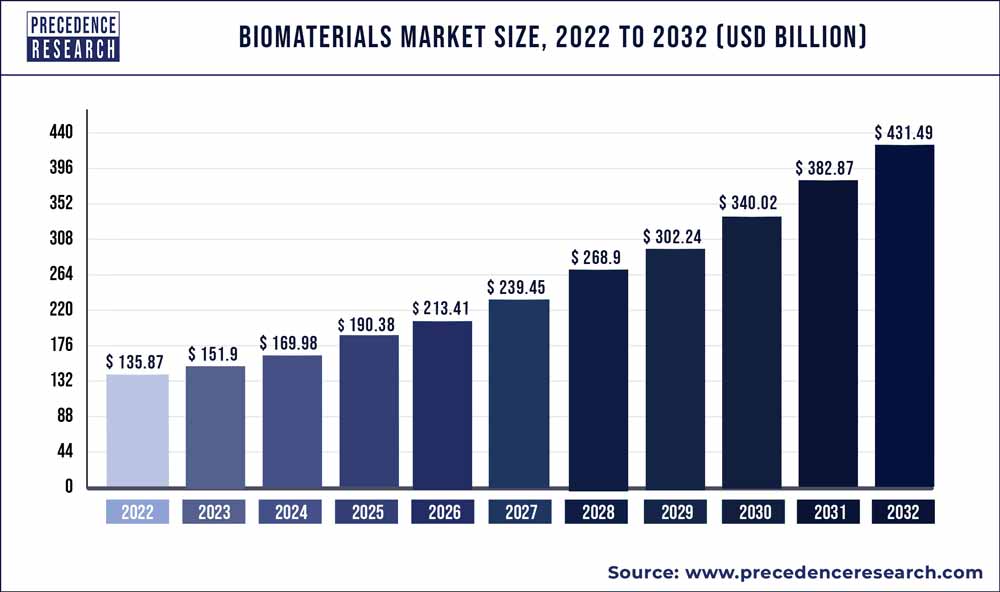 Access our Premium Real Time Data Intelligence Tool, Visit: Precedence Statistics
Key Takeaways:
Product, the polymer segment has accounted revenue share of 28.5% in 2022.
Application, the orthopedic segment has held a revenue share of over 24% in 2022.
North America has accounted revenue share of over 38.8% in 2022.
Biomaterials Market in the U.S. 2023 To 2032
The U.S. biomaterials market size was valued at USD 37.09 billion in 2022 and is expected to reach USD 114.69 billion by 2032, poised to grow at a CAGR of 12% from 2023 to 2032.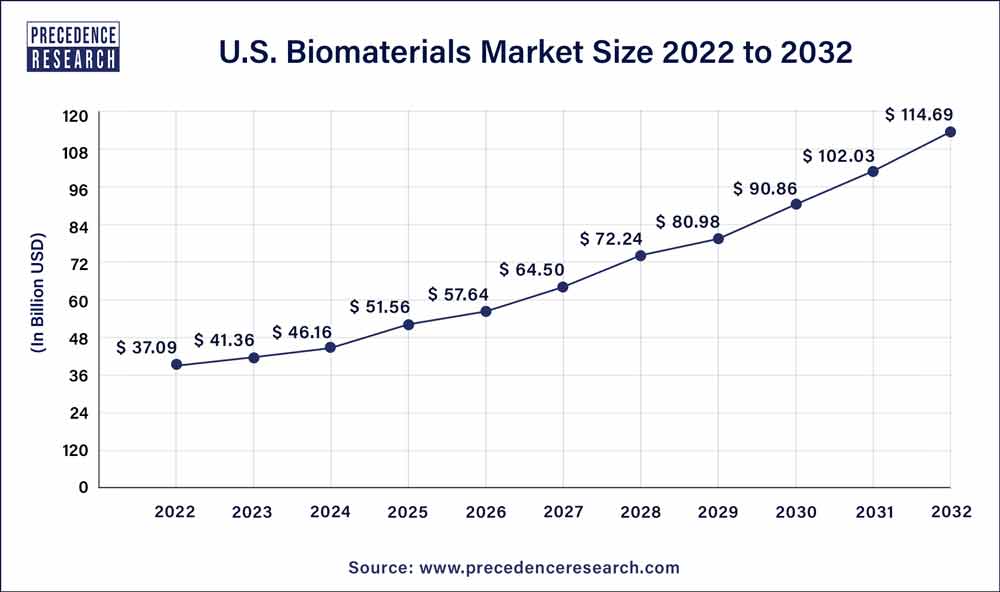 In terms of revenue, North America dominated the global biomaterials market due to initiatives taken by different private and public organizations. Some of the organizations include the National Institute of Standards and Technology and the National Science Foundation that provide assistance and knowledge pertaining to usage of biomaterials in various biomedical applications. This resulted in significant growth in the adoption of biomaterials in the region.
On the other hand, the Asia Pacific anticipated to witness the fastest growth during the analysis period. This is attributed to the major strategies adopted by the regional players to reinforce their presence in both global as well as regional market. For instance, in 2019, Mitsubishi Chemical, a Japan-based company, acquired thermoplastic polyurethane elastomer business from U.S.-based AdvanSource Biomaterials. The acquisition analyzed to help the company to expand its footprint in the global market along with capturing significant share in the international market.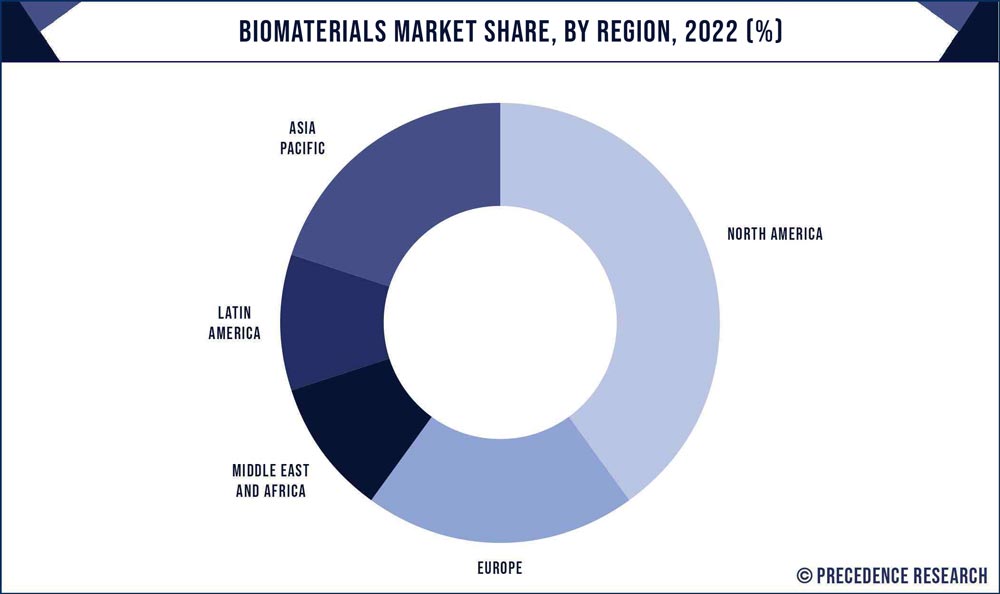 Market Overview
The biomaterials market is a wide-spread industry that revolves around the production and application of products or materials that interact with biological systems. These materials are used in multiple healthcare applications, such as implants, prosthetics and tissue engineering. The global market offers a wide range of materials like polymers, ceramics and composites, designed to be biocompatible and serve specific functions within the human body.
Biomaterials are widely used in dental applications, ophthalmology, cosmetic surgeries, drug delivery systems and wound healing. In addition, biomaterials are widely used to create various medical implants, such as artificial joints and cardiac stents.
The market's current position is observed to get accelerated as the industry is witnessing advancements in medical technology and improvements in the quality of healthcare services. Significant research and development activities are also observed to promote the market's expansion in the upcoming period.
Growth Factors
Rising prevalence of chronic skeletal and musculoskeletal medical conditions are predicted to propel the demand for biomaterial-based implants, thereby fuelling the market growth. Further, technological advancements have made biomaterials more diverse and have increased their application in various fields such as tissue engineering and bioengineering. The advent of smart biomaterials drives the revenue generation in this market. Increasing demand for smart biomaterials that transfer and produce bioelectric signals similar to body tissues for accurate physiological functions predicted to surge the market growth. Piezoelectric scaffold is a smart material that plays a significant role in tissue engineering.
Data and Statistics:
A global leader in biomaterial production and distribution, Evonik stated its expenditure for research and development activities to be €460 million in 2022. The company's sales reached €18.5 billion.
Evonik's EBITDA reached €450 million in the second quarter (Q2) of 2023, which was €409 million in Q1 2023.
MedTech by Johnson and Johnson, a prominent player for biomaterial production witnessed overall sales of $27.4 billion, this is an increase of 1.4% from 2021.
The Canadian government in December 2022 invested $127 million in order to keep its bioscience facilities at cutting-edge. The investment has been made for research and development along with biomanufacturing purposes.
According to American Joint Replacement Registry Annual Report for 2022, hip and knee procedures in America have registered a whopping growth of 14% as compared to the year 2021.
Biomaterials Market Scope
| | |
| --- | --- |
| Report Highlights | Details |
| Market Size in 2023 | USD 151.9 Billion |
| Market Size by 2032 | USD 431.49 Billion |
| Growth Rate from 2023 to 2032 | CAGR of 12.3% |
| Largest Market | North America |
| Fastest Growing Market | Asia Pacific |
| Base Year | 2022 |
| Forecast Period | 2023 to 2032 |
| Segments Covered | Product, Application, Region |
| Companies Mentioned | Evonik Industries AG, Medtronic plc,Berkeley Advanced Biomaterials, Corbion, Carpenter Technology Corporation, Zimmer Biomet Holdings, Inc., Invibio Ltd., Covalon Technologies Ltd., BASF SE, Johnson & Johnson, Stryker Corporation |
Market Dynamics
Driver
The rising rate of cosmetic surgeries
A report published by the International Society of Aesthetic Plastic Surgery stated that there was an overall 11.2% increase in procedures done by plastic surgeons in 2022. The report also stated that there were more than 14.9 million surgical procedures done in 2022 worldwide.
The demand for cosmetic surgeries and minimally invasive procedures has been on the rise in recent years. People are increasingly seeking enhancements to their physical appearance. This demand includes procedures such as facelifts and dermal fillers that require biomaterials. ongoing advancements in biomaterials have allowed safer and quicker cosmetic procedures. These biomaterials are designed to be biocompatible, reducing the risk of adverse reactions or complications. As the cosmetic industry expands, it is observed that the innovation of improved biomaterials will also increase. Thereby, the element is expected to sustain as a driver for the market.
Restraint
Regulatory hurdles
The market for biomaterials (production and distribution) is observed to be affected by regulatory hurdles or regulatory challenges. The market is subjected to strict regulatory oversight due to safety concerns. Meeting these requirements can be time-consuming and costly. Such regulatory hurdles can directly impact on the production or investment in biomaterials industry. Regulatory hurdles can even increase the timeline for production of biomaterials. Thereby, the element associated with regulatory hurdles acts as a major restraint for the market.
Opportunity
Innovation in techniques for biomaterial production
Technological advancements allow for the development of new biomaterials with enhanced properties. This also expands the range of materials available for various applications, catering to specific needs in the medical and healthcare sectors. Innovations in biomaterial production are observed to lead to materials that are more biocompatible for the human body. Innovations in the production of biomaterials also broaden the range of potential applications and increase patient safety. Thereby, the element is observed to offer several potential opportunities for the market to expand.
Product Insights
By product, the polymer segment led the global biomaterials market with considerable revenue share in 2022 and projected to continue its dominance in the coming years. This is mainly attributed to the wide range of applications of polymer products. Wide availability of biopolymers along with need for advanced polymers for bio-resorbable tissue fixation application and other orthopedic applications expected to escalate the revenue growth of the segment.
Polymeric biomaterials are one of the keystones of tissue engineering. Continued progression in technologies, such as surface modification, micro manufacturing, nanotechnology, drug delivery, and high-throughput screening, play an important role in expanding the polymeric material usage in the tissue engineering field.
On the other hand, natural biomaterials anticipated to register the highest growth rate over the forecast period due to numerous benefits offered by the product over synthetic biomaterials related to biocompatibility, biodegradability, and remodeling. In the wake of these advantages, natural biomaterials are increasingly used for restoration and replacement of structure as well as function of the damaged tissues or organs.
Application Insights
The orthopedic application segment captured maximum revenue share in the global biomaterials market in 2022. Rising adoption of metallic biomaterials owing to their high load bearing capacity is one of the prime factors that drive the growth of the segment. Besides this, significant developments and on-going investments for the advancement in orthopedic implants by market participants are likely to propel the market growth in the next years to come. For instance, in November 2019, FDA approved Xiphos-ZF spinal interbody device introduced by DiFusion Inc. that is based on Zfuze, a different biomaterial that is made up of titanium and poly-ether-ether-ketone.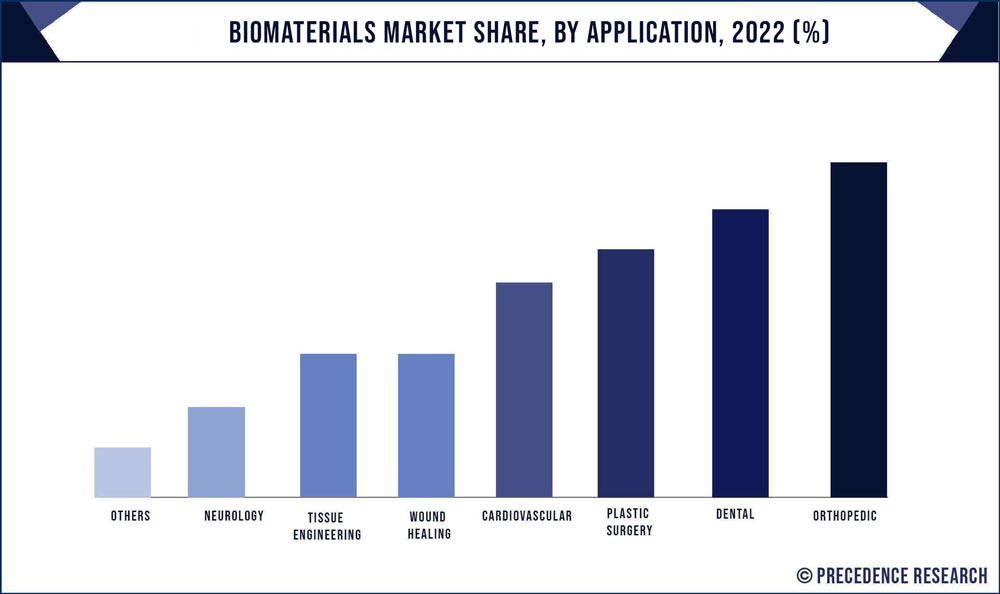 Moreover, plastic surgery analyzed to grow at a significant pace during the forecast period owing to increasing number of cosmetic procedures along with significant application of biomaterials in such surgeries. According to the International Society of Aesthetic Plastic Surgery report 2019, nearly 4.3 Million cosmetic procedures were performed in the U.S. during the year 2018 that positively influences the growth of the segment.
Key Companies & Market Share Insights
The global biomaterials market is highly competitive due to significant investments from market players to maintain a competitive edge and expand their presence. These vendors also adopt inorganic growth strategies such as partnerships, agreements, collaboration, and merger & acquisition to strengthen their product portfolio. They also invest in the development of biomaterials to expand their offerings.
Some of the prominent players in the biomaterials market include:
Evonik Industries AG
Medtronic plc
Berkeley Advanced Biomaterials
Corbion
Carpenter Technology Corporation
Zimmer Biomet Holdings, Inc.
Invibio Ltd.
Covalon Technologies Ltd.
BASF SE
Johnson & Johnson
Stryker Corporation
CoorsTek Inc.
DentsplySirona
Collagen Matrix, Inc.
Recent Developments:
In September 2023, altM, a biomaterial startup announced that it has raised $3.5 million in seed funding led by Omnivore. altM aims to develop scalable biomaterials to help large industries. The startup is known for using agricultural residues for production to reduce carbon footprints.
In September 2023, the University of Birmingham stated that they have launched dental and biomaterial testing center. The center aims to offer comprehensive testing services to assess the mechanical and physical properties of materials.
In June 2023, IFF announced the launch of its newly designed enzymatic biomaterial technology. The technology aims to focus on the development of biomaterial at a scale. The potential of this technology has already been demonstrated across various industries.
Segments Covered in the Report
This research study encompasses comprehensive assessment of the marketplace revenue with the help of prevalent quantitative and qualitative intelligences, and prognoses of the market. This report presents breakdown of market into major and niche segments. Furthermore, this research study gauges market revenue growth and its drift at global, regional, and country from 2020 to 2032. This report comprises market division and its revenue valuation by categorizing it depending on product, application, and region:
By Product
Metallic
Ceramics
Natural
Polymers
By Application
Ophthalmology

Intraocular Lens
Synthetic Corneas
Ocular Tissue Replacement
Others

Cardiovascular

Stents
Sensors
Implantable Cardiac Defibrillators
Guidewires
Vascular Grafts
Pacemakers
Others

Dental

Dental Implants
Tissue Regeneration Materials
Bone Grafts & Substitutes
Others

Wound Healing

Adhesion Barrier
Surgical Hemostats
Fracture Healing Device
Internal Tissue Sealant
Skin Substitutes
Others

Orthopedic

Orthobiologics
Joint Replacement Biomaterials
Viscosupplementation
Spine Biomaterials
Bioresorbable Tissue Fixation Products
Others

Plastic Surgery

Soft Tissue Fillers
Facial Wrinkle Treatment
Bioengineered Skins
Craniofacial Surgery
Acellular Dermal Matrices
Peripheral Nerve Repair
Others

Tissue Engineering
Neurology

Shunting Systems
Neural Stem Cell Encapsulation
Cortical Neural Prosthetics
Hydrogel Scaffold For CNS Repair
Others

Others
By Regional Outlook
North America
Europe
Asia Pacific

China
India
Japan
South Korea

Rest of the World