The global polycarbonate market size was estimated at USD 19.2 billion in 2022, and it is projected to hit around USD 35.24 billion by 2032 with a CAGR of 6.8% during the forecast period 2023 to 2032.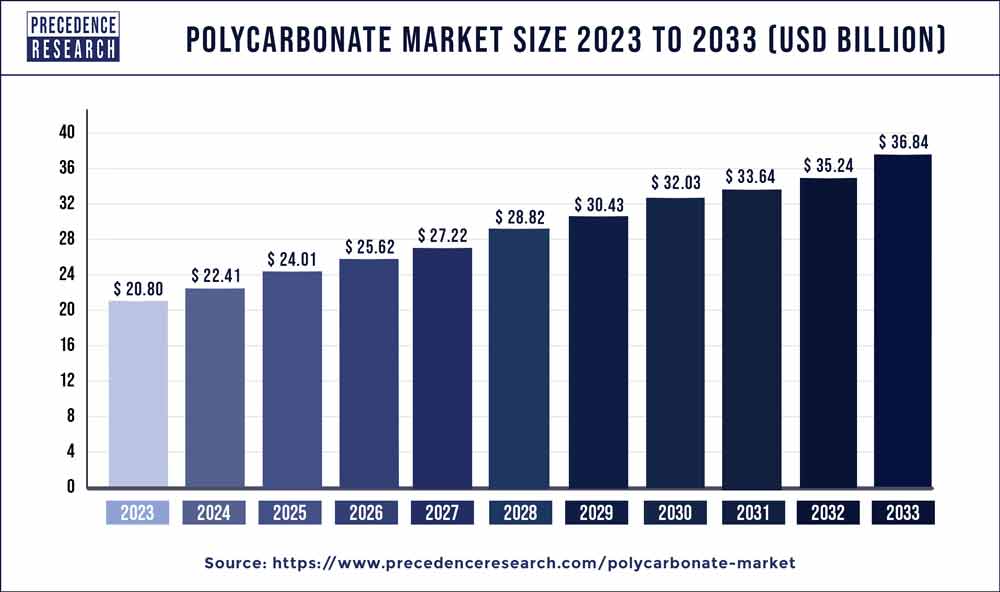 Access our Premium Real Time Data Intelligence Tool, Visit: Precedence Statistics
Key Takeaways:
Asia Pacific region dominated the market and captured more than 53% of the revenue share in 2022.
By product type, the sheets segment generated the maximum market share in 2022.
By application, the electrical and electronics segment led the market and generated more than 25% of the revenue share in 2022.
Market Overview
Several sectors, including those in the automotive and transportation, building, packaging, consumer products, and medical devices, use the resin. Regulations promoting the use of plastics and the reduction of vehicle weight have resulted in a recent surge in demand from car makers. To make automotive components, polycarbonate resins are thoroughly combined with other polymers like ABS and polyester.
The ability to process PC resins more easily through injection molding, foam molding, extrusion, and suction forming has given end-users more possibilities for the resin's application. Future demand is projected to increase for specialized application fields including industrial machinery and safety equipment.
Growth Factor
The need for polycarbonate in electrical and automotive applications has grown significantly in recent years. The product is flexible and easily moldable, which makes it perfect for thermoforming applications. While certain types of plastic composites are hard and durable, others are optically clear and simple to build.
In the automotive sector, traditional materials like bronze, stainless, iron, and ceramics are being replaced more frequently by polycarbonate due to its superior material properties, such as thermal properties, power ratio, and chemical stability. Over the projected period, the growing market for polycarbonate in the automotive sector is anticipated to propel market expansion.
Due to their low cost, great performance, high elegance, reliability, durability, and safety, lightweight polymers are highly sought after in the automotive industry. Plastic parts weigh roughly 50% less than equivalent parts made of other materials, improving fuel efficiency by 25% to 35%, a crucial aspect in the automobile and transportation sectors.
Regulations are essential in determining market dynamics and applicability trends. The emphasis on recycling methods has increased as a result of regulations directed at plastic trash and its disposal. Since that polycarbonate is a completely recyclable resin, this trend is anticipated to have a substantial impact on the material's ability to serve as a plastic substitute.
Report Scope of the Polycarbonate Market
| | |
| --- | --- |
| Report Coverage | Details |
| Market Size in 2023 | USD 19.55 Billion |
| Market Size by 2032 | USD 35.24 Billion |
| Growth Rate from 2023 to 2032 | CAGR of 6.8% |
| Largest Market | Asia Pacific |
| Base Year | 2022 |
| Forecast Period | 2023 to 2032 |
| Segments Covered | By Product Type and By Application |
| Regions Covered | North America, Europe, Asia-Pacific, Latin America and Middle East & Africa |

Market Dynamic:
Drivers
Increase in demand of polycarbonate sheet in various industries
Polycarbonate sheets are in high demand across all end-use sectors, because of their superior physical and chemical characteristics. Also, the market need for polycarbonate sheets will increase with time due to the material's adaptable qualities, including its resilience to temperatures, flexibility, toughness, strength, and simplicity of fitting without breaking.
These sheets are available in a range of grades and thicknesses. They are far more lightweight, strong, and resistant to breaking and cracks than glass. Due to its ease of shaping and thermoforming, polycarbonates are utilized in a variety of applications, including window glass, skylights, riot gear, hospital instruments, food processing, exhibitions & displays, and exhibits & displays. Sheets made of polycarbonate are renowned for being durable and having a high impact resistance.
Restrain
Environmental impact of polycarbonate sheet
Polycarbonate is among the most widely used plastics because of its versatility and durability in a variety of sectors. Unfortunately, because they contain bisphenol A, they are not very eco-friendly. Due to its existence in polymers used for food and beverages, BPA, a molecule used in polymers and resin, has historically raised concerns for certain people. The risk of product toxicity from the storage containers that the products are kept in is what causes concern. This includes food containers like cans and bottles, plates, and infant bottles.
Aquatic life is seriously endangered when polycarbonate sheet garbage is unintentionally dumped in riverbeds or the ocean. Polycarbonate products have a Resin Identification Code (RIC) of 7, indicating that they are challenging to recycle. In addition, recycled polycarbonate sheets exhibit a lower level of impact resistance than polycarbonate sheets that have just been produced.
Opportunity
Rise in demand for ID card printing & billboards
Technology breakthroughs were made in the production of ID cards and neon signboards. Because polycarbonate sheets are exceptionally scratch-resistant, have excellent stability, are long-lasting, and are durable, demand for them for printing ID cards is rising. Given that polycarbonate increases the security of ID cards, it is becoming a more popular option in numerous nations around the globe.
These ID cards are made from a variety of polymers, including polycarbonate sheets. Swapping information or photos on paper without causing damage or rendering it useless is quite difficult due to the interlaced layers of plastic. The market for polycarbonate sheets will grow in the future because to the increased need for glazing security. Glow sign boards are also made from polycarbonate sheets, used in both interior and exterior applications and are both lighter and more robust than paper.
Impact of COVID-19:
The market for polycarbonate sheets was significantly impacted by the COVID-19 epidemic. Due to the abrupt closure of both national and international borders, the outbreak had altered operational efficiency and interrupted value chains, resulting in loss of revenue and harm. The market for polycarbonate sheets suffered as a result of the production and inventory disruptions. Lockdowns and travel restrictions were implemented in a number of nations, which resulted in a decrease in the world's supply of goods and a smaller logistical operation.
Construction work was initially entirely stopped, but in the third quarter of 2020, approval was given for these activities to resume under COVID-19 operational standards. The major issues facing the sector following unlocking are labor availability and supply of raw materials and costs. The pandemic has had a negative influence on the raw material sector, which is projected to slow the market growth for polycarbonate sheets.
Segments Insight:
Product Insights:
The global polycarbonate market is roughly divided into sheets, films, strips, and other products based on the product form. Polycarbonate sheets made up the majority of the market share among all of these. Due to the rise in its utilization in numerous advanced applications, it is anticipated to experience the greatest CAGR growth over the projection period.
They also offer a perfect balance of transmitted light, lightweight, specific strength, flammability, Uv resistance, anti-drop properties, and better aesthetic appearance. They have an impact strength that is approximately 200 points greater higher than standard crystal and 3 to 20 times higher than tempered glass. Also, these sheets are being used more and more in a variety of industries and professions, including agriculture, the automobile industry, business, government structures, signs and advertising, and ornaments.
Application Insight:
In 2022, the market was dominated by the electrical and electronics application segment, which also accounted for a larger part of worldwide revenue which is more than 25%. When polycarbonate resins are combined with additional polymers like PBT and ABS, the resulting compound's performance at high temperatures and resistance to impacts is improved. Automotive OEMs further process these substances to utilize them in the production of lighting systems, headlight lenses, external parts, and interior components.
The need for polycarbonate in electrical and automotive applications has grown significantly in recent years. The product is flexible and easily moldable, which makes it perfect for thermoforming applications. While certain types of plastic composites are hard and durable, others are optically clear and simple to build. Furthermore, the need for PC resins in mass transit systems and construction will increase as a result of expenditures in national infrastructure, especially in metro stations and greenfield airports.
Regional Insights:
In 2022, Asia Pacific was the market leader and generated more than 53% of the worldwide revenue share. Due to the plentiful supply of raw materials and affordable labor, which is luring businesses from various industries to locate their manufacturing plants in the Asia Pacific area in order to reap more benefits, the high share can be attributed to these factors.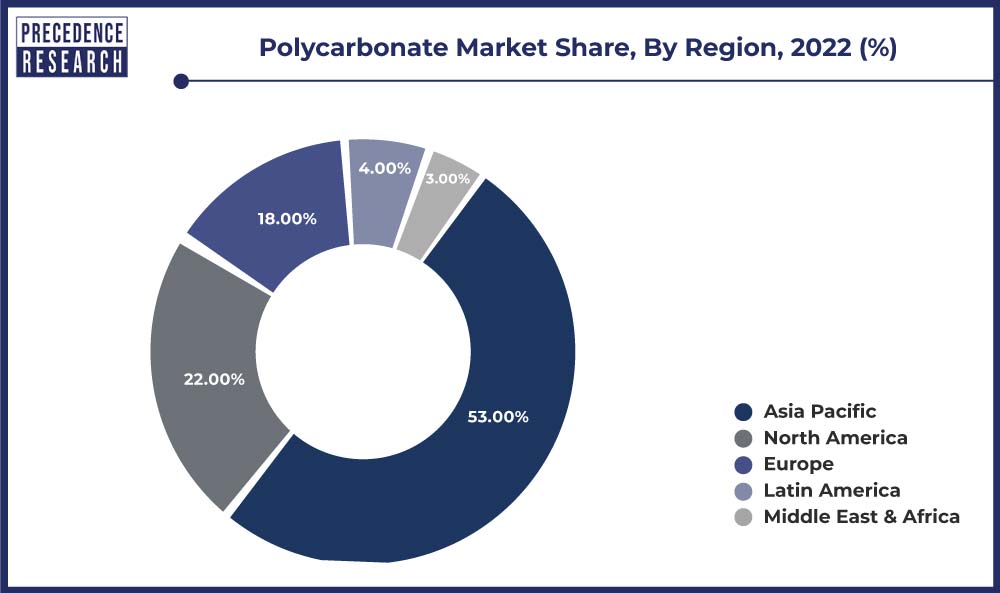 By 2024, it is anticipated that China's polycarbonate building market will be worth USD 1.93 billion. The nation's central bank's non-aggressive monetary policy is projected to free up liquidity, supporting investments in new housing construction. Due to the favorable government regulations for foreign direct investment (FDI) in the industrial sector, the Italian construction industry is anticipated to expand.
Moreover, during the forecast period, federal programs for expenditures in renewables and residential and commercial development projects are anticipated to fuel demand for polycarbonate. Over the projection period, the expansion of the nation's real estate and construction industries is projected to increase demand for furniture and consequently fuel the market growth for polycarbonate.
Recent Development:
At a ceremony in Riyadh in January 2021, Nusaned Investment, a fully owned subsidiary of SABIC that does business as an independent investment company, unveiled a new brand logo and inaugurated its new office building. To meet consumer demand, this expansion was intended to increase its local presence.
Key Market Players:
Covestro
SABIC
Lotte Chem
Teijin Industries
Mitsubishi Engineering Plastics Corp.
Trinseo
Idemitsu Kosan Co. Ltd.
Lone Star Chemical
Chi Mei Corporation
Entec Polymers
RTP Company
LG Chem
Segments Covered in the Report:
(Note*: We offer report based on sub segments as well. Kindly, let us know if you are interested)
By Product Type
Sheets
Films Blends
Other
By Application
Automotive and Transportation
Electrical and Electronics
Construction
Medical
Other End-user Applications
By Geography
North America
Europe
Asia-Pacific
Latin America
The Middle East and Africa