The global composites market size was accounted for USD 105.75 billion in 2022 and it is expected to reach around USD 191.36 billion by 2032, expanding growth at a noteworthy CAGR of 6.1% from 2023 to 2032. U.S. composites market was valued at USD 17.8 billion in 2022.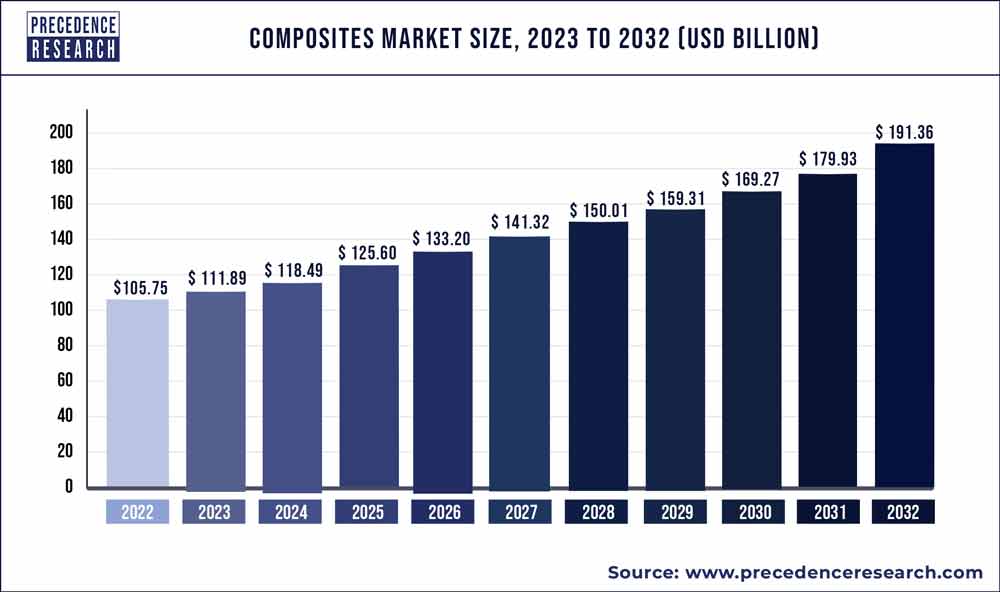 Access our Premium Real Time Data Intelligence Tool, Visit: Precedence Statistics
Growth Factors
Some of the main influencing factors of composites market include proliferating requirement for lightweight materials in the defense, automotive and aerospace sector, rising demand for chemical and corrosion resistance materials in pipe & tank and construction field. Furthermore, augmented need for high flame retardant and electrical resistivity materials in electronics and electrical sector fuels the growth of composites market. Escalated development of cost effective carbon fibers, rapid cure resin system and improved performance glass fiber are some of the evolving trends that are positively affecting composites market dynamics.
Key Takeaway:
The glass fiber segment is expected to reach at a CAGR of 6.5%
The layup process segment is growing at a CAGR of 8.8% from 2022 to 2030.
The automotive & transportation segment has accounted USD 18.84 billion in 2021.
Market Dynamics
Drivers
Easy Production of Composites:
Previously, engineers had to create composites via a complicated lay-up procedure, which was time-consuming and limited the design geometry. This has been altered via Digital Composite Manufacturing (DCM). A unique manufacturing method called DCM creates composite parts devoid of physical labor. With DCM, composites can be locally or globally customized in three dimensions to produce the ideal strength, density, and flexibility for the project. Engineers may now design with the freedom of 3D printing and the high performance of composites thanks to DCM. As a result, this factor will likely contribute to growth in the composites market.
Demand for new design opportunities:
Design alternatives are available with composites that are difficult to attain with conventional materials. Item consolidation is possible with composites; a single composite part can take the place of an entire assembly of metal parts. Any finish, from smooth to textured, can be imitated by changing the surface texture. Because fibreglass can be moulded into a variety of boat designs, composite materials make up over 90% of recreational boat hulls. These advantages, which can be used in numerous industries, shorten manufacturing times and lower maintenance costs over time.
Restraints:
High Cost of Composites:
Compared to other structural building materials that are utilized for similar tasks, carbon fibre products are more expensive. However, initially less expensive materials like aluminum and steel demand more labor due to their weight. Additionally, carbon fibre carries heat and electricity, making it a poor choice for building projects involving either of these substances. Consequently, this might hamper the market for composites.
Opportunities:
Increase in the Production of eVTOLs:
Electric vertical takeoff and landing (eVTOL) aircraft are not the only application for composites in the transportation sector. It is no secret that composites are successful in the aerospace, automotive, and marine end sectors. An advantage for the composites industry is the eVTOL sector. For instance, the Boeing 787, which served as a trailblazer for the use of composites in aircraft, contains almost 50% composite material in its structure. The figures are substantially lower for the automotive sector, with composite materials making up 8–12% of the weight of light automobiles. However, regardless of the manufacturer, that percentage increases to an average of 70% of the material mix for eVTOLs.
Since battery power will be used by the majority of eVTOLs, lightweight is required in several ways, i.e., making lighter components and choosing designs that require fewer components. Additionally, eVTOLs have stringent structural specifications. Composites are a logical solution for eVTOL producers as a result. Composites will be used in every cubic meter of an eVTOL, from large secondary components like clips and brackets to small secondary structures like fuselages and wings. As a result, the composites industry will experience lucrative growth in the near future.
Segment Insights
Product Insights
Among different product type segmentation, in 2022, glass fiber appeared as prominent segment and amounted for around 61.5% revenue share of the total market. This tremendous growth is attributed to its large requirement demand in construction, electronics and electrical, wind energy and transportation sector. Glass fiber also names as fiberglass, is prepared from fine fibers of glass. It provides improved properties like lightweight, high durability, high strength and weather-resistant among others. Such superior qualities propel their demand in countless application sectors.
Increased acceptance of more environment-friendly construction materials is a result of the widespread implementation of strict environmental rules in both developed and developing nations. Carbon fibers and the related composites they are made of can reduce weight and improve fuel efficiency. As a result, the market for premium and sports cars is driving up demand for activated carbon fiber. For the production of 3D-printed car parts, carbon fibre is widely used in the automotive sector. Since carbon fibre is so powerful, it makes the filament stronger and more rigid. As a result, the 3D-printed parts will be significantly lighter and more dimensionally stable since the fibre will help stop the object from shrinking as it cools. The market for composites is growing in segments thanks to these most recent trends.
End use Insights
The automotive and transportation segment accounted largest revenue share of 21.5% in 2022. The outlook of the global composites market seems eye-catching with alluring prospects in numerous end-use sectors such as wind energy, electrical and electronics, construction, pipe & tank, marine, transportation, consumer goods, and aerospace among others. Transportation sector that includes commercial vehicles, coaches, buses and automobiles, is projected emerge as one of the major U.S. markets in during coming few years. At present several prominent vehicle manufacturers are spending in composite materials technology in order to decrease weight and address the targets of authorized carbon emission reduction.
Composites also find great demand in construction industry. It finds application in GFRP include paneling, shower stalls, bathrooms, windows and doors. Growth of construction sector is mainly compelled by low mortgage rates, continuous surge in employment, and reducing house price inflation.
Around the world, composites are used to build and repair a wide range of infrastructure applications, including roads, bridges, buildings, and railroads. Because of their great strength, resistance to rust and corrosion, and low maintenance requirements, these applications endure lengthier. To increase the tensile strength and longevity of concrete buildings and construction components, several polymers are used. The composites can be utilized for both new construction and retrofit circumstances and can be applied prefabricated or on-site. Additionally, composite materials are used more frequently for new and renovated bridge construction. The benefits include excellent strength-to-weight ratios, noncorrosive characteristics, prefabrication possibilities, and design freedom.
Resin Insights
In 2022, among various resins type segment of global composites market, thermosetting resin segment lead the market with over 70% revenue share. This considerable growth is attributed to climbing demand in aerospace, transportation and defense sector. Thermoset composite is typically based on glass, carbon, aramid fibers, and commonly combined with resins such as vinyl esters, epoxies, phenolics, cyanate esters, polyesters, and polyimides.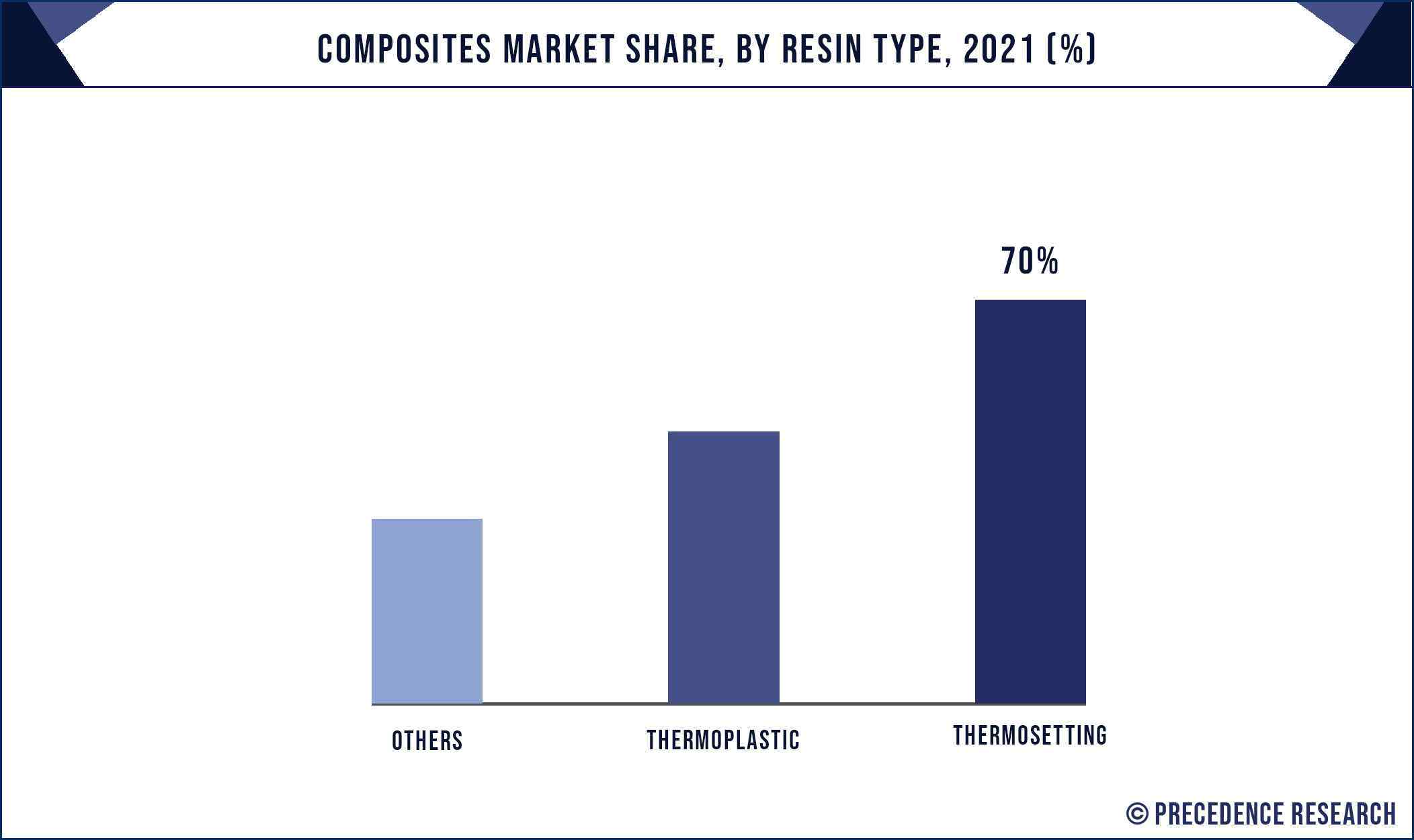 Thermoplastics are non-toxic in nature, weldable, recyclable for other processes, and have augmented toughness and are less expensive. A comprehensive range of thermoplastic resins are employed in composites including PET, PVC and polypropylene. Thermoplastics resins are preferably utilized on account of their improved impact resistance and capacity to reform than thermosetting resins.
Manufacturing process Insights
Out of various manufacturing process involved in the global composites market, layup manufacturing process emerge as leading process with around 34.5% share of the total revenue generated in 2022. This method is very frequently employed for manufacturing of composite. This process includes insertion of layers of composite fiber in an order with the help of matrix of resin and hardener. Then layup is permitted to cool at room temperature. At present, rising production of boats, wind turbine blades and architectural moldings is expected to spur substantially the demand of layup process segment.
The process of filament winding is typically applied to the production of hollow, prismatic, or spherical objects, such as pipes and tanks. A customized winding machine is used to wound continuous fibre tows onto a rotating mandrel. The aerospace, energy, and consumer product industries frequently use filament wound parts. The cost of the fibre is further reduced because there is no additional process needed to turn the fibre into the fabric before usage, making this technique of material application incredibly quick and cost-effective. Since straight fibres can be put in a complicated arrangement to match the applied loads, laminates' structural qualities can be quite good.
Regional Insights
The composites sector is an economic force that energies the American economy. This industry contributes around USD 22 billion to the U.S. economy annually. Further, as per 2016 UK Composites Strategy, the UK composites product market with nearby 1500 British companies engaged was assessed at around Euro 2.3 billion in 2015, and is projected to reach around Euro 12 billion by 2030.
Due to the strong demand from end-user sectors like construction, automotive, electrical & electronics, aerospace & defense, industrial, etc., the Asia-Pacific region holds the largest share of the global composite material market. As a result of the fast industrialization taking place in nations like China, India, and Japan, the demand for composite materials in the Asia-Pacific area is increasing at an astounding rate.
With more and more sectors using composites, demand them is rising annually. For instance, CompositesWorld estimates that China's supply of Carbon fibre, an advanced composite fibre, will be roughly 19,250 metric tonnes in past years. The International Organization of Motor Vehicle Manufacturers estimates that in 2021 when production was at about 25.22 million units, China's automobile production climbed by 3% annually. During the examined period, the composite market would rise due to the automotive industry's consistent growth.
The total domestic medical device output in Japan, according to the International Trade Administration, was estimated to be over USD 24 billion in 2021 because of the country's growing reliance on medical technology in the aftermath of COVID-19. Furthermore, due to demand and OEM adoption, India has a significant impact on the penetration of thermoplastics and thermoset composites in the automotive industry. Additionally, according to Indian government regulations, suppliers in the aerospace industry are required to source around 30% of their components domestically. Consequently, this element encourages the expansion of the composite market.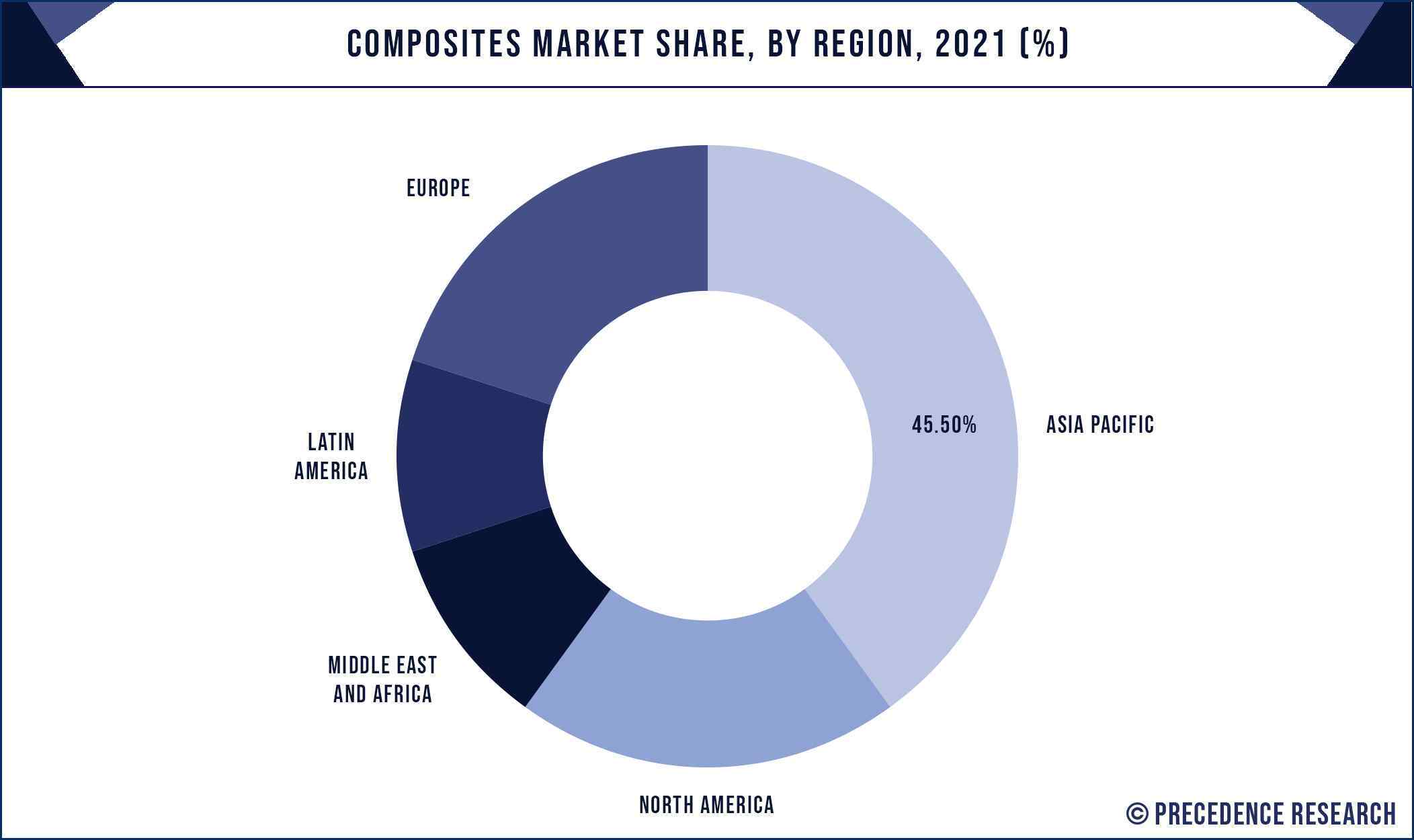 Asia Pacific dominated the global composite market in 2022, with around 45.6% revenue share of the overall market. This dominance is due to proliferating demand from different end-use sectors of major countries such as Japan, India and China. Governments of various nations such as Canada, Japan, the U.S., South Korea, China, India Mexico, and Brazil have suggested greenhouse gas emission and fuel economy standards for light commercial vehicles/light trucks and passenger vehicles. These suggested regulations in these nations are likely to support the requirement for composites from the automotive segment.
Recent Development
In August 2022, it was disclosed that Owens Corning and Pultron Composites had inked a contract to establish a joint venture to produce fibre glass rebar that leads the market. The company's dedication to offering more environmentally friendly product options and higher-performing concrete reinforcement products is strengthened by this collaboration.
In February 2022, Teijin Automotive Technologies, the automotive composites division of Teijin Groups, declared that a modern composites manufacturing plant in China's Wujin National Hi-Tech Industrial Zone had started operating commercially.
In June 2022, A Lockheed Martin Corporation, Sikorsky, granted a long-term contract to Hexcel Corporation to provide innovative composite structures for the heavy lift helicopter program, CH-53K King Stallion. The award increases the aircraft's use of Hexcel composite material significantly.
In April 2022, for automotive series manufacturing and industrial applications, SGL Carbon offers carbon fibre materials and fibre composite solutions.
Key Companies & Market Share Insights
Multiple initiatives including research and development, technology innovations, partnerships, acquisitions, and merger in order to produce economical and lightweight composite products have been commenced by many prominent players. Some of the significant players in the composites market include:
Huntsman Corporation LLC
SGL Group
Teijin Ltd
PPG Industries, Inc.
Toray Industries, Inc.
Owens Corning
Hexcel Corporation
DuPont
Momentive Performance Materials, Inc.
Jushi Group Co., Ltd.
Compagnie de Saint-Gobain S.A
Weyerhaeuser Company
Cytec Industries
Report Scope of the Composites Market
| | |
| --- | --- |
| Report Highlights | Details |
| Market Size by 2032 | USD 191.36 Billion |
| Growth Rate | CAGR of 6.1% from 2023 to 2032 |
| Largest Market | North America |
| Fastest Growing Market | Asia Pacific |
| Base Year | 2022 |
| Forecast Period | 2023 to 2032 |
| Segments Covered | Product, End User, Resin, Manufacturing Process, Region |
| Companies Mentioned | Huntsman Corporation LLC, SGL Group, Teijin Ltd, PPG Industries, Inc., Toray Industries, Inc., Owens Corning |
Segments Covered in the Report
This research report includes complete assessment of the market with the help of extensive qualitative and quantitative insights, and projections regarding the market. This report offers breakdown of market into prospective and niche sectors. Further, this research study calculates market revenue and its growth trend at global, regional, and country from 2020 to 2032. This report includes market segmentation and its revenue estimation by classifying it on the basis of product, resin, end use, manufacturing process and region as follows:
By Product Type
Glass Fiber
Carbon Fiber
Others
By Resin Type
Thermoplastic
Thermosetting
Others
By Manufacturing Process Type
Injection Molding Process
Resin Transfer Molding Process
Pultrusion Process
Layup Process
Filament Winding Process
Compression Molding Process
Others
By End Use
Electrical & Electronics
Automotive & Transportation
Wind Energy
Aerospace & Defense
Pipes & Tanks
Construction & Infrastructure
Marine
Others
By Geography
North America
Europe
Asia Pacific

China
India
Japan
South Korea

Middle East & Africa
Latin America