The global composites market size was valued at US$ 94.34 billion in 2021 and is expected to reach around US$ 163.14 billion by 2030, expanding growth at a noteworthy CAGR of 6.3% from 2022 to 2030.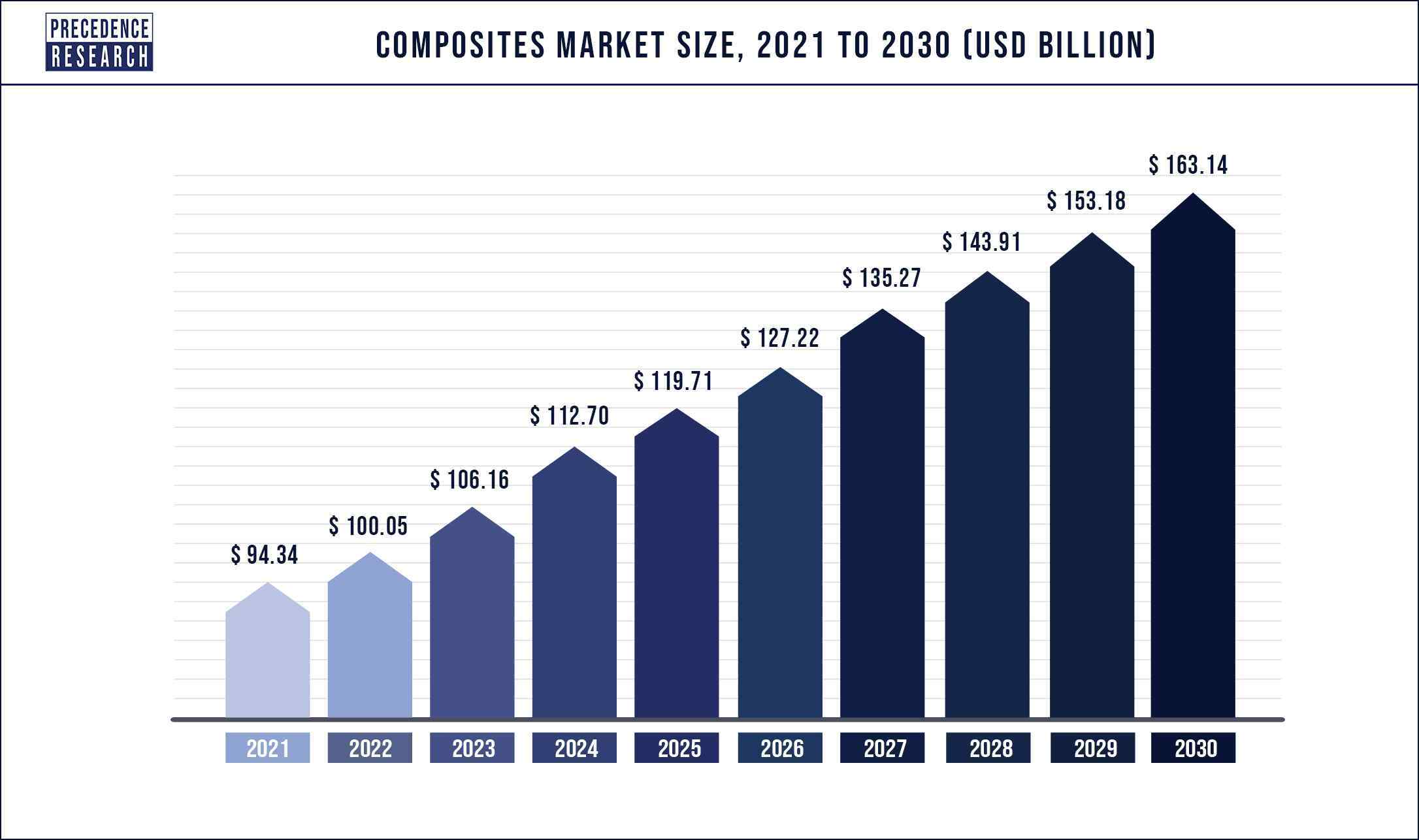 Growth Factors
Some of the main influencing factors of composites market include proliferating requirement for lightweight materials in the defense, automotive and aerospace sector, rising demand for chemical and corrosion resistance materials in pipe & tank and construction field. Furthermore, augmented need for high flame retardant and electrical resistivity materials in electronics and electrical sector fuels the growth of composites market. Escalated development of cost effective carbon fibers, rapid cure resin system and improved performance glass fiber are some of the evolving trends that are positively affecting composites market dynamics.
Key Takeaway:
The glass fiber segment is expected to reach at a CAGR of 6.5%
The layup process segment is growing at a CAGR of 8.8% from 2022 to 2030.
The automotive & transportation segment has accounted USD 18.84 billion in 2021.
Product Insights
Among different product type segmentation, in 2021, glass fiber appeared as prominent segment and amounted for around 61.5% revenue share of the total market. This tremendous growth is attributed to its large requirement demand in construction, electronics and electrical, wind energy and transportation sector. Glass fiber also names as fiberglass, is prepared from fine fibers of glass. It provides improved properties like lightweight, high durability, high strength and weather-resistant among others. Such superior qualities propel their demand in countless application sectors.
End use Insights
The automotive and transportation segment accounted largest revenue share of 21.5% in 2021. The outlook of the global composites market seems eye-catching with alluring prospects in numerous end-use sectors such as wind energy, electrical and electronics, construction, pipe & tank, marine, transportation, consumer goods, and aerospace among others. Transportation sector that includes commercial vehicles, coaches, buses and automobiles, is projected emerge as one of the major U.S. markets in during coming few years. At present several prominent vehicle manufacturers are spending in composite materials technology in order to decrease weight and address the targets of authorized carbon emission reduction.
Composites also find great demand in construction industry. It finds application in GFRP include paneling, shower stalls, bathrooms, windows and doors. Growth of construction sector is mainly compelled by low mortgage rates, continuous surge in employment, and reducing house price inflation.
Resin Insights
In 2021, among various resins type segment of global composites market, thermosetting resin segment lead the market with over 70% revenue share. This considerable growth is attributed to climbing demand in aerospace, transportation and defense sector. Thermoset composite is typically based on glass, carbon, aramid fibers, and commonly combined with resins such as vinyl esters, epoxies, phenolics, cyanate esters, polyesters, and polyimides.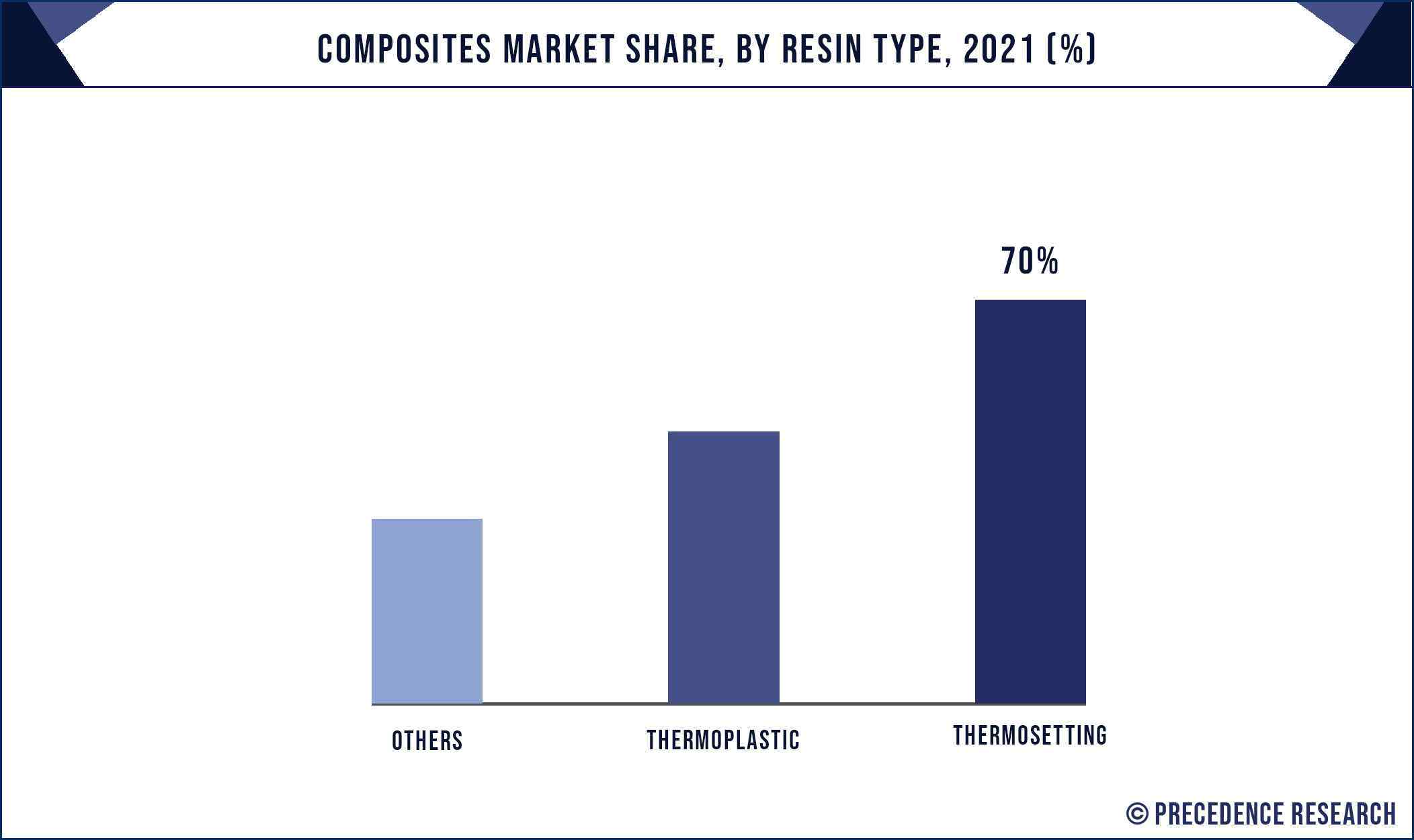 Thermoplastics are non-toxic in nature, weldable, recyclable for other processes, and have augmented toughness and are less expensive. A comprehensive range of thermoplastic resins are employed in composites including PET, PVC and polypropylene. Thermoplastics resins are preferably utilized on account of their improved impact resistance and capacity to reform than thermosetting resins.
Manufacturing process Insights
Out of various manufacturing process involved in the global composites market, layup manufacturing process emerge as leading process with around 34.1% share of the total revenue generated in 2021. This method is very frequently employed for manufacturing of composite. This process includes insertion of layers of composite fiber in an order with the help of matrix of resin and hardener. Then layup is permitted to cool at room temperature. At present, rising production of boats, wind turbine blades and architectural moldings is expected to spur substantially the demand of layup process segment.
Regional Insights
The composites sector is an economic force that energies the American economy. This industry contributes around USD 22 billion to the U.S. economy annually. Further, as per 2016 UK Composites Strategy, the UK composites product market with nearby 1500 British companies engaged was assessed at around Euro 2.3 billion in 2015, and is projected to reach around Euro 12 billion by 2030.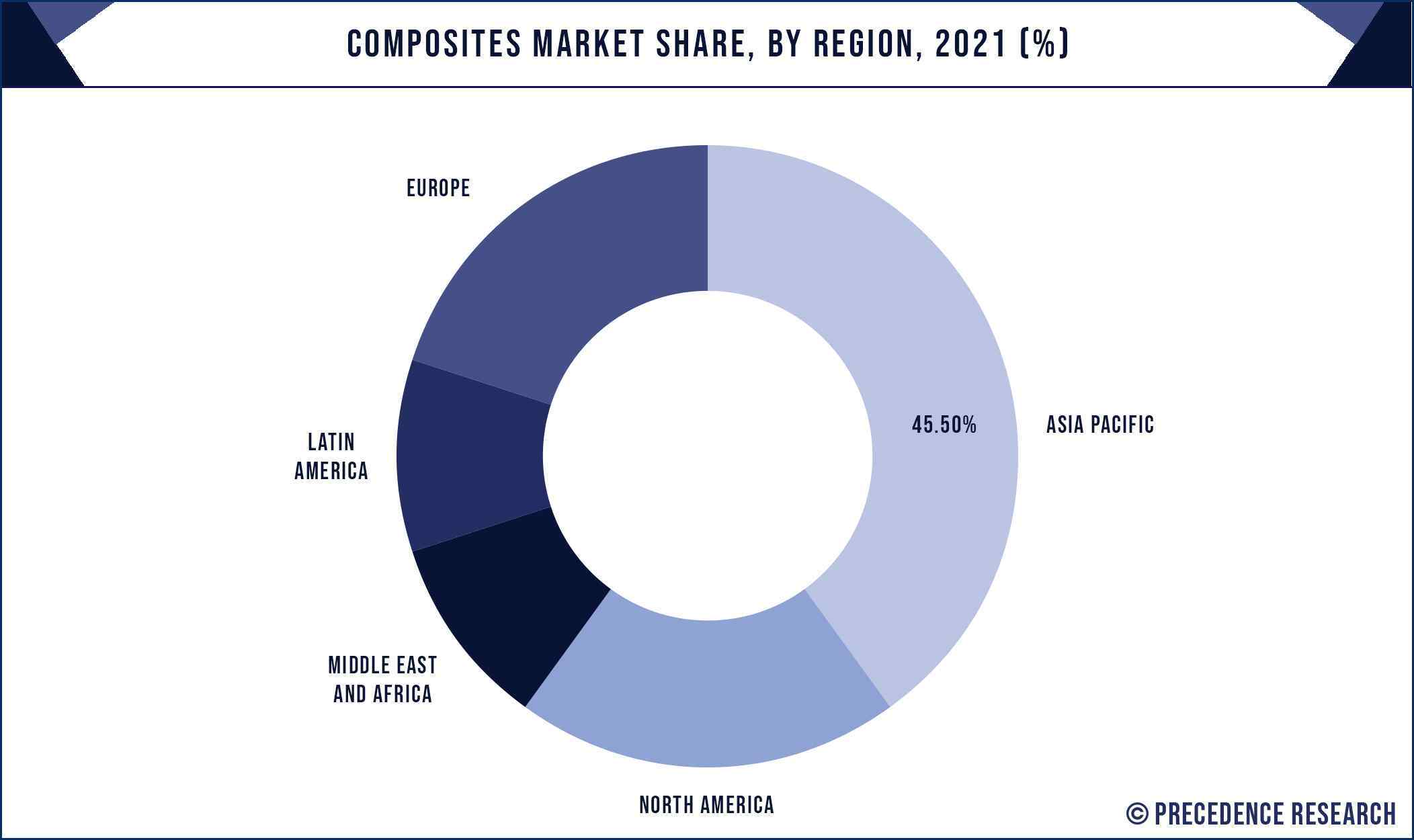 Asia Pacific dominated the global composite market in 2021, with around 45.5% revenue share of the overall market. This dominance is due to proliferating demand from different end-use sectors of major countries such as Japan, India and China. Governments of various nations such as Canada, Japan, the U.S., South Korea, China, India Mexico, and Brazil have suggested greenhouse gas emission and fuel economy standards for light commercial vehicles/light trucks and passenger vehicles. These suggested regulations in these nations are likely to support the requirement for composites from the automotive segment.
Key Companies & Market Share Insights
Multiple initiatives including research and development, technology innovations, partnerships, acquisitions, and merger in order to produce economical and lightweight composite products have been commenced by many prominent players. Some of the significant players in the composites market include:
Huntsman Corporation LLC
SGL Group
Teijin Ltd
PPG Industries, Inc.
Toray Industries, Inc.
Owens Corning
Hexcel Corporation
DuPont
Momentive Performance Materials, Inc.
Jushi Group Co., Ltd.
Compagnie de Saint-Gobain S.A
Weyerhaeuser Company
Cytec Industries
Report Scope of the Composites Market
| | |
| --- | --- |
| Report Highlights | Details |
| Market Size by 2030 | USD 163.14 Billion |
| Growth Rate | CAGR of 6.3% from 2022 to 2030 |
| Largest Market | North America |
| Fastest Growing Market | Asia Pacific |
| Base Year | 2021 |
| Forecast Period | 2022 to 2030 |
| Segments Covered | Product, End User, Resin, Manufacturing Process, Region |
| Companies Mentioned | Huntsman Corporation LLC, SGL Group, Teijin Ltd, PPG Industries, Inc., Toray Industries, Inc., Owens Corning |
Segments Covered in the Report
This research report includes complete assessment of the market with the help of extensive qualitative and quantitative insights, and projections regarding the market. This report offers breakdown of market into prospective and niche sectors. Further, this research study calculates market revenue and its growth trend at global, regional, and country from 2016 to 2027. This report includes market segmentation and its revenue estimation by classifying it on the basis of product, resin, end use, manufacturing process and region as follows:
By Product Type
Glass Fiber
Carbon Fiber
Others
By Resin Type
Thermoplastic
Thermosetting
Others
By Manufacturing Process Type
Injection Molding Process
Resin Transfer Molding Process
Pultrusion Process
Layup Process
Filament Winding Process
Compression Molding Process
Others
By End Use
Electrical & Electronics
Automotive & Transportation
Aerospace & Defense
Pipes & Tanks
Construction & Infrastructure
Marine
Others
By Geography
North America
Europe
Asia Pacific

China
India
Japan
South Korea

Middle East & Africa
Latin America