The global bioplastic composites market size was valued at USD 32.15 billion in 2022 and it is expected to hit around USD 84.53 billion by 2032, with a compound annual growth rate (CAGR) of 10.2% between 2023 and 2032.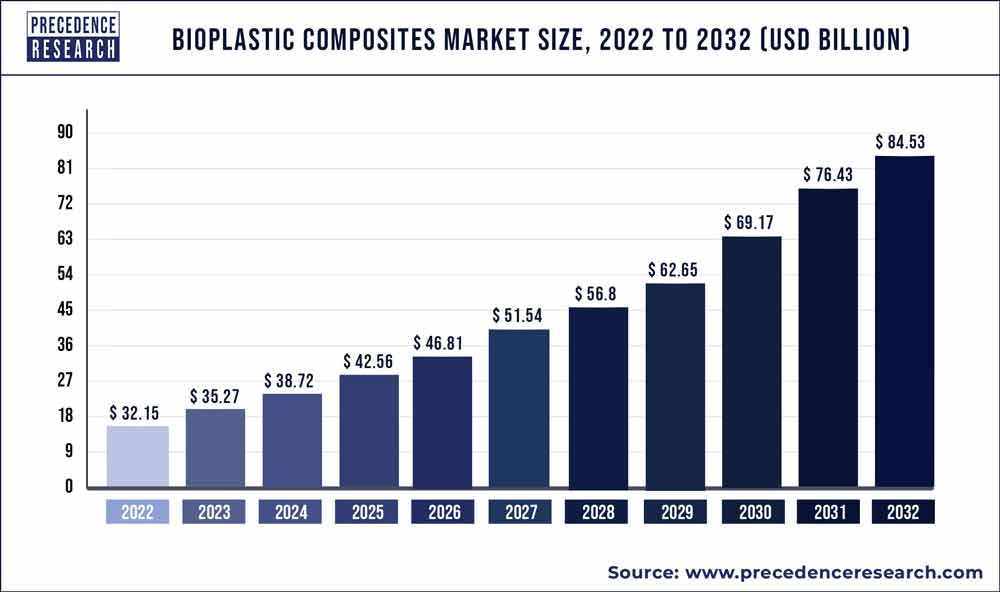 Access our Premium Real Time Data Intelligence Tool, Visit: Precedence Statistics
Key Takeaways:
The Asia-Pacific bioplastic composites market is expected to reach at a CAGR of 11.9% over the forecast period.
The Asia-Pacific region generated a 27% market share in 2022.
The North America region has garnered 38.4% revenue share in 2022.
In 2022, the transportation end user segment is expected to hit at a CAGR of 11.6% from 2023 to 2032.
The synthetic polymer segment is projected to expand at a CAGR of 10.5% over the course of the forecast year.
Bioplastics are a class of plastic polymers that are produced using renewable feedstocks like cellulose, sugarcane, or natural resources like maize. There are several uses for bioplastic composites, including in tableware, movies, toys, and extrusion- and injection-molded profile parts.
The rising use of plastic made from petroleum is predicted to enhance the requirement for bioplastic composites. Products made with plastic from petroleum provide a number of environmental risks since fossil fuels are used in their manufacture. Additionally, making plastics is an expensive process that depends significantly on mining and refining fossil fuels. In order to circumvent this issue, bioplastic composites are used since they assist decrease the requirement for non-renewable biofuel materials in the production of plastic. Starch is a type of composite material used to make bioplastic products. Furthermore, employing composite materials comprised of starch reduces the need for petroleum-based feedstock by 64%.
On the other hand, bioplastics have emerged as practical and ecologically friendly alternatives to synthetic plastic. Bio-based plastics can be made from organic macromolecules derived from biological sources using natural or synthetic polymers, natural polymers are materials that fungi, bacteria, and other microorganisms may decompose or disintegrate into other biomaterials and atmospheric CO2. These materials decompose over a period of time, especially in industrial environments where composting conditions are available. Even though it is formed of biomaterial, biodegradable plastic also contains manmade elements.
The industry for bioplastic composites is primarily driven by growing environmentalism and increasing substitute and feedstock prices, particularly those of petrochemicals. In addition, governments throughout the world have outlawed the consumption of synthetic plastic containers and encouraged the development of polylactic acid (PLA) by providing financial incentives. It is believed that since PLA is beneficial for both packaging and the fibre industry, the consumer would immediately profit. A client would prefer to wear a clothing fabricated from natural fibre above one made from synthetic fibre due to its intrinsic features. New opportunities are anticipated to open up over the course of the projected period as a consequence of all these factors combining to raise demand in the global market. However, because of its dependency on the transportation, electrical & electronics, building & construction, aerospace & military, and consumer products end-use sectors, the worldwide bioplastic market has been adversely affected by the COVID-19 epidemic.
The COVID-19 epidemic has had an impact on the transportation industry. Additionally, the COVID-19 pandemic's increase in the number of unemployed in the transportation industry has further lowered demand. In consequence, this has had a detrimental impact on the market for bioplastic composites during the COVID-19 epidemic. In addition, a number of producers of bioplastic composites have reduced or stopped production, which has disrupted the supply chain. Because of this, demand for bioplastic composites has been temporarily restricted during the COVID-19 period.
Growth factors
To support the expansion of the bioplastic composite market, there is a demand for biodegradable plastics to enhance soil quality. Plastics have a wide range of uses in horticulture and agriculture. For example, they are used to create bins, silos, and storage bags as well as greenhouses. Additionally, current semi-intensive and intensive farming techniques use a lot of mulching fills and harvest protection bags to control soil moisture and nutrient levels, prevent weed development, safeguard crops from pests, and produce a good microclimate. Conventional plastic, however, is also not biodegradable and lingers in the environment for several growing seasons.
By limiting roots' access to water and nutrients in the soil, it harms the ecosystem and interferes with the crop production and other goods. Due to these reasons, a lot of businesses that make agricultural-related plastic goods are looking for technically and financially feasible biodegradable polymers made from renewable and sustainable raw ingredients. Such biodegradable plastic decomposes in the environment and enrich the soil in addition to fostering plant development. As a result, the demand for these bio-based plastics is growing in the horticultural and agricultural sectors, which is encouraging for the growth of the global bioplastic market throughout the course of the projection period.
Report Scope of the Bioplastic Composite Market
| | |
| --- | --- |
| Report Coverage | Details |
| Market Size in 2023 | USD 35.27 Billion |
| Market Size by 2032 | USD 84.53 Billion |
| Growth Rate from 2023 to 2032 | CAGR of 10.2% |
| Base Year | 2022 |
| Forecast Period | 2023 to 2032 |
| Segments Covered | Fiber Type, Polymer, Application, Geography |
| Companies Mentioned | Mitsubishi chemical Grp, Nature Works LLC, Total Corbion PLA, Braskem, Owens Corning, Arkema SA, BASF SE, Dow Chemical company, Solvay SA, Toray Industries Inc, Huntsman Corporation, Matrica SPA, Avantium, BioApply, Biofase, Trifilon, Kaneka Takasago, Tagleef Industries, Advanced biomaterial p.ltd |

Product Type Insights
Due to the increasing demand from the packaging textiles, agricultural and horticulture, and consumer goods sectors, the biodegradable category holds a larger market share for bioplastics. Because they provide the necessary performance qualities and have the extra advantage of being biologically sustainable, these sectors favour biodegradable kinds.
Manufacturing of consumer goods, automobile components, and food packaging have all embraced non-biodegradable materials. Due to their great strength and durability, these polymers are also used to make vehicle housings, electrical equipment, and bags and bottles. Additionally, they are utilised to replace high performance glass components. Bio-polyethylene terephthalate (Bio-PET), bio-polyamide (Bio-PA), bio-polyethylene (bio-PE), bio-polytrimethylene (bio-PET), and other non-biodegradables are further subdivided into this market category. Due to its widespread use in the packaging, consumer goods, and electrical sectors, Bio-PET has the lion's share of this subgroup.
Application Insights
During the projected period, the fastest-growing application for bioplastic composites is anticipated to be transportation. High oil costs and rising demand for fuel-efficient automobiles are the two main market drivers. Increased demand for high-quality flat panel displays and the advent of new technologies are two key industry drivers in electrical and electronics. Petrochemical plastics can be replaced with bioplastics because they are more affordable, lighter, more durable, and stable at high temperatures. By 2032, the second-largest use for bioplastic composites is anticipated to be in the building and construction industry. The market is being driven primarily by rising demand for renewable building materials and rising usage of eco-friendly building materials.
By 2032, the third-largest category for bioplastic composite applications is anticipated to be aerospace & defence. The market is being driven primarily by rising demand for lightweight materials and rising usage of environmentally friendly building materials. Petrochemical plastics can be replaced with bioplastics because of their low cost, lower weight, and durability. The bioplastic composites market's section devoted to consumer goods applications comprises furniture, medical equipment, and packaging. Consumer demand for eco-friendly products is rising, which will open up new business prospects for market participants in this industry.
Polymer Insights
The synthetic polymer sector, which generated the revenue share of around 57% in 2022. A non-biodegradable plastic manufactured from renewable resources is known as synthetic polymer. Petrochemical-based polymers are useful to society since they are employed in a variety of industries, including packaging, building, transportation, electronics, and healthcare. The bio-polyamides PA10, PA11, PA6, PA66, and PA12 are all commercially available. These are employed in a variety of commercial applications. These polyamides with a partly bio-based composition are used to make various products, including eyewear, eyeglasses, and Nordic walking poles. A fully bio-based polyamide known as PA11 has been on the market for the past 60 years and is primarily employed in a variety of automotive applications.
Fibre Type Insights
The kind of wood fibre composite, which generated the most revenue in 2022, is projected to expand at a CAGR of 10.7% over the course of the forecast period. The main application areas for wood fibre composites are in the automotive, construction, packaging, and consumer goods industries. The fuel economy of cars is increased by the lightweight properties of wood fibre composites, lowering the carbon footprint. Additionally, the European jigsaw puzzle market Ravensburger, situated in Germany, manufactures toys using injection moulding and 100 percent bio-based materials based on bioplastics and wood fibre. In recent years, North America's building sector has seen a significant increase in the usage of wood fibre composites. The European area, however, mostly employs wood fibre composite in the automotive industry because of the light weight of the wood fiber composite.
Bioplastic Composites Market Share, By Region, 2022 (%)
| | |
| --- | --- |
| Regions | Revenue Share in 2022 (%) |
| North America | 38.4% |
| Asia Pacific | 27% |
| Europe | 24% |
| Latin America | 6% |
| MEA | 4.6% |

Geography Insights
In 2022, the European market had a value of USD 3741.7 million. Europe is a key hub since it is the top region for product consumption and research & development. According to figures from the European Bioplastics, around 25% of the manufacturing is now located in Europe. Additionally, a strong automotive sector and the rising need for packaging made of bioplastics by numerous businesses in the area are anticipated to support market demand.
The biggest manufacturing capacity and regional development are in Asia Pacific. About 55% of it, according to a research by European Bioplastics, is generated here. As China concentrates on enacting its foreign investment law, which was delayed owing to the worldwide pandemic, the sector is anticipated to expand quickly in this region. The region's thriving packaging industry will further foster regional growth.
The market in North America is anticipated to rise steadily due to the region's rising demand for electronic products and light-weight car components. Due to the high level of living and preference for high-quality items over lower-quality goods, the consumer goods industry is another sector that will contribute to market expansion in the area. One of the key factors impacting the market in the Rest of the World is the rising demand for bioplastics for agriculture and horticulture. The region's development component will also be the increase of the food goods manufacturing sector. These manufacturers are looking for sustainable packaging options since the global community wants curbs on the use of conventional plastics.
Key Market Developments
In July 2021, Solvay purchased Bayer's worldwide coating business, which included toll operations in the US and Brazil as well as facilities in Mereville, France. This purchase will expand the company's selection of environmentally friendly and biologically based products for agricultural customers. All product lines, worldwide tolling activities, and R&D initiatives from the Mereville site have now been transferred entirely to Solvay.
Novamont and Iren inked a three-year partnership agreement in the field of integrated trash collection system in March 2021 with the intention of reducing non-recyclable garbage at source and putting the principles of a circular bio economy into practise. In order to improve the management of compostable goods and packaging, their augmentation, and recovery together with the organic component of solid waste in the Iren treatment facilities, both businesses are dedicated to developing targeted initiatives.
Key market players
Segments covered in the report
(Note*: We offer report based on sub segments as well. Kindly, let us know if you are interested)
By Type
Biodegradable
Non-biodegradable
By Fiber Type
Wood Fiber Composites
Non-Wood Fiber Composites
By Polymer
Natural Polymer
Synthetic Polymer
By Application
Transportation
Electrical and Electronics
Building and Construction
Aerospace and Defense
Consumer Goods
Others
By Geography
North America
Europe
Asia-Pacific

China
India
Japan
South Korea
Malaysia
Philippines

Latin America

Brazil
Rest of Latin America

Middle East & Africa (MEA)