The global advanced composites market size accounted for USD 36.4 billion in 2022 and is predicted to surpass around USD 99.15 billion by 2032 and increasing growth at a compound annual growth rate (CAGR) of 10.6% from 2023 and 2032.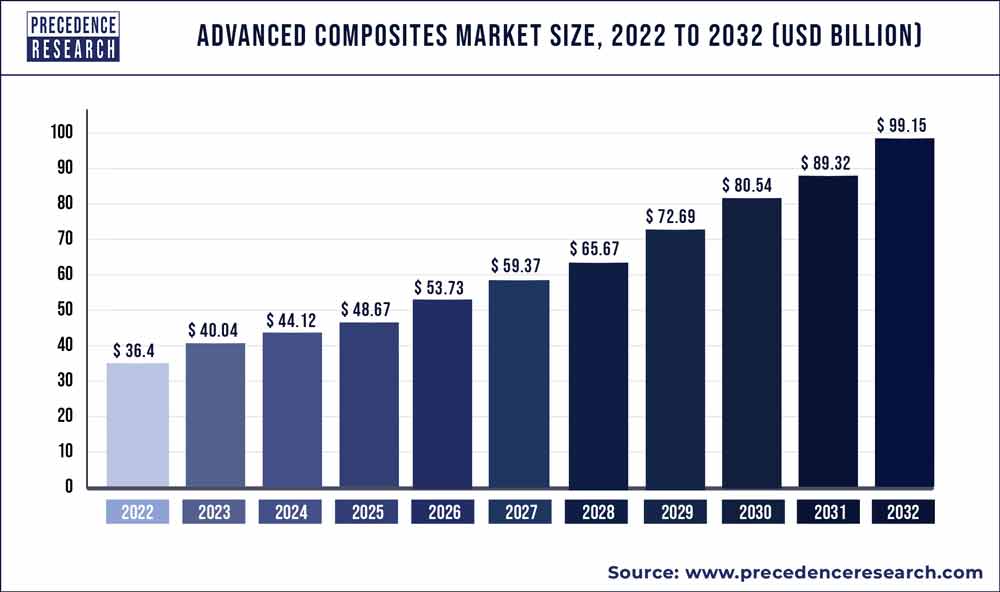 Access our Premium Real Time Data Intelligence Tool, Visit: Precedence Statistics
Key Takeaway:
By product, the glass fiber composites segment accounted for 28% of revenue share in 2022.
The carbon fiber composites segment is expected to grow at a CAGR of 10.8% from 2023 to 2032.
The wind energy application segment is growing at a CAGR of 8.9% from 2023 to 2032.
The automotive sector is expected to reach at a CAGR of 8.7% from 2023 to 2032.
The market for advanced composites is likely to be driven by rising demand for the product in the aerospace and military industries, as well as sporting goods. Advanced composites, also known as advanced polymer matrix composites, are lightweight materials with a high modulus of elasticity and strength. These items are made of fibrous material incorporated in various resin matrices. These sophisticated materials are widely used in the aerospace and military industries, as well as the marine, automotive, and wind energy sectors.
The United States has one of the most substantial production bases for aerospace and defence systems. Thus, it is projected that there would be a significant demand for advanced composites, as the aerospace and defence industries see a quick application penetration of the abovementioned materials as they lower the weight of the equipment, resulting in improved performance. The increased need for advanced composites in the construction of turbines is projected to benefit the advanced composites market. Increased wind turbine installations globally are projected to contribute to market growth. The industry's use of carbon and glass advanced composites is predicted to boost demand throughout the forecasted period.
The use of advanced composites is expanding in a variety of industries, including sporting goods, maritime, and construction. However, the product's high price is projected to limit market expansion. Automation, along with the use of pricey high-performance resins, raises the cost of the product, causing demand to fall. The industry for advanced composites is distinguished by integration from the manufacturing stages through the value chain distribution channels. Manufacturing and distribution channel integration results in a cost advantage. Because of the existence of a significant number of prominent manufacturers and suppliers worldwide, the industry is very competitive.
Growth Factors
Because of its superior technical qualities such as high strength, stiffness, great fatigue and abrasion resistance, the Advanced Composites Market will be driven by rising product demand in the automotive and aerospace industries. Because of their outstanding strength and low weight, these advanced composites are commonly utilised in the manufacture of high-performance supercar and aircraft parts such as wings, engine nacelles, ailerons, elaborators, floor beams, rudders, landing gear doors, and other components.
Report Scope of the Advanced Composites Market
| | |
| --- | --- |
| Report Coverage | Details |
| Market Size in 2023 | USD 40.04 Billion |
| Market Size by 2032 | USD 99.15 Billion |
| Growth Rate from 2023 to 2032 | CAGR of 10.6% |
| Base Year | 2022 |
| Forecast Period | 2023 to 2032 |
| Segments Covered | Product, Application Type, Resin, Manufacturing Process, and Geography |
| Companies Mentioned | Toray Industries, Inc., Koninklijke Ten Cate NV, Teijin Limited, Hexcel Corporation, SGL Group, Cytec Solvay Group, Owens Corning, E. I. Dupont De Nemours and Company, Huntsman Corporation, Momentive Performance Materials Inc., WS Atkins plc, AGY Holdings Corp., Formosa Plastics Corporation |
Key Market Drivers
Advanced composites for industrial applications - An expanding number of industry sectors are seeing and understanding the benefits of advanced composite materials. Composites are providing a competitive edge to industries that have historically utilised steel or aluminium constructions. It is no longer limited to aerospace, high-performance yachting, and wind energy applications. Advanced composites are being used on building facades, medical uses, truck cabins, and a variety of other applications.
Higher demand for lightweight, fuel-efficient vehicles - It has recently become an imperative requirement to lower the global carbon footprint and battle global pollution. With governments in different developed and developing nations attempting to reduce pollution and encouraging the use of fuel-efficient automobiles, which produce less pollution, As a result, it is critical for automotive and aeroplane manufacturers to work with the government to lower the weight of cars in order to achieve greater efficiency. Advanced composite materials aid in the production of fuel-efficient automobiles and aeroplanes, lowering emissions and smog by up to 50%. As a result, the impact of rapidly rising gasoline prices will be mitigated, as will carbon emissions. This has resulted in the expansion of advanced composites as well as numerous research and development operations on the market and its technologies. Thus, the rising requirement for improving vehicle and aircraft economy, lowering fuel costs, reducing pollution, and producing lightweight automobiles will drive demand in the advanced composite materials market.
Key Market Challenges
Limited usage due to its reparability and recyclability - When compared to commonly used materials, advanced composite materials offer unique features and qualities that make them distinctive and considerably more efficient for a variety of applications. As a result, it is difficult to identify any interior fractures or breakdowns in the parts where it is employed. The fundamental disadvantage of these advanced composite materials is their brittleness, which can lead to unanticipated catastrophic failure of the component if not adequately maintained or tested on a regular basis. There is a shortage and a significant need for highly qualified labourers who understand how to apply effective repair procedures. As a result, the problem of reparability is exacerbated. Although these sophisticated composite materials have a longer life period, the components could be recycled to be used in the same application. Increasing understanding of sophisticated composite materials and repair processes, as well as an increasing number of qualified and experienced individuals, can extend the life of such components.
Key Market Opportunities
Growing demand for ceramic matrix composites in developing countries
Demand for ceramic matrix composites has increased significantly in growing Asia-Pacific nations such as Thailand, China, India and Singapore which is projected to fuel market expansion. To fight growing fuel consumption and prices, these emerging countries are attempting to implement fuel-efficient aero engines and car modules based on ceramic matrix composites.
Aside from that, ceramic matrix advanced composites are used in engine parts such as combustor liners, blades, nozzles, and shrouds. The reduced operational and administrative expenses of the aircraft result from better fuel economy. The high economic process in these nations, in addition to high urbanization, industrialization, and rising living standards, plays a critical role in the adoption of fuel-efficient cost-cutting machinery.
The growing demand for intricate and compact designs
The increasing need for complicated and compact designs, as well as ever-increasing material requirements and cost limitations, may drive the demand for advanced composites material even higher, hence boosting the advanced composites market development. Climate change and the corresponding emphasis on environmentally friendly lifestyles and industrial restrictions may limit the growth of the advanced composites industry.
Renewable energy is essential, and market expansion would provide an excellent chance for the advanced composites market to realise its full potential, since composites are required to manufacture and build the gadgets or equipment required to generate and store carbon-neutral energy.
Segments Insight
Product Insights
The carbon fiber composites led the market for advanced composites in 2022, accounting for 64.5% of total sales. The expanding scope of the product in the manufacture of wind turbines and aerospace components is the primary driver of market expansion. Carbon is predicted to be the fastest expanding market over the next eight years as the product gains traction in the aerospace sector. The increasing need for lightweight, fuel-efficient aeroplanes is likely to stimulate demand for improved carbon materials.
The aramid composites category had a market share of 8.6% in 2022 and is expected to rise significantly during the forecast period. This is due to its increasing use in the defence industry. The product's diverse qualities, which include high strength, high heat, low density, and impact resistance, are projected to be a crucial component in fostering growth. Advanced aramid fibers are high-strength, stiff composites with great resistance to heat and impact, and as a result, they are rapidly being used in the automobile industry across the world. The product's use in the production of tires, body armor, and defense vehicle components is likely to drive the market for advanced composites throughout the forecast period.
Application Type Insights
The aerospace and defense application category led the market for advanced composites, accounting for 42% of sales in 2022. Positive year-on-year expansion in the aerospace sector, combined with increased investment in the industry, is likely to drive composites demand throughout the forecast period. Because of increased product penetration in automobiles, the automotive sector application category is predicted to develop at a CAGR of 8.7%. The increased need in the automotive sector for lightweight, durable, and conductive raw materials is likely to drive the advanced composites market throughout the forecast period.
Growing demand for air travel and the ability to spend are likely to be the driving factors for the sector throughout the forecast period, positively impacting the market. However, because to the restriction of the application of goods in only high-end cars and big ships and aircraft carriers, the penetration of these composites is restricted in these industries. Over the projection period, rising defence spending is likely to boost demand for aramid composites. Growing worldwide political tensions are predicted to raise investment in the defence industry, which is expected to boost demand for the product throughout the forecasted period.
Resin Insights
The advanced thermosetting composites category accounted for the biggest proportion of the advanced composite materials market in 2022 and is expected to increase at an 8.3% CAGR from 2023 to 2032. The rising usage of advanced thermosetting composites in aerospace and military, transportation, sports goods, and many other end-use sectors is driving the expansion of this market segment.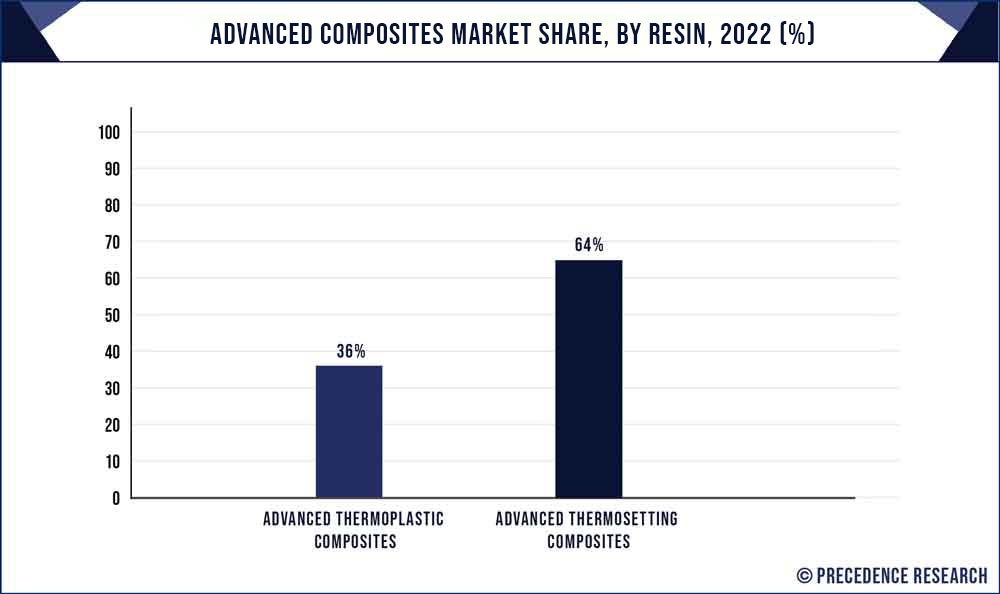 Advanced thermosetting composites are used in a variety of end-use sectors because they do not expand in high-heat and damp environments, making them ideal for extremely corrosive and high-temperature applications. For example, the automobile sector aims to produce cars that use less fuel, release less pollution, and have great durability and strength. Using these innovative thermosetting resins to manufacture lightweight and durable materials for vehicles decreases the weight of the automobile components, lowering fuel consumption and emissions.
Advanced Composites Market Share, By Region, 2022 (%)
| | |
| --- | --- |
| Regions | Revenue Share in 2022 (%) |
| North America | 37% |
| Asia Pacific | 26% |
| Europe | 29% |
| Latin America | 5% |
| MEA | 3% |
Geography Insights
North America dominated the advanced composites market, accounting for more than 37% of sales in 2022. The product's demand in North America was estimated to be worth more than USD 12.8 billion in 2022, owing to rising demand in the automotive, aerospace, and military industries. The automotive industry in North America is one of the largest in the world, with the United States being one of the top vehicle makers. The country's sector has grown due to its large market size and huge disposable income of customers, as well as its capacity to mass produce and provide a wide range of products.
In 2022, the advanced composites market in Europe will account for a large revenue share. The growing demand for sustainable renewable energy, along with the increased installation of wind turbines in Spain, Germany, and the United Kingdom. is anticipated to have a favourable influence on demand. The fast expansion of the sector and the increasing installation of onshore and offshore wind energy facilities are projected to support market growth in the area. After Asia, Europe, and Oceania, North America ranks fourth in the number of wind energy farm installations. The growing wind energy farms, combined with the need for renewable energy sources, are expected to have a positive impact on demand for wind turbine manufacturing, driving the advanced composite market
Recent Developments
Mitsubishi Chemical Corporation announced that it will acquire c-m-p GmbH, Germany through its subsidiary, Mitsubishi Chemical Advanced Material, in January 2020, in order to strengthen its presence in the carbon fibre composite material business.
Toray Advanced Composites says in December 2020 that it has concluded a long-term supply arrangement with Joby Aviation for the composite material used in its aircraft. Toray's carbon fibre composite materials will be used by the California-based aircraft firm to deliver rapid, inexpensive, and zero-emissions aerial ridesharing to global communities.
Key Market Players
Toray Industries, Inc.
Koninklijke Ten Cate NV
Teijin Limited
Hexcel Corporation
SGL Group
Cytec Solvay Group
Owens Corning
E. I. Dupont De Nemours and Company
Huntsman Corporation
Momentive Performance Materials Inc.
WS Atkins plc
AGY Holdings Corp.
Formosa Plastics Corporation
Market Segmentation
(Note*: We offer report based on sub segments as well. Kindly, let us know if you are interested)
By Product
Aramid Fiber Composites
Carbon Fiber Composites
S-Glass Fiber Composites
Others
By Application Type
Aerospace & defense
Automotive
Transportation
Electrical & Electronics
Wind energy
Civil Engineering
Medical
Marine
Sporting goods
Others
By Resin
Advanced Thermosetting Composites
Advanced Thermoplastic Composites
By Manufacturing Process
Hand layup/ Spray Layup
Pultrusion
AFP/ATL
Injection Molding
Compression Molding
Filament Winding
RTM/VARTM
Others
By Geography
North America
Europe
Asia-Pacific
Latin America
Middle East & Africa (MEA)