The global advanced materials market size was estimated at USD 61.35 billion in 2022 and it is expected to hit around USD 112.7 billion by 2032, poised to grow at a CAGR of 6.27% from 2023 to 2032.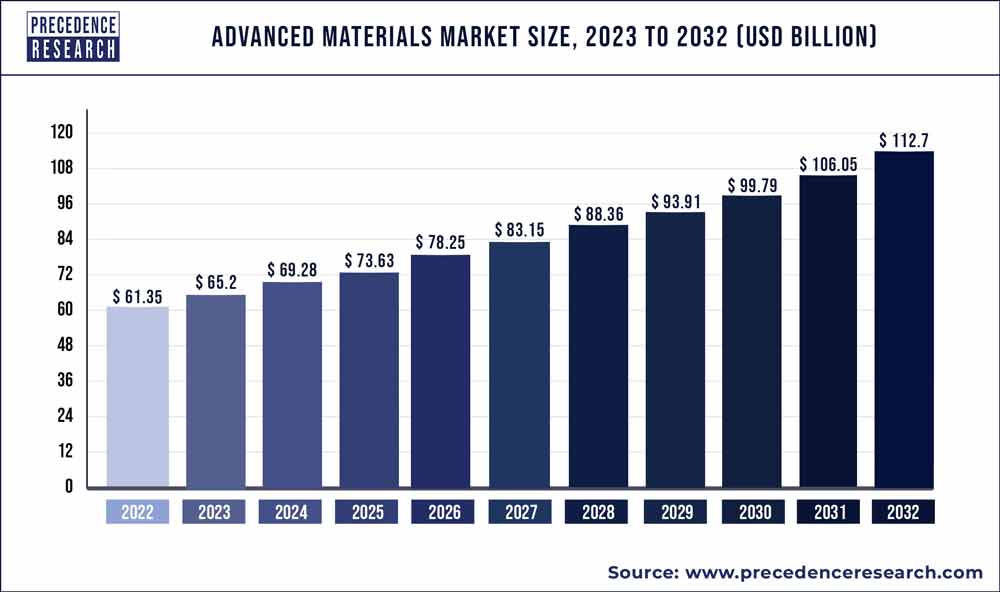 Access our Premium Real Time Data Intelligence Tool, Visit: Precedence Statistics
Key Takeaways:
North America is predicted to dominates the market from 2023 to 2032.
By product type, the composites segment is expected to expand at a remarkable CAGR rate from 2023 to 2032.
By application, the automotive segment contributed the maximum revenue share in 2022.
Advanced materials are materials that have been engineered to exhibit enhanced properties or performance characteristics beyond what is typically seen in traditional materials. These materials are often designed with specific applications and may offer improvements in strength, durability, electrical conductivity, thermal conductivity, corrosion resistance, and others. Advanced materials can be made from various materials, including polymers, metals, ceramics, and composites. They can be engineered at the molecular or nanoscale to achieve desired properties and performance characteristics.
Advanced materials are increasingly important in various industries, including aerospace, automotive, healthcare, electronics, and energy. Their unique properties and performance characteristics make them ideal for various applications, enabling companies to develop new products and solutions that would not be possible with traditional materials.
Furthermore, advanced materials have superior properties such as high strength, durability, and resistance to wear and tear. The development of new technologies has led to the creation of new advanced materials that are more efficient, lightweight, and sustainable, causing rising demand for sustainable energy solutions. There has been a surge in demand for energy-efficient materials such as solar cells, fuel cells, and energy storage devices are the major factors driving the growth of the advanced materials market.
Advances in materials science and manufacturing technologies are expected to propel the market. Furthermore, the growing demand for renewable energy sources such as solar and wind is expected to drive the demand for advanced materials such as photovoltaic cells, batteries, and fuel cells are predicted to drive market expansion. These materials are required to store and generate energy efficiently and sustainably. Smart materials can respond to environmental changes like temperature, pressure, or light has fueled the global advanced material market growth over the last few decades.
However, over the forecast period, the high cost of producing advanced materials is anticipated to impede the market growth. The cost of producing advanced materials is often high due to the use of advanced technologies and specialized equipment, which can make them less accessible to some industries and applications, which limits their acceptance to some extent.
The lockdown measures implemented by various governments in anticipation of the COVID-19 pandemic have increased sales of advanced material such as healthcare industry has seen an increased demand for advanced materials such as personal protective equipment (PPE), medical devices, and vaccines, which has helped to offset some of the losses in other industries. Rising health-related issues have contributed to an increase in the global sales of advanced materials market.
Growth Factors:
The need for technologically advanced materials is the factor that propelled the market demand. The various factors are helping to drive the market are:
Growing demand for renewable energy
Increasing demand for medical devices
Growing demand for smart materials
Report Scope of the Advanced Materials Market
| | |
| --- | --- |
| Report Coverage | Details |
| Market Size in 2023 | USD 65.2 Billion |
| Market Size by 2032 | USD 112.7 Billion |
| Growth Rate from 2023 to 2032 | CAGR of 6.27% |
| Largest Market | North America |
| Base Year | 2022 |
| Forecast Period | 2023 to 2032 |
| Segments Covered | By Product Type and By Application |
| Regions Covered | North America, Europe, Asia-Pacific, Latin America and Middle East & Africa |

Key Market Drivers:
Increasing demand in the aerospace industry to brighten the market prospect
The aerospace industry is one of the key industries for the advanced materials market. The aerospace industry's demand for these materials will grow significantly during the forecast period. The aerospace industry is constantly looking for lightweight materials yet strong enough to withstand extreme flight conditions. The increasing use of carbon fiber composites in aircraft manufacturing will further help drive demand for the advanced material market. Carbon fiber composites are lightweight, high-strength materials increasingly used in the aerospace industry to reduce aircraft weight and improve performance.
For instance, the Boeing 787 Dreamliner, first introduced in 2011, comprises 50% carbon fiber composites by weight, making it significantly lighter and more fuel-efficient than previous generations of aircraft. The market is driven by the need for more fuel-efficient aircraft that can reduce operating costs and meet increasingly stringent environmental regulations. As a result, the demand for advanced materials in the aerospace industry is expected to remain strong in the coming years.
Growing demand for electric vehicles
The growing demand for electric vehicles (EVs) is driving the use of advanced materials in the automotive industry. For instance, Lithium-ion batteries are rechargeable batteries that use lithium ions to store and release energy. These batteries are increasingly used in EVs because they are lightweight, have a high energy density, and can be recharged quickly. In addition, they are environmentally friendly and have a longer lifespan than traditional lead-acid batteries.
In addition, advanced materials are also being used in EVs to develop lightweight materials such as composites and aluminum alloys. These materials can help reduce the vehicle's weight and improve energy efficiency, increasing the vehicle's driving range. For instance, carbon fiber reinforced polymer (CFRP) is a lightweight and high-strength composite material used in the body and chassis of EVs to reduce weight and improve performance.
Key Market Challenges:
Limited availability of raw materials is causing hindrances to the market
The limited availability of raw materials is expected to be a significant challenge for the advanced materials market. Many advanced materials rely on rare earth metals and other scarce resources that are in limited supply, and the production of these materials can be expensive and resource-intensive. For instance, neodymium is a rare earth metal that produces permanent magnets in various applications, including wind turbines, electric vehicles, and computer hard drives. However, neodymium reserves are limited, and production can be environmentally damaging.
Furthermore, the supply of raw materials is limited, and the prices of those materials tend to increase. This can make it difficult for companies to source the raw materials they need at an affordable price. As a result, they may be forced to scale back their production, which can slow down the growth of the advanced material market.
Key Market Opportunities:
These are the following factor which is likely to create opportunity over the forecast period.
Increasing adoption of sustainable practices
Growing demand for customization
Advancements in 3D printing
Segments Insight:
Product Type Insights:
On the basis of product type, advanced materials are segmented polymers, metal & alloys, glasses, composites, and ceramics. Composites are expected to grow at an exponential rate over the forecast period due to. It is driven by the demand for lightweight and high-strength materials in various end-use industries, including aerospace, automotive, and wind energy. Carbon fiber reinforced polymers (CFRPs) are a popular composite material widely used in producing aircraft parts, components, and high-performance sports equipment.
Application Insights:
On the basis of application, the advanced materials market is divided into healthcare, automotive, aerospace, electricals & electronics, industrial, power, and others, with the automotive sector accounting for most of the market. This is because the increasing demand for lightweight and high-performance materials has led to the adoption of advanced materials such as carbon fiber-reinforced polymers (CFRPs) and high-strength steel alloys in the production of vehicles.
The aerospace industry is also a key market for advanced materials, particularly for producing aircraft parts and components. Also, the healthcare industry is another major end-user of advanced materials. The increasing demand for medical devices and equipment that are durable, lightweight, and biocompatible has led to the development of new materials, such as bioresorbable polymers and shape memory alloys. These materials also have applications in drug delivery systems, tissue engineering, and implantable devices.
Regional Insights:
On the basis of geography, North America dominates the market, largely driven by the aerospace and defense industries. The region is home to several major aerospace companies, including Boeing and Lockheed Martin, which drive demand for advanced composites and other high-performance materials. In addition, the region's strong automotive industry also contributes to the demand for advanced materials, particularly lightweight materials that can help improve fuel efficiency.
The region in Asia-Pacific is anticipated to have the greatest CAGR because of the region's strong electronics and automotive industries. The region has several major electronics companies, including Samsung and LG, which drive demand for advanced materials such as semiconductors, ceramics, and specialty coatings. In addition, the region's growing middle class is driving demand for high-end automotive products, which is driving demand for advanced materials that can help improve performance and reduce weight.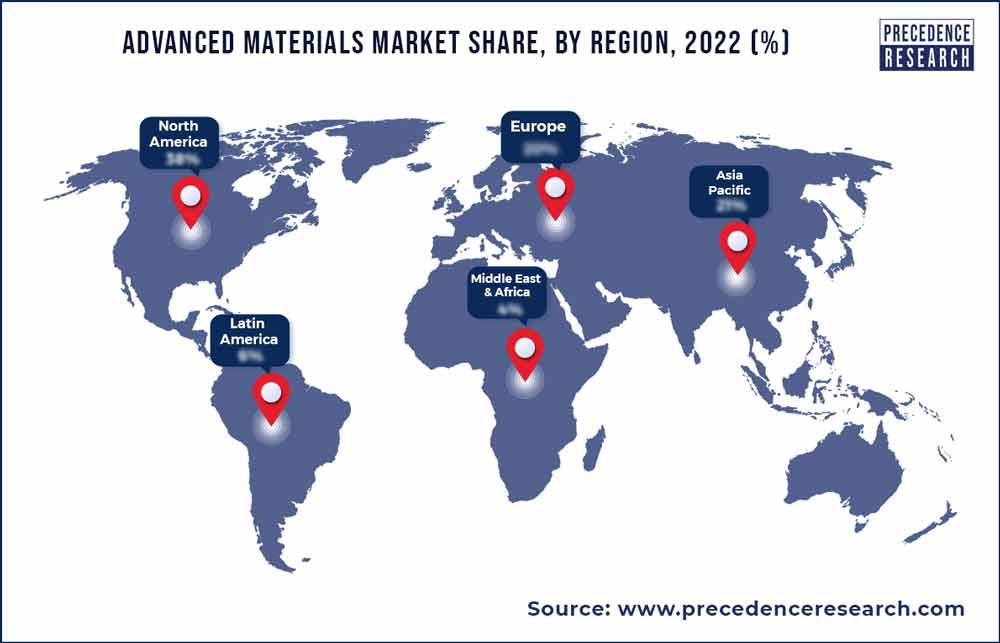 Furthermore, because industrial expansion reaches its pinnacle in developing nations like China, India, Singapore, and Indonesia, the demand for advanced materials is anticipated to rise the demand, which is fueling the market expansion of the advanced materials market. For instance, in August 2022, BASF launched a new research center in Shanghai, China. The new research center, the advanced materials and Systems Research Center Asia Pacific, focuses on developing new materials and technologies for various industries, including automotive, construction, and electronics.
Indonesia's growing market for advanced materials is driven by the country's focus on innovation and technology. The government has invested heavily in research and development, particularly in nanotechnology, advanced manufacturing, and materials science. Indonesia's Ministry of Research and Technology has proposed the establishment of a national research center for advanced materials to promote research and development in this field and support the growth of related industries.
These above factors are expected to fuel the demand for the advanced materials market in the region over the forecast period.
Recent Developments:
In December 2020, Mitsubishi Chemical Corporation and Ube Industries announced a partnership to develop new lithium-ion battery electrolyte solutions that are safer, more efficient, and have a longer life cycle.
In December 2020, Evonik Industries launched a new portfolio of high-performance additives for the plastics industry, which can improve plastics' mechanical, thermal, and electrical properties.
In March 2021, Solvay and Boeing signed a partnership agreement to develop advanced materials and processes for aerospace applications, including thermoplastic composites and 3D printing technologies.
In June 2021, Arkema launched a new range of bio-based thermoplastic elastomers for use in automotive and consumer goods applications, which can reduce the carbon footprint of the end products.
In July 2021, Covestro announced the acquisition of DSM's thermoplastic polyurethane (TPU) business, which includes production sites in China, the Netherlands, and the United States.
Key Market Players:
3M Company
Momentive Performance Materials Inc.
BASF SE
DowDuPont Inc.
Morgan Advanced Materials
Hanwha Group
PyroGenesis Canada Inc.
Cytech Products Inc.
Akzo Nobel N.V.
Hexcel Corporation
Segments Covered in the Report:
(Note*: We offer report based on sub segments as well. Kindly, let us know if you are interested)
By Product Type
Polymers
Metal & Alloys
Glasses
Composites
Ceramics
By Application
Medical Devices
Automotive
Aerospace
Electricals & Electronics
Industrial
Power
Others
By Geography
North America
Europe
Asia-Pacific
Latin America
The Middle East and Africa