The global advanced biofuels market was estimated at US$ 46 billion in 2022 and is projected to hit over US$ 1173.28 billion by 2032, expanding immensive CAGR of 38.30% over the forecast period 2023 to 2032.
Access our Premium Real Time Data Intelligence Tool, Visit: Precedence Statistics
Key Takeaways
North America takes the lead as the largest market for advanced biofuels.
Biofuels, especially biodiesels, are set to dominate revenue shares, fueled by the increasing adoption of biofuels for engines
By Raw Material, Algae raw material is projected to lead in revenue within the forecast period.
Advanced Biofuels Market Size in U.S. 2023 to 2032
The U.S. advanced biofuels market was valued at US$ 10.14 billion in 2022 and is expected to grow around US$ 258.59 billion by 2032, growing at a CAGR of 38.30% from 2023 to 2032.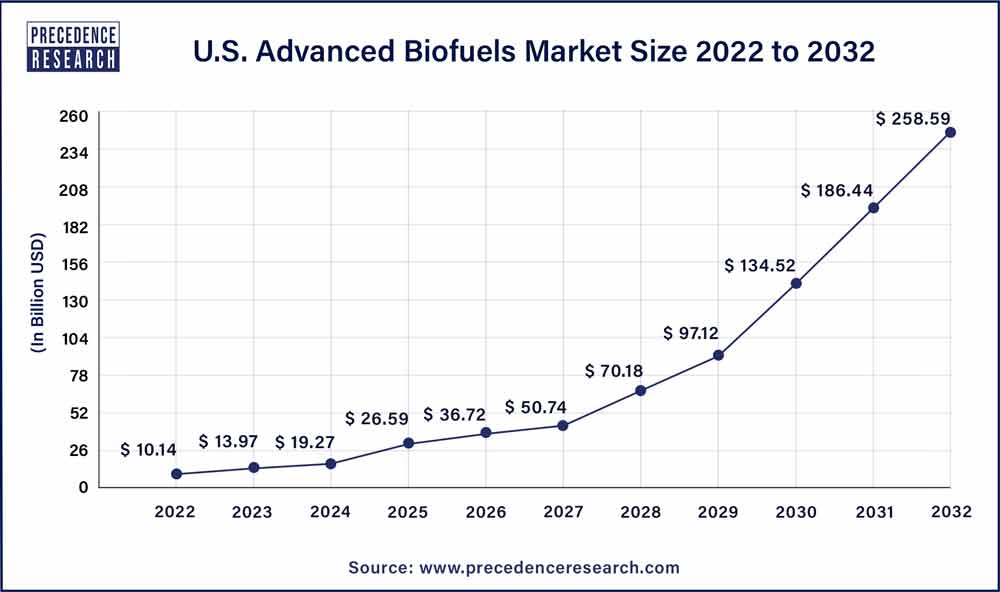 North America is Estimated to be the Largest Market for Advanced Biofuels
The research report deals with the industry prospects of advanced biofuel products around regions including Europe, North America, Latin America, Asia-Pacific, and Middle East and Africa. Advanced biofuel market is taken by North America owing to growing demand for the cleaner burning transportation fuels particularly in the U.S. of the North America. Addition to this, presence of leading players in the region along with strategies that are implemented by the major players in the countries of North America is expected to witness substantial growth in the target industry in the near future. Asia Pacific is likely to list the noteworthy CAGR, on account of rising awareness about the usage of advanced biofuels in emerging economies. Also, Most of the key players operating in the industry are investing heavily in order to get the competitive edge in the advanced biofuels market in Asia Pacific. For instance, in 2020, The Asian Development Bank has approved a $ 2.5 million technical assistance in order to support advanced biofuel development in India.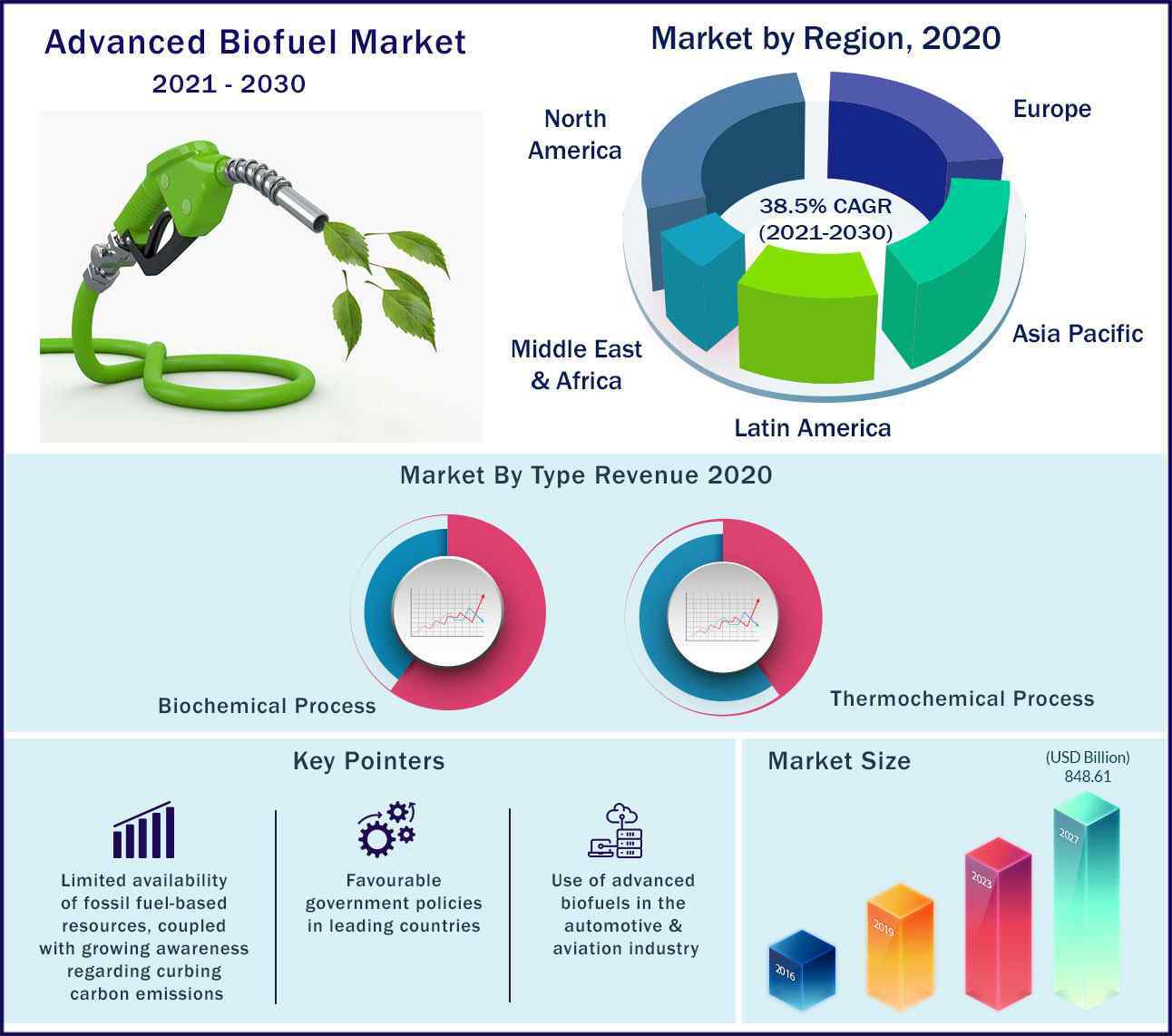 Key market Insights:
Compared to petroleum fuels, advanced biofuels are exciting and new types of fuels that will reduce greenhouse gas emissions by at least 50%. The automotive and aviation industries worldwide are focused on the use of efficient yet environmentally friendly fuels that will help decarbonize the transport industry. As it meets greenhouse gas mitigation goals as well as tough aircraft requirements, advanced biofuels have become an ideal option. In order to operate conventional jet engines and use current fuel delivery systems, advanced biofuels are efficient and safe enough. In addition, in the automotive or aviation market, the use of advanced biofuels allows passengers to perceive the same efficiency. In addition, strict government regulations are also another main factor in developing advanced biofuels for use in transport sector. For instance, advanced biofuels in North America allow carbon credits to be obtained and projects to achieve financial equilibrium.
Crucial factors accountable for market growth are:
Limited availability of fossil fuel-based resources
Growing awareness regarding curbing carbon emissions
Favorable government policies in leading countries
Use of advanced biofuels in the automotive & aviation industry Government support for research activities and favorable regulations
Rising awareness about use of renewables
COVID-19 Impact on Global Advanced Biofuel Market
The COVID-19 explosion has had an impact on world's primary markets. COVID-19 effect on the global industry is adverse. The North America is largest advanced biofuel market, but supply and demand for the advanced biofuel has decreased with spread of covid and lockout situations in the U.S. Because of COVID-19, instability of the supply chain, volatility in the supply of raw materials, inadequate manpower in the production facility and less demand for end-use customers have hindered the growth of the target industry in developed and developing economies worldwide.
Future of Global Advanced Biofuel Market
Leading players of the global advanced biofuel industry are focusing on the strategic partnerships similar mergers and acquisitions in order to enhance their position in the global market and to get the comparative edge. This trend is anticipated to continue and will flourish growth of target market over the forecast time-frame. For instance, GranBio Technologies, collaborated with Indian Birla Carbon in order to provide the nanocellulose compound.
Advanced Biofuels Market Scope
| | |
| --- | --- |
| Report Highlights | Details |
| Market Size | US$ 1173.28 Billion by 2032 |
| Growth Rate | CAGR of 38.30% From 2023 to 2032 |
| Base Year | 2022 |
| Historic Data | 2020 to 2021 |
| Forecast Period | 2023 to 2032 |
| Segments Covered | Process, Advanced Biofuel Type, Raw Material |
| Regional Scope | North America, Europe, Asia Pacific, Latin America, Middle East & Africa (MEA) |
| Companies Mentioned | GranBio, Inbicon A/S, Clariant, A2BE Carbon Capture, LLC., Fujian Zhongde Energy Co., Ltd, Bangchak Petroleum Plc., Algenol Biotech, Abengoa Bioenergy, DowDuPont Inc., Chemtex company |
Significant Trends:
Biodiesels Segment Reported Foremost Market Stake in 2022
Biodiesels are expected to hold the largest revenue share due to the growing use of biofuels as the engine fuel. This is owing to usage of great yield algae raw material and huge potential of biodiesels to reduce the reduction greenhouse gas emission.
Algae are Projected to Dominate the Raw Material Segment of Advanced Biofuels Market Revenue
On the basis of raw material segment algae raw material segment is expected to dominate in terms of revenue over the forecast time frame. The growth is attributed owing to its quality of possessing more oil content and it can be grown using ocean or wastewater. Algae is capable of yielding equal to 300 times more oil over conventional crops and has a up to 10 day harvest period as it grows almost 30 times faster than other feedstock's.
Top Players contending in the Market:
Major market companies are aiming towards the innovative advancements in order to enhance position in the target industry. Major companies are:
GranBio
Inbicon A/S
Clariant
A2BE Carbon Capture, LLC.
Fujian Zhongde Energy Co., Ltd
Bangchak Petroleum Plc.
Algenol Biotech
Abengoa Bioenergy
DowDuPont Inc.
Chemtex company
For improved recognize the current status of advanced biofuels, and policies adopted by the foremost countries, Precedence Research predicted the future evolution of the advanced biofuels market. This research study bids qualitative and quantitative insights on advanced biofuels market and assessment of market size and growth trend for potential global market segments.
Key Market Developments:
In year 2020, GranBio declared a planned agreement along with the leading layer NextChem, in order to co-license company's patented technology in order to produce the advanced biofuels worldwide. The collaboration will allow this technology to be commercialized globally, combining the expertise of GranBio in biomass as well as advanced biofuels with the engineering intelligence of NextChem and the global presence of the Company, to deliver integrated services such as feasibility studies, production, engineering and factory construction worldwide.
Major Market Segments Covered:
By Process
Biochemical Process
Thermochemical Process
By Advanced Biofuel Type
Cellulosic Advanced Biofuels
Biodiesels
Biogas
Biobutanol
Others
By Raw Material
Lignocellulose
Jatropha
Camelina
Algae
Others
By Geography
North America
Europe

Germany
France
United Kingdom
Rest of Europe

Asia Pacific

China
Japan
India
Southeast Asia
Rest of Asia Pacific

Latin America

Brazil
Rest of Latin America

Middle East & Africa (MEA)

GCC
North Africa
South Africa
Rest of Middle East & Africa