The global aluminum market size was estimated at USD 159 billion in 2022 and is expected to hit around USD 286.07 billion by 2032, growing at a compound annual growth rate (CAGR) of 6.1% from 2023 to 2032.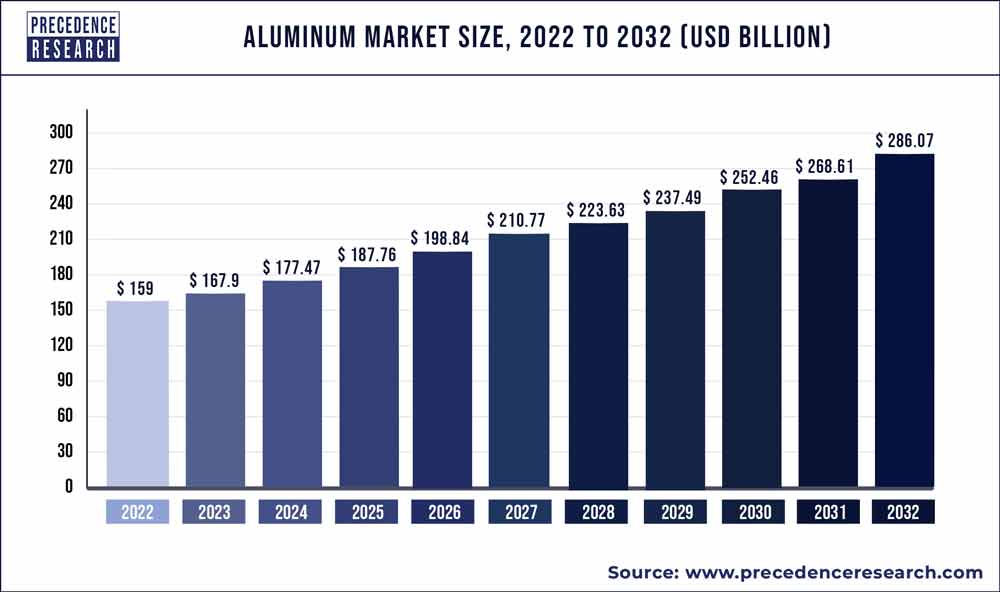 Key Takeaways:
By series, series 7 is anticipated is growing faster at a CAGR of 7.2% from 2023 to 2032. The series 1 segment occupied a market share of around 20.5% in 2022.
By processing method, the rod & bar segment is projected to reach a CAGR of 7.1% over the forecast period.
By end-use industry, the transport segment accounted for 33% of revenue share in 2022.
The Asia Pacific accounted for 65% revenue share in 2022.
The element aluminum has a silver-white sheen and is flexible and non-magnetic by nature. The letter Al stands for aluminum, which is the most prevalent metal in the crust of the world. Metal is seeing strong demand among end customers in the packing, electrical, and aerospace industries. The market is being driven by the increased market for packaged goods and the expanding use of aluminum instead of stainless steel by automakers. The market is expanding as a result of the increasing demand for electric cars and OEM producers. However, it is anticipated that interruptions in the distribution chain caused by periodic mine closures may hurt market expansion.
The market is always experiencing substantial uncertainty as a result of the COVID-19 outbreak. The downturn in manufacturing and decline in global GDP has further lowered aluminum production activity. Bauxite ore mining operations have been suspended. Due to a lack of personnel in the manufacturing sector and a decrease in demand from the automotive and aerospace industries, consumers' desire for semi-finished goods is falling.
However, because more people are consuming packaged foods, foil and can companies be growing favorably. Despite being used in autos for a long time, many new cars are now made of aluminum. For its ability to lower emissions and improve fuel efficiency, this material is highly favored by designers and engineers in the automotive industry. Manufacturers of electric vehicles use this metal to lighten their vehicles and increase their operating range. Due to its lightweight composition and similar physical characteristics to stainless steel, automakers like BMW and Mercedes are replacing it more frequently. According to estimates, the aforementioned elements will fuel market expansion.
Report Scope of the Aluminum Market
| | |
| --- | --- |
| Report Coverage | Details |
| Market Size in 2023 | USD 167.9 Billion |
| Market Size by 2032 | USD 286.07 Billion |
| Growth Rate from 2023 to 2032 | CAGR of 6.1% |
| Base Year | 2022 |
| Forecast Period | 2023 to 2032 |
| Segments Covered | Series, Type, Processing Method, End-Use Industry, and Geography |
| Companies Mentioned | Alcoa Corporation (U.S.), Aluminum Corporation of China Limited (CHALCO) (China), Century Aluminum Company (U.S.), China Hongqiao Group Limited, China power investment corp. (cpi), China zhongwang holdings limited (china), Dubai Aluminum Company Limited (U.A.E), East Hope Group (China), Emirates Global Aluminium (UAE), H.P. (Australia), Hindalco Industries Ltd. (India), Kaiser Aluminium, Norsk Hydro A.S.A. (Norway), Novelis (U.S.), Rio Tinto Ltd., United Company RUSAL Plc, (Russia), Vedanta Aluminium Limited (India), Xinfa group co. Ltd. |
Growth Factors:
The second highest malleable and sixth most highly flexible material on the planet is aluminum. With a density of just 2.7g/cm, it is incredibly light, dust-resistant, and highly conductive, and when alloyed, it demonstrates great strength. Because it is harmless by nature, maintains food for a long period, and prevents the growth of microbes, it is widely employed in the food and packaging industries as well as the pharmaceutical industry. The worldwide aluminum industry has been growing due to China's quickly increasing need for this plentiful base material. In China, the bulk of industries is owned by the government. Consequently, it increases the need for aluminum.
Aluminum is widely used in China's construction, transportation, packaging, and electrical sectors, to name a few. These four businesses collectively use the majority of the aluminum that the Chinese industry uses annually. Government officials are working very hard to improve industrialists' accessibility to aluminum. Its outcomes are anticipated to have a substantial impact on the growth of the global aluminum industry. Nevertheless, there are a few issues that are keeping the global aluminum industry from growing. One of them is the reality that producing aluminum from bauxite through processing and mining is not at all environmentally friendly. In response to this reality, several aluminum refineries produce and market secondary aluminum. Long- and short-term market growth for aluminum are both predicted to be hampered by this.
One of the more prevalent non-ferrous transition metals in the crust of the Earth is aluminum. It is strong, malleable, flexible, lightweight, and resistant to oxidation and corrosion. Because it easily forms combinations with the other chemical components, it is widely used in a wide range of application. For instance, wheels, motors, chassis, and other components of contemporary automobiles are made of aluminum combined with silicon and magnesium. Around the world, it is also utilized to make refrigerators, desktop computers, tablets, cellphones, and other electrical devices.
Key Market Drivers:
Secondary aluminium's rising popularity will promote growth
An important portion of the world's usage of aluminum is secondary or recycled aluminum. Because of its cost-effectiveness, scrap from machinery, automobiles, equipment, and beverage cans is recycled and reused. Reprocessing used metal or scrap uses a small portion of the energy needed to make brand-new metal from ore, minimizing the harm to the environment.
Additionally, initiatives including the creation of car dismantling, shredder, and environmental safety centers are anticipated to promote market expansion. The widespread use of the material in the transportation sector is also predicted to boost aluminum consumption.
Numerous uses across several industries, and expanding building industries
Due to its distinct physical characteristics, aluminum is in higher demand across a wider spectrum of industries and has more uses. Because metal is lightweight and has good electrical conductivity, aluminum is utilized for long-distance transmitting power. Because it can be easily moulded and worked into the fuselage and wings of light planes, aluminum alloys like 6061 are frequently utilized in this sector. Its high corrosion resistance makes it the perfect material for use in aircraft. Due to its thermal characteristics, aluminum is utilized in refrigeration, air conditioning, and heat transfer systems.
Additionally, because of its malleability, this metal can be shaped into thin strips and employed in the packaging sector. Siding, roofing, transparent panels, doorframes, window, staircases, central heating,
, furnishings, air conditioning systems, and many other things are made with it in building projects.
Key Market Challenges:
Decarbonization is a challenge for the worldwide aluminum industry
Decarbonization is one of the main obstacles the world's aluminum sector must overcome. The majority of businesses in the aluminum sector are under intense pressure to green their operations. They can only accomplish this if they employ moderate steel, which is also of poor quality.
Implementing tougher environmental rules to restrain the growth
Governments and organizations' adoption of rigorous environmental rules will hurt the market. Numerous nations have had to adopt new regulations as a result of the expanding environmental problems and the population growing expectations for government action to reduce pollution levels. The cost of goods has grown as a result of smelting operations being required to fulfill higher emissions requirements. It is also known to harm people, so that is another factor.
Headaches, asthma, rashes, and sleeplessness are among the side effects of exposure to it. Inhaling the powder form can result in lung fibrosis, and it can explode or detonate on the worksite. It is projected that the aforementioned reasons will impede market expansion.
Key Market Opportunities:
Aluminum is good electricity and heat conductivity and is reasonably priced
Aluminum is flexible, robust, and doesn't easily melt or distort when exposed to high temperatures. Additionally, it is lightweight, will not rust or corrode readily, and is a superior heat and electrical conductor. The worldwide car industry is increasingly preferring aluminum since it is reasonably inexpensive. This is understood by aluminum processors all over the world. To strive to build future generations of automotive components that are better in all of the aforementioned features and at a significantly lower cost point, they are spending a lot of money on development and research.
Segments Insight
Series Insights
In 2022, the series 1 category dominated the worldwide aluminum market, and it is anticipated that it will continue to grow at the quickest rate throughout the forecast period. The production of items like foil, drawn tubes, sheets, chemical apparatus, dishes, and metal glassware uses this kind of Series 1 aluminum (sugar bowls, coffee pots, creamers, and others).
Processing Method Insights
With a share of the market of approximately 31.5% in 2022, the extrusion sector is anticipated to increase at a significant rate throughout the projected period. Radiators and air conditioning units for automobiles, condensing pipes, nuclear-powered apparatuses, sound equipment, and communications, among other things, are using extruded aluminum products more and more.
End-Use Industry Insights
In terms of the end-user, the transport sector held the biggest market share. This market's expansion is being driven by the growing use of metal in automobiles due to its lighter lightweight and improved physical characteristics. Many emerging countries are making significant investments to build out their infrastructure. These countries are likewise progressing quickly. As more people throughout the world own cars, the global aluminum sector is anticipated to grow with the automotive industry worldwide.
Because more people throughout the world drive cars, the transportation sector dominated the global aluminum market in 2022. As a result, expansion in the global transportation sector is anticipated to fuel expansion in the global aluminum market. During the projection period, the packing sector is anticipated to increase at a significant CAGR. This industry is expected to increase as a result of the growing demand for aluminum from producers of packaged foods because of its non-permeable properties.
Regional Insights
Due to reasons like rapid and widespread industrialization, quick and widespread urbanization, increasing investment and activities in infrastructure and infrastructure, and development in the automobile industry, Asia-Pacific is predicted to have the fastest expanding market. Because big consumers like Japan, China, and India are present, it is the main factor driving the market's expansion. The region's desire for metal is being driven by the expanding construction and automobile industries. The market is expanding in Europe as a result of factors like the introduction of legislation to reduce automobile pollution and the strong demand from end-use sectors like solar cells and packing.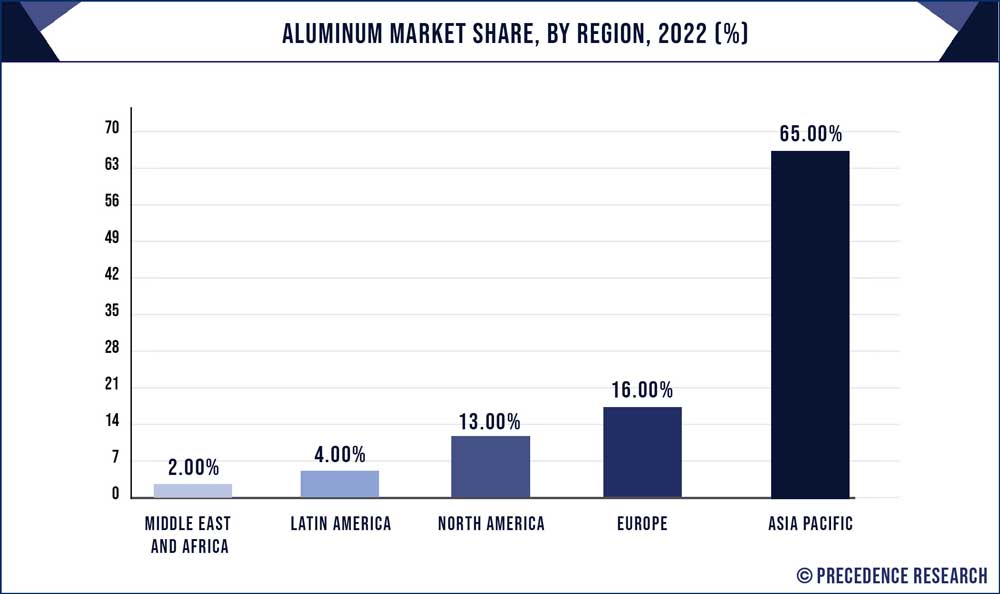 The automotive and transportation industries' high demand dominates the North American market. One significant reason fueling the market expansion in this region is the use of this material by EV producers to lighten their vehicles. The causes responsible for the rise in Latin America and the Middle East and Africa are the increased demand among end-users for equipment, consumer durables, and construction materials. The market is also expanding as a result of the expanding construction and infrastructure investment projects in these areas' growing nations.
Recent Developments:
November 2021, Following the publication of the findings of scientific testing of their Enhanced Modified Aluminium Ion (Ea2I) battery technology, Saturnose disclosed intentions to manufacture a solid-state, recharged aluminum battery. It is anticipated to be the first advertisement for aluminum-ion solid-state batteries when it debuts the following year, opening the door for a protracted, gradual transition away from the hazardous rechargeable battery technology.
Rio Tinto spent million at its AP60 smelter in the Saguenay-Lac-Saint-Jean region of Quebec in November 2021 to increase the amount of low-carbon aluminum it produces in Canada by adding 16 new smelting cells. The investment will increase annual primary aluminum smelter production by nearly 45 %, or 26,500 mt, to 86,500 mt. Rio Tinto predicts that during the following ten years, the worldwide aluminum market would rise at an annual compound growth rate of 3.3%, driven by strong demand from the energy revolution and decarbonization.
Dec 2020, The Centre for Biological Technology at the University of Queensland (CBT-QUT) has successfully wet-etched nanomaterials with a thickness of 21–25 nm into an aluminum 6063 alloy plane as part of the latest developments on COVID's external inactive. This demonstrated that COVID-19 remained dormant for six hours on robust antiviral nanostructured surfaces. Cicada's Antimicrobial Nanoparticles Solutions for COVID-Free Surface has shown remarkable potential in maintaining COVID-19-free public spaces and is a great starting point for future studies should the next epidemic occur.
Dec 2020 As the Indian market recovers from the coronavirus outbreak, Hindalco Industries Limited has reenergized a million-dollar strategy to produce additional aluminum goods with value added. By setting up a 34,000-ton extruded aluminum project in Silvassa's west Indian city, the company will launch its ongoing downward investing strategy. Production is anticipated to begin in two years.
Aleris Corporation, a major supplier of rolled aluminum goods on a global scale, was purchased by Novelis, a division of Hindalco Industries Limited in April 2020. The combination of complementary resources, including casting, rolling, recycling, and finishing technologies, has improved Novelis' position in the market. This action will assist the business in satisfying the significant consumer demands.
Krasnoyarsk Aluminum Refinery (KrAZ) has finished making the switch to EcoSoderberg technologies, according to UC RUSAL's announcement from July 2020. The refurbishment cost the corporation USD 74 million. The EcoSoderberg procedure modification required a minimum of 1954 reducing cells. The Technology and Engineering Center at UC RUSAL created the procedure.
Segments Covered in the Report:
(Note*: We offer report based on sub segments as well. Kindly, let us know if you are interested)
By Series:
Series 1
Series 2
Series 3
Series 4
Series 5
Series 6
Series 7
Series 8
By Type
By Processing Method:
Flat Rolled
Castings
Extrusions
Forgings
Pigments and Powder
Rod and Bar
By End Use Industry:
Transport
Building and Construction
Electrical Engineering
Consumer Goods
Foil and Packaging
Machinery and Equipment
Others
By Geography
North America
Europe
Asia-Pacific
Latin America
Middle East & Africa (MEA)