The global sensor market size was evaluated at USD 204.8 billion in 2022 and is expected to hit around USD 508.64 billion by 2032, growing at a CAGR of 8.40% from 2023 to 2032.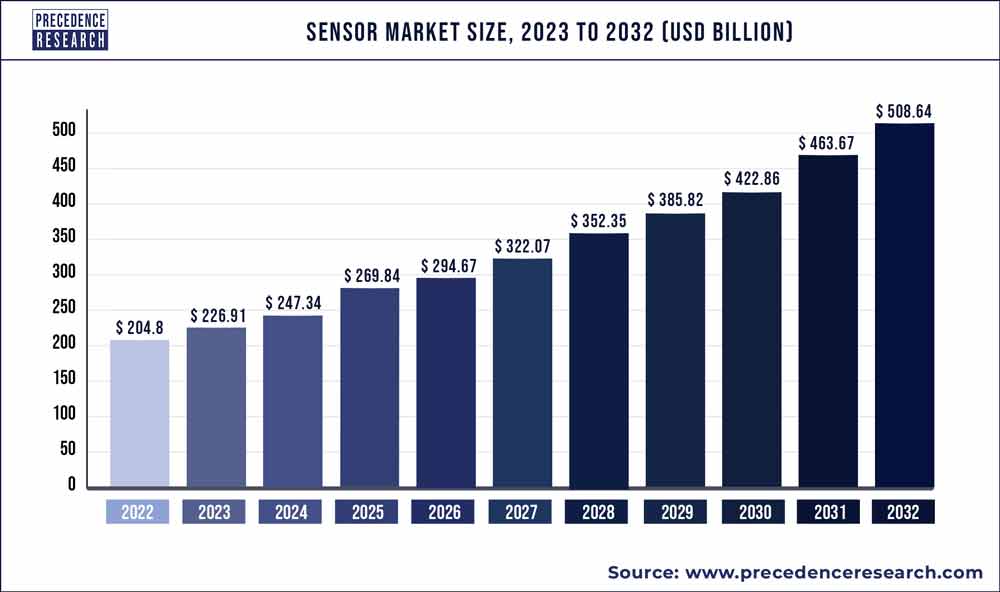 Access our Premium Real Time Data Intelligence Tool, Visit: Precedence Statistics
The market for sensors is expanding due to several factors, such as the increasing demand for surveillance cameras, consumer electronics, indoor navigation applications, high-accuracy motion sensors in video games, and the rising adoption of green energy technologies. The market is also augmenting due to increasing focus on research & development of new products. The Internet of Things (IoT) and enhanced image sensors used in various applications, including gas sensors, cameras, etc., are significant phenomena fueling the sensors market development.
Key Insights:
By geography, The Asia Pacific generated more than 40% of the revenue share in 2022.
By geography, the North American sensors market is projected to expand at a CAGR of 8.2% from 2023 to 2032.
By type, the biosensor segments is predicted to dominate the market from 2023 to 2032.
By technology, the CMOS segments is considered to hold the maximum share in 2022.
By end user, the industrial segments is projected to lead the market from 2023 to 2032.
Report Scope of the Sensor Market
| | |
| --- | --- |
| Report Coverage | Details |
| Market Size in 2023 | USD 226.91 Billion |
| Market Size by 2032 | USD 508.64 Billion |
| Growth Rate from 2023 to 2032 | CAGR of 8.40% |
| Base Year | 2022 |
| Forecast Period | 2023 to 2032 |
| Segments Covered | By Type, By Technology and By End User |
| Regions Covered | North America, Europe, Asia-Pacific, Latin America and Middle East & Africa |

Market Dynamics
Driver
Improvements in sensor technology for the healthcare sector:
Patient treatments are being given at home more frequently as individuals expect to live longer and with a superior quality of life. Healthcare equipment is becoming more affordable to create, smaller, smarter, and easier to operate. A significant force driving advances in intelligent connected medical devices is the expansion of patient care outside of the hospital and into the home.
These intelligent, networked devices have various sensors utilized to collect essential data. This data is compiled and examined for rapidly diagnosing infections and delivering therapy. These smart gadgets use the most recent sensor technology, which offers better precision, reduced power consumption, repeatability, and digital output. These sensors facilitate the development of smaller and cheaper medical devices by streamlining innovative designs, lowering development costs, and accelerating supply chain efficiency. As a result, this increases the demand for sensors, propelling the market in the near future.
Restraint
Short shelf life of sensors:
Based on the gas to be detected and the environment it is used in, the sensor generally has a shelf life of six months to a year. For instance, if stored at optimal temperatures of 20o C, electrochemical sensors typically have a specified life span of six months from the manufacturing date. A small percentage of this time must inevitably be spent on producing the gas detector and exporting it to the consumers. Consequently, this aspect can limit the expansion of the sensor market.
Opportunities
Technological advancements in the automotive sector by manufacturers:
Sensors have asserted themselves as a necessary part of autonomous driving systems over the previous few decades. Although expensive, light detection and ranging (LIDAR) sensors are usually considered the essential technology for completely autonomous driving. Modern sensors can now detect the surroundings with greater detail because of recent advancements in radar technology, which significantly improves the environment perception quality of a sensor fusion system. Future autonomous vehicles will need sophisticated sensors because of their dependability, performance, and affordability.
Many more automobiles will provide hands-free and partially automated highway driving assistance systems in the coming year. For instance, Ford introduced its BlueCruise technology on the F-150 and Mustang Mach-E in 2021, and while it is less advanced than Super Cruise, has launched several Ford and Lincoln models in 2022. As a result, the market for sensors will benefit from the growing need for sensors in the automobile industry.
COVID-19 Impact
Due to severe lockdowns, a drop in sales of products, and halted vehicle production, the COVID-19 pandemic has had a detrimental impact on the sensor industry. Various industry manufacturers are making up for their losses due to declining sales and a disturbed ecosystem. Major market companies are spending money and increasing their production capacity to use cutting-edge sensors.
Major global sensor market competitors are concentrating on designing affordable sensor technologies to gain more clients worldwide. During the forecast period, the considerable presence of market participants active in the sensors market will also help fuel market expansion.
Segments Insight
Sensor Market Share, By Type, 2022 (%)
| | |
| --- | --- |
| Revenue | 2021 |
| Biosensor | 11.43% |
| Optical Sensor | 3.91% |
| RFID Sensors | 3.42% |
| Image Sensor | 5.37% |
| Temperature Sensor | 3.13% |
| Touch Sensor | 2.44% |
| Flow Sensors | 2.69% |
| Pressure Sensor | 4.44% |
| Level Sensor | 2.72% |
| Others | 60.45% |

Type Insights
The market for sensors is segregated into biosensors, optical, RFID, image, temperature, touch, proximity, pressure, and level sensors based on type. The biosensor is estimated to dominate the sensors market in the anticipated period. Nanotechnology-enhanced biosensors are highly profitable in various industrial applications, including imaging processes, microbial activity monitoring, and food analysis. Additionally, there is a rising need for efficient biosensors due to the increasing popularity of point-of-care testing methods. As a result, the market expansion for sensors is driven by biosensors' features.
Technology Insights
The sensors market is segmented into three major categories based on technology, viz., CMOS, MEMS, and NEMS. Digital cameras, CCTV cameras, and digital video cameras mostly use CMOS sensors to produce images. These electronic chips are also in barcode readers, astronomical telescopes, and scanners. It is possible to create low-priced consumer electronics thanks to CMOS's low cost of production. Robotics, machine vision, and embedded imaging applications use CMOS sensors.
For instance, 2D barcode scanners are used by robotic devices that pick and arrange items or move them from one location to another to identify the objects or bins they are carrying and move around a factory floor. Nonetheless, the CMOS is considered to hold the largest share in 2022.
End User Insights
The sensors market is divided into segments based on end-users, including healthcare, IT/telecom, automotive, industrial, and aerospace & defense. The industrial sector is predicted to lead the market among them in the near future. Due to the fast-growing automotive and electronics sectors, the industrial segment has most of the market share. For instance, sensors are crucial to developing intelligent, highly automatic products in industrial automation.
Machines can detect, process, analyze, and measure various positions, heights, appearances, lengths, and displacements in manufacturing facilities. These sensors also meet the requirements of many sensing applications. With sensors, manufacturers can monitor machine performance and get early warnings of any potential irregularities or issues, allowing them to be solved before they become serious.
Regional Insights
During the forecast period, the North American sensors market is anticipated to expand at a CAGR of 8.2%. Consistent adoption of industrial automation, expected to fuel the demand for sensors, is one of the primary trends in the North American region. Additionally, there is a significant increase in smartphone and wearable sales across North America, including smartwatches and fitness trackers. Over the projected period, this is anticipated to fuel the demand for proximity sensors.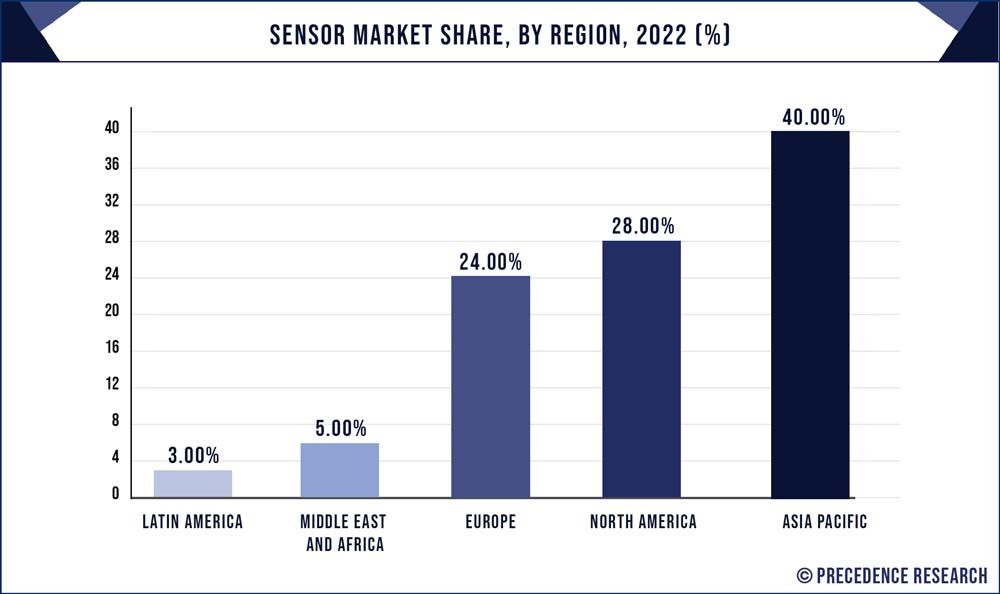 It is expected that the United States will have the most significant market share during the projected period since businesses like Fitbit Inc. and Apple Inc. generate considerable profits. For instance, in 2022, Apple Watch held a majority of the global market for smartwatches. The main forces behind the lucrative expansion of the sensors market in the United States are the ever-expanding smartphone industry and a significant increase in capital investments.
Additionally, according to the Consumer Technology Association (CTA), activity fitness trackers with conventional functions like heart rate monitoring, GPS tracking, and calorie tracking are present in about 22% of Canadian households and are utilized in a fitness-related context. These gadgets are among the most widely used wearables in Canada.
Recent Developments
In March 2022, SensiML Corporation, a well-known supplier of AI solutions for building intelligent Internet of Things (IoT) endpoints, will support the Arduino Nicla Sense ME mini form factor board, which integrates Bosch Sensortec sensors.
A brand-new, accurate navigation sensor for use in aircraft and other industries was unveiled by Honeywell in March 2022. The aerospace and defence sectors are the intended uses for the MV60 micro-electro-mechanical system (MEMS) accelerometer. Even so, it might also be useful in industrial and military applications that require very precise, navigation-grade accelerometers that are portable, light, and power-efficient.
STMicroelectronics released The Intelligent Sensor Processing Unit (ISPU) in February 2022. This device combines a MEMS sensor and a Digital Signal Processor (DSP) capable of running AI algorithms on the same silicon.
The quickest, most precise moisture monitoring was provided by ABB's High-Performance Infrared-Reflection (HPIR-R) moisture sensor in January 2022. The sensor enables mills to increase throughput while reducing operational expenses by providing precise, high-resolution measurement at up to 5,000 readings per second.
A new rate sensor from Honeywell, the HG4934 Space Rate Sensor, was introduced in June 2021 to help small spacecraft navigate increasingly crowded orbits above the surface of the Earth. The new micro-electromechanical system (MEMS)-based product is a fantastic fit for customers that are developing smaller, less expensive satellites. It will be more affordable and use less power while still performing at a high level.
Key Market Players:
STMicroelectronics NV
Bosch Sensortec GmbH.
ABB Group
Siemens AG
OMRON Corporation
Texas Instrumental Incorporated
Drägerwerk AG & Co. KGaA
Samsung Electronics Co Ltd.
International Sensor Technology
DENSO Corporation
NXF Semiconductors
Honeywell International Inc.
Segments Covered in the Report
(Note*: We offer report based on sub segments as well. Kindly, let us know if you are interested)
By Type
Biosensors
Optical Sensor
RFID Sensors
Image Sensor
Temperature Sensor
Touch Sensor
Flow Sensors
Pressure Sensor
Level Sensor
Others
By Technology
By End User
Healthcare
IT/Telecom
Automotive
Industrial
Aerospace & Defense
Others
By Geography
North America
Europe
Asia-Pacific
Latin America
The Middle East and Africa