The global butadiene market size was valued at USD 10.5 billion in 2022, and it is expected to reach around USD 25.43 billion by the end of 2032, poised to grow at a compound annual growth rate (CAGR) of 9.3% from 2023 to 2032.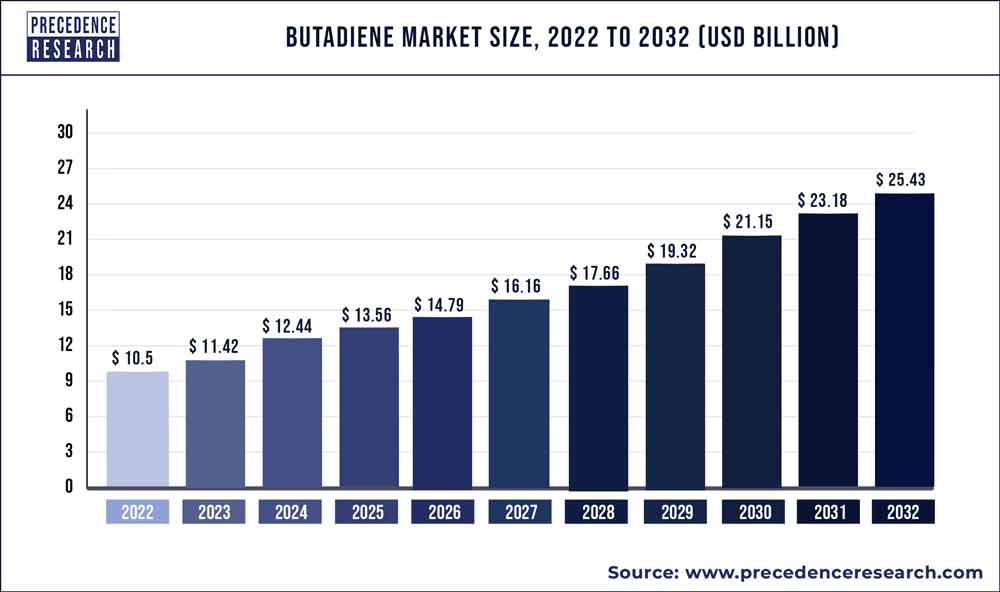 Access our Premium Real Time Data Intelligence Tool, Visit: Precedence Statistics
Key Takeaways:
Asia Pacific was accounted for 47% revenue share in 2022.
By product, the acrylonitrile butadiene rubber segment 31% revenue share in 2022.
By production process, the n-butane dehydrogenation category dominated the market in 2022.
The demand for synthetic rubbers, which in turn affects the butadiene market, is significantly influenced by the automotive industry, while the supply is dependent on the ethylene industry because it is a key component needed for the steam cracking process. As a result, the butadiene industry is significantly impacted by the supply-demand tensions in other markets. The development of eco-friendly techniques for producing polymer emulsions, the rise in demand for water-based solvents and coatings, as well as the expansion of industrial sectors like autos and consumer durables, are some of the drivers driving the worldwide market.
Growth Factors
Among other elastomers, butadiene serves as the main raw ingredient in the production of styrene-butadiene rubber (SBR), acrylonitrile butadiene styrene (ABS), polybutadiene, latex, styrene-butadiene, and nitrile rubber. Although butane or butene dehydrogenation can also be used to create it, steam cracking is the main technique. The various applications and demand for by product has driven the butadiene market.
The growing uses of butadiene.
Increasing demand from automotive industry.
Key Market Drivers
Rising demand of synthetic rubber
Many ends user industry has become more dependent on synthetic rubber as a result of rising demand for consumer goods, footwear, and tires on a worldwide scale since it provides superior performance at a cheaper price than natural rubber. The production and consumption of butadiene are rising as a result of rising demand for tires, shoes, and consumer products since butadiene is a crucial raw ingredient in the creation of synthetic rubber.
Additionally, butadiene is utilized in the production of ABS, a material that is frequently used in commercial and industrial applications like automotive, electronics, communications, etc. where it is necessary to have materials that are durable yet lightweight, heat resistant, and readily processed. Therefore, expansion in these industries would likewise fuel demand for ABS, which in turn would fuel the butadiene market.
The major component of acrylonitrile-butadiene-styrene (ABS) resin, which has several uses, is used to create plastics when butadiene-based rubber is used as the basis material. Tire production generally involves the usage of polybutadiene. About 70% of the world's polybutadiene output is thought to be used in the making of tires. It is mostly utilized as a sidewall in tires to reduce strain brought on by constant bending when running. Butadiene has other uses in addition to this, including in other vehicle components.
Report Scope of the Butadiene Market
| | |
| --- | --- |
| Report Coverage | Details |
| Market Size in 2023 | USD 11.42 Billion |
| Market Size by 2032 | USD 25.43 Billion |
| Growth Rate from 2023 to 2032 | CAGR of 9.3% |
| Base Year | 2022 |
| Forecast Period | 2023 to 2032 |
| Segments Covered | Product Type, Production Process, End-User, and Geography |
| Companies Mentioned | China Petroleum & Chemical Corporation, Royal Dutch Shell Plc, Borealis AG., Versalis S.p.A., Eni S.p.A., Evonik Industries AG, Ineos Group AG, LANXESS, LG Chem, LyondellBasell Industries Holdings B.V., Nizhnekamskneftekhim., Repsol, SABIC, The Dow Chemical Company, TPC Group, Formosa Plastics Corporation, ZEON Corporation., Shanghai Petrochemical |

Key Market Challenges
Acute and chronic effects on health
Due to the dangerous carcinogenic properties of shale oil and its acute and long-term effects, production has been reduced. Acute low exposures may irritate the lungs, nose, throat, and eyes. Skin exposure can also result in frostbite. Acute high exposures may harm the central nervous system or result in symptoms including headaches, nausea, dizziness, fainting, distorted vision, vertigo, general exhaustion, low blood pressure, and headaches. There is debate concerning the long-term consequences of exposure to butadiene. Numerous epidemiological studies on humans have revealed an upsurge in cancer and cardiovascular illnesses.
Key Market Opportunities
Development of bio-based butadiene - Numerous market possibilities are anticipated as a result of the increasing demand for nylon 66 resin in important end-use sectors like automotive and electronics and manufacturers' focus on the development of bio-based manufacturing processes for butadiene. Many researchers are working on the same and governments are supporting their nations to adopt bio-based alternatives.
Segments Insight
Product Insights
On the basis of product, the styrene butadiene rubber (SBR) segment has had largest market share in 2022 in terms of revenue. Styrene Butadiene Rubber (SBR), which is derived from butadiene and combined with rubber from natural sources to manufacture tires, is the primary component. Tires' performance-enhancing aspects, such as rolling resistance, wear, and traction, are provided by the physical and chemical properties of these rubber polymers. In industrial applications, SBR rubber often replaces natural rubber directly. Some of its advantages include excellent aging qualities, crack endurance, and abrasion resistance. Styrene-butadiene also exhibits high water and compression set resistance. A synthetic copolymer called SBR was first developed to replace natural rubber in tires. SBR is created by combining BD with styrene. Together with natural rubber, it currently accounts for 90% of all rubber consumed globally. In conditions involving water, hydraulic fluids, or alcohol, SBR is widely used. SBR can therefore be found, for example, in tires, tubes, compressors, and conveyor belt coverings.
The category with the quickest growth is anticipated to be Styrene-butadiene (SB) latex during the forecast period. Styrene-butadiene (SB) latex is a common type of emulsified polymer used in a variety of commercial and industrial applications. Because it is made of two distinct monomers, styrene and butadiene, SB latex is classified as a polymerization. While styrene is produced when benzene and ethylene mix, butadiene is a byproduct of the production of ethylene. Styrene-butadiene latex is used to create transparent, glossy, and luminescent paper coverings and products including coated canvas and white chipboard, as well as data capture papers like pneumatically paper and infrared paper that are used in brochures, journals, and SB latex. Additionally, SB latex is used in the back coats of tufted carpets. SB latex is a popular solution for adhesives in various sectors, including the flooring industry.
End-User Insights
On the basis of end-user, the automobile segment is expected to have the largest market share in the coming years period.
Butadiene is used to make the majority of synthetic rubbers and elastomers, including polybutadiene rubber (PBR), nitrile rubber (NR), styrene-butadiene rubber (SBR), and polychloroprene (Neoprene). These are subsequently used to produce a range of goods and raw materials. When butadiene-based rubber is used as the starting material, the main component of acrylonitrile-butadiene-styrene (ABS) resin, which has several applications, is utilized to manufacture plastics. Polybutadiene is often used in tire manufacture.
The production of polybutadiene is believed to account for over 70% of all tires produced worldwide. It is mostly used in tires as a sidewall to lessen strain caused by continual bending when running. Hence, the application of butadiene in the automotive segment is expected to increase in the projected period.
Regional Insights
On the basis of geography, Asia-Pacific region accounted for the majority revenue share in 2022. Asia-Pacific currently has a dominant position in the butadiene market and is anticipated to expand at the highest rate during the forecast period as a result of the region's rapid industrialization and increased demand for butadiene in automotive and rubber applications. The fastest-growing market in the region is China, which consumes the most butadiene, followed by India and other South-East Asian nations. This is due to rising car manufacturing. Sales and production of commercial vehicles, which represent an important growth of 91 percent and 73.8 percent over March, respectively, reached 5,01,000 and 4,68,000 units in April 2021, according to the China Association of Automobile Manufacturers (CAAM). This creates lucrative opportunities for butadiene market participants. Additionally, the textile industry's expanding usage of butadiene derivatives in the manufacture of shoes, gloves, and belts is promoting regional market expansion.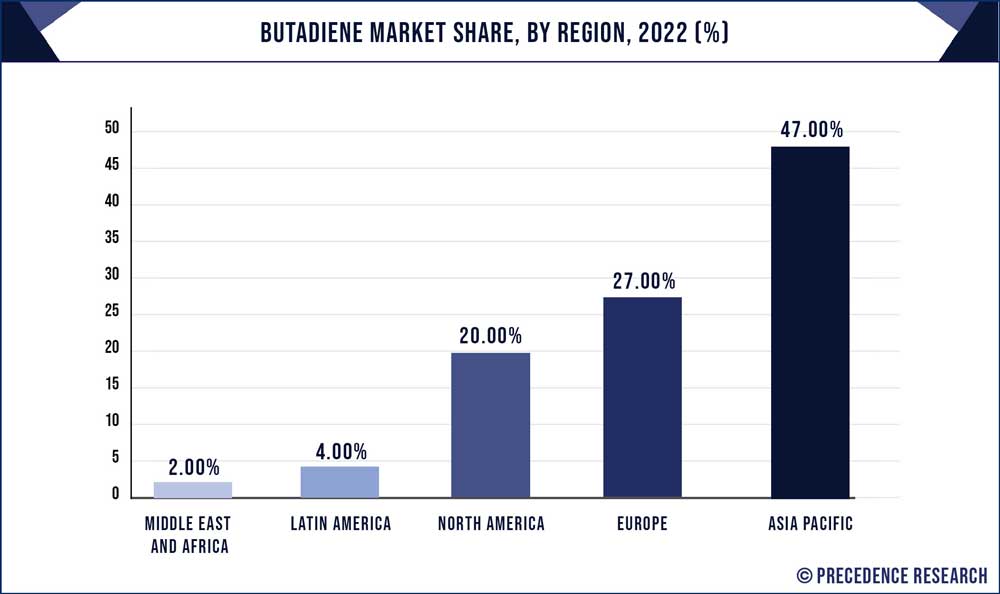 A major percentage of the market in 2022 was in North America. In well-established businesses like paints and coatings and the polymer industry, the need for butadiene derivatives is rising. The United States is the dominant nation in the region due to the presence of important critical companies like Exxon, Dow, and TPC Group.
Moreover, Europe is predicted to have significant increase throughout the projection period as a result of the widespread use of butadiene and its derivatives in the manufacturing of auto parts such wheel covers, dashboard trims, tires, and other components. Germany is the top-ranking nation due to its rising automobile exports.
Recent Developments
In February 2019 – Petrochemical business Bangkok Synthetics Co. Ltd. has declared plans to increase production of butadiene to 80 kilotons per year in 2021.
Segments Covered in the Report
(Note*: We offer report based on sub segments as well. Kindly, let us know if you are interested)
By Product Type
Butadiene Rubber
Styrene Butadiene Rubber
Acrylonitrile Butadiene Rubber
Nitrile Butadiene Rubber
Styrene Butadiene Latex
Hexamethylenediamine
By Production Process
C4 hydrocarbon extraction
n-butane dehydrogenation
From ethanol
From butenes
By End-User
Automobile Industries
Chemical
Plastics and Polymers
Building & Construction
Consumer Products Industries
Healthcare
Others
By Geography
North America
Europe
Asia-Pacific
Latin America
Middle East & Africa (MEA)