The global styrene market size was estimated at USD 53.12 billion in 2022 and is expected to be worth around USD 97.31 billion by 2032, poised to grow at a CAGR of 6.24% during the forecast period 2023 to 2032. The Asia-Pacific is predicted to dominate the styrene market.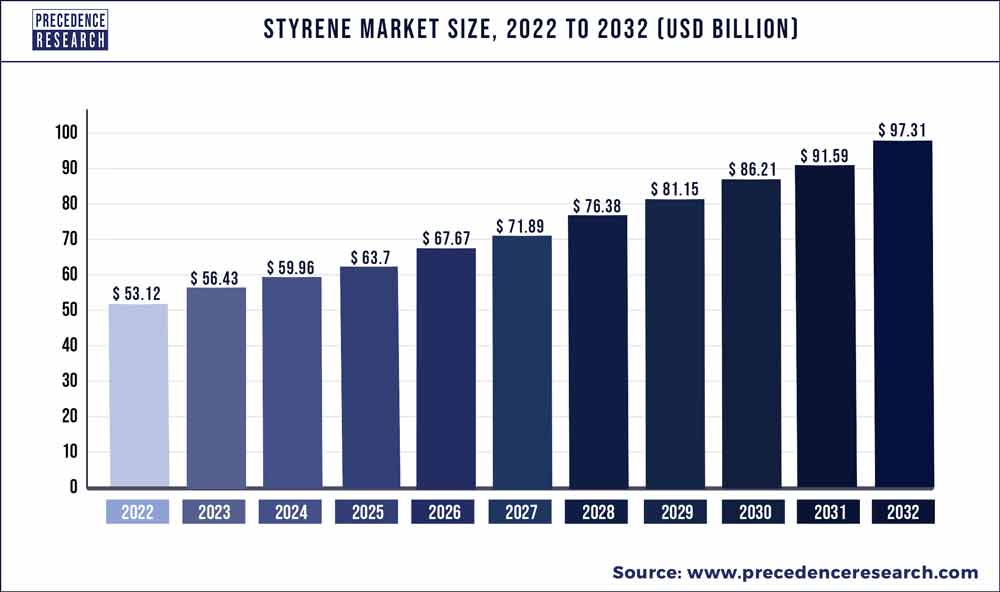 Styrene is an organic, colourless molecule used to produce latex, synthetic rubber, and polystyrene resins. Styrene has good product characteristics because it combines both rubber and plastic features. It has a relatively high frictional force, a solid electric performance, and other features. Polystyrene resins make plastic packagings, mainly food packaging, such as containers, plates, and other products. Typically, the styrene market is vital due to the high demand for polystyrene. Polystyrene is a flexible material used in producing ovens, microwaves, freezers, and vacuum cleaners.
Report Scope of the Styrene Market:
| | |
| --- | --- |
| Report Coverage | Details |
| Market Size in 2023 | USD 56.43 Billion |
| Market Size by 2032 | USD 97.31 Billion |
| Growth Rate from 2023 to 2032 | CAGR of 6.24% |
| Largest Market | North America |
| Base Year | 2022 |
| Forecast Period | 2023 to 2032 |
| Segments Covered | By Product Type and By End User |
| Regions Covered | North America, Europe, Asia-Pacific, Latin America and Middle East & Africa |

Market Drivers:
The increased popularity of recycled styrene
Polystyrene manufacturing and use worldwide are increasing annually due to various applications and a wide range of services across multiple industries. The discharge of this polystyrene into the environment has prompted environmentalists and researchers to demand the recycling of polystyrene to lessen the high burden of plastics in the environment. Furthermore, recycled polystyrene can be employed in insulating plates, light switches, and foam packaging. There is overall increased popularity in recycling styrene. For example, according to the French Ministry of Ecology, the French industry has committed to using 100% polystyrene by 2025, and this goal includes reducing the environmental impact of plastic consumption.
Restraints:
Increase in health concerns
Styrene consumption is hazardous to human health. Little amounts are discovered in urban air when people consume food packaged in polystyrene, use laser printers, and breathe cigarette smoke. Moreover, the use of styrene can have adverse effects on health. Styrene consumption can harm the respiratory and central nervous systems, causing fatigue, depression, nausea, and narcosis. Furthermore, styrene is poisonous to animals, and animal studies reveal that they are more susceptible to styrene and experience more damage.
The International Agency for Research on Cancer (IARC) has declared that styrene is a potential carcinogen that can cause cancer with prolonged exposure.
Opportunities:
Increase in the end user
The styrene market has various uses across all industries. Even so, styrene is most commonly used in huge industries like automotive, construction, and packaging. It is a suitable replacement because it is light in weight and cost-effective, especially in food packaging. The automobile sector and new future automotive parts are currently popular, and such elements are commonly used in making auto parts. Furthermore, the preference for simple alternatives to complex components is becoming a trend in nearly every industry segment.
The tyre market, for example, is massive, and the use of styrene as rubber in the tyre makes the market opportunistic. The heat tolerance property of styrene is fundamental in the construction business and is used as a practical implementation substitute. Furthermore, the use of styrene and its derivatives in the electronics sector is increasing as there is an overall increase in demand for electronics.
Segments Insight:
Product Type Insights:
The styrene market is projected to grow because of rising demand for its packaging applications. The surge in demand for packaged foods is primarily attributed to the food industry. Because of its chemical stability, resistance to bacteria, and superior heat insulation, expanded polystyrene is usually employed, not just in the food packaging business but also in the use of consumer electronics as a result of rapid urbanization, technological developments, and value pricing rates.
Furthermore, several companies are now exploring better recycling technologies for polystyrene to reduce health risks and the use of polystyrene in food contact. For example, the styrene company INEOS Styrolution announced today the release of mechanically recycled polystyrene in EMEA. This includes the development of a new Styrolution PS ECO 440 with the help of TOMRA's high-quality NIR sorting technology, which delivers pure polystyrene.
The automotive industry has witnessed a growth in the number of uses for acrylonitrile butadiene styrene. Dashboards, centre console, seats, bumpers, interior trim, and lighting all use acrylonitrile butadiene styrene. Moreover, the healthcare industry is expected to increase because of its outstanding characteristics, such as performance qualities and adaptability. Acrylonitrile butadiene styrene manufactures medical devices and items such as masks, ventilator valves, gloves, shoes, and patient gowns.
During the COVID-19 crisis, several acrylonitrile butadiene companies collaborated with government agencies to produce medical equipment. For example, in 2020, Elix Polymers, a manufacturer of Acrylonitrile-Butadiene-Styrene (ABS), collaborated with many enterprises within Cluster MAV to assist in the fight against COVID-19, with the support of the National Federation of Innovative Business Groups and Clusters.
End User Type Insights:
Packaging is an essential factor in practically every industry. It is significant since it concerns consumer product safety. The kind of container used determines the product's safety. Plastic packaging is widely used in various industries nowadays because of its high durability, superior features, high-quality material, and low cost. The applications are widespread in many sectors, although it is high in the packaging industry.
Because of the significant demand from the plastic packaging industry, the styrene market is rapidly growing. Styrene is used in the plastic packaging industry for various food packaging, such as glasses, plates, disposable containers, and insulation. In addition, the plastic packaging business employs styrene in the pharmaceutical and medical industries to make medical devices and packaging.
Automobile Industry is the largest market and is anticipated to increase in the future years due to demand in electric demand for new features in autos and a growing market for premium vehicles. Styrene is widely used in the manufacture of tyres. It is widely used because to its durability, quality, and low cost. The styrene sector is growing because to increased demand for automobile body parts, vehicle rubber tyres, and energy-efficient building insulation. Furthermore, the use of styrene in automotive creates tensions in raw material availability and cost, allowing for shifting demand patterns in the tyre business and technical advancements in the ever-changing automotive space.
Styrene-based products help decrease greenhouse gas emissions by providing energy-efficient insulation in architecture and construction, as well as improved fuel efficiency through the strength and weight-reduction of automobile components. Expanded polystyrene has shown to be a viable alternative material. Because expanded polystyrene is recyclable and inexpensive, it is commonly employed in the construction industry.
Regional Insights:
Asia-Pacific currently dominates the styrene market and is expected to do so over the projected period, followed by North America and Europe. This expansion can be attributed to an increase in the use of packaging throughout the region. The growth is also attributed to the rise of the disposable culture. Furthermore, demand in significant application categories such as buildings, construction, and the automobile industry is increasing. According to a recent analysis, the styrene market inventory in China grew beginning in January 2023. Also, China is amongst the key packaging industry around the globe. Moreover, styrene is in high demand due to the rising demand for synthetic and processed rubber in Asia-Pacific.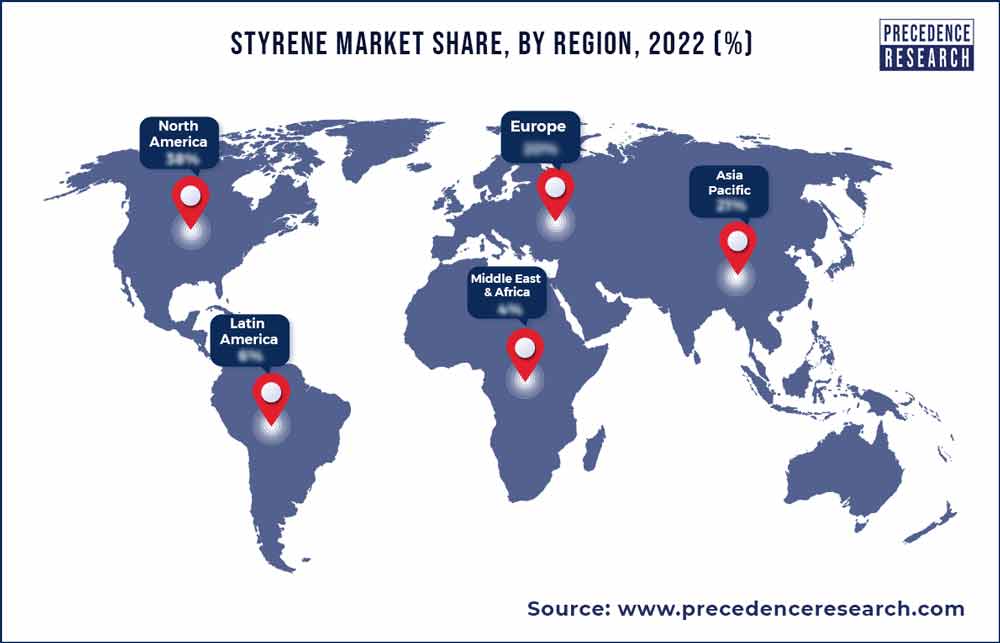 Following the Asia-Pacific market, the North American market will likely expand during the forecast period due to increased demand in the region's automotive and packaging industries. This demand is seen because styrene, as a monomer, is used in various other industrial sectors as a product. For example, the expanded polystyrene market is growing significantly in North America, particularly in the United States, due to increased expenditures on research and development and implementation in the construction industry.
Recent Developments:
January 2022, INEOS Styrolution initiated a 50,000-ton ABS production in France that will simultaneously increase the product collection of INEOS.
In January 2021, China Petroleum and Chemical Corporation announced the signing of the agreement in forming a joint venture. This venture will be operated by Ningbo ZRCC LyondellBasell
In August 2022, Technip Energies and Agilyx announced the launch of the TruStyrenyx brand for the chemical recycling of polystyrene.
Orthex group moves towards more sustainable raw materials in cooperation with INEOS Styrolution and BASF.
FPCO and DIC explore collaboration in the practical implementation of a closed-loop recycling system for polystyrene that utilises chemical recycling.
Key Market Players:
Chevron Phillips Chemical Company LLC.
Alpek SAB DE CV
Ineos Group AG
Nova Chemicals Corporation
Shell plc
LG Chem Ltd
Dynasol Group
Kraton Corporation
Trinseo
Elevate
Segments Covered in the Report:
(Note*: We offer report based on sub segments as well. Kindly, let us know if you are interested)
By Product Type
Polystyrene
Styrene Butadiene Rubber
Acrylonitrile Butadiene Styrene
By End User
Packaging Industry
Automotive Industry
Construction Industry
By Geography
North America
Europe
Asia-Pacific
Latin America
Middle East and Africa