The global lightweight materials market size was valued at USD 130.57 billion in 2022 and it is expected to hit around USD 219.87 billion by 2032 and is poised to grow at a compound annual growth rate (CAGR) of 5.4% over the forecast period 2023 to 2032.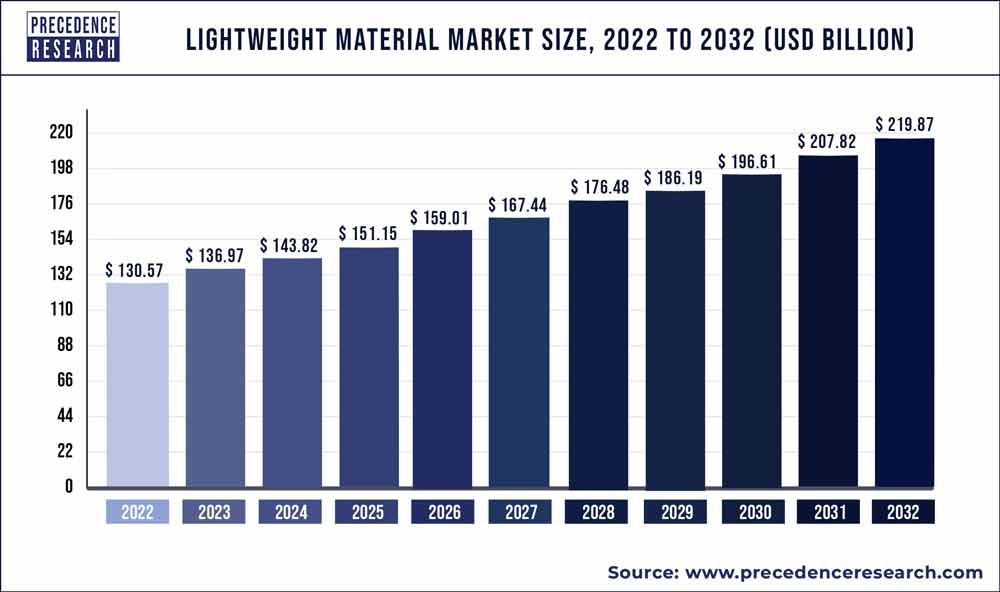 Access our Premium Real Time Data Intelligence Tool, Visit: Precedence Statistics
In order to decrease the weightiness of automobiles, aircraft, and wind turbines while preserving the construction's durability and effectiveness, lightweight materials are often metal alloys and composites. Lightweight materials provide a high strength-to-weight ratio, higher corrosion resilience, and good design freedom. The combination of metals or composites that were utilized during manufacture determines how effective lightweight materials are. They come in a variety of forms and grades and are used to make lightweight vehicles, aeroplanes, packaging, and medical equipment. COVID - Due to the market's reliance on the maritime, automobile, aerospace, and windmill industries, the COVID 19 pandemic had a severe effect on lightweight materials. According to a report released by the National Center of Information (NCI) in April 2020, lockdowns and factory closures caused a 30% drop in sales for the automobile sector in March 2020 as compared to the same month in the previous year.
The car industry has experienced tremendous expansion as a result of factors like rising disposable income, technical advancements, an increase in new product innovations, and an increase in the total number of aftermarkets and OEMs. In the production of different vehicle parts, lightweight materials including alloys made from metal, composites as well as polymers are frequently employed. For instance, the Indian passenger car sector is predicted to grow between 22 and 25% in 2022, according to research released by the National Promotion and Facilitation Agency of India in March 2021. The expanding automobile industry may see a rise in demand for lightweight materials as a result. Additionally, both industrialised and emerging nations, such as the United States, China, and India, are working to modernise their fighter planes. Different aircraft parts are made from lightweight materials, such as aluminium alloys and hybrid materials. During the anticipated term, this may fuel the market for lightweight materials to increase.
Using lightweight materials is constrained in a number of end-use sectors, comprising automotive, manufacturing of aircraft, wind generators, and maritime, due to variables including the quick volatility in raw material costs and the high cost of carbon fibre. For instance, it was estimated that the cost of 1 kilogramme of carbon fibre reinforced polymers for automobiles (CFRP) could increase by 3900 percent compared to the cost of standard steel and by 400 percent compared to the cost of glass fibre reinforced plastics (GFRP). These elements can limit the market's expansion for lightweight materials.
What are the growth factors of lightweight materials market?
Due to their cost-effectiveness, fuel economy, and operational efficiency, electric vehicles are in greater demand globally. Electric cars are quite popular with consumers because of their great strength and lightweight components. In order to lighten the weight of the cars, parts of electric vehicles are generally built from lightweight materials including high strength steel, magnesium (Mg) alloys, aluminium (Al) alloys, and engineered plastics. Automobiles that are lightweight have the highest fuel economy when compared to conventional vehicles. Lightweight components are needed to drive an engine's pulling capability in low power engines utilised in electric cars.
The outside trim, interior trim, and battery packs of electric cars may all be made of lighter materials. Compared to traditional cast iron and steel materials, lightweight materials are becoming more and more desirable. To have a longer range between recharges, consumers are more inclined to select electric vehicles made of lightweight materials. During the forecast period, all of these reasons are anticipated to grow the market for lightweight materials for electric cars.
Report Scope of the Lightweight Material Market
| | |
| --- | --- |
| Report Coverage | Details |
| Market Size in 2023 | USD 136.97 Billion |
| Market Size by 2032 | USD 219.87 Billion |
| Growth Rate from 2023 to 2032 | CAGR of 5.4% |
| Base Year | 2022 |
| Forecast Period | 2023 to 2032 |
| Segments Covered | Product, Application, Geography |
| Companies Mentioned | ThyssenKrupp AG, Henkel Corporation, Owens Corning Corporation, LyondellBasell Industries N.V., Hexcel Corporation, SGL Group, Nippon Graphite Fiber Corporation, Mitsubishi Rayon Co. Ltd., Zoltek Companies Inc, UC Rusal, Aluminium Corporation of China, Rio Tinto Alcan Inc., China Hongqiao Group Ltd., Kaiser Aluminium, US Magnesium LLC, A&S Magnesium Inc. |

Product Insights
Due to the product's ability to cut vehicle weight by 50% and increase fuel economy by about 35%, demand is anticipated to increase.
The metal alloys segment is expected to reach a CAGR of 4.8% from 2023 to 2032.
Aluminum has been utilised in many applications since the Hall-Heroult method was developed to produce high-quality aluminium from alumina. Aluminum is increasingly used in automotive and aviation applications due to its age-hardening tendency and the strength it offers. The use of these unique features across a range of sectors is anticipated to stimulate market expansion.
For the most part, high strength steel is employed as a direct replacement for conventional steel in lightweight applications. It may decrease vehicle weight by around 25% and is highly favoured in the automobile industry. High strength steel's rising demand is expected to fuel the market's expansion during the upcoming years due to its recyclable nature.
Magnesium is mostly utilised in mobile and automotive electronics. Magnesium's rise throughout the anticipated period is due to its capacity to be recycled. Due to its widespread availability and ease of usage, titanium is utilised extensively in a wide range of applications. Although it is expensive, it is only utilised in specialised applications where greater strength and longevity are sought.
Application Insights
The market for lightweight materials is dominated by applications in the automotive, aviation, and energy sectors. With an almost 76% sales share in 2022, the automobile segment dominated the market as a whole. Aluminum, polymers and composites, and high-strength steel are among the main goods utilised in the automobile sector.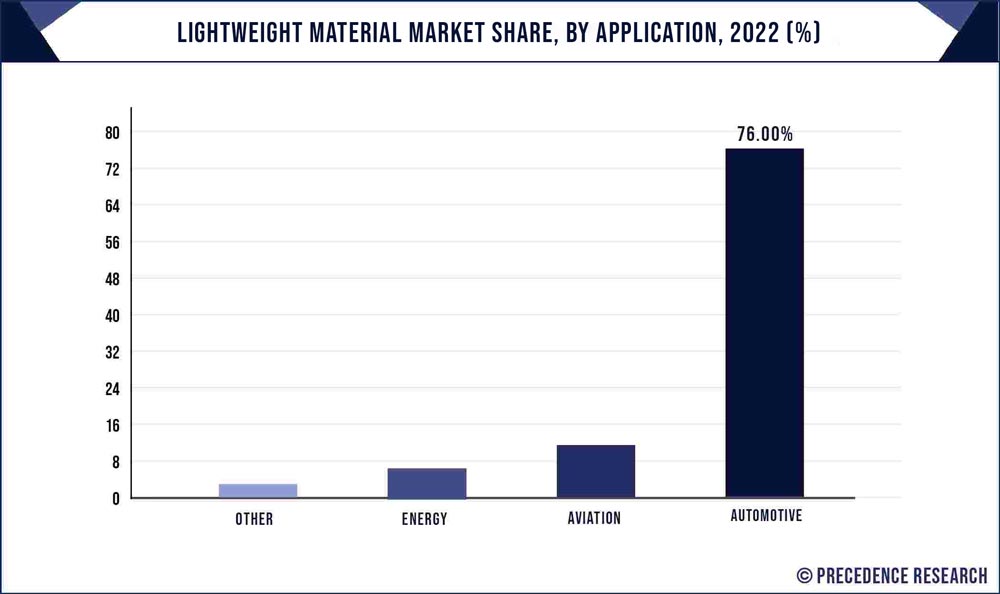 Growing applications in the automotive and aviation sectors are the main market drivers. Over the course of the projection period, it is anticipated that the aviation industry's growing innovation would increase market demand. Additionally, the rising use of lightweight materials in the energy application segment is anticipated to boost market growth. Utilizing lightweight materials has a direct effect on a number of variables, including driving dynamics, agility, and fuel economy. Over the projected period, demand for lightweight materials is anticipated to increase due to their use in the aviation industry. Additionally, the construction of windmills for one of the principal renewable energy sources, wind, requires lightweight materials.
Defense and transportation make up the other market application category. Titanium and magnesium are mostly used in these applications because of their unique ability to deflect electromagnetic energy. Due to increased research and development of novel materials for use in military applications, the market's demand is anticipated to rise.
Material Insights
In terms of material, the market for lightweight materials for electric cars was dominated by the metals and alloys category in 2022. This is mainly due to the rise in demand for metals and alloys in electric vehicle applications, such as battery packs, external trim, and interior trim.
Key metals for electric cars include aluminium, copper, and nickel. It is projected that demand for these metals would rise in tandem with the increase in sales of electric cars. An vast variety of a vehicle's body elements, such as brakes, wiring, wheels, and pipes, are made of aluminium, the metal that electric vehicle producers prize. Battery casings are made of aluminium, which is also a crucial component of the drive chain. Aluminum alloys are essential for the development of EVs because of their low density, which makes it easier to reduce total weight.
In the market for lightweight materials for electric cars in 2022, the engineering plastics material category also had a significant proportion. Electric car interior and exterior furnishings, power trains, electrical components, and under-the-hood components all use engineering plastics. The engineering polymers polycarbonate, polyamide, and polymethyl methacrylate are typical examples.
Lightweight Material Market Share, By Region, 2022 (%)
| | |
| --- | --- |
| Regions | Revenue Share in 2022 (%) |
| North America | 28% |
| Asia Pacific | 37% |
| Europe | 22% |
| Latin America | 7% |
| MEA | 6% |
Geography Insights
With a CAGR of more than 15% from 2023 to 2032, MEA is predicted to expand the quickest. Rapid industrialization and the establishment of manufacturing facilities by numerous conglomerates, including Cytec Solvay Group, are the main drivers of growth in this area. Natural resources are easily accessible, and a burgeoning application industry is anticipated to increase demand.
Due to the rising need for lightweight glass fibre reinforced concrete that is also fire resistant and has amazing features, Asia Pacific is growing quickly and might be a lucrative market in the years to come. The pace of urbanisation is rising, and this, along with rising disposable income and changing consumer habits in the area, has caused the building industry to grow significantly. The market for lightweight materials in the area has benefited greatly from this feature. The spike in government investment for renewable power projects, such hydro and wind energy, also has a significant positive impact on the APAC market. Additionally, the region's market position is strengthened by the increased demand for fuel-efficient cars. According to statistics, China produced close to 23.7 million vehicles in 2014, including trucks, vans, buses, and automobiles. Since then, this figure has been increasing steadily, which is a development that will undoubtedly benefit the market for lightweight materials in the next years.
Because there are more manufacturers of lightweight materials, there is a rise in demand for the product in Latin America. Additionally, the presence of aviation and wind energy equipment manufacturers in Europe is anticipated to boost market growth.
Because high strength steel has many qualities with conventional steel, it is widely utilised in North America. However, because to their widespread adoption in the automotive and energy industries, polymers and composites are predicted to increase quickly throughout the projected period. Growing uses in the automotive and aviation industries are driving up aluminium consumption in this region. The US and Canada have emerged as the top makers and exporters of aircraft in North America, dominating the worldwide market for lightweight materials. The aviation and aerospace industries' high consumption rates of these commodities have greatly benefited the local market. The market size will also be supported by the region's booming auto sales and the increasing emphasis on employing lightweight materials and components for improved fuel economy. The fact that the area is home to several well-known automakers and manufacturers of equipment for renewable energy sources is also anticipated to be a significant development driver.
Key market developments
In July 2020, Madison Dearborn Partners, LLC-controlled company Intelligent Packaging Limited Purchaser Inc. announced that it has signed a deal to acquire IPL Plastics Inc.
February 2021: Boston Materials, a producer of high-tech lightweight materials, has started distributing its Z-axis carbon fibre to customers in Europe and North America. This fibre is made utilising a 60-inch-wide roll-to-roll process. Since there is a growing need for Z-axis lightweight carbon fibre in sectors like electronics, transportation, and industry, the business anticipates that the installation of its most recent industrial-scale manufacturing line will grow its clientele. SUPERCOMP, a high-performance lightweight 3D carbon fibre material that improves energy dissipation, manufactureability, and vibration damping of lightweight composite structures, will be the first product to ship.
Key market players
ThyssenKrupp AG

Henkel Corporation

Owens Corning Corporation

LyondellBasell Industries N.V.

Hexcel Corporation

SGL Group

Nippon Graphite Fiber Corporation

Mitsubishi Rayon Co. Ltd.

Zoltek Companies Inc

UC Rusal

Aluminium Corporation of China

Rio Tinto Alcan Inc.

China Hongqiao Group Ltd.

Kaiser Aluminium

US Magnesium LLC

A&S Magnesium Inc.
Segments covered in the report
(Note*: We offer report based on sub segments as well. Kindly, let us know if you are interested)
By Product
Composites

Carbon Fiber Reinforced Plastic
Glass Fiber Reinforced Plastic

Metals

Aluminum
High Strength Steel
Magnesium
Titanium
Beryllium
Others

Plastics

Polycarbonate
Polyamide (PA)
Polymethyl Methacrylate (PMMA)
Polyacetal /Polyoxymethylene (POM)
PET
Others
By Application
Automotive
Aviation
Energy
Other
By Geography
North America
Europe
Asia-Pacific

China
India
Japan
South Korea
Malaysia
Philippines

Latin America

Brazil
Rest of Latin America

Middle East & Africa (MEA)