The global refractory material market size was estimated at USD 27.26 billion in 2022 and is predicted to hit around USD 42.41 billion by 2032 and is poised to grow at a compound annual growth rate (CAGR) of 4.5% during the forecast period 2023 to 2032. The Asia Pacific refractory material market was valued at USD 20.08 billion in 2022.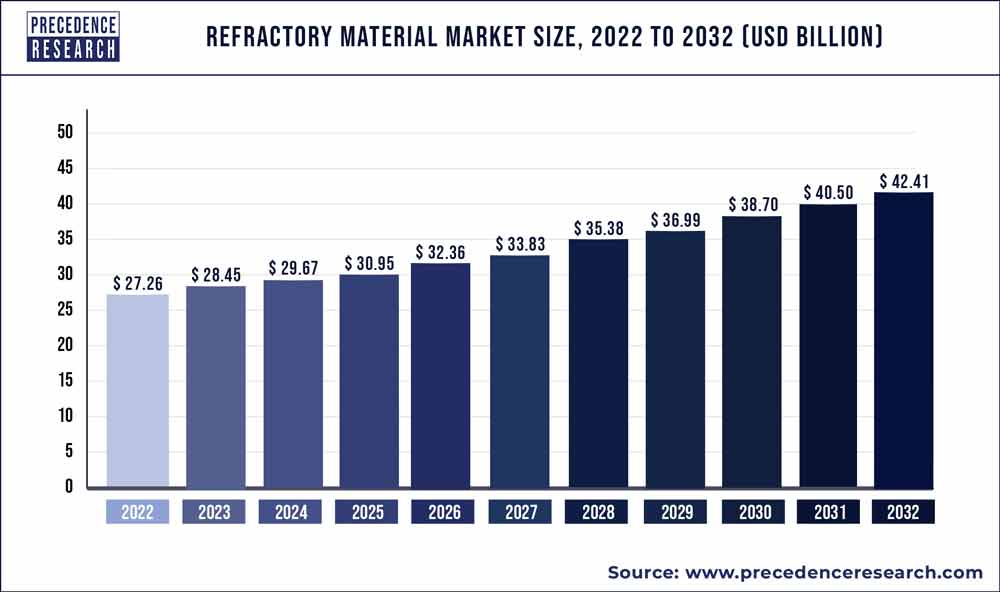 Access our Premium Real Time Data Intelligence Tool, Visit: Precedence Statistics
Key Takeaways
Asia-Pacific is expected to dominate the market over the forecast period.
By Chemical Composition, the fireclay segment is expected to hold the largest market share in 2022.
By Chemical Composition, the magnesia is expected to grow at the fastest CAGR of 6% over the projected period.
By Type, the shaped segment is expected to dominate the market during the forecast period.
By End Use, the metals & metallurgy segment dominated the market in 2022.
By End Use, the glass & ceramics segment is expected to grow at a CAGR of 6.1% during the forecast period.
Regional Insights
The Asia-Pacific region's market for refractory materials, which had 78.4% of the worldwide market share in 2022, is anticipated to grow at the highest CAGR of 4.9% during the projected period. This is a result of an increase in production capacity among iron and steel producers where refractory materials are frequently used for temperature stability reasons due to the growing demand for iron and steel from a wide range of end industries, including all of the industrial, constructing and infrastructure, automotive, and others. According to a study published by the India Brands Equity Foundation, 230 metric tons (MT) of finished steel would be used in India by 2030–31, rising from 93.43 tons (MT) in 2020–21. Additionally, the rapidly expanding Chinese cement industry has compelled producers of refractory materials to create high-quality refractory materials for use in furnaces, kilns, incinerators, and other high-temperature applications. For instance, according to a data released by the World Cement Association, China's output of cement clinker was 1.579 billion tons in 2020 and increased by 3.07% year over year.
North America refractory material market is growing at a CAGR of 4.2% from 2023 to 2032.
Europe refractory materialmarket is expanding at a CAGR of 3.8% between 2023 to 2032.
MEA refractory material market is poised to grow at a CAGR of 3.1% between 2023 to 2032.
Refractory Material Market Overview
Refractory materials are high-tech ceramic materials that can endure severe chemical corrosion at high temperatures as well as thermal and mechanical damage. By offering mechanical strength, corrosion resistance, and thermal insulation they play an essential but often underappreciated role in the everyday operations of practically every sector. For a variety of sectors to create important manufacturing processes, including iron and steel, glass, other metals, paper and pulp, cement, and petrochemicals, these goods have proved crucial.
In some sectors, like steel and other metals, these goods are regarded as consumables, and they must be changed periodically to maintain their function. On the other hand, since they may do their task for up to 10 years, sectors like glass and cement take their capital investment into consideration. The cost of refractory products makes up less than 3% and frequently less than 1% of the cost of produced goods, according to the World Refractory Association. However, refractory product applications and designs that are optimized can cut operational costs for end-use industries by up to 20%. Refractory materials are crucial for the development of the various end-use industries since they are produced in a non-toxic manner and over 90% of them are recycled or used again. However, the market for refractory materials has suffered as a result of the COVID-19 epidemic because of its reliance on the manufacture of cement, glass, steel, and metals, as well as mining, heavy industry, oil and gas, and other industries.
Growth Factors
Increasing investments in the iron and steel industries are what are driving the growth of the worldwide market for refractory materials. In both developed and emerging countries, like the U.S., China, and India, where refractory materials are extensively utilized for thermal insulation reasons, iron and steel output has increased due to rapid infrastructure construction and rising demand from the automobile industry. For instance, the Indian Steel Association (ISA) forecasts that the demand for steel would increase by 7.12% between 2020 and 2021. The usage of glass-based materials for a variety of applications has also expanded as a result of features including recyclability, transparency, and low raw material prices. Refractory materials are heavily employed in the manufacture of glass to ensure thermal stability. This is expected to fuel market expansion for refractory materials.
Report Scope of the Refractory Material Market
| | |
| --- | --- |
| Report Coverage | Details |
| Market Size in 2023 | USD 28.45 Billion |
| Market Size by 2032 | USD 42.41 Billion |
| Growth Rate from 2023 to 2032 | CAGR of 4.5% |
| Base Year | 2022 |
| Forecast Period | 2023 to 2032 |
| Segments Covered | Chemistry, Chemical Composition, Form, End Use and Region |
| Companies Mentioned | Calderys, Dalmia Bharat Refractory, IFGL Refractories Ltd., Krosaki Harima Corporation, Lanexis, Morgan Advanced Materials, RHI Magnesita GmbH, Saint Gobain, SHINAGAWA REFRACTORIES CO., LTD., Vitcas. |
Refractory Material Market Dynamics
Key Market Drivers
Steady Growth in Steel Industries - Materials for refractories cost between two and three percent more than steel. The development of the steel sector would be fueled by expanding infrastructure, the oil and gas, and the automobile industries. Although the cement, glass, and non-ferrous sectors continue to offer prospects for refractory businesses, the steel industry has a significant impact on those businesses' success.
Three-fourths of the demand for refractories worldwide comes from the steel industry, and it is anticipated that this dominance will last the whole projection period. Although the steel sectors have also been hurt by global overproduction, there has been a gradual rebound over the past year. Additionally, since the bulk of the areas focus on self-reliance and reducing imports, investments in the steel industry are projected to rise in emerging and underdeveloped nations.
Increasing Application in the Power Generation Sector - Due to the huge need for electricity globally, the rapid expansion of renewable energy, and other factors for a sustainable future, the power generation industry has experienced significant growth. The Energy Information Administration (EIA) estimates that geothermal energy generated 15.89 billion kilowatt hours of power in 2020 as opposed to 16.22 billion kilowatt hours in 2020. In addition, the Central Electricity Authority (CEA) predicts that India's electricity demand would increase to 817 GW by 2030.
Key Market Challenges
Environmental Hazards and Threats to Health - The environmental effect of refractory raw materials such carbon, carbides, silica, ceramic fibers, and others is significant. Long-term exposure to ceramic fiber can have negative effects on health, including skin irritation, respiratory problems, and even death. Additionally, the production of refractories produces toxic pollutants including nitrogen oxides, carbon monoxide, and others that have a negative impact on the environment. For instance, the Clean Air Act's Environmental Protection Agency (EPA) sets limitations on air pollutants (CAA). As a result, the market application and demand for refractory materials are hindered, which slows down and poses challenges for the refractory business. Refractory materials also pose serious environmental and health risks.
Key Market Opportunities
Recycling of refractory materials: When their lifespan is up, refractory materials can either be disposed of or recycled and then evaluated again. The refractory sector has supported recycling during the past 20 years, minimizing environmental harm and lowering implementation costs. According to research, there is no difference between the thermal stability of newly created refractory materials and those that have been converted. The most recent innovations in recycling systems have made this procedure simpler and more effective than before. Recycling of refractories hence aids businesses in lowering manufacturing costs, providing attractive chances for the expansion of this industry.
Diversifying their market base - Additionally, refractory manufacturers are expanding their customer base and focusing on companies that make materials other than iron and steel. The resilience and lifetime of refractories are being increased by refractory makers through the use of cutting-edge materials, making them more desirable and secure long-term investments for iron and steel companies. Additionally, producers are becoming more versatile with their product mix thanks to manufacturers who are refining their installation methods to cut down on downtime. Nonmetallics like cement, mineral, and lime have drawn a lot of interest; cement sales are likely to be the main driver of future refractory sales. A rise in infrastructure investment is anticipated by both cement and refractory manufacturers.
Chemistry Insights
The basic segment, which generated the most revenue in 2022, is projected to expand at a CAGR of 5% over the course of the projection year. In locations where the environment and slags are in basic conditions, basic refractory materials are employed. Basic refractory materials are useful for thermal insulation reasons in both offshore and onshore structures in kilns and incinerators, chemicals manufacturing industries, and the metal fabrication industry because they are stable to alkaline materials. This drives the global market for basic refractory material to increase.
Acidic segment is expected to growth at a CAGR of 4.6% from 2023 to 2032.
Natural segment is expanding at a CAGR of 2.7% between 2023 to 2032.
Chemical Composition Insights
The fireclay category led the worldwide market in 2022 based on chemical composition and is predicted to expand at a CAGR of 4.2% during the projected period. This is due to the fact that fireclay refractory material, which makes up about 76% of all refractory material production and is exceedingly adaptable and affordable, is utilized in the manufacture of iron and steel, cement, and other high-temperature processes in other industries. These elements are accelerating the market's expansion for refractory materials' fireclay sector.
Alumina segment is projected to reach at a CAGR of 4.6% from 2023 to 2032.
Silica segment is poised to hit at a CAGR of 5.3% over the forecast period 2023 to 2032.
Magnesia segment is predicted to hit at a CAGR of 6% from 2023 to 2032.
Form Insights
The shaped segment, which generated the most revenue in 2022, is projected to expand at a CAGR of 4.3% over the course of the forecast period. Shaped refractory materials offer supports for catalysts that are made of porous structures with large surface areas or honeycomb structures that retain the metal catalyst by allowing simple exposure to reactive gases or reactants. Shaped refractory material is used in applications that call for very effective thermal insulation solutions and catalyst support properties.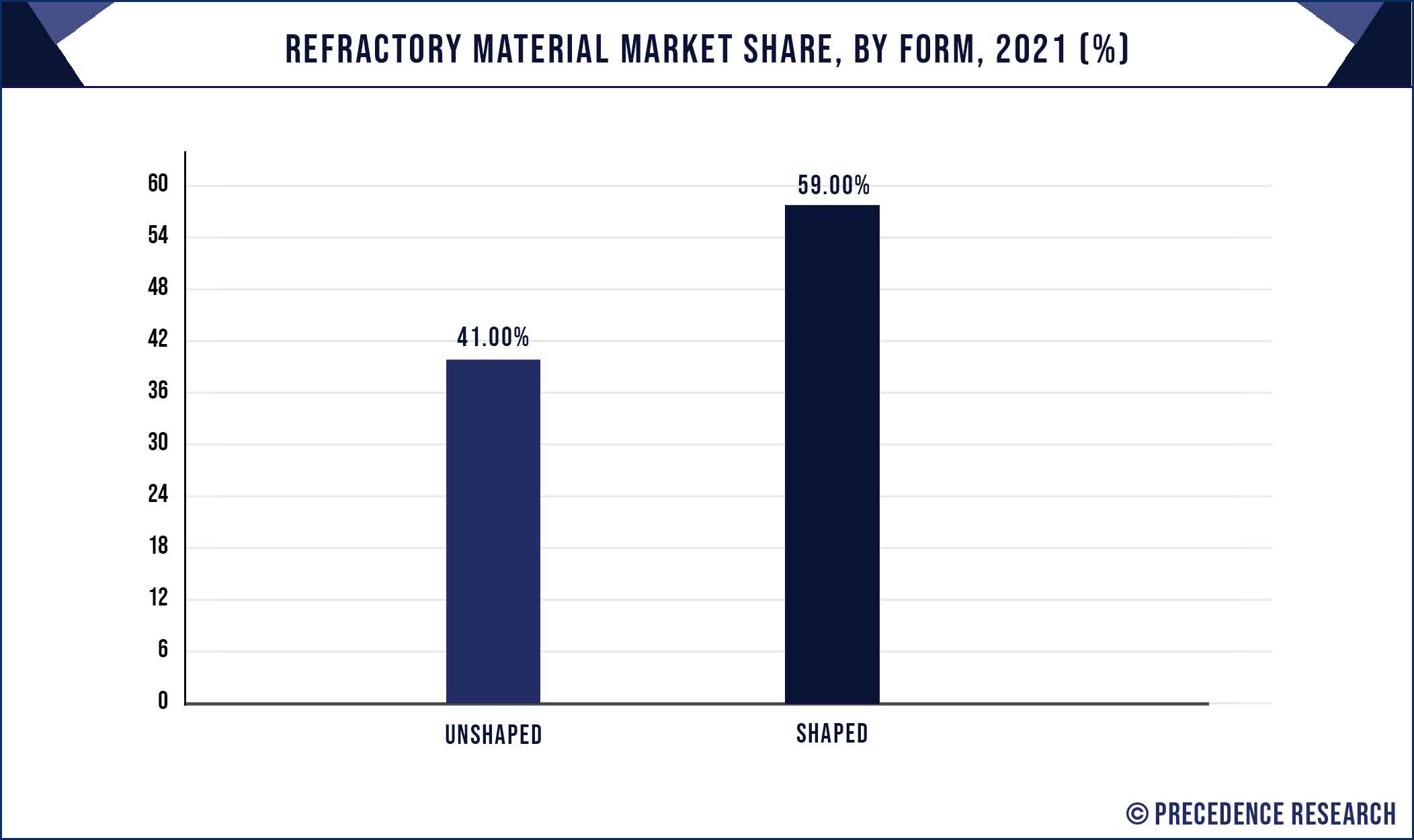 For example, shaped refractory material is preferred in the production of iron and steel, cement, glass, and other materials as well as for use as thermal insulation in furnaces, kilns, incinerators, and reactors. This element is accelerating this market segment's expansion on a global scale.
End Use Insights
The metals & metallurgy end use category, which led the worldwide market in terms of end use in 2022, is expected to expand at a CAGR of 4.1% over the course of the forecast period. This is explained by the rise in demand for iron and steel in industries like the automotive, infrastructural, industrial, railway, and others that frequently employ refractory materials to endure high temperatures.
Cement segment is poised to reach at a CAGR of 4.8% from 2023 to 2032.
Glass & Ceramics segment is exhibiting at a CAGR of 6.1%.
Power generation segment is growing at a CAGR of 5.4% between 2023 to 2032.
Refractory Material Market Share, By Region, 2021 (%)
| | |
| --- | --- |
| Regions | Revenue Share in 2021 (%) |
| North America | 10% |
| Asia Pacific | 78.40% |
| Europe | 7% |
| Latin America | 3% |
| MEA | 1.60% |
Recent Developments
October 2021: The Indian Refractory Makers Association (IRMA) claims that increasing freight and raw material costs are having an impact on India's overall cost of producing refractories. Over the past two quarters, the selling prices of refractory have increased by approximately 40% as a result of the steep rise in freight and raw material expenses. Due to the nature of its business, the Indian industry has extremely low profit margins and large working capital needs. It has also experienced significant financial sustainability issues in recent years as a result of steadily increasing prices across the board and margin erosion brought on by persistent consumer pressure on prices. The industry's susceptibility has increased as a result of COVID-19.
Key Market Players
Calderys
Dalmia Bharat Refractory
IFGL Refractories Ltd.
Krosaki Harima Corporation
Lanexis
Morgan Advanced Materials
RHI Magnesita GmbH
Saint Gobain
SHINAGAWA REFRACTORIES CO., LTD.
Vitcas
Market Segmentation
(Note*: We offer report based on sub segments as well. Kindly, let us know if you are interested)
By Chemistry
By Chemical Composition
Alumina
Silica
Magnesia
Fireclay
Others
By Form
By End Use
Metals & Metallurgy
Cement
Glass & Ceramics
Power Generation
Others
By Region
North America
Europe
Asia-Pacific
Latin America
Middle East & Africa (MEA)