The global nanomaterials market size was valued at USD 11.99 billion in 2022 and it is expected to hit USD 61.96 billion by 2032, registering growth at a CAGR of 17.90% from 2023 to 2032. U.S. nanomaterials market was accounted for USD 3.7 billion in 2022.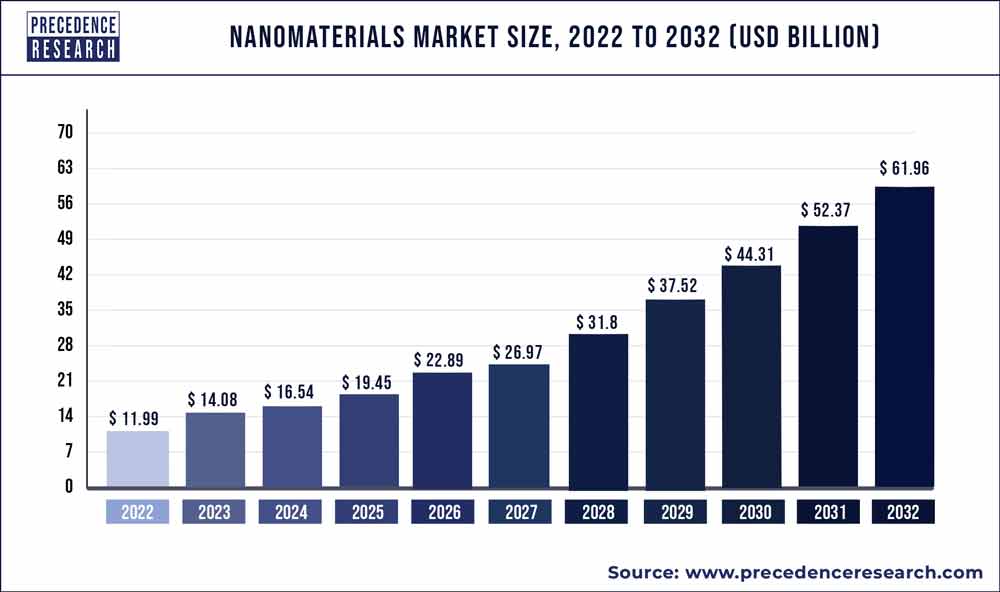 Growth Factors
Excellent physio-chemical properties and growing usage of nanomaterials in natural philosophy, healthcare, aerospace, and textiles industries are expected to drive the market over the forecast period. The declining demand in the aerospace, automotive, electronics sector continuing in 2020 amidst the COVID-19 pandemic has negatively impacted the industry. However, there has been a revival in demand in 2021 to the benefit of restrictions and money packages proclaimed by governments to jumpstart the economies that have improved client demand.
However, several research and development organizations are developing new potential usage of nanomaterials in the prevention, diagnosis, and treatment of Covid-19 and other viral diseases. Nanomaterials are increasingly being used in biomedical or imaging applications, implantation, phototherapeutic and drug delivery due to their antibacterial, antioxidant, and antitumor properties. Such medical applications are expected to the fuel the growth of the market in terms of value sales.
The market for nanomaterials is projected to grow at an incredible rate due to its wide application scope, thus the threat of entrants is predicted to be high. New market entrants would initial got to contend with corporations that have established a robust foothold within the trade additionally as a well-established client base. The threat of latest entrants is additionally expected as results of backward or forward integration by companies in operation in the parent market.
Report Scope of the Nanomaterials Market
| | |
| --- | --- |
| Report Coverage | Details |
| Market Size by 2032 | USD 61.96 Billion |
| Growth Rate from 2023 to 2032 | CAGR of 18.05% |
| Asia Pacific Market Share in 2022 | 36% |
| Medical Application Market Share in 2022 | 31% |
| Base Year | 2022 |
| Forecast Period | 2023 to 2032 |
| Segments Covered | Product, Application, Geography |
| Companies Mentioned | Strem Chemicals, Inc., American Elements, US Research Nanomaterials, Inc., Nanocomposix, Inc., Frontier Carbon Corporation, Nanoshel LLC, SkySpring Nanomaterials, Inc., Nanophase Technologies Corporation, Cytodiagnostics, Inc., Quantum Materials Corp |
Product Insights
By product, the carbon nanotubes section ruled the marketplace and accounted for the highest market share 25% in the year 2021. Carbon nanotubes are broadly utilized in lithium-ion batteries as they show off the best reversible capacity. Their massive floor region and capacity to soak up and conjugate diagnostic and healing marketers, which includes drugs, genes, vaccines, biosensors, and antibodies, have enabled the usage of carbon nanotubes in a huge variety of pharmaceutical and clinical programs.
The titanium nanoparticles section is expected to grow at a CAGR of 23% during the forecast period. The boom may be attributed to its developing programs in aerospace, chemicals, clinical, petrochemicals, and architectural industries. These also are used as antimicrobial, antibiotic, and antifungal marketers in plastics and soaps, nanofibers, bandages, nanowires, and textiles which in turn is likely to boosts its demand among these industries ultimately contributing towards the growth of the overall market in terms of value sales.
The silver nanoparticles section accounted for the second largest market share 15% in 2022. These are utilized in a wide variety of programs as antimicrobial marketers, biomedical tool coatings, drug-transport carriers, imaging probes, and diagnostic and optoelectronic systems due to their particular houses which include excessive electric conductivity, discrete bodily and optical houses, and biochemical functionality. Thus, the aforementioned facts are anticipated to drive it demand in the market contributing in overall market growth.
Aluminum Oxide nanomaterials are predicted to witness a large upward thrust in call for as a result of their awesome structural and physicochemical houses, which includes advanced resistance to mechanical stress, chemicals, and wear. The section is predicted to attain USD 1.9 billion with the aid of using 2028 and is predicted to witness large boom over the forecast period.
Application Insights
Depending on the application, the medical application segment accounted 30.7% revenue share in 2022.
The paints and coatings section is predicted to witness remarkable market share due to the improvement of cutting-edge technologies to tailor the manufacture and use of nanomaterials in the coating industry for particular needs. Nanomaterials enhance the hardening, UV-mild absorption, and biocide houses of paints and coatings. Titanium dioxide (TiO2) and silicon dioxide are most important nanomaterials utilized in paints. Additionally, Nano silver is increasingly used in paints due to its advanced antimicrobial as well as deodorizing houses. Thus, the aforementioned facts has driven the growth of the market in terms of value sales.
The demand for nanomaterials in electronics industry is extensively rising due to its growing penetration as nanowires, spintronic, and quantum dots in the nanoelectronics market. Furthermore, proliferation of the electronics industry owing to growing demand for high-tech products is anticipated to offer immense opportunities for the growth of the market during the forecast period in terms of value sales.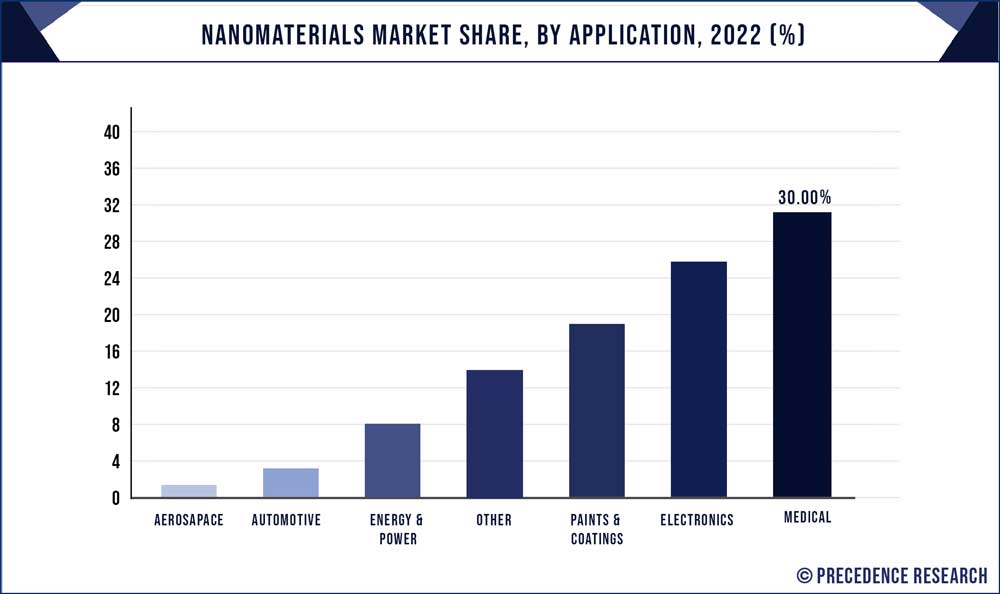 The energy and power segment is projected to witness growth at a CAGR of 15% over the forecast period. This is attributable to the growing demand for nanomaterials in batteries, gasoline cells, and photovoltaic movie coatings. Nanoparticles are drastically utilized in studies sports for acquiring green prototype sun panels, thermoelectric materials, and nano-bioengineering of enzymes. Thus, all the above mentioned factors are driving the demand for nanomaterials in the market.
Region Insights
Asia-Pacific accounted revenue share of around 38% in 2022 and is expected to retain its dominance during the forecast period. This is attributable to the growing use of nanomaterials in electronics, medical equipment, defense, textiles, and automotive industries in this region. In North America, the growth of the market is expected to witness a significant growth rate which is attributed the increasing usage of nanomaterials in energy and power industry.
In Europe, the market is predicted to significant growth rate, attributable to support from the national governments and investment within the several domestic markets in the region. Europe market is expected to surpass USD 4.8 billion by 2032. European Commission established a brand new USD 23.0 million cooperative project, the 2D-Experimental Pilot Line (2D-EPL), to explore the producing of breakthrough electronic devices, photonic devices, and sensors that integrate graphene and stratified nanomaterials within the region.
Key Market Developments
In March 2021, Cabot Corporation announced the launch of the ENERMAX 6 series of carbon nanotubes (CNTs). The ENERMAX 6 carbon nanotube products are the company's latest development in the field of high-performance CNTs. It has proven to be the best conductive multi-wall CNT product in Cabot's portfolio.

In March 2021, OCSiAl opened one of the cleanest facilities in the world for the production of distributed graphene nanotubes for lithium-ion batteries. The use of graphene nanotubes is currently the only cost-effective solution on the market to the degradation problem of silicon anodes. The newly opened factory sets a new safety standard: the entire production process, including the finished product dispersed packaging area

and the quality control area, has been designed for a clean room class.
Some of the prominent players in the global nanomaterials market include:
Strem Chemicals, Inc.
American Elements
US Research Nanomaterials, Inc.
Nanocomposix, Inc.
Frontier Carbon Corporation
Nanoshel LLC
SkySpring Nanomaterials, Inc.
Nanophase Technologies Corporation
Cytodiagnostics, Inc.
Quantum Materials Corp
Segments Covered in the Report
(Note*: We offer report based on sub segments as well. Kindly, let us know if you are interested)
By Product
By Application
Aerospace

Automotive

Medical

Energy & power

Electronics

Paints & Coatings

Others
By Geography
North America
Europe
Asia-Pacific

China
India
Japan
South Korea
Malaysia
Philippines

Latin America

Brazil
Rest of Latin America

Middle East & Africa (MEA)

GCC
North Africa
South Africa
Rest of the Middle East & Africa