The global quantum computing market size was exhibited at USD 10.13 billion in 2022 and is expected to surpass around USD 125 billion by 2030, poised to grow at a projected CAGR of 36.89% during the forecast period 2022 to 2030.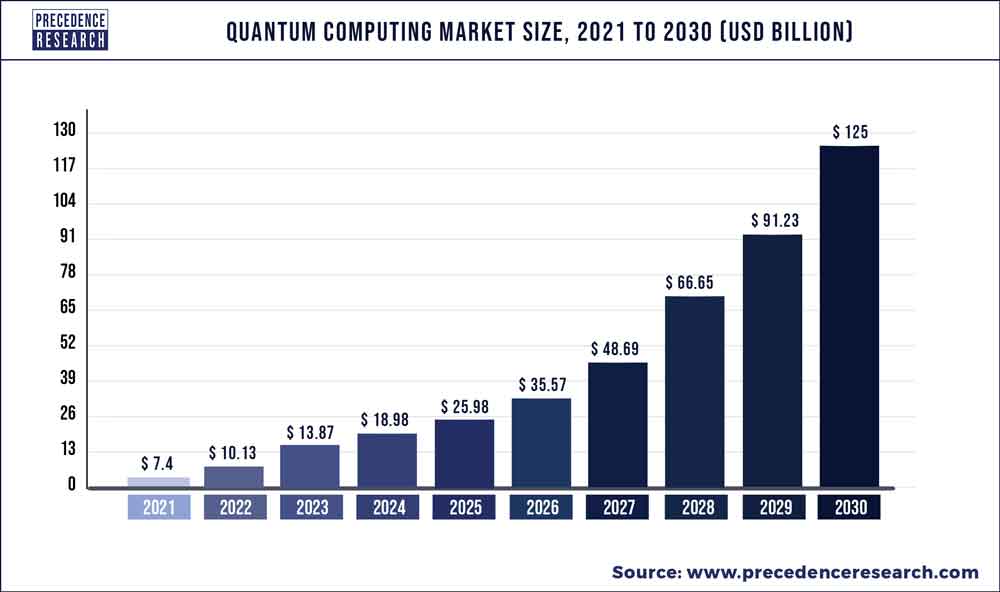 Access our Premium Real Time Data Intelligence Tool, Visit: Precedence Statistics
A sophisticated kind of computing known as quantum computing is based on quantum mechanics as well as quantum theory. Although it just uses zero and one bits, it makes use of every condition between zero and one, which results in exceptional performance. Sales are anticipated to increase as a result of its expanding applications in quantum parallelism, algorithms, cryptography, machine learning, and quantum simulation.
Pie Chart 3
Growth Factor
The market for quantum computing is expanding due to the rising need for high-performance computing. The worldwide quantum computing market is expanding as a result of reasons such as rising demand for SaaS business models, rising data center workloads, and complicated processor designs in traditional binary computing systems. In a traditional binary computer system, data is kept in small transistors, each of which can store a only "bit" of data, such as a 0 or 1. 1 and 0 are simultaneously stored and processed via the superposition phenomenon, which makes quantum computing significantly more potent than a classical-quantum computing system.
Governments' increasing funds in quantum computing technologies will also help the quantum computing market expand. The dynamics of the strategic balance of power, trade, and military affairs can shift as a result of quantum computing technology. Various governments intend to increase exploratory research on novel technologies in order to construct and develop quantum computing systems. The development of the global quantum computing market is anticipated to be aided by rising governmental expenditures in such solutions for a wide range of applications.
Additionally, more strategic agreements are being formed to advance the quantum computing market. It is challenging for producers of quantum computing systems to be all-around specialists in this rapidly expanding field. As a result, partnerships or alliances are crucial for market expansion. Additionally, it is essential to have new dimensions of application connection in order to maintain one's existing position in the quantum computing market or to develop new distribution channels. In order to benefit from new technologies in the workplace, businesses might connect with or open up to business partners. As clients continue to seek superior solutions with high capability and innovation, businesses with these strategic alliances also put an emphasis on innovations.
Increase in government funds and strategic alliances to drive industry growth
Early Adoption of Advanced Technologies to Fuel Market Growth in developed countries across the globe.
The early adoption of quantum computing in the banking and finance sector is expected to fuel the growth.
Report Scope of the Quantum Computing Market
Report Coverage
Details
Market Size in 2022
USD 10.13 Billion
Market Size by 2030
USD 125 Billion
Growth Rate from 2022 to 2030
CAGR of 36.89%
Base Year
2021
Forecast Period
2022 to 2030
Segments Covered

By Application
By End Use
By Offering Type

Regions Covered

North America
Europe
Asia-Pacific
Latin America
Middle East & Africa

Key Market Drivers
Rising digitization to drive growth despite pandemic
The COVID-19 epidemic has boosted the expansion of the quantum computing market as a result of increased digitalization across several industries. Leading businesses across a range of industries have also embraced contemporary technology to streamline operations and make work easier. In addition, the businesses adopted a culture of remote and work-from-home employment. These elements supported market expansion and growth during the epidemic.
The global increase in the number of cyber attacks
Since it is one of the cutting-edge platforms that provide security to applications and software systems, keeping them secure from cyber-attacks like ransomware, phishing attacks, and others, the quantum computing sector is seeing tremendous growth mostly owing to increasing cyber threats. Additionally, a variety of approaches to applying quantum computing to cybersecurity are being developed by the businesses involved in the quantum computing sector. For instance, Cambridge Quantum Computing and the National Physical Laboratory recently established a cooperation that would develop quantum computing. The main objective of the alliance is to use quantum computers for network, cyber security, Artificial Intelligence, modeling, traffic, drug research, and optimization.
Key Market Challenges
Lack of highly skilled employees
Utilizing quantum computers for cybersecurity, drug research, AI, modeling, traffic, network, and optimization is the core goal of the partnership. The demand for quantum computing services may rise as a result of these developments in the market.
Key Market Opportunities
Need for quantum computing in multiple industries
The growing demand across a range of end-use industries, including defense, BFSI, and others, is what propels the worldwide quantum computing market. Rapid technical breakthroughs and an increasing reliance by different industries on sophisticated computing technologies to address complicated issues that even the most powerful supercomputers of today can't handle are supporting market growth. The industry is expanding rapidly as a result of the flourishing sectors in emerging nations, including, among others, the chemical, energy, and pharmaceutical industries. The government's increasing expenditures in quantum computing technology to create cutting-edge solutions and broaden their quantum computing knowledge base are projected to give the market growth more impetus throughout the course of the projection year.
Segments Insight
Application Insights
Quantum algorithms are included in machine learning software as part of quantum machine learning. It becomes exceedingly challenging to systematically sort a large number of variables in complicated models. Therefore, consumers can use quantum computing technology to quickly and accurately address this complexity.
End Use Insights
According to end use, the BFSI had a sizeable market share and is anticipated to expand significantly over the next years. Due to the potential processing capability of quantum computers, this rise can be linked to the banking and financial industry's early embrace of quantum computing technologies. Quantum computing is essential in the banking sector for addressing pressing issues like cybersecurity to protect clients' financial information. Quantum cryptography offers much higher degrees of protection than the existing state of digital security for client financial information. Over the course of the forecast period, this element is anticipated to help the market develop even more. Due to the worldwide COVID-19 pandemic epidemic, the healthcare and pharmaceutical industry is anticipated to increase strength throughout the projection period. Healthcare quantum computing improves health plans by speeding up diagnosis, personalizing treatment, and lowering costs. It may offer quick and accurate diagnosis alternatives to the patients.
Offering Type Insights
The global industry's expansion is mostly related to its increased use in drug development, the formulation of novel compounds, material science, aerospace & military, chemicals, healthcare, and energy & power. Quantum computing is also receiving more attention as a way to enhance cloud-based systems. Additionally, a large number of market leaders in the e-commerce sector are utilizing quantum computing services. For instance, Amazon.com, Inc., a pioneer in e-commerce, cloud computing, and artificial intelligence, stated in December 2019 that it has joined the QCaaS (Quantum Computing as a Services) market in order to introduce "Amazon Bracket." It is a fully-managed service that enables scientists, researchers, and developers to start experiments using computers from several quantum hardware manufacturers in one location. During the anticipated time, these crucial elements are anticipated to increase demand for quantum computing in the global market. Due to the rising demand for quantum computing in various fields, including machine learning, artificial intelligence, and radar manufacturing, the system sub-segment type is expected to have a dominant market share in the global market and generate revenues of $313.3 million during the analysis timeframe. Compared to regular computers, these systems are more exact in their decision-making. As a result, adopting these integrated systems allows researchers to conduct the better study. Throughout the projected period, these activities might provide a ton of chances for the sub-segment.
Regional Insights
The rapid use of quantum computing technologies across a variety of industries in the Europe area, including healthcare, chemicals, utilities, and pharmaceuticals, is one of the major drivers of the Europe quantum market's rapid expansion. Additionally, its increased use in industries including medicine development and discovery, cryptography, cyber security, and the military industry is projected to increase demand for quantum computing services, which would eventually speed up the expansion of the quantum computing market during the study period.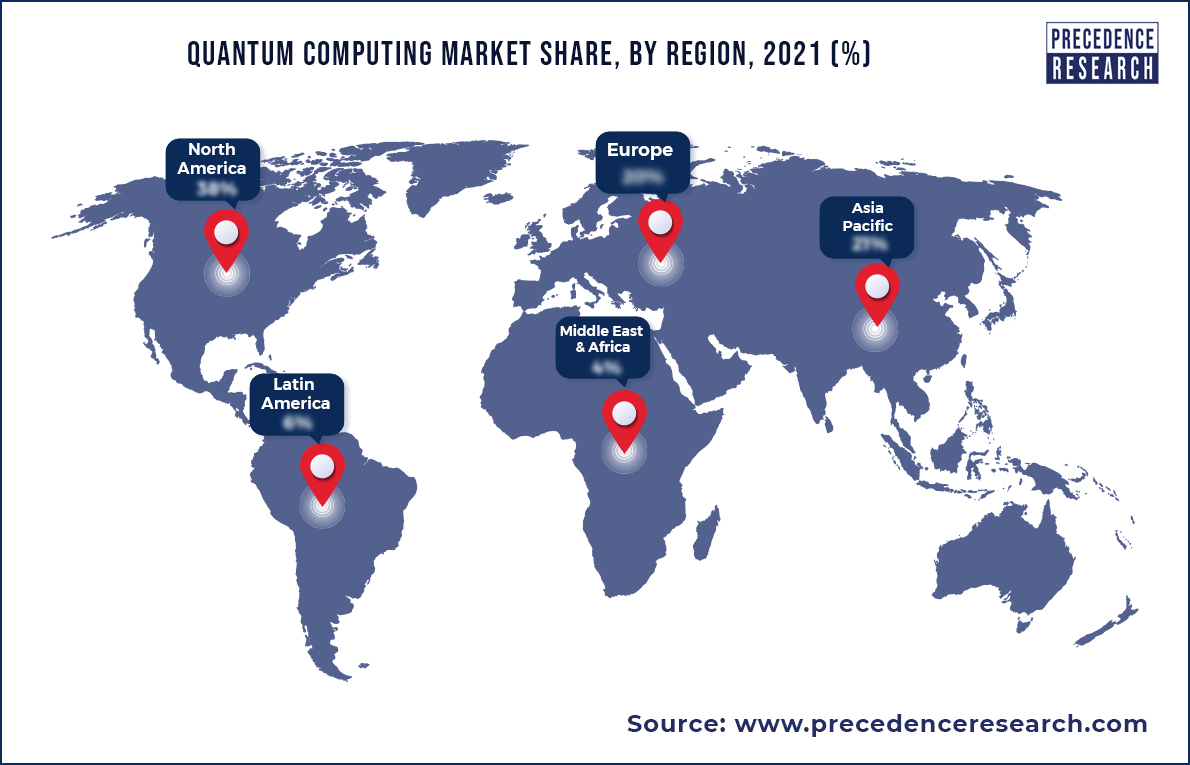 Quantum computing technology is being widely adopted in this area as a result of the significantly growing presence of many consumers with an Asia Pacific base and outstanding companies in this industry. China has been the top investor in quantum computing in the APAC area as governments have begun committing and paying for the development of the technology. For instance, China developed national policies in 2016 to achieve self-sufficiency in quantum computing technology. A research center for quantum computing was built with more than US$ 13 billion from the Chinese government and is scheduled to launch in the year 2021. Additionally, the investment portfolio in R&D and strategic alliances will benefit the local market. For instance, in December 2019, D-Wave Systems joined up with Japan's NEC to create quantum applications and hybrid HPC to explore the potential of both D-quantum Wave's systems and NEC's high-performance computers. Such alliances could accelerate market expansion during the study period.
Recent Developments
Classic and NTT Data collaborated to build algorithms for credit risk analysis in December 2021. In addition, classic software will allow end users to set algorithms that are targeted at different quantum hardware platforms, which will in the future provide a possible lender with a more precise or quick answer.
In November 2021, Q-CTRL, a company that offers quantum control systems, announced a $ 25 million Series B fundraising round, sponsored by Airbus Ventures. The business will be able to create new data as a service market employing quantum sensors for acceleration, magnetic fields, and gravity thanks to this breakthrough.
Key Market Players
IBM Corporation (New York, U.S.)
D-Wave Systems Inc. (Burnaby, Canada)
Cambridge Quantum Computing Ltd. (Cambridge, U.K.)
Intel Corporation (California, U.S.)
Rigetti & Co, Inc. (California, U.S.)
Google LLC (California, U.S.)
Quantica Computacao (Tamil Nadu, India)
Zapata Computing (Massachusetts, U.S.)
XANADU (Toronto, Canada)
Accenture Plc. (Dublin, Ireland)
Segment Covered in the Report
(Note*: We offer reports based on sub-segments as well. Kindly, let us know if you are interested)
By Application
Machine Learning
Optimization
Biomedical Simulations
Financial Services
Electronic Material Discovery
Other (Traffic Optimization, Weather Forecasting, and others.)
By End Use
Healthcare and Pharmaceuticals
Chemicals
Defence
BFSI
Energy and Power
Others
By Offering Type
Consulting Solutions
Systems
By Geography
North America
Europe
Asia-Pacific
Latin America
Middle East & Africa (MEA)