The global synthetic rubber market size was estimated at USD 39.8 billion in 2021 and is expected to hit around USD 69.2 billion by 2030 with a registered CAGR of 6.34% during the forecast period 2022 to 2030.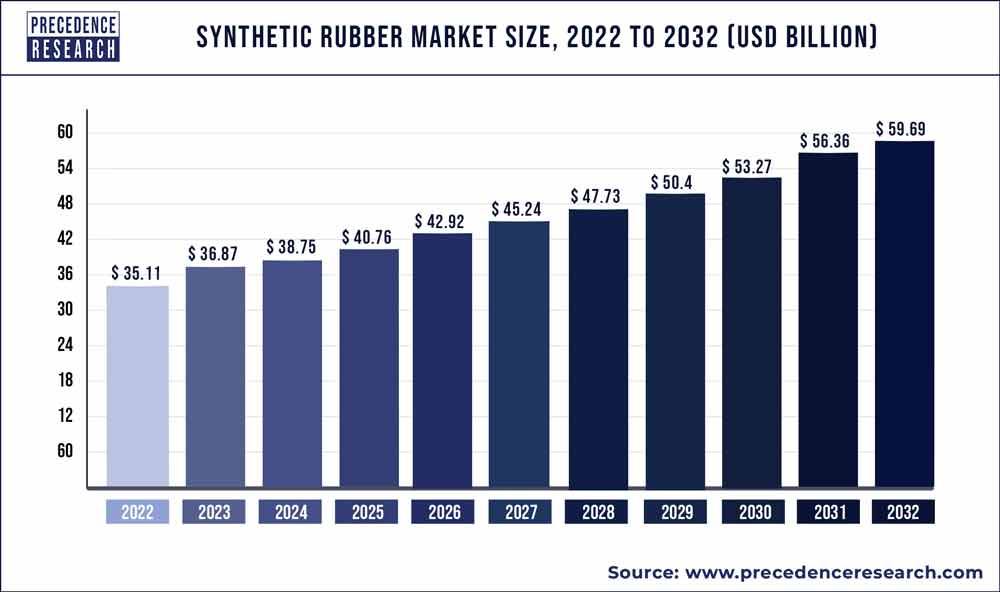 The imposition of stringent movement restrictions and lockdowns during the COVID-19 pandemic, the synthetic rubber industry saw a decrease in both volume and value. This caused a serious interruption in industrial facilities and supply lines. As a result, the market for synthetic rubber has been significantly impacted by the decline in output in the automotive and other industries caused by the scarcity of raw materials, primarily latex, as a result of the postponed trade activities.
The growth of the automotive accessory and component industries is directly influenced by the expansion of the automobile industry. Rubber and rubber products are employed in the automotive sector for a variety of applications, including flat seals, O rings, adhesives & sealants, suspension systems, vehicle anti-vibration systems, and fluid transfer systems. In addition, a number of parts found in the engine compartment, including engine seals and hoses for air conditioning systems, are made of premium synthetic rubber. Thus, the market for synthetic rubber is being driven by the expanding automobile sector.
In May 2020, Iowa State University researchers said that they had discovered a new method that might significantly boost the longevity of perovskite cells, leading to a rise in the consumption of solar panels. Perovskite models are known for being cheap, however they are frequently not particularly robust. Contrarily, this new research conclusion means that durability won't be a problem.
Growth Factors
The global need for synthetic rubber is being fueled by an increase in demand from the footwear sector. The footwear business uses a broad range of materials to create footwear, from specialized items like protective and safety footwear to leisure footwear. The exceptional physical properties of synthetic rubber make it ideal for making shoe soles. These properties include abrasion resistance, durability, tensile resistance, slip resistance, tear strength resistance, oil resistance, and the ability to be molded in many colours.
Report Scope of the Synthetic Rubber Market
| | |
| --- | --- |
| Report Coverage | Details |
| Market Size in 2022 | USD 42.32 Billion |
| Market Size by 2030 | USD 69.2 Billion |
| Growth Rate from 2022 to 2030 | CAGR of 6.34% |
| Base Year | 2021 |
| Forecast Period | 2022 to 2030 |
| Segments Covered | Form Type, Type, End Use Industry, and Geography |
| Companies Mentioned | Asahi Kasei Corporation, The Dow Chemical Company, DuPont, LANXESS AG, Exxon Mobil Corporation, Dynasol Elastomers S.A., TSRC Corporation, Versalis S.p.A., Sumitomo Chemical Co., Ltd., KUMHO PETROCHEMICAL, China National Petroleum Corporation (CNPC), China Petroleum & Chemical Corporation (Sinopec Corporation) |
Key Market Drivers
Increasing demand from the automotive industry
The market will develop as a result of the growing demand from the automotive sector for synthetic rubber. Artificial rubber is favoured in the automobile sector because to qualities like abrasion and temperature resistance. The outstanding anti-slip properties of artificial rubber make it ideal for use in automobile pedals and interior flooring mats. Applications for it include flooring, door and window profiles, hoses, O-rings and gaskets, and belts. It is also widely used in tyre applications.
Additionally, it is anticipated that the growing demand for autos on a worldwide scale would increase product consumption, especially as rubber goods are used to produce various motorcycles and cars. The demand for the product will increase over the forecast period due to the fast expansion of the automotive sector and rising R&D activities.
Increase in shift towards eco-friendly tires
Demand for green products, such as environment friendly tyres, has surged due to worries about the state of the environment. Due to strict restrictions in the Europe and the North America region, tyre producers are concentrating on manufacturing environmentally friendly and high-performance tyres. The creation of environmentally friendly tyres has been the subject of increasing manufacturer initiatives in recent years, which has also increased need for synthetic rubber.
Kumho Petrochemical said in August 2021 that the company will employ biosilica made from rice bran, which is ecologically benign, to the high-performance synthetic rubbers involving S-SBR. It says that in comparison to earlier silica-based manufacturing techniques, this will cut CO2 emissions by as much as 70%. As a result, these activities will accelerate the demand for synthetic rubber products in the years to come.
Key Market Challenges
Volatility in Prices for raw materials - The price volatility of raw materials is one of main issues that the market for synthetic rubber has to deal with. Prices on the very competitive synthetic rubber market reflect even little changes in demand and supply. The cost structure of synthetic rubber producers' goods is based on the pricing and available raw ingredients. Because petroleum byproducts are used to make synthetic rubber, variations in the price of crude oil directly affect the cost of synthetic rubber. Price plays a significant role in many end customers purchasing decisions in the global market for synthetic rubber. Styrene butadiene rubber based in Asia rates increased in 2021 from its previous 2020 average valued at 1.21 persent/kg, resulting a four-year high in the month of August.
Key Market Opportunities
Notable trends from automotive industry to propel industry outlook - The need for anti-slip qualities across tyre applications, including door and window profiles, hoses, O-rings and gaskets, flooring, and belts, will drive an increase in the market share for synthetic rubber. Given the demand for abrasion and temperature resistance, synthetic rubber is anticipated to gain popularity in the automobile industry. It is important to note that the use of artificial rubber has increased as a result of its adaptability for situations with high temperatures, chemicals, greases, and oxidising substances.
Increasing growth of the aerospace industry - One of the key end-use industries that is boosting demand for synthetic rubber is the aerospace sector. Rubber is crucial to the aerospace sector, which encompasses both spaceflight and aviation. Synthetic rubber known as silicone has been utilised in heat shields, adhesives, and seals. The industry is expanding due to the invention and refining of numerous types of synthetic rubber. Synthetic rubber is necessary for thermal insulation, LED lights and gaskets, window and door seals, O-rings, vibration dampening, and other parts and components. In the next years, rising aircraft industry expansion is predicted to boost synthetic rubber demand.
Segments Insight
Type Insights
The synthetic rubber industry was dominated by ethylene propylene diene monomer (EPDM), and this dominance is predicted to persist from 2022 through 2030. The most popular and practical form of synthetic rubber is EPDM, which has a wide range of uses including wire and cable connections, insulators, accumulator bladders, diaphragms, radiator and heater hoses, window and door seals, and more. Extremely heat- and oxidation-resistant, this rubber. It is indestructible at temperatures as high as 150 degrees.
Additionally, it offers good resistance against damp and humidity. Furthermore, the roofing material EPDM is utilised to fix leaks. Liquid EPDM is combined with a pre-measured bottle catalyst to produce a highly special chemical cross link that results in a really robust connection. The demand for EPDM is rising as a consequence of the aforementioned causes, which is further anticipated to accelerate the expansion of the synthetic rubber market over the course of the projected year.
End Use Industry Insights
The market for synthetic rubber was led by the transportation industry in 2021, and it is expected to continue to develop at an 8.3% CAGR from 2022 to 2030. The major user of synthetic rubber, which is used to make tyres, is the transportation sector. Synthetic rubber is ideal for creating items that are utilised in transportation because of its durability, elasticity, and flexibility. The need for synthetic rubber is anticipated to rise as investments in the automotive, aerospace, marine, and other industries rise.
UK Business Minister Paul Scully reported a nearly £90 million (US$101.4 million) investment in five aerospace projects in March 2021 under the Aerospace Technology Institute (ATI) Program. Invest India reports that 118 marine projects worth $7.7 billion have been authorised during the past four years. Therefore, it is projected that increasing transportation sector investments would further fuel market expansion.
Regional Insights
Because nitrile rubber and styrene-butadiene rubber are becoming more and more popular, both long-established companies and newcomers are anticipated to look for chances in China, Australia, and India. The rise of the footwear industry and the escalating infrastructure projects bode well for the future of the region. Due to increased manufacturing of various grades of non-automotive items and tyres, the Asia Pacific synthetic rubber industry will experience rapid expansion.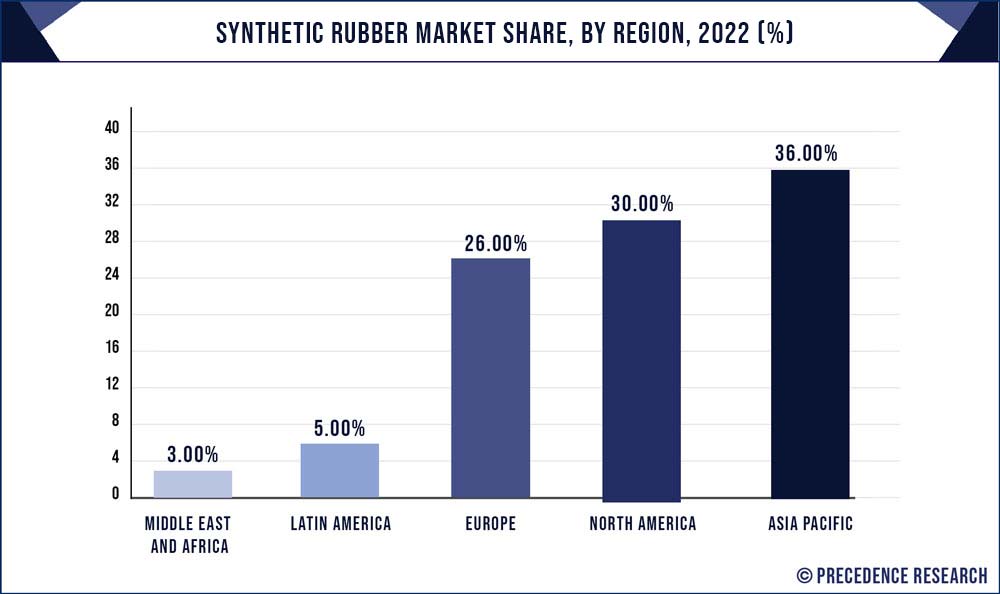 On the heels of expanding nitrile rubber demand across industrial products applications, the forecast for the synthetic rubber industry in Europe will be positive. Additionally, the heavy foot traffic of tyres, hoses, and belts across Germany, the U.K., France, and Italy will be beneficial for local economy. Artificial rubber has also become more popular in footwear and non-tire automotive uses.
Following the penetration of electrical & electronic and tyre throughout the U.S. and Canada, industry players anticipate that North America will provide attractive growth potential. The development of industrial rubber items and improvements to tyres will promote regional growth. It's important to note that the man-made rubber will mostly benefit the construction and aircraft industries.
Recent Developments
Asahi Kasei Company purchased Veloxis Pharmaceuticals Inc. in March 2020. (US). The company's very presence in the pharmaceutical business will be strengthened as a result of this purchase.
To meet local demand, Sibur and Sinopec established a joint venture in September 2019 to manufacture nitrile rubber in Russia.
Segments Covered in the Report
(Note*: We offer report based on sub segments as well. Kindly, let us know if you are interested)
By Form Type
By Type
Acrylic Rubber (ACM)
Butadiene Rubber (BR)
Styrene Butadiene Rubber (SBR)
Butyl Rubber (IIR)
Ethylene Propylene Diene Monomer (EPDM)
Fluoroelastomers (FKM)/ Viton
Isoprene Rubber (IR)
Nitrile Rubber (NBR)
Polychloroprene (CR)/ Neoprene
Polysulfide Rubber (PSR)
Silicone Rubber (SiR)
Others
By End Use Industry
Transportation

Automotive
Marine
Aerospace
Others

Building and Construction
Medical
Textile & Apparel
Food & Beverage
Others
By Geography
North America
Europe
Asia-Pacific
Latin America
Middle East & Africa (MEA)