The global synthetic leather market was accounted for USD 29.6 billion in 2019 and expected to grow at a compound annual growth rate (CAGR) of 4.6% during the forecast period from 2020 to 2027. It is projected to hit at USD 40.5 billion by 2027.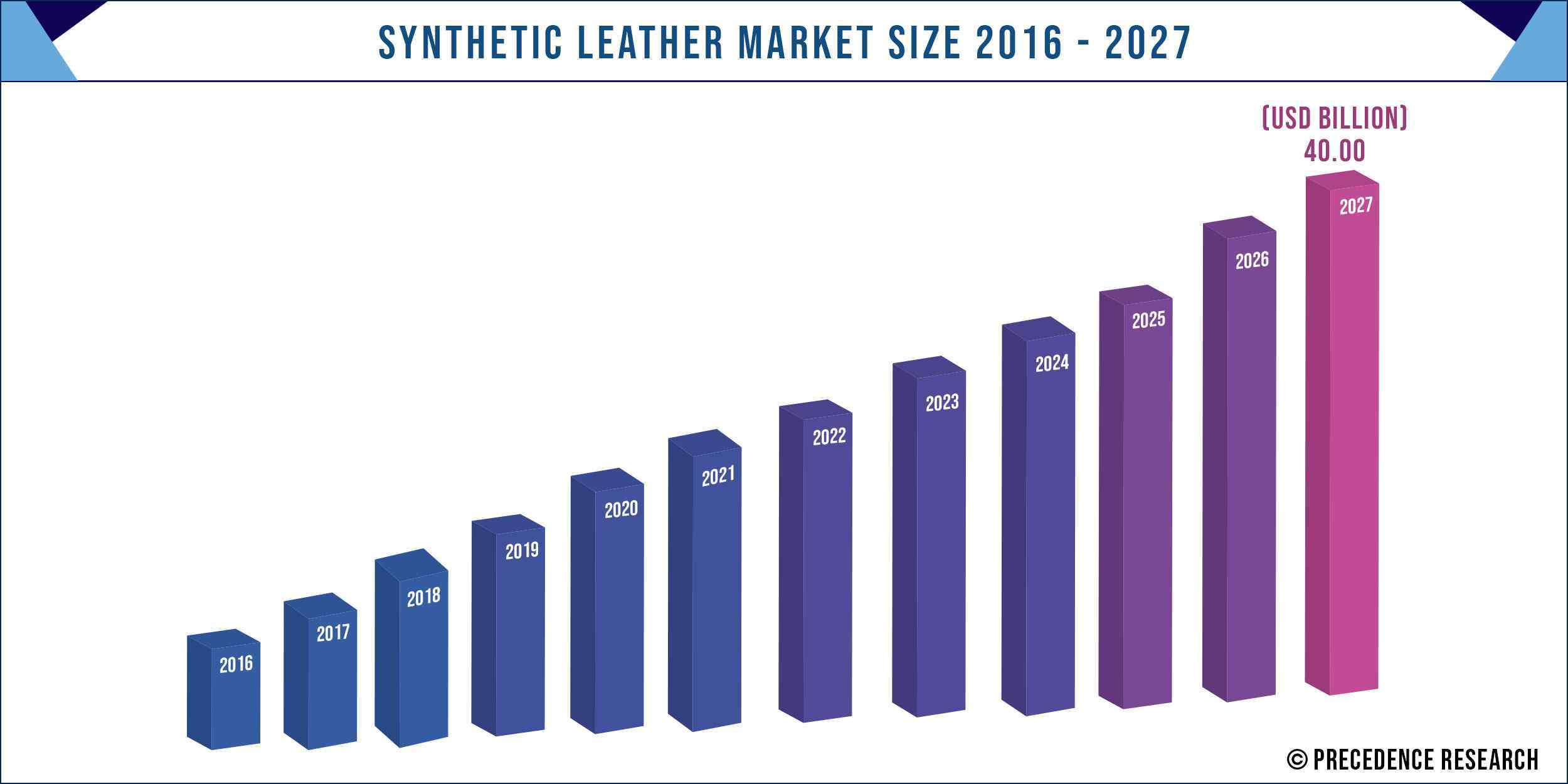 The synthetic leather market is expected to grow significantly over the forecast period owing to the rising demand for synthetic leather in footwear and automotive applications. Synthetic leathers are blends of polyurethane and polyvinyl chloride. At present, several market players are also engaged in the introduction of bio based materials for leather. Increasing demand for synthetic leather in the footwear industry owing to cheaper prices is expected to fuel the market growth over the forecast period. However, the outbreak of the COVID-19 pandemic is expected to impact the demand for synthetic leather in applications such as automotive, footwear, furnishing, and others in the short-term.
Synthetic leather has been replacing genuine leather at a steady rate. The market is expected to gain considerable market share in the footwear segment in the coming years on account of rising usage of artificial leather grades in boots, sneakers, women's sandals, and men's formal shoes. Moreover, increasing per capita disposable income is expected to boost the demand for synthetic leather in various application segments.
Increasing market penetration of synthetic leather materials in automotive interior applications is expected to be a critical factor for growth. Car manufacturers are adopting synthetic leather materials owing to their high durability, wear resistance, and cost-effective production. Passenger vehicles targeted primarily at the middle income class consumer group are the major end user of faux leather in automotive segment. Faux leather is affordable and easier to maintain as compared to real leather, which aids in attracting a large number of consumers. Utilization of artificial leather reduces the overall cost of the vehicle, thereby assisting manufacturers in achieving stable economies of scale.
Growth Factors
Increasing demand of footwear expected to be a major factor that propels the overall market growth for synthetic leather. Synthetic leather is a suitable alternative as it comprises of a cloth base that is coated with synthetic resins. Thus, synthetic leather completely serves the purpose of real leather by offering a leather-like finish, thereby anticipated to augment its demand across wide application area that includes footwear, fabrics, upholstery, clothing, and others. The production process of synthetic leather has evolved over the past few years to curb down the rate of hunting and protect the animal life.
The global demand for leather materials has seen a paradigm shift owing to its increasing application across automotive, furnishing, bags, clothing, and many others. Manufacturers have been focusing significantly to shit their sources for raw materials towards the Asian suppliers for example Vietnam and China because of low cost of labor & fright along with an abundance of raw material in the region. However, the recent spread of corona virus across the globe has drastically impacted the demand for synthetic leather because of several preventive measures undertaken by the governments of various regions to control the spread of the pandemic. This has resulted in sudden fall in the trade and demand of synthetic leather across the globe projected to have a negative impact on the growth of the market over the near future.
Market Drivers
GROWING DEMAND FROM FOOTWEAR SECTOR
Footwear was the largest application segment for synthetic leather in 2022. The footwear industry has witnessed a significant growth in recent years owing to the rising demand from emerging markets, as consumer spending in the U.S. and some countries in Europe has slowed down slightly owing to the global recession.
Increasing investment by foreign players will further propel industry penetration in emerging economies in the near future. Luxury brands have been among the first to respond to the shift in global consumer spending. In 2016, brands like Prada have opened 27 new stores in Asia Pacific, which amounts to approximately 35% of the total number of stores of the brand. Such initiatives are expected to play a crucial role in improving the market penetration of synthetic leather brands over the next few years.
International players also have to adjust their pricing strategies as per the local competition in developing economies. This will be a key challenge for multinational players. In addition, the influx of new customer groups will put some pressure on product development channels to meet diverse needs and preferences. Footwear brands have to take into consideration the rising middle class, which is expected to be the major growth driver for the overall market in the near future.
VIABLE ALTERNATIVE TO NATURAL LEATHER
Natural leather is obtained from animals, which has resulted in animal killings. There have been various guidelines and laws established by various countries in order to protect animal rights. Animal right laws have become a major hurdle for natural leather manufacturers in several countries. Manufacturing activities of natural leather, especially tanning, lead to pollution of the nearby surroundings. This is another major reason leading to the shift in preference toward synthetic leather. Stringent environmental laws and government regulations have been influential in promoting the demand for synthetic leather.
PVC leather is another crucial type of synthetic leather and has witnessed increased market penetration primarily on account of its wide range of applications, including shopping bags, wallets, cosmetic bags, wallets, suitcases, handbags, and travel bags. Several manufacturers have ramped up their production of PVC leather owing to its cost-effectiveness.
India is among the world's top five producers of leather. However, the Central government of India has banned the slaughter of cows for meat and leather, which has adversely affected the leather industry in the country. Most of India's leather and meat industry comprises unorganized players, owing to which a reduction in the annual production from these industries is not feasible to estimate. The market situation has widened the demand-supply gap of genuine leather, which is expected to supplement the India PU synthetic leather market's growth over the forecast period.
Market Restraint
DAMAGING EFFECTS OF PVC AND PU
PVC is derived from plastic sources and, like most plastics, it contains carcinogens and other toxic chemicals that can transfer to the user's skin through contact. Furthermore, PVC has a very slow rate of biodegradation and therefore has a negative impact on the environment. Similar toxicity concerns do not apply to PU, as it is only toxic during its production and, once dried and sealed, does not represent a threat as with PVC.
The production of PU fabrics can be toxic for factory workers, as it releases harmful chemicals. The production process involves the use of solvents mostly used for painting the polyurethane in liquid form on a fabric backing. Solvents required in this process are highly toxic. However, new polyurethane versions use waterborne coatings, which do not have the same kind of damaging impact on the environment as exhibited by other grades. This is expected to be a key aspect in terms of overall product development and sustainability. In addition, synthetic leather made from PU or PVC cannot be remade into leather products, as it does not recycle very well and cannot be reused when it is worn out.
On account of the aforementioned harmful impact on the environment, the demand for PU synthetic leather is likely to be restrained over the forecast period. Most consumers prefer genuine leather owing to properties that enable it to age finely and make it more durable as compared to faux leather. Genuine leather is also biodegradable in nature, unlike PU leather. These advantages of genuine leather may pose a threat to the PU leather market's growth over the forecast period.
Product Insights
Polyurethane (PU) synthetic leather segment captured the largest value share of more than 53% in the year 2022. Further, the segment witnesses promising growth over the upcoming years owing to the product quality, yield, and variety. PU is softer, waterproof, and lighter than real and other types of synthetic leather; in addition, it can be dry cleaned as well as torn easily than real hides. It also does not get affected from the sunlight. In addition, the product type does not emit dioxins that make it an eco-friendly substitute for the vinyl-based products. Collectively all the above-mentioned factors expected to further augment the product demand.
PU synthetic leather market estimates and forecasts, 2020–2022 (Million Meters) (USD Million)
| | | | |
| --- | --- | --- | --- |
| Product | 2020 | 2021 | 2022 |
| Volume (Million Meters) | 9,343.5 | 9,992.1 | 10,695.7 |
| Revenue (USD Million) | 18,660.7 | 20,190.2 | 21,865.4 |
Besides this, the PVC product segment expected to register slow growth over the analysis period. It was the very first type of synthetic leather that was initially produced using carcinogenic chemicals. It was proved to be an ideal material for furnishing and household applications. PVC was unable to maintain the body heat as well as gave a sticky feel when touched; while PU proved to be beneficial in these terms. Hence, the market demand for PVC decreased particularly in bags and clothing sectors.
Bio-based product expected to witness prominent growth over the forthcoming years owing to presence of polyester polyol that has 70% to 75% renewable content. Further, it is softer as well as has better scratch resistance properties compared to PU and PVC.
Application Insights
Footwear accounted for the maximum revenue share of more than 31% in 2022. Increasing income levels along with economic growth, especially in the developing countries has fueled the demand for footwear. In addition, the segment is also driven by the changing climatic conditions of different regions that require different types of footwear.
Footwear synthetic leather market estimates and forecasts, 2020–2022 (Million Meters) (USD Million)
| | | | |
| --- | --- | --- | --- |
| Product | 2020 | 2021 | 2022 |
| Volume (Million Meters) | 5,612.4 | 5,973.2 | 6,362.5 |
| Revenue (USD Million) | 10,354.1 | 11,149.7 | 12,017.6 |
Rising athleisure trend of including athletic shoes in daily lifestyle also projected to flourish the growth of the segment. Further, the price of faux leather footwear is three times less compared to ones made from animal hide that again boosts the growth of the segment. In addition, furnishing industry is also one of the prime applications of synthetic leather because of its lower price than animal hides. However, Polyurethane (PU) is widely used in the automotive sector because of its non-sticky and soft touch properties compared to other products.
Regional Insights
The Asia Pacific encountered the largest value share of more than 42.5% in the year 2022 and expected to maintain the same trend over the analysis period. India, China, and South Korea are the major countries that drive the growth of the market in the region. Further, increasing disposable income along with rising population across the region offers numerous opportunities for the market growth.
North America synthetic leather market estimates and forecasts, 2020–2022 (Million Meters) (USD Million)
| | | | |
| --- | --- | --- | --- |
| North America | 2020 | 2021 | 2022 |
| Volume (Million Meters) | 3,211.2 | 3,398.1 | 3,599.2 |
| Revenue (USD Million) | 6,755.7 | 7,219.2 | 7,721.7 |
North America and Europe witness sluggish growth owing to the maturity of the market. In addition, the ongoing trade war between China and the U.S. along with drastic decline in the cross-border trade with the spread of the coronavirus pandemic that originated in Wuhan, China, has initiated trust issues between the two countries that further expected to negatively impact market growth in the upcoming years.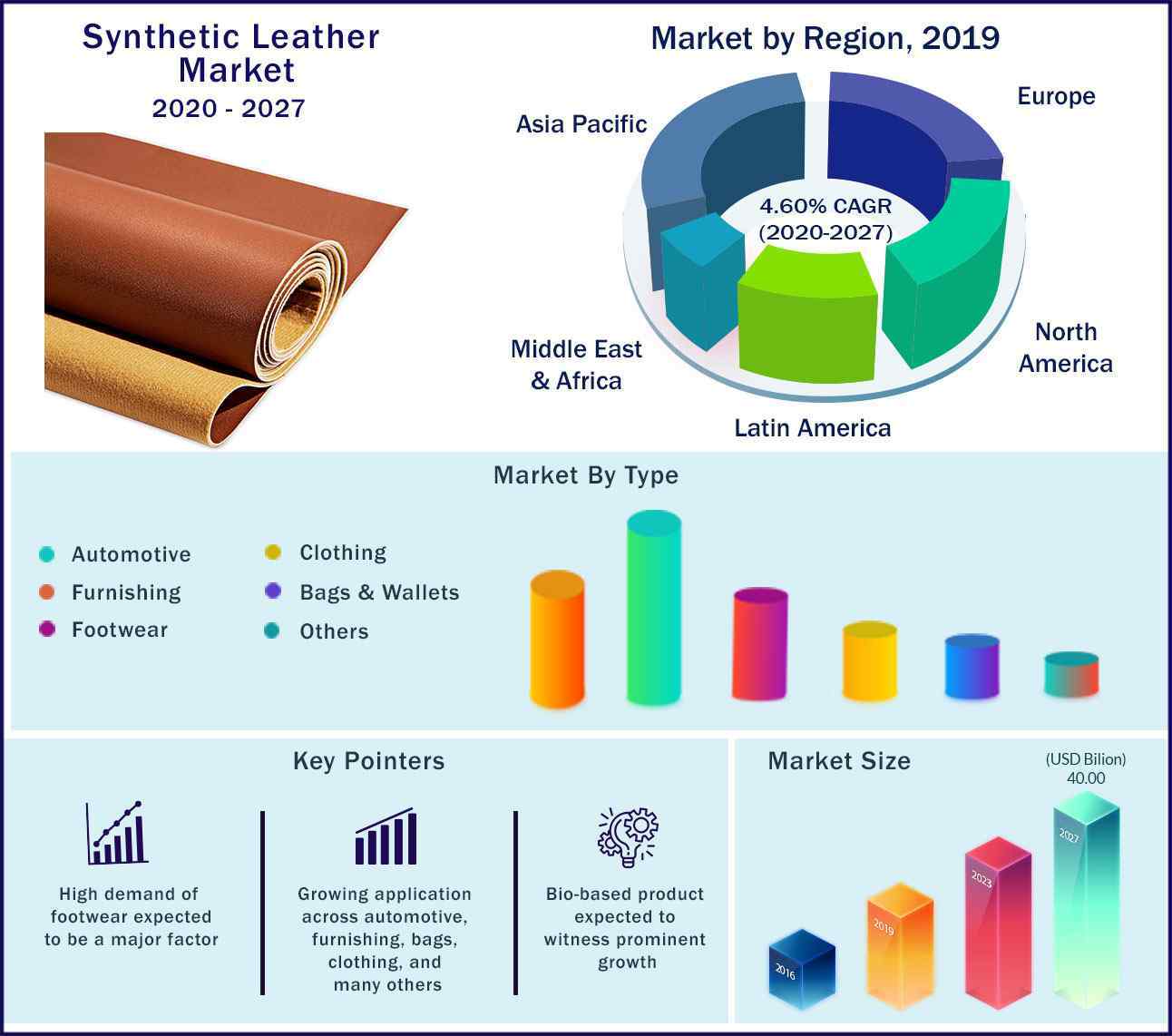 Key Companies & Market Share Insights
The market players in the synthetic leather are mainly focused towards regional expansion along with new product development. For instance, Kuraray Europe GmbH introduced new solvent-free man-made leather at the Première Vision 2019 that possesses properties similar to the natural leathers. These properties make it very suitable for several fashion creations.
Some of the prominent players in the synthetic leather market include:
R. Polycoats Pvt. Ltd.
Kuraray Co., Ltd.
Alfatex Italia SRL
Yantai Wanhua Synthetic Leather Group Co., Ltd.
San Fang Chemical Industry Co., Ltd.
Filwel Co., Ltd.
Nan Ya Plastics Corporation
Teijin Limited
Zhejiang Hexin Industry Group Co., Ltd.
Report Scope of the Synthetic Leather Market
| | |
| --- | --- |
| Report Highlights | Details |
| Market Size | USD 40.5 Billion by 2027 |
| Growth Rate | CAGR of 4.6% from 2021 to 2027 |
| Largest Market | Asia Pacific |
| Fastest Growing Market | North America |
| Base Year | 2022 |
| Forecast Period | 2023 to 2032 |
| Segments Covered | By Product, By Application, Region |
| Companies Mentioned | Kuraray Co., Ltd., Nan Ya Plastics Corporation, Yantai Wanhua Synthetic Leather Group Co., Ltd., Mayur Uniquoters Limited, Teijin Limited,San Fang Chemical Industry Co., Ltd., Filwel Co., Ltd., and Zhejiang Hexin Industry Group Co., Ltd. |
Segments Covered in the Report:
This research study comprises complete assessment of the market by means of far-reaching qualitative and quantitative perceptions, and predictions regarding the market. This report delivers classification of marketplace into impending and niche sectors. Further, this research study calculates market size and its development drift at global, regional, and country from 2020 to 2032. This report contains market breakdown and its revenue estimation by classifying it on the basis of product, application, and region:
By Product
By Application
Automotive
Furnishing
Footwear
Clothing
Bags & Wallets
Others
By Regional Outlook
North America
Europe
Asia Pacific

China
India
Japan
South Korea

Rest of the World