The global video analytics market size reached USD 6.02 billion in 2022 and is expected to hit around USD 50.7 billion by 2032, growing at a CAGR of 23.8% during the forecast period from 2023 to 2032.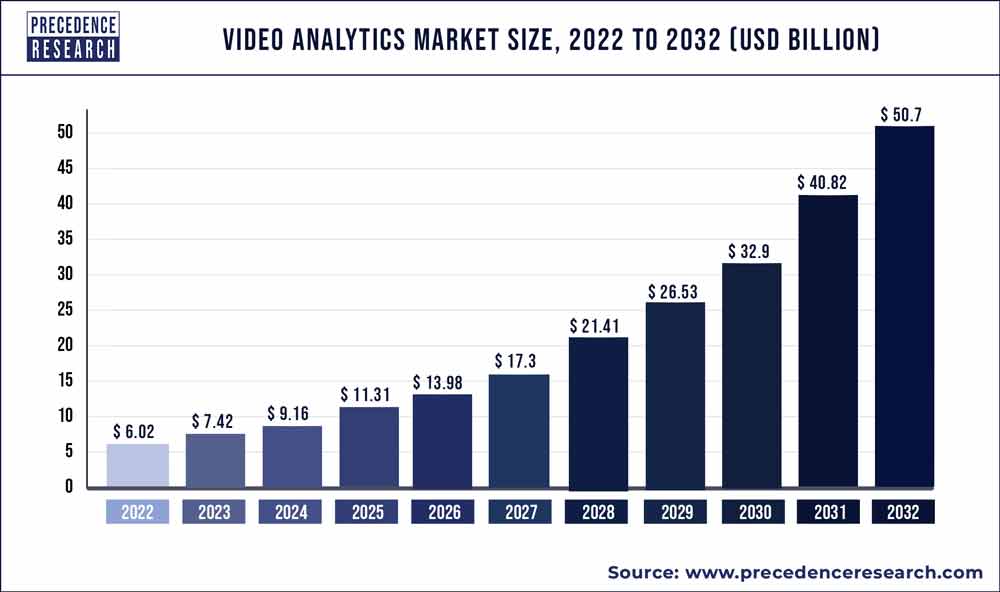 Key Takeaways:
North America region dominated the global market in 2022.
By Type, the software segment generated the highest market share in 2022.
By Deployment, the on-premise segment dominated the global market in 2022.
By Application, the crowd management segment contributed the maximum share in 2022.
By End-use, the retail segment dominated the market in 2022 and is predicted to maintain its dominance between 2023 and 2032.
Market Overview:
Video analytics is the automated processing and analysis of video content produced, acquired, or viewed during video surveillance. By ignoring pointless behaviors, the software analyses footage of the environments in order to identify qualities, events, patterns, and attributes of people or things. A substantial amount of unstructured video data is produced by the industries of social networking, municipal monitoring, and video surveillance. Insights from video data can be organized, distributed, and evaluated by users of video analytics software to assist in decision-making.
Growth Factors:
New developments in technology allow users to view the locations of security cameras mounted on a smartphone or other comparable portable device by using an installed application made available by the solution provider. This enables a user to view the region being watched at any time and from any location. Vendors of hardware components offer electronic and hardware parts such as sensors, processors, SSDs, and cameras. These elements are essential for the real-time observation, detection, and reporting of the actions occurring within the surveillance region.
For instance, sensors help detect intrusions and other movements, and SSDs can be used to access local databases or storage and enable face and license plate recognition, among other things.
Companies including Cisco Systems, Inc., IBM Corporation, Honeywell International, and I2V Solutions Private Ltd., among others, offer video analytics services. They provide cloud-based SaaS as well as applications for on-premises installations. They can also offer real-time video analysis, warnings, and corporate intelligence. Also, it has been observed that these vendors integrate their systems with numerous external systems. The end users can then choose and deploy the best video analytics solutions within their own systems.
Report Scope of the Video Analytics Market:
| | |
| --- | --- |
| Report Coverage | Details |
| Market Size in 2023 | USD 7.42 Billion |
| Market Size by 2032 | USD 50.7 Billion |
| Growth Rate from 2023 to 2032 | CAGR of 23.8% |
| Largest Market | North America |
| Second Largest Market | Asia Pacific |
| Base Year | 2022 |
| Forecast Period | 2023 to 2032 |
| Segments Covered | By Type, By Deployment, By Application, and By End-Use |
| Regions Covered | North America, Europe, Asia-Pacific, Latin America and Middle East & Africa |

Market Dynamics:
Driver: Burgeoning requirement across transport and logistics
The use of video monitoring is becoming more pervasive in the logistics and transportation sector. The decrease of crowding, behaviour analysis, increased safety measures, incident recording, and blind spot detection are just a few of the numerous advantages of video analytics for the transportation and logistics vertical. This market for commuters may be improved and expanded while also increasing safety with the use of video analytics.
The various capabilities of video analytics, including facial recognition, object tracking, unidentified object detection, cargo and train carriage recognition, and intelligent traffic monitoring, can aid logistics and transportation businesses in preventing disasters and spotting emerging threats that could cause infrastructure destruction or deadly car accidents.
Also, factors like the expanding urban population would hasten the market's overall expansion during the projection period. Additionally, it is anticipated that the market for video analytics systems would grow more quickly as more businesses, like retail and the public sector, adopt video analytics. Smart city adoption will increase, which will accelerate the market's growth rate over the course of the projected year.
Restraint: Government regulations related to CCTV surveillance & high cost
Businesses, governments, and organisations are incorporating video analytics into their video surveillance systems as a result of the wide range of possibilities for this technology. These tools capture and analyse video in real-time. It is used for many different things, such as ANPR, population estimation, and facial recognition. Notwithstanding its advantages, worries about residents' privacy have repeatedly been expressed.
As a result, nations like the US and UK are mandating the use of video analytics to prevent anti-social behaviour only in restricted regions and with limited capability. For instance, in October 2021, the European Parliament adopted a non-binding resolution that forbids the creation of personal facial recognition databases and the application of facial recognition technology by police enforcement in public areas.
Facial recognition technology and other remote biometric surveillance equipment are expected to be subject to similar restrictions in Oakland and Somerville. Guidelines for the information obtained by CCTV cameras have also been set by the General Data Protection Regulation (GDPR). Companies and organisations are not permitted to install CCTV without a valid cause, under the GDPR requirements. As a result, it is anticipated that severe rules will restrict the growth of the global market for video analytics.
The optimal performance of the video analytics system requires a solid IT foundation and reliable connections, both of which come at a major financial and maintenance cost. The infrastructure necessary for constant surveillance is lacking in underdeveloped nations and public spaces. As a result, regular maintenance is required to make the system more dependable.
It is projected that suppliers engaged in the global video analytics market would find it difficult to compete given the high cost of maintenance and other responsibilities. Additionally, the video analytics systems demand significant investments. Thus, it is anticipated that throughout the course of the projection period, the high costs and the necessary expenditures will further restrain market expansion.
Opportunity: Predictive information using video analytics
Predictive analytics is used to make predictions about future events. It uses techniques from data mining, ML, AI, statistics, and modelling. The video system captures significant and valuable signals, such as social media data streams that are unstructured, video, and audio that contain critical client behavioural features. The placement of security cameras in public areas allows for the collection of atmospheric data. While predictions can be formed using all these factors together, they can be difficult.
The development of predictive information could be hampered by factors including storage requirements, time constraints, and watching each video clip. As a result, there may be a business opportunity in the generation of predictive information through video analytics.
Impact of COVID-19:
The global health crisis has caused a number of corporate systems from product development to sales and services to encounter previously unheard-of challenges, leading to the closure of several companies. However, in order to assist government lockdowns and social isolation techniques, which are essential for managing the epidemic, video content analysis and surveillance equipment has doubled in size.
Additionally, the COVID-19 epidemic is anticipated to offer promising opportunities for significant companies involved in the global market for video analytics. Despite the fact that the COVID situation is causing the market to grow considerably, industry participants are focusing on improving service quality overall in terms of greater throughput, little to no delay, and effective recognition technology. Businesses are combining 5G and artificial intelligence technologies to achieve this, offering a viable solution for issues like latency and bandwidth. One of the most common use cases is the ability to gather information about a location's attractiveness, age demographic, and visitor volume.
Segments Insight:
Type Insights:
The largest revenue contributor to the video analytics market in 2022 was the software industry. This was attributed to the increased need to monitor structures or other facilities for any physical threats or shady activity. Moreover, factors like precise image analysis, real-time processing, various visual inputs, and better accuracy are driving demand for video analytics software.
However, the service category is predicted to develop at the greatest rate throughout the projection period due to the increased adoption of digital technology across numerous industries and the need to offer better services. Video analytics services help businesses by providing project guidance, configuration, installation, security monitoring, and other essential security services.
Deployment Insights:
The on-premise segment dominated the global market for video analytics in terms of deployment in 2022 and is anticipated to continue doing so over the anticipated timeframe. This is because industries that handle sensitive data and are vulnerable to cyberattacks or data breaches, such as banking, financial services & insurance (BFSI), education, and healthcare, have adopted the on-premise deployment approach.
Application Insights:
For big events and festivals, governments and police departments must perform time-consuming chores of crowd control and surveillance. In these situations, integrating intelligent surveillance systems with video analytics offers real-time, crucial situational alerts.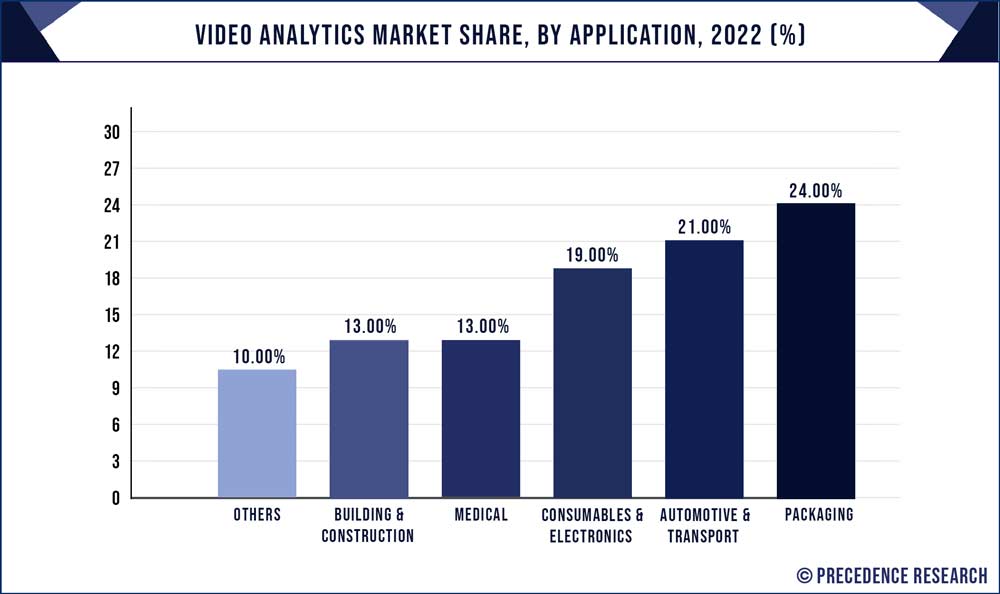 Crowd management uses video analytics extensively for tasks including estimating crowd size, identifying prominent patterns and statistics in the crowd, and spotting suspicious activity. As a result, the crowd management segment had the largest share.
The facial recognition market is anticipated to grow at the quickest rate over the projected period.
End-Use Insights:
Due to shifting consumer preferences, there has been a paradigm shift in the global demand for video analytics. Retail end-use dominated the market The category is anticipated to maintain its dominance over the course of the forecast period due to the rising application breadth of video analytics in the retail industry.
BFSI, government, education, transportation, cities, and vital infrastructure are further end-use segments. End users now lay more emphasis on analysing crowd dynamics and deciphering human behaviour than on basic security surveillance and monitoring. As a result, video analytics have been increasingly used in industries like retail, government, and cities.
Regional Insights:
America led all other regions in 2022 due to the widespread presence of major companies in the sector. Currently, the United States is the country that uses video analytics the most. Strong economic growth in the nation fosters rapid technical advancement. Additionally, by integrating analytics, organizations have been refocusing operations on security and safety. Due to changing customer needs, there has been a shift from traditional on-premise implementation of video analytics to cloud deployment.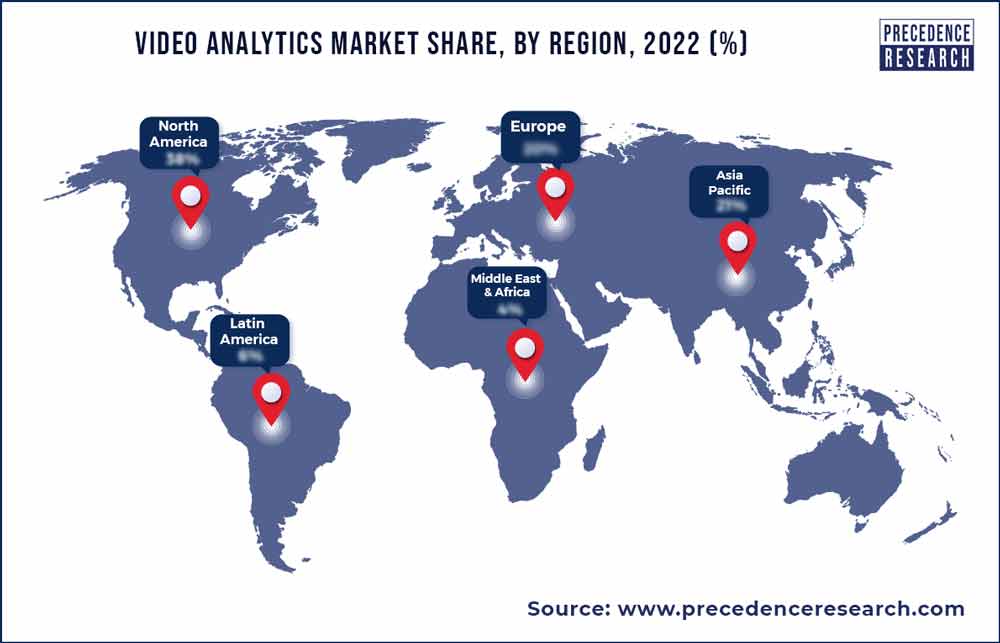 Asia Pacific surpassed Europe as the second-largest market in terms of revenue share, which can be credited to the region's robust economic expansion in nations like India, China, and Indonesia. To guarantee the safety of their citizens, these economies have been investing in sophisticated security surveillance systems. The market is anticipated to be driven by rising industry solution usage and rising cloud-based technology adoption, particularly in China, Japan, and India.
Recent Developments:
In June 2021, Ipsotek was a maker of AI-enhanced video analytics software, and Atos SE's acquisition of the company added Ipsotek's software powers to its line-up of Edge AI and Computer Vision solutions.
Senstar Corporation collaborated with IPVideo Corporation to integrate its Senstar Symphony Common Operating Platform into the HALO IoT Smart Sensor in December 2021. Senstar Corporation is a supplier of perimeter intrusion detection systems (PIDS), video analytics, and management software. This integration is expected to make it simpler for HALO users to get notifications when Senstar Symphony Common Operating Platform data shows that vaping, chemicals, sounds, gunshots, air quality, or health are above or below normal ranges or levels.
Key Market Players:
Avigilon Corporation (Canada)
Axis Communications AB (Sweden)
Cisco Systems, Inc. (U.S.)
Honeywell International Inc. (U.S.)
Agent Video Intelligence Ltd. (U.S.)
AllGoVision Technologies Pvt. Ltd (India)
Earth Water Limited (U.S.)
Genetec Inc., (Canada)
Intellivision (U.S.)
Intuvision Inc., (U.S.)
Segments Covered in the Report:
(Note*: We offer report based on sub segments as well. Kindly, let us know if you are interested)
By Type
By Deployment
By Application
Crowd Management
Facial Recognition
Intrusion Detection
License Plate Recognition
Motion Detection
Others
By End-Use
BFSI
City
Critical Infrastructure
Education
Government
Retail
Transportation
Others
By Geography
North America
Europe
Asia-Pacific
Latin America
The Middle East and Africa