The global video streaming market size was estimated at USD 375.1 billion in 2021 and it is expected to hit around USD 1,721.4 billion by 2030 with a registered CAGR of 18.45% from 2022 to 2030.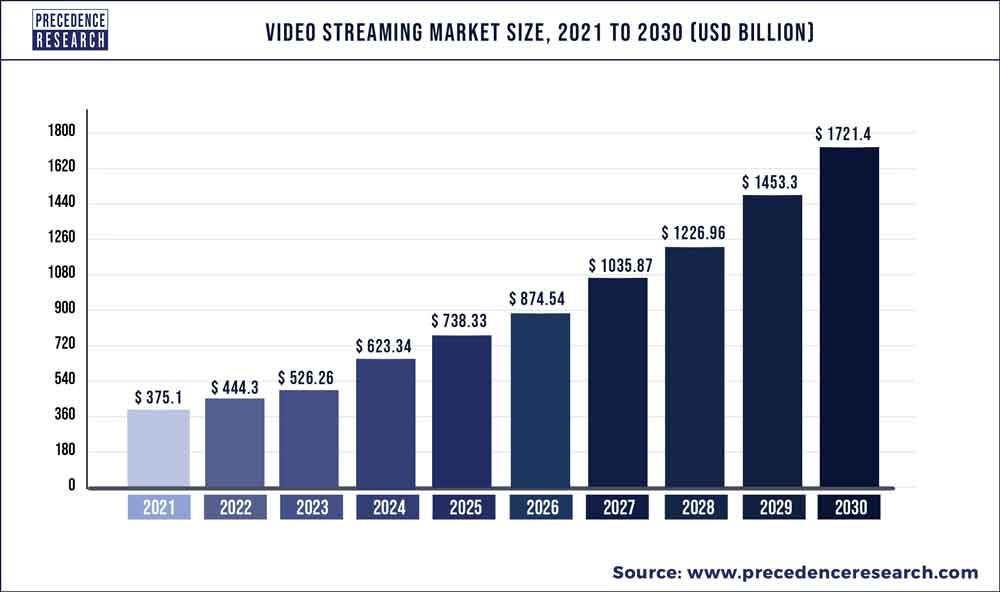 Key Takeaways:
North America video streaming market size was valued at USD 162 billion in 2021.
By deployment type, the cloud segment exhibited 59% revenue share in 2021.
By User, the consumer segment hit revenue share of over 52% in 2021.
By revenue model, the subscription segment accounted 43.4% market share in 2021.
By service, the training & support segment has garnered 38.5% market share in 2021.
The managed services segment representing 32% revenue share in 2021..
Instead of being stored on the device's hard drive, video streaming or media streaming is the practice of sending compressed video material over the internet for instant playback. Instead of waiting for the movie to be downloaded to the device and then watching it, the term "streaming" refers to listening to music or watching a video in real time. Typically, streaming videos come from a pre-recorded video clip that has been compressed and can be distributed to several viewers simultaneously. Any device that has internet connectivity and programs that can decompress the contents can use the video streaming services.
One of the main reasons favorably affecting the industry is the expanding internet's use and the rising sales of mobile phones. In addition to this, there has been a noticeable increase at the demand for video streaming services in colleges, universities, and institutions all around the world. This might be attributed to its advantages, which include improved learning processes through visual webinar and course recordings. Additionally, companies utilize live streaming extensively because it helps them promote their goods and services, build their brands, and improve client interaction. Additionally, it has many uses in judicial proceedings, required sessions, town hall meetings, business conferences, and staff training.
Leading market participants are also incorporating blockchain, machine learning, and artificial intelligence (AI) technologies to enhance video quality. Cinematography, video editing and voice-overs, writing scripts, and other facets of video creation and uploading are all made easier by these technical developments. Additionally, they aid in data organization, encoding, and distribution, simplifying the digital environment. A positive market forecast is being produced by this as well as the increasing acceptance of cloud-based solutions.
Growth factors
Demand for Video on Demand (VoD) Streaming Services is rising supports the expansion of the market for video streaming. Due to rising consumer expenditure on media and entertainment, there are more people using video on demand services globally, which helps the business develop.
Online VoD users increased to roughly 1.11 billion during the COVID-19 epidemic, according to a Motion Picture Association report from 2020, and are predicted to reach 2 billion users by 2023. In addition, compared to 2019, the combined number of online video subscriptions from streaming service providers like Netflix Inc. and Disney+ rose by 26% in 2020, totaling almost 230 million new subscriptions. Such a rise in OTT platform customers has sparked a huge desire for market expansion.
Additionally, according to Deloitte research from 2020, each home in the United States has access to about 2.5 subscription-based video on demand streaming services. As more people subscribe to these services globally, this helps the business expand.
Report Scope of the Video Streaming Market
Report Coverage
Details
Market Size in 2022

USD 444.3 Billion


Market Size by 2030

USD 1,721.4 Billion

Growth Rate from 2022 to 2030
CAGR of 18.45%
Base Year
2021
Forecast Period
2022 to 2030
Segments Covered
Streaming Type,

Component (USD

)

, Solutions, Platform, Service, Revenue Model, Deployment Type, End User and Geography
Companies Mentioned

IBM Corporation (U.S.), Alphabet Inc., (U.S.), Amazon.com, Inc. (U.S.), Netflix, Inc., (U.S.), Hulu LLC (The Walt Disney Company) (U.S.), Brightcove, Inc. (U.S.), Apple, Inc. (U.S.), Roku, Inc. (U.S.), Haivision, Inc. (U.S.), Tencent Holdings Ltd. (China)

Key Market Drivers
Popularity of Livestreaming: One of the finest aspects that has been helping to raise the market value of the video streaming industry is live streaming. This function is utilized to grow the company by speaking with the target market directly. So that they won't have any problems comprehending questions concerning business-related issues. It has recently served as a source of increased income. Because of its position atop the summit. Therefore, the global market for video streaming has lately seen a rise in live video streaming.
Advancement of Technology: The development of the video streaming market has been made possible by recent technological advancements like artificial intelligence and blockchain technology. People are interested in utilizing video streaming as a result of the development of technology because they prefer it, and as a result, the video quality is increasing. This has recently been a major factor in the growth of the video streaming market.
Key market challenges
Rising Concern Related to Content Piracy and Protection-

It is anticipated that growing user worries about content piracy and protection would impede business operations by lowering customer interest in and consumption of content. In the next years, market growth is anticipated to be impacted by this. For instance, collaborative research by the Digital Citizen Alliance in August 2020 found that the value of pirate subscription services in the US alone is in the billions of dollars. In the US, around 9 million internet users subscribe to a pirate IPTV provider. At least 3,500 unlicensed websites and social media pages are used by users to access these services.
Key market opportunities
Impact of Video Streaming in the Educational Sector - Videos can help students retain material more effectively, which can have a huge positive impact on education. This category includes, among other things, webinars and video lectures. Educational organizations including universities, schools, and colleges now create interactive information and disseminate it through video presentations. They are effectively using technology to spread knowledge in this way. Teachers' duties are changing significantly as a result of the rising demand for films that may be utilized in the classroom. The latter is now able to teach through video to virtual classes across the world and use a selection of movies in the classroom. As a result, using movies in the classroom helps to create a multimodal learning environment.
Increased Demand for High Internet Connectivity - The growing requirement for high-bandwidth internet access has influenced the growth of the need for video streaming. Additionally, there have been quick changes in the training sector, such Microsoft buying Affirmed Networks in 2020. Affirmed Networks is a cloud-native networking solutions provider for telecom carriers with headquarters in the United States. Microsoft expects that this collaboration will help with the creation of 5G and edge computing technologies. As a consequence, over the projection period, new alliances and technical advancements will drive the market for video streaming services ahead.
Segmental Insights
Streaming Type Insights
With a market share of almost 61.5% in 2021, the live streaming sector generated the most income. The segment's expansion is due to the rise in popularity of digital media devices and the accessibility of faster internet for online media access. Ad-free content, mobile watching, analytics monitoring, the usage of a lot of material, the enormous audience potential, and high-quality broadcasts are a few more elements that enhance live video streaming. The high value of live video streaming has been kept in live content like sporting and musical events. However, because it is convenient and allows for series linkage, non-linear streaming is anticipated to experience substantial development in the upcoming years. Watch-time viability, absence of buffering, high capacity, and live pause are a few more elements that contribute to the industry's non-linear streaming segment's expansion. Moreover, with both streaming formats, it is anticipated that video-on-demand would become commonplace across all age groups.
Solutions Insights
In 2021, the OTT category held the highest share with almost 44%. OTT solutions allow consumers to access movies and TV shows online without having to pay for traditional cable or Pay-TV subscriptions. The category is anticipated to increase significantly over the course of the projection period due to the growing need for better business process automation and the complete availability of broadband infrastructure. The segment's development is anticipated to be accelerated by new OTT features including hybrid monetization methods, digital original content, and content fragmentation brought on by fierce competition.
Due to a sharp increase in demand for Pay-TV services in nations like China, India, Mexico, and Brazil in 2021, the Pay-TV market accounted for a substantial portion of global income. Customers are also favoring OTT services more and more as a result of rising programming costs for Pay-TV and IPTV services. The number of OTT service providers has also expanded as a result of the expanding availability of unlimited cellphone data plans and free public WiFi. For instance, HBO Now, an internet streaming service that allows online viewing of HBO episodes without a cable membership, was introduced by Home Box Office, Inc.
Platform Insights
With nearly 31% of the market, the smartphones and tablets sector generated the most revenue in 2021. This group is expanding as a result of factors including easier access to the internet, rising disposable money, improved living standards, and shifting lifestyles. Additionally, the smart TV market is anticipated to increase significantly over the course of the forecast period since it provides a wide selection of TV channels in addition to video streaming services like Netflix.
Due to the ubiquity of dependable internet services, live streaming on smartphones and tablets is trouble-free. Due to their mobility and simplicity of remote access, these gadgets are more likely to be chosen for watching internet material. But the proliferation of video streaming services like YouTube TV, Hulu, and PlayStation Vue has generated interest in the smart TV market. Applications that arrange TV material, like PLEX, are expected to drive the segment's growth since they let smart TVs to play any suitable media content.
Geography Insights
In 2021, North America had a 38.6% revenue share of the global market for video streaming. This was mostly brought on by the rapid growth of cloud-based streaming services. Because so many people in Europe view online material, the area is anticipated to develop steadily. In addition, Asia Pacific is anticipated to have the greatest CAGR over the forecast period due to the rising usage of mobile devices and tablets, quickening technical development, and growing acceptance of online streaming.
The consumption of material by viewers in the Asia Pacific region has changed as a result of over-the-top (OTT) solutions. With the aid of cutting-edge marketing techniques like video streaming, the region's well-established telecommunications businesses and multichannel operators have actively sought out business innovation and advancement. Due to the region's fastest-growing broadband internet population, Southeast Asian operators have boosted their revenue choices by offering video streaming multichannel packages alongside fixed-mobile bundles. These measures are leading to an expansion of the Asia Pacific market.
Recent Developments
Y2k Solutions Inc. debuted a cutting-edge Beta 1.0 video streaming platform for instructional video courses in March 2022. The platform provides free web hosting, cloud hosting, video hosting, and streaming solutions and services.
Tencent Holdings Ltd. launched a video streaming service in Thailand in July 2020 to expand its influence outside of China. The firm grew across Thailand via WeTV, Tencent's JOOX music and streaming service, and its mobile PUBG game.
Key market players
IBM Corporation (U.S.)

Alphabet Inc., (U.S.)

Amazon.com, Inc. (U.S.)

Netflix, Inc., (U.S.)

Hulu LLC (The Walt Disney Company) (U.S.)

Brightcove, Inc. (U.S.)

Apple, Inc. (U.S.)

Roku, Inc. (U.S.)

Haivision, Inc. (U.S.)

Tencent Holdings Ltd. (China)
Segments covered in the report
(Note*: We offer report based on sub segments as well. Kindly, let us know if you are interested)
By Streaming Type
By Component (USD)
By Solutions
By Platform
Gaming Consoles

Laptops & Desktops

Smartphones & Tablets

Smart TV
By Service
Consulting

Managed Services

Training & Support
By Revenue Model
Advertising

Rental

Subscription
By Deployment Type
By End User
Enterprise

Corporate Communications

Knowledge Sharing & Collaborations

Marketing & Client Engagement

Training & Development

Consumer
By Geography
North America
Europe
Asia-Pacific

China
India
Japan
South Korea
Malaysia
Philippines

Latin America

Brazil
Rest of Latin America

Middle East & Africa (MEA)