The global blockchain technology market size was estimated at USD 4.8 billion in 2022 and is extending to around USD 2,334.46 billion by 2032, poised to grow at a compound annual growth rate (CAGR) of 85.7% during the forecast period 2023 to 2032.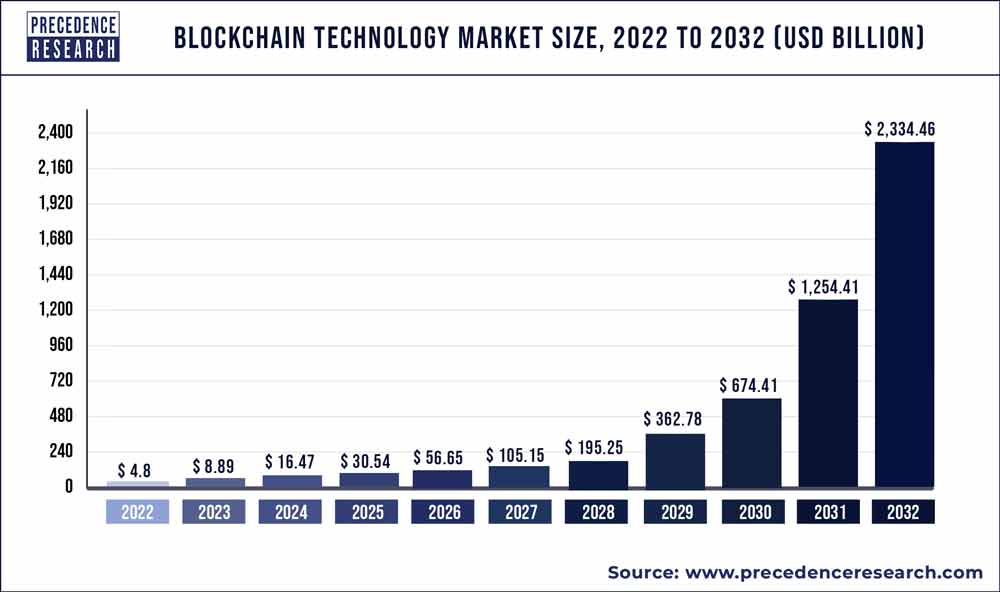 Access our Premium Real Time Data Intelligence Tool, Visit: Precedence Statistics
Key Takeaways:
By type, the public cloud segment has held 61% of the total revenue share in 2022.
By components, the infrastructure & protocols segment accounted for 63% of revenue share in 2022.
By applications, the payments segment contributed 45% of the total revenue share in 2022.
By enterprise size, the large enterprises segment held 68.5% revenue share in 2022.
By end use, the financial services segment has reached a 39% market share in 2022.
The North America region accounted for 38% market share in 2022.
Shared Blockchain is an immutable, shared ledger that makes it easier to record transactions and manage assets inside a business network. Intangible assets (cars, money, houses, and land) can exist alongside tangible assets (patent, brand image, copyright, intellectual property).
Almost any valuable asset may be monitored and processed on the blockchain network, lowering risks and costs for all parties involved. Blockchain is suitable for supplying this information since it allows for immediate, shareable, and entirely transparent data to be kept on an immutable ledger that only authorized network users may access.
Growth Factors
The growing demand for e-identity has driven the expansion of Blockchain technology. The platforms based on blockchain technology have diverse applications in countries with weak identification processes and in unregulated countries. At the national level, the adoption of market demand-based identity platforms of Blockchain technology has been carried out by many governments in order to promote secure transactions in the public and private sectors. Various governments have been using blockchain technology with their e-citizenship programs over the past few years. As a result, these countries have been able to develop identity-related procedures on their own and manage to reduce bureaucracy. Moreover, this technology has helped them to digitize all kinds of public transactions through a secure digital identity.
In addition, the growing capitalization of market-linked cryptocurrencies has promoted the risk of capital investments made by different countries. According to the size of the Blockchain technology market, cryptocurrency has marked innovation in different payment contexts. Furthermore, compared to other types of payment, these currencies offer lower transaction fees. Furthermore, because transaction fees are expensive, cryptocurrencies are attracting businesses and individuals to use cross-border payment methods. Also, due to the decentralized ownership of these cryptocurrencies, cross-border regulators cannot impose any kind of restrictions on these transactions. Therefore, low transaction fees and many other factors are beneficial to Blockchain technology market revenue as well as cryptocurrency capitalization, which motivates venture capitalists to invest in Blockchain technology market share.
Report Scope of the Blockchain Technology Market
| | |
| --- | --- |
| Report Coverage | Details |
| Market Size in 2023 | USD 8.89 Billion |
| Market Size by 2032 | USD 2,334.46 Billion |
| Growth Rate from 2023 to 2032 | CAGR of 85.7% |
| Base Year | 2022 |
| Forecast Period | 2023 to 2032 |
| Segments Covered | Type, Component, Application, Enterprise, End-Use, and Geography |
| Companies Mentioned | IBM Corp. (U.S.), Microsoft Corp. (U.S.), The Linux Foundation (U.S.), BTL Group Ltd. (U.K.), Chain, Inc. (U.S.), Circle Internet Financial Ltd., (U.S.), Deloitte Touche Tohmatsu Ltd. (U.K.), Digital Asset Holdings, LLC (U.S.), Global Arena Holding, Inc. (U.S.), Monax (U.S.), Ripple (U.S.) |
Key Market Drivers
Increase in venture capital
The major driving factor that is contributing to the ever-prospering growth rate of the Blockchain market include the increase in venture capital and investment in blockchain technology; widespread use of blockchain solutions in banking and cybersecurity; strong adoption of blockchain solutions for smart contracts, payments, and digital identities; and increased government initiatives.
Increasing number of market players in the market
Blockchain technology has seen a boom after the birth of Bitcoin and has been used by various financial institutions for transactions. The application of blockchain technology solutions has gained wide popularity in the past 2-3 years for various business applications, such as documents, exchanges, payments, smart contracts, and receipts. Many startups have entered this market and started developing blockchain technology solutions.
Increasing government investment in blockchain technology
The blockchain networks isbeen promoted by government authorities in many countries. This is mainly due to the benefits that this technology brings to different businesses, such as increased transparency and efficiency. In addition, government initiatives and partnerships with commercial organizations to incorporate blockchain networks to protect existing systems are driving demand for blockchain systems. The market is expected to continue to offer the most lucrative opportunities for revenue generation throughout the forecast period.
Key Market Challenges
Uncertain regulatory environment - Regulatory uncertainty remains a concern in the blockchain market. Currently, the lack of regulation and resulting uncertainty continue to be one of the main factors limiting blockchain adoption in most verticals. Regulatory acceptance is one of the biggest challenges in transforming the trading system. With steady progress, regulators need to understand what is missing from current regulations and their impact on global technology applications. Financial institutions around the world are struggling to find common standards for the Blockchain market.
IoT on blockchain - With increasing connectivity, IoT devices are becoming fall victim to security vulnerabilities, such as botnet attacks, distributed denial of service (DDoS) attacks, and insecure interfaces. Unsecured IoT devices gives access to cybercriminals to exploit thesystem. IoT used in blockchain adds a higher level of security to prevent data breaches to make IoT safer and smarter.
Lack of skilled labor - The major drawback of Blockchain technology is its complicated onboarding process. In addition, companies face a lack of technical staff with expertise in this technology.
Key Market Opportunities
Emerging LDCs - Rapid demand for blockchain-powered technologies among companies working in developing countries has helped drive the blockchain technology market. The rapid adoption of innovative technologies across industries has pushed the market to new heights. State-of-the-art devices used by the healthcare system for suturing have attracted potential consumers, resulting in the market recording significant revenue during this period.
Data decentralization - Significant opportunities include data usage control, data decentralization, and encryption. Moreover, managing supply chain is one of the major use cases of blockchain technology, followed by decentralized finance.
Opportunity to explore new verticals - Since the development of the most prominent peer-to-peer decentralized cryptocurrency, the growth of the Blockchain technology market has accelerated. Nowadays, many investors from different fields understand the benefits of this technology. From finance to medicine, various industries are choosing to integrate Blockchain technology into their infrastructure.
Segments Insight
Type Insights
The private cloud segment is expected to witness significant growth during the forecast period. Private services include providing dedicated infrastructure and resources specifically for organizations. A private cloud allows businesses to reverse transactions at a cost-effective transaction rate.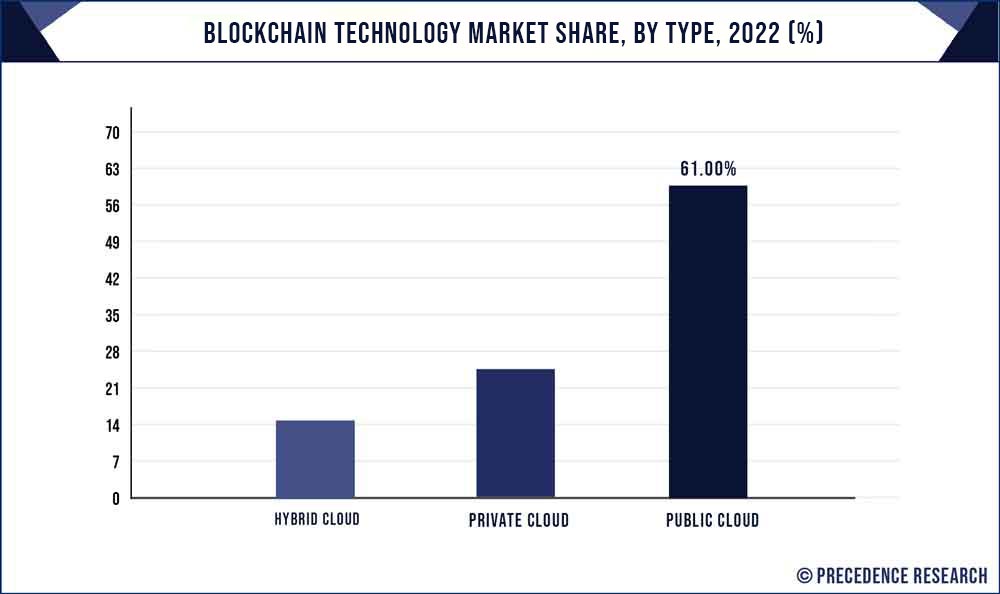 This is the growth driver of the segment. In addition, increasing private cloud adoption by large, small, and medium enterprises is one of the key growth drivers for this segment.
Component Insights
The infrastructure and protocol segment leads the market and accounts for more than half of the global revenue share. The growing demand for blockchain standards and protocols, such as Hyperledger, open chain, and Ethereum is driving the growth of the segment. Users demand protocols because they allow sharing of information securely across crypto networks. As a result, the advantages brought by infrastructure and protocols contribute to the growth of the segment.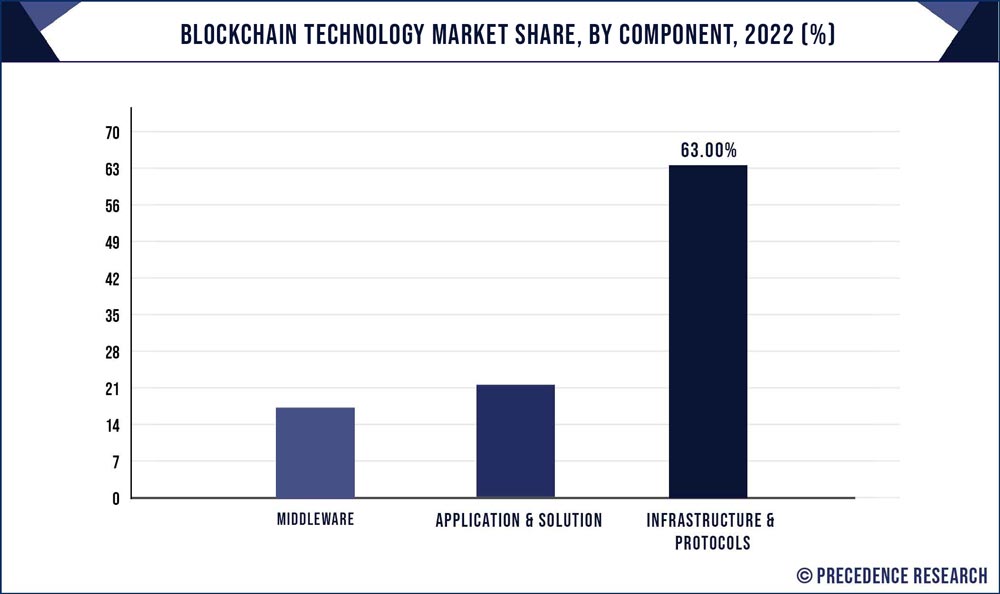 The middleware segment is expected to record the second-fastest growth during the forecast period. Middleware helps developers build apps more efficiently. Growing investment in the healthcare sector is expected to drive the growth of this segment. Middleware tools track performance metrics in the lab, which is also one of the growth drivers of the segment.
Application Insights
The payments segment leads the market and accounts for over 40% of global revenue. A Blockchain system improves the efficiency of the payment system, minimizes operating costs, and provides transparency. These benefits provided by blockchain technology are increasing its use in payment solutions thus driving the growth of the segment. In addition, blockchain reduces the need for middlemen in payment processing, which is also a key growth driver for the segment.
The digital identity segment is expected to grow at the fastest CAGR during the forecast period. Companies that provide digital identities are entering into partnerships with blockchain technology providers, which are driving the growth of the segment.
Enterprise Insights
The large enterprise segment dominates the market in terms of global revenue share. Large enterprises operating in industries such as supply chains, financial services, insurance, and healthcare are increasingly working to digitize their services, which is creating the need for technology. Large companies, such as HSBC, Intesa Sanpaolo, BBVA, and Barclays are using blockchain technology to streamline their KYC and funding processes.
They have access to appropriate capital and various assets to apply new technologies introduced in the market. The Small and Medium Enterprises (SME) segment is expected to grow at the fastest CAGR during the forecast period. SMEs are finding it difficult to scale their tasks, such as funding, processing payments, and selecting the ancillary services needed for global expansion. Blockchain technology helps them to reduce problems in the area of subsidy and account exchange. In addition, safe and secure information exchange and smart contracts powered by blockchain technology help SMEs streamline supply chains. In addition, blockchain-based storage applications allow small businesses to securely and cost-effectively store data, further driving blockchain demand among small businesses.
Blockchain Technology Market Share, By Region, 2022 (%)
| | |
| --- | --- |
| Regions | Revenue Share in 2022 (%) |
| North America | 38% |
| Asia Pacific | 22.60% |
| Europe | 26.50% |
| Latin America | 8.30% |
| MEA | 4.60% |
Regional Insights
On a geographical basis, the North American region has gained the largest market share due to the large number of startups in the region due to the growing demand for blockchain networks by large enterprises operating in the region. The presence of cutting-edge technological solutions in this region has greatly benefited the Blockchain technology market.
Recent Developments
In October 2020 - Accenture and Digital Ventures, the fintech unit of Siam Commercial Bank, have launched the world's first Buy-to-Pay blockchain technology to help Thai businesses accelerate the process of buying, trading and receiving capital.
In March 2021 – Amazon Web Services (AWS) announced the widespread availability of Ethereum, a technology that has formed a peer-to-peer network that allows members to transact without the need for authority.
Key Market Players
IBM Corp. (U.S.)
Microsoft Corp. (U.S.)
The Linux Foundation (U.S.)
BTL Group Ltd. (U.K.
Chain, Inc. (U.S.)
Circle Internet Financial Ltd. (U.S.)
Deloitte Touche Tohmatsu Ltd. (U.K.)
Digital Asset Holdings, LLC (U.S.)
Global Arena Holding, Inc. (U.S.)
Monax (U.S.)
Ripple (U.S.)
Segments Covered in the Report
(Note*: We offer report based on sub segments as well. Kindly, let us know if you are interested)
By Type
Public Cloud
Private Cloud
Hybrid Cloud
By component
Application & Solution
Middleware
Infrastructure & Protocols
BY Application
Digital Identity
Payments
Exchanges
Supply Chain Management
Smart Contracts
Others
By Enterprise
Large Enterprises
Small & Medium Enterprises
By End-Use
Financial Services
Healthcare
Government
Media & Entertainment
Transportation & Logistics
Retail
Travel
Others
By Geography
North America
Europe
Asia-Pacific
Latin America
Middle East & Africa (MEA)