The global blockchain IoT market is expected to drive growth at a CAGR of 73.5% during the estimate period and to reach USD 19,740 million by 2030 from USD 134.41 million in 2021.
The growth of blockchain IoT market is driven by growing adoption of Internet of Things (IoT), rising focus on operational efficiency and increasing requirement for IoT security.
Other factors accountable for market growth are:
Streamlining of business processes
Better transparency offered by blockchain technology
Increasing adoption of blockchain smart contracts
Growing implementation of blockchain technology in the healthcare sector
Integration of latest technologies and growing investment by governments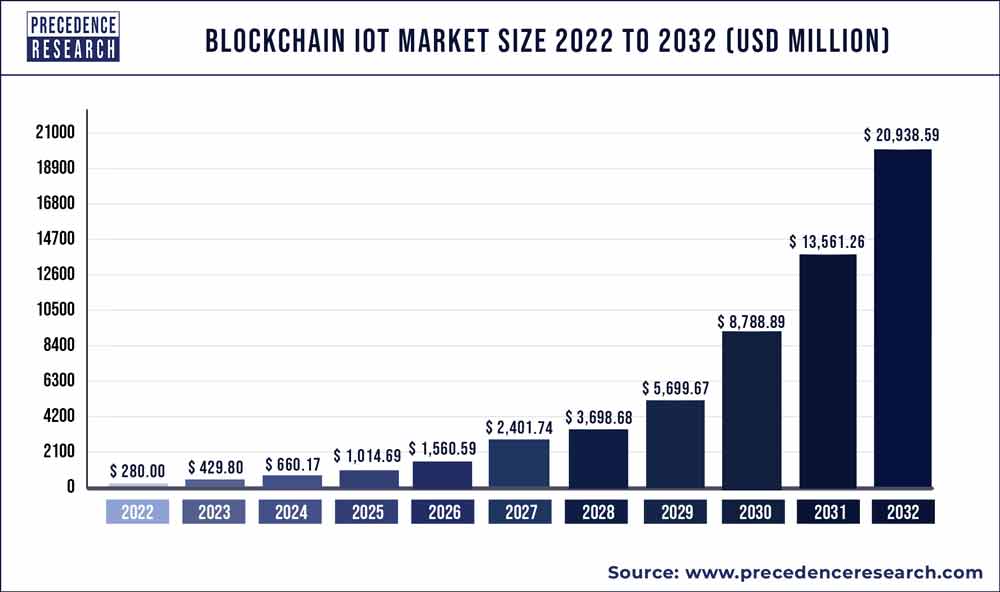 Major Trends in The Blockchain IoT Industry:
Numerous blockchain platforms concentrating on IoT are evolving as the business gets larger. IOTA is one of the initial blockchain IoT platforms. It was intended explicitly for the Internet of Things (IoT) and delivers a data transfer layer and transaction settlement for linked devices. The Blockchain technology is the absent link to determine reliability, privacy, and scalability apprehensions in the IoT (Internet of Things). Blockchain technologies can perhaps be the tremendously effective resolution needed by the Internet of Things business. Blockchain technology can be employed in tracking thousands of millions of connected equipment's, allow the processing of communications and synchronization between the devices. This distributed approach would eradicate single points of disaster, creating an extra resilient network for devices to operate on. The cryptographic procedures used by blockchain, can make consumer information more private, thus secure and more dependable.
The establishments executing IoT solutions continue to encounter challenges recognizing security know-hows and approaches adequate to mitigate unique intimidations to the Internet of Things. Blockchain mechanism promises to perform a major part in addressing such challenges. Numerous devices will gain advantage from the safety and other aspects offered by blockchain facilities through APIs from upstream business nodes of systems or by specialized mediators. Such upstream competences can be employed to safeguard IoT devices and interactions. The Internet of Thingshas long remained associated with safety weaknesses and threats, and professionals and establishments have started exploring the usage of blockchain to safeguarding the IoT. Establishments like Trusted IoT Alliance and IOTA have commenced emphasis on IoT security by means of the utilization of blockchain. IoT equipment's can be constituted either to make usage of public blockchain facilities or to interconnect with sequestered blockchain nodes in the cloud through a secure API. Integrating blockchain expertise into the security outline of an IoT organization allows IoT equipment's to securely determine each other, encode machine-to-machine communications using dispersed key administration techniques, and authenticate the integrity and genuineness of software image apprises, in addition to policy updates. The use of blockchain technology to deliver security to IoT network is expected to drive the demand for blockchain IoT industry in the estimate timeframe.
COVID-19 Impact on Global Blockchain IoT Market
The COVID-19 disease has obstructed almost all industries, although the consequence has not been the same. The pandemic and the following lockdown have made an adverse impact on numerous industries and a substantial slowdown in technology expenditure is anticipated in blockchain technology expansion as well. Earlier to the pandemic, numerous agencies anticipated a significant venture in blockchain technology. In the present state of affairs, a slowdown in expenditure is expected in near future. The Internet of Things will be essential to the long-term retrieval plans of the post-COVID-19 economy internationally, yet certain facets of the Internet of Things itself will be undesirably impacted in the near future. Although the current disturbance due to the prevalent pandemic may pose challenges to the blockchain business in the short time, it will also reveal new opportunities in the middle and longer-period.
Scope of the Blockchain IoT Market
| | |
| --- | --- |
| Report Highlights | Details |
| Market Size | USD 19.740 Million by 2030 |
| Growth Rate | CAGR of 73.5% From 2022 to 2030 |
| Base Year | 2021 |
| Historic Data | 2017 to 2021 |
| Forecast Period | 2022 to 2030 |
| Segments Covered | Component, Application, End-Use Industry |
| Regional Scope | North America, Europe, Asia Pacific, Latin America, Middle East & Africa (MEA) |
| Companies Mentioned | The Linux Foundation, KrypC, Microsoft, Amazon, Ethereum Foundation, Cisco Systems, IoTEX, IBM, Intel |
Significant Market Trends:
Software Segment Reported Foremost Market Stake in 2020
The software displayed the major share in the worldwide blockchain IoT market in 2020. Increased focus on development of software's for the implementation of blockchain IoT are the key reason for highest market stake of software segment. The factors such as implementation in new sectors are expected to retain the dominance of software in the near future. The hardware segment is anticipated grow at the maximum CAGR through the forecast time-frame mainly due to high anticipated demand.
Asset Management and Tracking Application Dominated the Market Revenue
Blockchain IoT has major application in the area of asset management and tracking. It is also favorable in designing algorithms that can be used to better organize assets and track them.
Data security application will expand at highest CAGR during the forecast time-frame. Smart contracts are acquiring an increasing acceptance in both private and public domains as they permit peer-to-peer process on community blockchains and possess the potential to progress efficacy and transparency in commercial collaborations. With the improvements in flexibility, legality, and security smart contracts are expected to be implemented by a larger customer base.
Transportation Will Dominate the Blockchain IoT Market Revenue By End-Users
The use of blockchain technology to reduce operational costs in the transportation industry is the key reason for high market share. Smart City end-use industry will expand at highest CAGR during the forecast time-frame.
North America is Estimated to be the Largest Market for Blockchain IoT
The detailed research report covers significant prospects and inclinations of blockchain IoT products throughout different regions including Europe, North America, Asia-Pacific, Africa, Middle East, and Latin America. By region, blockchain IoT market is led by North America due to early application of latest technologies and availability of latest technology infrastructure. Europe reported the second maximum share predominantly due to presence of key companies.Asia-Pacific is also anticipated to witness the rapid growth rate, on account of increasing investment by governments on latest technologies.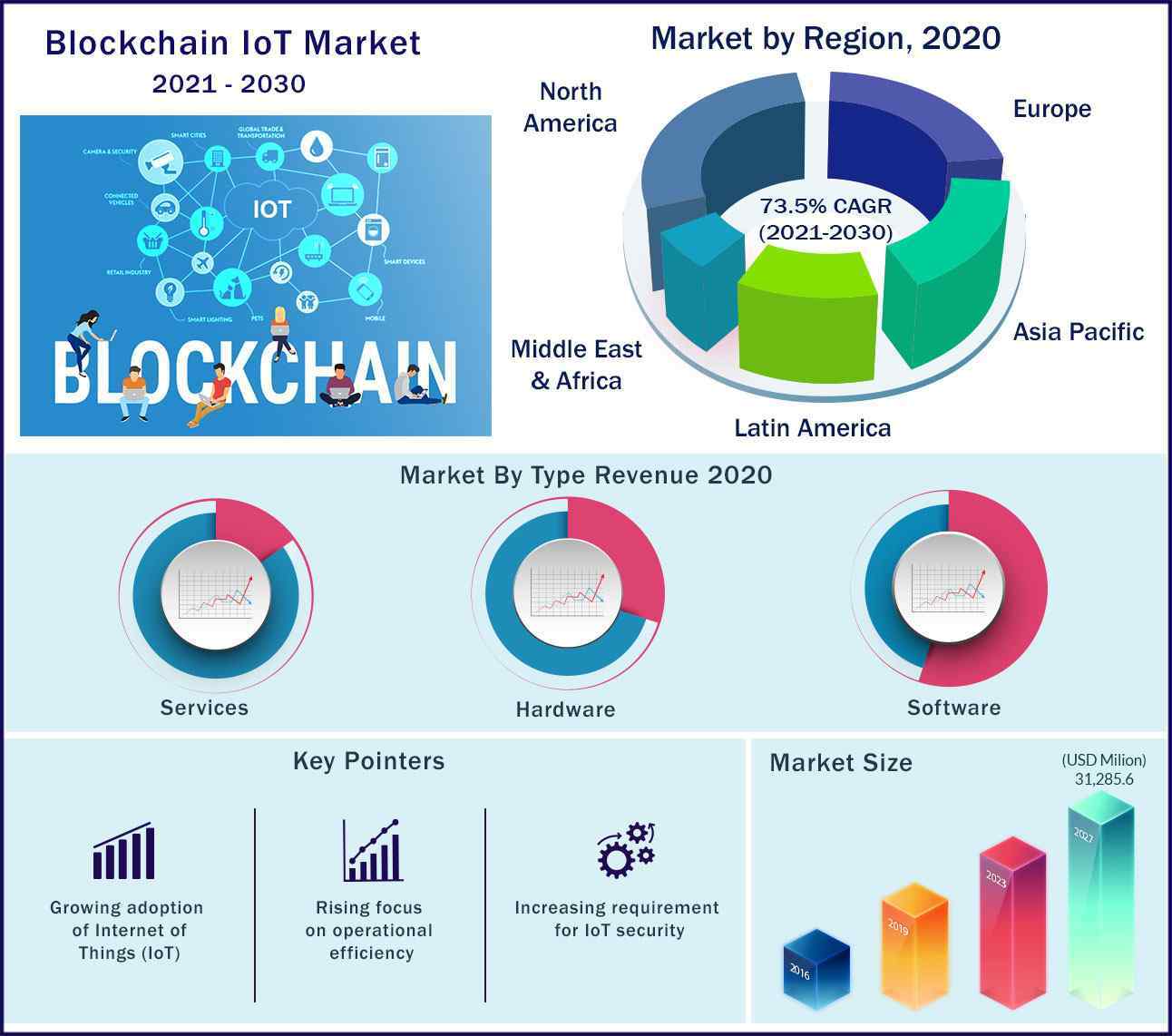 Top Players contending in the Market:
The companies focusing on research and development are expected to lead the global blockchain IoT market. Leading competitors contending in global blockchain IoT market are as follows:
The Linux Foundation
KrypC
Microsoft
Amazon
Ethereum Foundation
Cisco Systems
IoTEX
IBM
Intel
In order to well recognize the present status of blockchain IoT, and policies implemented by the foremost nations, Precedence Research projected the future progress of the blockchain IoT market. This research report bids quantitative and qualitative insights on blockchain IoT market and valuation of market size and progress trend for probable market segments.
Major Market Segments Covered:
By Component
Services
Hardware
Software
By Application
Data Security
Asset Management and Tracking
Smart Contracts
Data Sharing
Others
By End-Use Industry
Retail
Transportation
Smart City
Manufacturing
Construction
Consumer Electronics
Healthcare
Others
By Organization Size
By Geography
North America
Europe

Germany
France
United Kingdom
Rest of Europe

Asia Pacific

China
Japan
India
Southeast Asia
Rest of Asia Pacific

Latin America

Brazil
Rest of Latin America

Middle East & Africa (MEA)

GCC
North Africa
South Africa
Rest of Middle East & Africa