The global video game market size was estimated at USD 224.9 billion in 2022 and it is projected to hit around USD 610.6 billion by 2032, growing at a CAGR of 10.5% during the forecast period 2023 to 2032.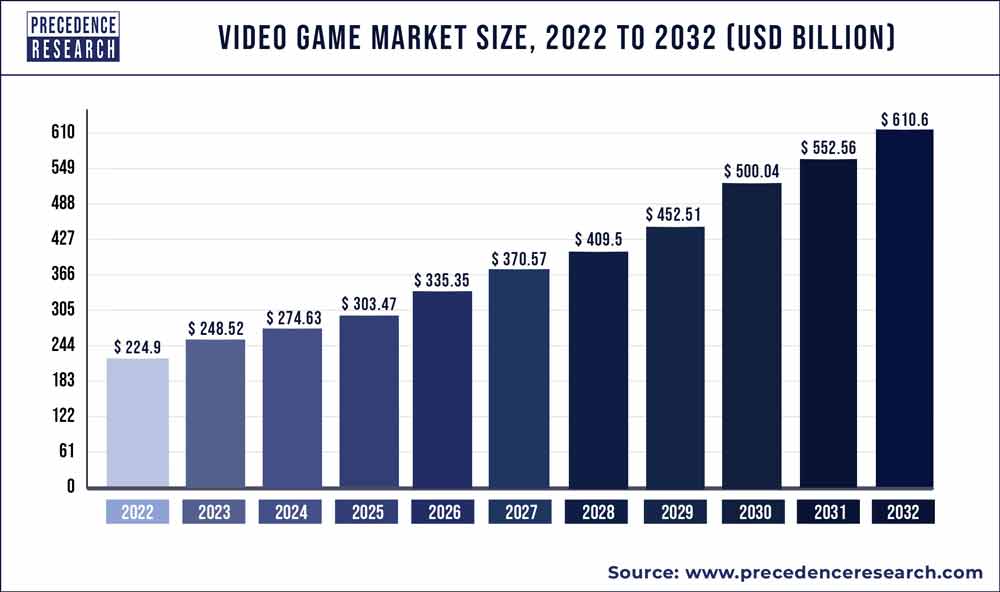 Access our Premium Real Time Data Intelligence Tool, Visit: Precedence Statistics
Key Takeaways:
By device, the mobile segment has generated a revenue share of around 42% in 2022.
By type, the offline segment has held a revenue share of 64% in 2022.
Asia Pacific region has captured a revenue share of over 54% in 2022.
Market Overview:
A video game, also known as a computer game, is an electronic interactive game that allows players to engage with it using input devices like keyboards, controllers, or joysticks. These games serve the purpose of entertainment, relaxation, competition, and even computer-based learning. Some video games are specifically designed to enhance fine motor skills and hand-eye coordination. In the video game market, innovation plays a crucial role as consumers are more inclined to purchase new games that offer novel experiences. This constant drive for innovation has led to rapid advancements in video game hardware, particularly gaming consoles.
Over the course of more than 50 years, nine generations of gaming consoles have been introduced, with every version surpassing its predecessor. The market's growth is further propelled by technological advancements and ongoing innovations in both hardware and software, particularly in real-time graphics rendering. Additionally, the widespread usage of smartphones, increasing internet penetration, and easy access to online games contribute significantly to the market's growth.
Growth Factors:
The rising preference for online gaming is fueling the demand for massively Free2Play (F2P), multiplayer online (MMO), and multiplayer games, a trend that is expected to persist in the foreseeable future. As a result, game developers are prioritizing hardware compatibility and efficiency. Simultaneously, shifting consumer preferences and increasing disposable incomes worldwide are driving the widespread adoption of progressive gaming consoles with advanced features like record and share functionalities and cross-platform gameplay.
Recognizing that many individuals turn to social media to discover their desired video games, game developers are releasing a variety of games across different genres, including action, role-playing, simulation, and strategy, on social media platforms to attract customers. The surging popularity of esports tournaments and the growing number of professional gamers are also boosting the sales of video games and accessories.
Additionally, there is a growing interest in utilizing gaming as an educational tool for cognitive learning, although the concept of "gaming to learn" is still in its early stages but gradually gaining momentum. Furthermore, the expansion of the gaming market is being driven by the rise of social and casual gaming, as millions of people turned to their controllers to combat the boredom and isolation brought about by COVID-19 lockdowns.
Report Scope of the Video Game Market:
| | |
| --- | --- |
| Report Coverage | Details |
| Market Size in 2023 | USD 248.52 Billion |
| Market Size by 2032 | USD 610.6 Billion |
| Growth Rate from 2023 to 2032 | CAGR of 10.5% |
| Largest Market | Asia Pacific |
| Base Year | 2022 |
| Forecast Period | 2023 To 2032 |
| Segments Covered | By Type, By Platform, and By Business Model |
| Regions Covered | North America, Europe, Asia-Pacific, Latin America, and Middle East & Africa |

Market Dynamics:
Driver:
Increasing adoption of cloud
The increase in adoption of cloud gaming is expected to fuel the growth of the video game market during the forecast period and this trend is likely to continue in future. Cloud gaming provides not only affordable and enjoyable entertainment for gamers but also opens up plethora of advantages for companies across various industries.
As cloud gaming continues to mature, service providers are innovating in terms of monetization and use cases, attracting a larger user base and garnering increased attention to the potential of cloud technology. Even established players in the gaming industry, such as Xbox and PlayStation, are embracing cloud gaming to complement their traditional hardware experiences.
The inevitability of cloud-based gaming is evident, with renowned gaming companies poised to win over even the most devoted hardware enthusiasts. Moreover, the hardware and software infrastructure supporting cloud gaming are being leveraged by developers to create the metaverse—a network of interconnected, immersive, and persistent 3D worlds.
Telecom operators must swiftly recognize the benefits of cloud gaming and harness its potential to maintain competitiveness. Combining a cloud gaming service with 5G connectivity is an excellent strategy to attract gamers and cater to the preferences of new generations. Additionally, cloud gaming offers an ideal platform to showcase the capabilities of 5G to end users.
Furthermore, hotels stand to benefit from cloud gaming platforms as they can avoid the high costs associated with investing in consoles for every room. Instead, offering guests access to a cloud gaming platform through a fixed, convenient monthly fee proves to be a cost-effective solution that provides excellent entertainment. These aspects are likely to open up more growth avenues for the video game market in the years to come.
Restraints:
Growing complexity in designing games
With the expansion of the gaming industry, there is simultaneous rise in the complexities of the game development. Technological advancements empower designers to craft increasingly complex games, posing new challenges in their design and development. As the industry grows further, there will be growing entry of developers specializing in these spaces, leading to intensified competition and potentially higher compensation rates. Further, the increasing costs associated with developing complex games can act as a barrier for smaller studios and independent developers, limiting the diversity and variety of games available. The longer development cycles required to design intricate games can result in delays, frustrating customers and potentially dampening their enthusiasm.
Additionally, keeping up with rapid technological advancements adds challenges, costs, and time constraints to the development process, making it difficult for developers to deliver cutting-edge experiences. The need for specialized skills and expertise in multiple disciplines poses recruitment and retention challenges, potentially limiting the development capacity of studios. Also, consumers' amplified expectations for immersive experiences place additional pressure on developers to meet these demands, which can be resource-intensive. Thus, this is likely to limit the market's growth during the forecast period.
Opportunities:
Introduction of virtual reality (VR) and augmented reality (AR) technologies
The adoption of augmented reality and virtual reality technologies in gaming opens up a host of new opportunities for the video game market in the years to come. These immersive technologies provide players with unprecedented levels of engagement and realism, allowing them to step into virtual worlds and interact with digital content in innovative ways.
The introduction of VR and AR into gaming not only enhances the overall gaming experience but also attracts a wider audience, including casual gamers and those who may not typically engage with traditional video games. This expanded audience base increases the market potential for VR and AR games, leading to new revenue streams and business opportunities. Moreover, VR and AR offer unique gameplay mechanics that take advantage of their respective platforms, enabling developers to create novel and immersive experiences that captivate players.
Additionally, the social and multiplayer aspects of VR and AR gaming provide opportunities for players to connect and interact in virtual environments, fostering community building and collaborative gameplay. Beyond entertainment, the adoption of VR and AR technologies in gaming extends to other industries, such as education, healthcare, and training simulations, further diversifying the market and unlocking additional applications for these technologies. In summary, the adoption of VR and AR in gaming brings forth exciting new dimensions, driving innovation, expanding the market, and transforming the way players engage with video games.
Impact of COVID-19:
The COVID-19 pandemic had a positive impact on the video game market. With people staying at home due to lockdowns and social distancing measures, the demand for video games surged. Individuals turned to gaming as a form of entertainment, leading to increased game sales, digital downloads, and online gaming activity. The closure of physical retail stores also accelerated the shift towards digital distribution, with players relying more on digital platforms to access and purchase games.
The popularity of online multiplayer games and esports skyrocketed as people sought virtual connections and competitive experiences. However, the pandemic also caused disruptions in game development processes, resulting in delays and logistical challenges. Supply chain disruptions affected hardware manufacturing and distribution. Traditional gaming events and conferences were canceled or moved to virtual formats. Nonetheless, the industry adapted to the circumstances, leading to increased engagement, monetization opportunities, and digital transformation.
During the pandemic, certain games experienced a notable advantage due to their well-timed releases. A prime example is Nintendo's Animal Crossing: New Horizons, launched in March 2020, which sold a remarkable 13.4 million copies within its initial six weeks. Over time, it emerged as one of the top-selling titles for the Nintendo Switch console. As a result, this success had a positive impact on the video game market amidst the pandemic.
Segments Insight:
Type Insights:
On the basis of type, the online games segment held considerable revenue share in 2022. This is owing to the increasing internet penetration across the globe. As more regions and individuals gain high-speed internet, the potential user base for online gamers are increasing. Additionally, the widespread adoption of smartphones and tablets has made online gaming more accessible than ever before. As per the Mobile Economy 2022 report published by GSMA Intelligence, it is estimated that by 2025, there will be nearly 7.5 billion smartphone connections, accounting for more than four out of five mobile connections.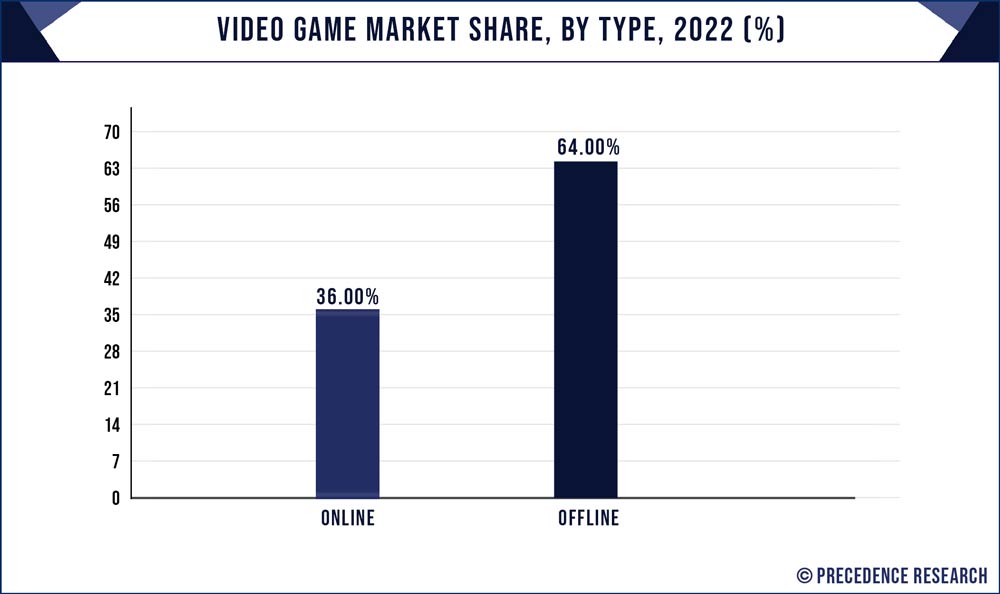 The majority of regions are expected to witness a threefold increase in mobile data usage over the next six years, primarily due to the rise in smartphone penetration and video consumption. Furthermore, online gaming offers the opportunity for social connectivity and multiplayer interactions which is also likely to augment the segmental growth of the video game market during the forecast period.
Platform Insights:
Based on platform, the mobile segment is expected to grow at a significant CAGR during the forecast period. This is owing to the growing adoption of smart mobile phones globally. Mobile gaming excels not only in revenue generation but also in terms of player volume. As per Newzoo's data, the global estimated number of gamers in 2021 reaches 3.22 billion, and surprisingly, a staggering 94% of these gamers engage with games on mobile devices. Mobile games offer compelling features like multiplayer functionalities, leaderboards, and seamless integration with social media platforms, enhancing their appeal and driving their widespread popularity.
Regional Insights:
North America held considerable revenue share in 2022. US dominated the North America region in 2022. This is attributable to the early adoption of advance technologies, such as augmented reality, virtual reality and cloud gaming in the region. Microsoft, which has witnessed a growth in its market share over the past few years, originated from this very place. The total revenue generated from investments in the gaming industry in 2018 amounted to around $43.2 billion which is also likely to support the growth of the market in the region. Additionally, the growing popularity of esports events and streaming platforms is also likely to create immense growth opportunities for the market in the region.
Asia-Pacific dominated the global video game market and is expected to grow at the fastest CAGR during the forecast period. One of the primary factors is the region's large population, providing a substantial consumer base for the gaming industry. Additionally, the rising disposable incomes and increasing urbanization in countries like China, Japan, South Korea, and India have led to greater spending on entertainment, including video games. Also, the increasing popularity of mobile gaming is expected to support the regional growth of the market in the years to come.
Recent Developments:
In February 2023, nCore Games invested $1 million in Newgen Gaming, marking the first round of funding for Newgen Gaming, that works under the brand Penta Esports in the esports industry. Penta Esports is engaged in various verticals, including tournaments, leagues, and content, offering opportunities to esports athletes across different titles and platforms.
In February 2023, Nvidia announced a partnership of 10-year with Microsoft to get Xbox PC games to the NVIDIA GeForce NOW cloud gaming service. With over 25 million members in more than 100 countries, GeForce NOW allows gamers to stream Xbox PC titles on devices like PCs, Chromebooks, macOS, smartphones, and more. Additionally, the partnership will enable the streaming of Activision Blizzard PC titles exclusively on GeForce NOW following Microsoft's acquisition of Activision.
In October 2022, Electronic Arts Inc. entered into a long-term alliance with Marvel to develop a minimum of around 3 all-new action adventure games for PC and consoles. Each of these games will feature an original story set in the Marvel universe. The first game, currently in development at Motive Studios, will be a third-person, single-player, action-adventure game centered on Iron Man.
Key Market Players:
Tencent Holding Limited
Nintendo of America Inc.
Activision Blizzard, Inc.
Electronic Arts Inc.
Microsoft Corporation
Sony Corporation
Take-Two Interactive Software, Inc.
Amazon.com, Inc.
Square Enix Holdings Co., Ltd.
Gameloft SE
King Digital Entertainment Ltd.
Segments Covered in the Report:
(Note*: We offer reports based on sub-segments as well. Kindly, let us know if you are interested)
By Type
By Platform
By Business Model
Free-to-play
Pay-to-play
Play-to-earn
By Geography
North America
Europe
Asia-Pacific
Latin America
Middle East and Africa