The global augmented reality and virtual reality market size was estimated at USD 38 billion in 2022 and is projected to hit around USD 372.73 billion by 2032, growing at a CAGR of 25.7% during the forecast period 2023 to 2032.
The internet's increasing adoption and the burgeoning video game industry serve as the market's main propellants. During the projection period, the AR & VR market will experience strong growth due to the expanding applications of augmented reality and virtual reality in industries such as healthcare, retail, entertainment, media, manufacturing, aerospace, and the military.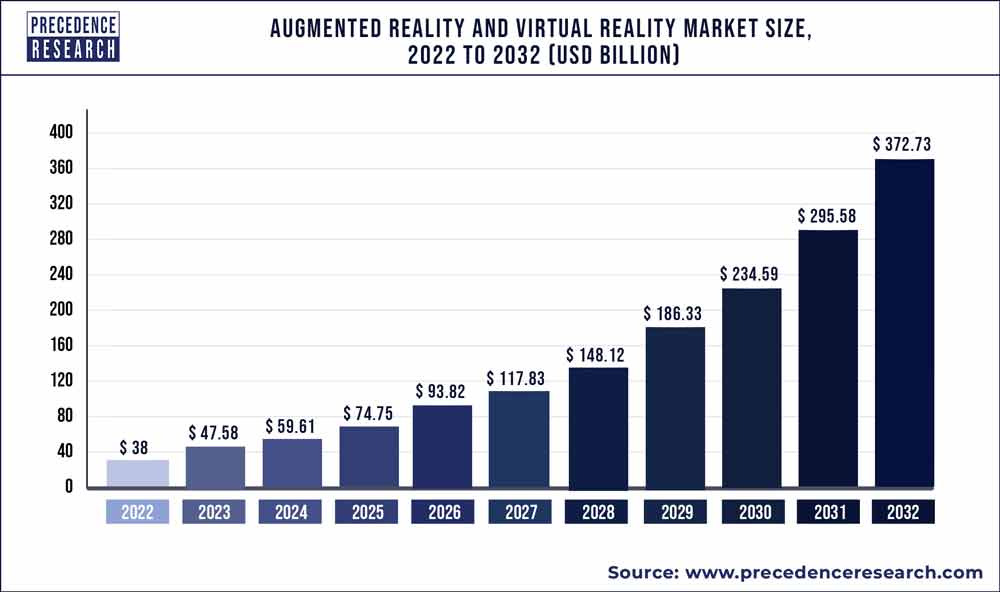 Access our Premium Real Time Data Intelligence Tool, Visit: Precedence Statistics
Key Points:
On the basis of device type, the gesture control device segments accounted significantly for revenue in 2022 and is anticipated to expand.
On the basis of offering type, the software segment is projected to grow at the biggest CAGR of around 41.8% from 2023 to 2032.
On the basis of offering type, the software segment had the largest revenue share with a 59.8% share in 2022.
The Asia Pacific region is expected to hold a sizable market share for VR and see quicker growth.
The potential of augmented reality technology to transform interior navigation. For instance, the software development company MobiDev has transformed interior navigation using AR technology. With the aid of the company's ARcore technology, the best path to the target location may be suggested and displayed on a mobile device. When it comes to outdoor navigation, augmented reality (AR) technology can assist tourists in finding tourist attractions and suitable lodging via AR-based virtual tours. For example, Hub Hotels by Premier Inn uses augmented reality technology to turn its rooms into city maps that direct visitors to the area's top attractions. In light of this, the travel & tourism industry's established players are anticipated to increase their demand for AR-based solutions, ultimately fueling the market's expansion throughout the research period.
Report Scope of the Augmented Reality and Virtual Reality Market
Report Coverage
Details
Market Size in 2023
USD 47.58 Billion
Market Size by 2032
USD 372.73 Billion
Growth Rate from 2023 to 2032
CAGR of 25.7%
Base Year
2022
Forecast Period
2023 to 2032
Segments Covered

By Device Type
By Offering Type
By End Use

Regions Covered

North America
Europe
Asia-Pacific
Latin America
Middle East & Africa

Key Market Drivers
Rising demand for augmented reality in retail and e-commerce - Due to the epidemic, online shopping is becoming more and more popular. Since many websites' return procedures were blocked during the epidemic, virtual try-one for jewelry and make-up let shoppers see if the items actually suited them. Their shopping convenience was aided by this. The convenience will enhance demand in this industry and, in turn, aid to fuel the market expansion for augmented reality. Augmented reality technologies make it easier for customers to be satisfied.
Advanced technologies and growing digitization - Technology development and digitalization are the main forces behind the adoption of the latest technologies in sectors including manufacturing, healthcare, and retail. In order to obtain a competitive edge, organizations and enterprises have been able to cut manufacturing costs and save time thanks to technology improvements. For instance, 3G, as well as 4G, have lowered the operational costs for small firms so they can reach their target audiences. The need for digitalization has also been fueled by the rising usage of mobile phones.
Key Market Challenges
Health problems linked to excessive AR usage - The prevalence of AR-related illnesses is rising as a result of gamers' excessive use of AR and the creation of new gaming devices and technologies. Due to how captivating and addictive AR games are, they may result in problems including anxiety, eye strain, weight gain, and lack of attention. Because of the technology's immersive nature, prolonged use of the AR headset may cause worry or tension. Users of AR technology may become stressed and ill as a result of the harmful electromagnetic radiation they are exposed to.
Key Market Opportunities
Opportunities in enterprise applications - There is a ton of chances in corporate apps. A key factor in the enterprise industry's growth in the AR market will be significant expenditures made by businesses in smart manufacturing. Companies with plants spread out throughout the country can adopt AR and hire a few engineers to oversee a big setup. It would be possible to operate businesses more successfully through remote cooperation by employing AR technology to remotely handle equipment and other installations. Regarding the educational usage for technicians and other employees in businesses, enterprise AR has additional significant uses. Workers will be able to perform more effectively with the aid of head-up displays and smart helmets that can comprehend blueprints and instructions and offer real-time data.
Penetration of HMDs in training - Devices and technology for virtual reality may be used to monitor a factory's workflow, ensuring that tasks are completed on time and that product is produced. The supervisor can utilize virtual reality technology to protect the safety of the employees by tracking their whereabouts and receiving alerts for potentially hazardous areas. With the use of VR, a manager or supervisor in a factory or industry may also lead training sessions for the employees. The market for virtual reality has a chance to expand in the years to come because of the growing use of this technology in industries.
Segments Insight
Device Type Insights
The sector of gesture control devices contributed significantly to revenue in 2022 and is anticipated to expand steadily during the forecast period. Users may operate gadgets and move items in virtual reality with their hands and other body parts thanks to gesture-based interfaces and technologies. Compared to simple user interfaces like the keyboard and mouse, it builds a deeper connection between computers and people. Adopting high-efficiency gesture control devices has advantages that have been recognized across a variety of businesses and sectors. In contrast to an easier-to-use built-in system and a decreased chance of causing an accident by enabling drivers to maintain their eyes on the road, a hand gesture recognition system enables doctors to modify digital pictures during medical operations. These benefits have drawn significant market players, which is promoting this industry's expansion.
Offering Type Insights
In 2022, the hardware sector had the greatest revenue share with 59.8% share, and it is anticipated that it would continue to rule the market over the projected period. The hardware sector is dominating the market thanks to the expanding use of AR devices across several sectors and industrial verticals, including education, healthcare, construction, and retail. For instance, the medical solutions provider AccuVein Incorporated is leveraging AR-based solutions to help medical practitioners locate a patient's vein so they may give intravenous treatments or take blood for testing, among other things. As more businesses make aggressive investments in contemporary AR solutions and products, the demand for gear that supports augmented reality (AR) does not appear to be slowing down.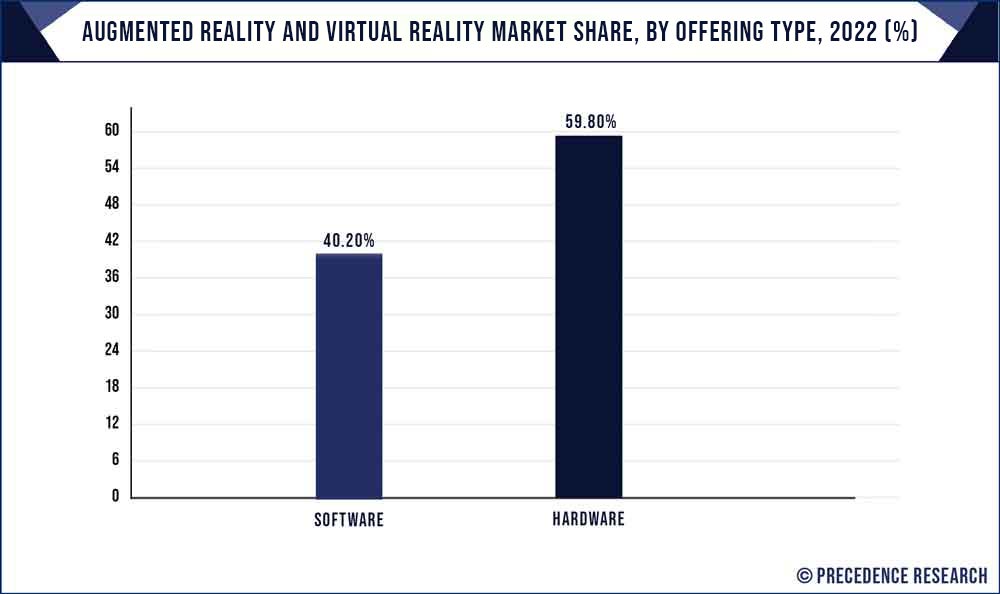 During the projection period, the software segment is anticipated to grow at the highest CAGR of 41.8%. Due to the pandemic's onset, augmented reality technology is becoming more prevalent in everyday life. For instance, the touchless and immersive experience made possible by AR technology is good news for both remote workers and students. As augmented reality (AR) technology develops further, mobile devices may now simply and conveniently use it. To create straightforward yet comprehensive AR solutions, developers are making use of the increased processing power made possible by the most recent hardware and software.
End Use Insights
Due to advancements in technologies like AR and VR, the gaming and entertainment industries were the first to profit from and fully realize the promise of digital reality, evolving into an immersive and interactive form of entertainment. AR and VR have revolutionized everything from improved gaming simulations to fresh television and smartphone applications. The video-based immersive media sector, which focuses on improving and producing films, television shows, and other types of material, includes virtual reality as a significant component. While AR has been shown to be a game-changer and lucrative immersive technology that will benefit the gaming and entertainment sectors in the long run, VR has gained a lot of momentum owing to its very immersive qualities. Smartphones with camera filters frequently employ augmented reality (AR) technology on social media platforms like Snapchat, Instagram, and Facebook. These filters apply filters depending on what is seen via the camera using computer vision technology that employs an active shape model for classifying objects and a human face recognition component.
Regional Insights
In 2022, Asia Pacific is expected to hold a sizable market share for VR and see quicker growth than the rest of the world. Due to the fact that a few nations in the region, such as China, Japan, and South Korea, have been concentrating on training, medical assistance, and e-learning for customers with the use of virtual reality technology, the market share for virtual reality in the Asia Pacific region was significant in the base year, or 2022. However, nations like India are still on the cusp of beginning to adopt new technologies and incorporate them into various industries, which also suggests that the region would have a quicker development rate in the virtual reality market over the projection period.
The stocks of AR and VR devices, as well as the makers and suppliers of their component parts, have been unsettled and disrupted by the breakout and propagation of COVID-19. For instance, the COVID-19 outbreak in the US prompted lockdown measures that included the closure of production facilities and warehouses and had an impact on numerous businesses' international exports and shipments. The COVID-19 pandemic-related lockdown measures that were issued in a number of nations across the world also caused a drop in inventory levels among the vendors of AR and VR device components. However, the abrupt shift in work culture toward online platforms led to a surge in the AR and VR industries.
Recent Developments
HTC released a wrist tracker for the Vive Focus 3 in January 2022. This wearable gadget aids in tracking through infrared LEDs that are detected optically by the device's built-in camera sensors. Using high-frequency IMU data and a sophisticated kinetic model, tracker movements and trajectories can be monitored even when the tracker is hidden from the camera's view.
In December 2021, Google announced and added a brand-new addition to its collection of augmented reality (AR) devices by creating AR smart glasses that give users access to more information, animation, videos, and more lifelike experiences by superimposing digital or computer-generated content over their actual surroundings.
Key Market Players
Microsoft
Google LLC
Apple, Inc.
Sony Corporation
Blippar Limited
Infinity Augmented Reality Limited
Niantic, Inc.
Zappar Limited.
Magic Leap, Incorporated
Wikitude GmbH
Segments Covered in the Report
(Note*: We offer reports based on sub-segments as well. Kindly, let us know if you are interested)
By Device Type
AR technology:

Head Mounted Displays
Head Up Displays

VR Technology

Head Mounted Displays
Gesture Control Device
Projector and Display Wall
By Offering Type
By End Use
Aerospace & Defense
Consumer
Commercial
Enterprise
Gaming and Entertainment
Healthcare
Others
By Geography
North America
Europe
Asia-Pacific
Latin America
Middle East & Africa (MEA)