The global smart manufacturing market is projected to grow at an impressive CAGR of 16% during the forecast period 2023 to 2032. The global smart manufacturing market size was valued at USD 226.3 Billion in 2022 and is expected to reach USD 985.5 Billion by 2032.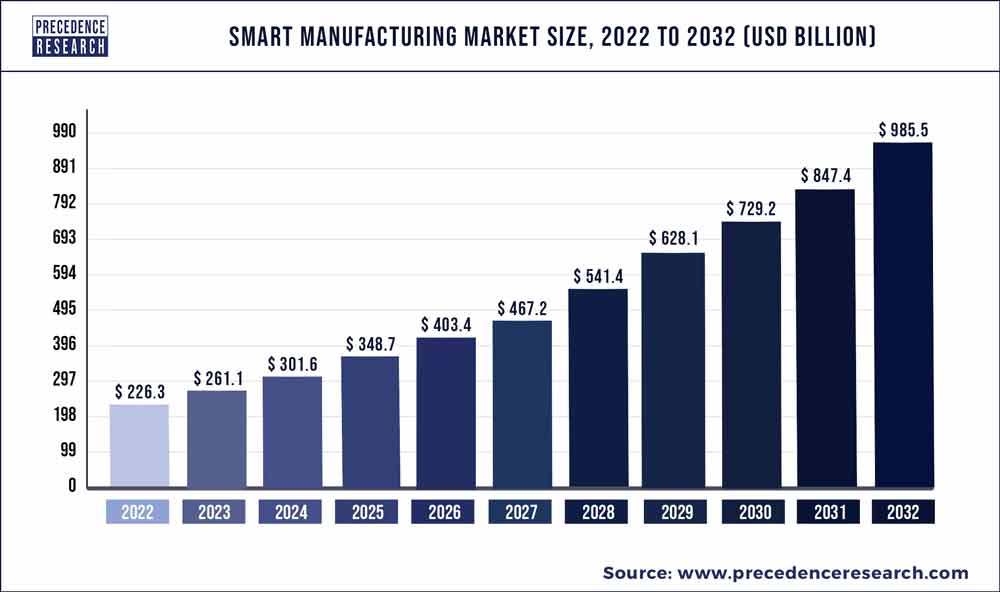 Access our Premium Real Time Data Intelligence Tool, Visit: Precedence Statistics
Key Takeaways
Asia Pacific led the global market with the highest market share in 2022.
By Technology, the 3D printing segment has held the largest market share in 2022.
By End-use, the automotive segment registered the maximum market share in 2022.
Smart Manufacturing Market in the Asia Pacific 2023 To 2032
The Asia Pacific smart manufacturing market size was estimated at USD 83.73 billion in 2022 and is projected to surpass USD 364.61 billion by 2032, growing at a CAGR of 15.90% from 2023 to 2032.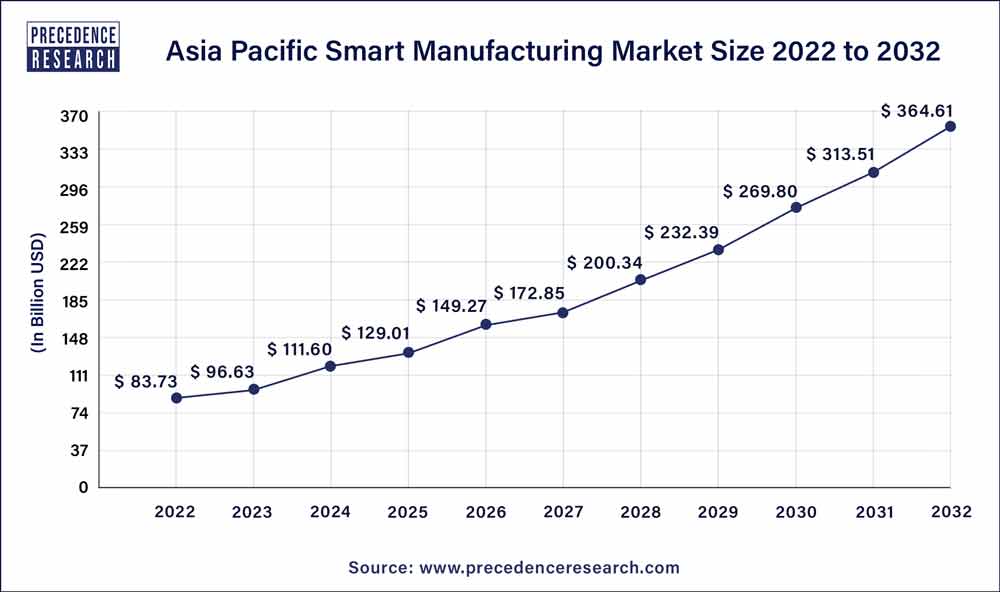 The Asia Pacific region holds the largest market share of around 37% in 2022 and is also predicted to hit as the fastest-growing region over the forecast period 2023 to 2032.
Every region is now investing predominantly in the smart manufacturing technologies, yet the level of maturity varies as per the region. Developed countries such as Germany, the U.S., and Japan have numerous on-going projects in support of the penetration of smart manufacturing or industrial IoT, whereas emerging countries for example China and India are struggling with the technological developments and advancements. For instance, in 2018, Alibaba cloud and Siemens form a partnership to bolster the adoption of industrial IoT in China. The partnership will offer innovative solutions for Chinese manufacturers to implement industrial IoT into their existing system.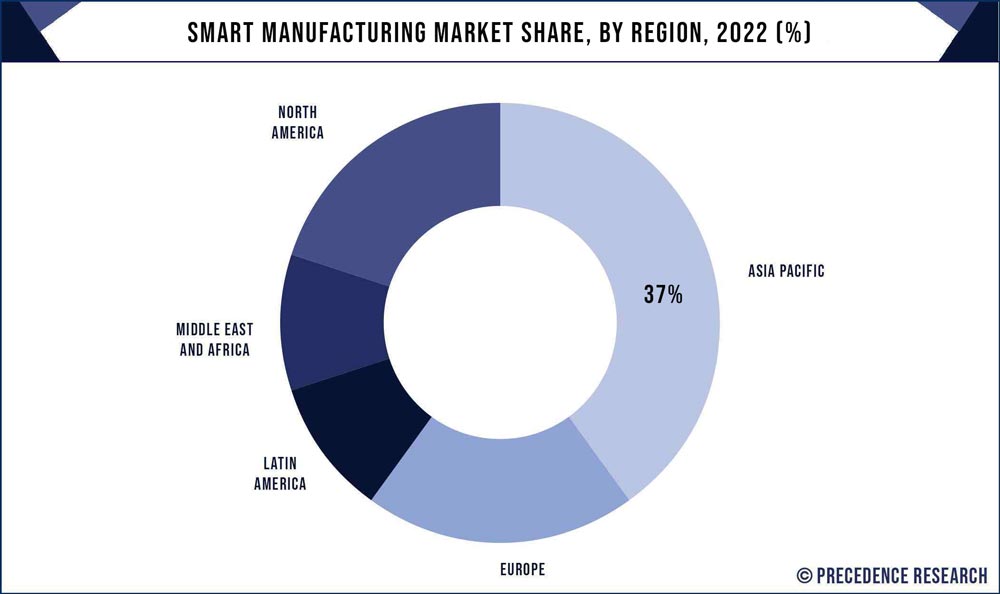 Growth Factors
The growth of market is driven by increasing demand for connected supply chains and knowledge-based manufacturing that are equipped with advanced modeling, sensing, control, and simulation capabilities. With the advent of Internet of Things (IoT) revolution, there has been significant transformation in the manufacturing sector in form of automation and digitization. Further, cloud technology, Industrial Internet of Things (IIoT), and industrial analytics anticipated to play an important role towards prosper growth of the market.
The industrial sector worldwide has been significantly impacted by numerous factors over the years that include uncertainties in supply chain, intense competition, and exponential operational costs. As a result, market players are actively searching a way that reduces cost and transform enterprises into efficient, accelerated, agile, and compliant with the product quality. Hence, smart industrial solutions estimated to boost the efficiency and productivity in years to come. As per GSMA intelligence report, the industrial IoT connections expected to reach around 13.8 Billion by the end of 2025 along with increase in number of IoT connections in the consumer sector. Growth in the number of IoT connections will stimulate the digitization and connectivity among enterprises. Moreover, different aspects of smart manufacturing predicted to offer additional benefits that include dynamic production and real-time optimization that in turn bolster the need for smart manufacturing at a rapid pace.
Scope of the Smart Manufacturing Market Report
| | |
| --- | --- |
| Report Highlights | Details |
| Market Size | USD 985.5 Billion by 2032 |
| Growth Rate | CAGR of 16% From 2023 to 2032 |
| Base Year | 2022 |
| Forecast Period | 2023 to 2032 |
| Segments Covered | Technology, End Use, Region |
| Regional Scope | North America, APAC, Europe, Latin America, MEAN, Rest of the World |
| Companies Mentioned | Emerson Electric Co., ABB Ltd., Fanuc Corporation, Honeywell International, Inc., General Electric Co., Mitsubishi Electric Corporation, Rockwell Automation, Inc., Robert Bosch GmbH, Schneider Electric SE, Yokogawa Electric Corporation |
Statistics, Data, initiatives, and investments:
By 2026, India is estimated to have approximately 1 billion smartphone users. On this basis, Samsung has planned to invest in smart manufacturing processes in its plant based in Noida India. the Korean major, Samsung aims to bring competitiveness in the production sector with this significant investment.
While focusing on the smart manufacturing in the construction sector, the Obayashi Corporation completed its 3D printed demonstration building in Japan. The building is approved by the Ministry of Land, Infrastructure, Transport and Tourism and is considered to be the first building in the country with 3D printed cement-based material.
A network of public and private sector organizations, Next Generation Manufacturing Canada received investment of $177 million from the Canadian government. The investment aims to focus on promoting Canada's manufacturing capabilities. The investment and funding by the government is renewed in February 2023 to scale up transformative solutions in manufacturing sector.
Intel stated that by 2025, 80-100% manufacturing could be using Internet of Things (IoT) for operating sensors, machines and other manufacturing devices.
The Japanese government in 2022 provided more than $930.5 million in order to support the country's National Robot Strategy.
According to Deloitte's 2023 manufacturing survey, 62% of large companies plan to invest in robotics and automation for operational activities this year. Whereas 39% of large companies plan to invest in Internet of Things (IoT) platforms.
The State of Smart Manufacturing Report by Rockwell Automation, 97% of manufacturers plan to invest in smart manufacturing technology to accelerate the transformation and manage risk factors in the manufacturing sector. Rockwell Automation surveyed 1353 global manufacturers for the survey.
The Indian government has started Production Linked Incentive (PLI) scheme to promote the adoption of smart manufacturing. The scheme supports manufacturers in the country to adopt automated solutions for boosting their capabilities of production.
According to the International Federation of Robotics, the automotive industry alone represents one-third of installed robots for working in factories around the world.
Market Dynamics
Market Driver: Rising focus on local production of goods
The Indian government has already started the 'Make in India' initiative to promote the manufacturing in India in order to reduce the dependencies on importing goods from other countries. In order to boost local manufacturing, the government also offers production linked incentives (PLI) to manufacturers. The scheme also promotes the application and installation of products that are produced in India in various sectors. Many governments are actively promoting local manufacturing through policies, incentives, and funding. These initiatives often align with the adoption of advanced technologies in manufacturing processes. Localized production reduces dependence on far-flung suppliers and makes supply chains more resilient to global shocks. Smart manufacturing technologies enable companies to quickly adapt to changes in demand and supply, ensuring a faster response to market fluctuations. Local production encourages collaboration among manufacturers, suppliers, and customers within a region. Smart manufacturing technologies facilitate seamless communication and information sharing among stakeholders, leading to better coordination, innovation, and joint problem-solving. Thus, the rising focus on local production of goods is observed to act as a driver for the market.
Restraint: Infrastructural limitations
Smart manufacturing involves the integration of advanced technologies such as IoT devices, data analytics, artificial intelligence, and automation into manufacturing processes to improve efficiency, productivity, and flexibility. Smart manufacturing relies heavily on a robust and high-speed internet connection to transmit real-time data between devices, machines, and systems. In regions with poor internet infrastructure or limited connectivity, the adoption of smart manufacturing technologies can be hampered. Smart manufacturing involves the collection, storage, and transmission of sensitive data, making it vulnerable to cyberattacks. Inadequate cybersecurity infrastructure can expose manufacturing facilities to risks such as data breaches, intellectual property theft, and operational disruptions. Thus, infrastructural limitations are observed to act as a major restraint for the market.
Market Opportunity: Rising emphasis on supply chain optimization
Supply chain optimization combined with smart manufacturing provides real-time visibility into the entire production and distribution process. This visibility enables manufacturers to track the movement of raw materials, work-in-progress, and finished goods, allowing for quick response to any disruptions or delays. The integration of smart manufacturing and supply chain optimization supports agile manufacturing practices. Manufacturers can quickly adapt to changes in demand, product design, or market conditions by adjusting production schedules and processes in real time. This flexibility enhances a company's ability to respond to market fluctuations. Supply chain optimization encourages closer collaboration with suppliers. By sharing real-time data and insights, manufacturers and suppliers can work together to optimize inventory levels, reduce lead times, and enhance the overall efficiency of the supply chain. Thus, the rising emphasis on supply chain optimization aims to present potential opportunities for the market.
Challenge: Difficulties in adoption for small-scale industries
Large corporations often have access to extensive networks, partnerships, and collaborations that can facilitate the adoption of new technologies. Small-scale industries might lack these resources, making it harder to find guidance and support during the adoption process. Many smart manufacturing solutions are designed with larger enterprises in mind. Adapting these solutions to fit the specific needs and scale of small-scale industries can be difficult and might require customization, which can be expensive and time intensive. Thus, such complexities for small-scale industries are observed to pose a challenge for the market.
Technology Insights
Some of the smart manufacturing technologies have been in use in the industries for quite some time; however, segments such as 3D printing have been gaining prominent traction in the recent times. Implementation of machine learning and Artificial Intelligence (AI) as an additive manufacturing technology, design aid, or 3D printing is shifting the manufacturing sector towards automation. Additionally, 3D printing segment projected to witness the fastest growth rate over the analysis period because of its escalating adoption in agile product iterations and design process.
On the contrary, Machine Execution System (MES) holds the leading market position in terms of revenue on account of rising demand for streamlined workflow along with reduced lead time. The application of MES offers strong ground for the manufacturers to implement the IoT in their manufacturing facilities. Rising demand for industrial automation along with growing importance of regulatory compliance is likely to drive the market growth. For example, Microsoft Corporation along with Google, IBM, and Amazon has become one of the prominent contributors of Industrial IoT offerings that provide PaaS + IaaS platform offerings for smart manufacturing vendors.
End-use Insights
The aerospace & defense and automotive segments are estimated to be the prominent contributors towards the industry growth. The automotive segment led the market in 2022 and further anticipated to grow impressively over the forecast period. This is majorly due to the introduction of autonomous vehicles and other advanced driver assistance systems.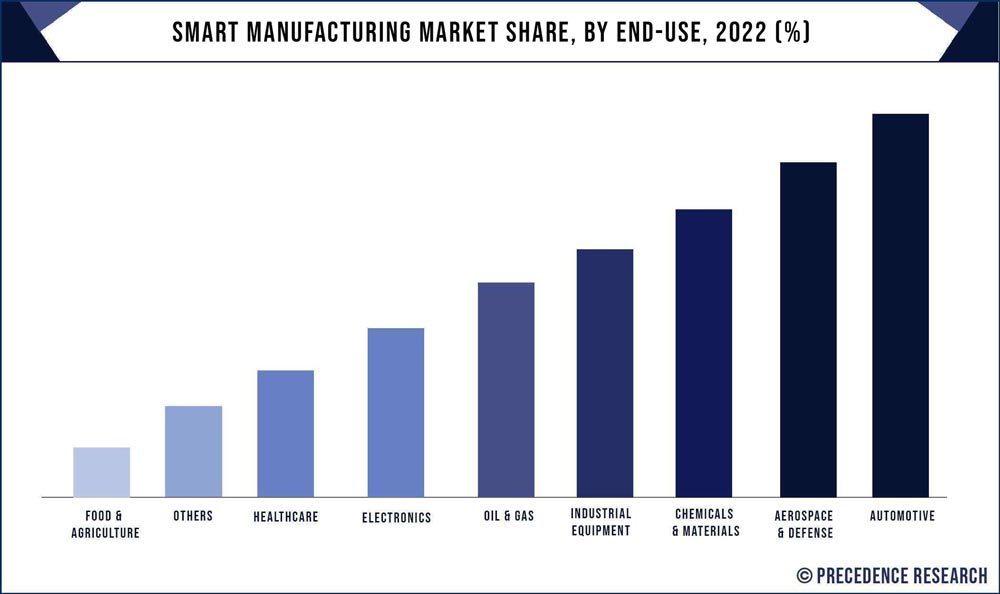 An unusual trend in the industry can be seen for the active adoption of smart manufacturing technologies at two different levels that are connected supply chains and connected products. Process manufacturer invests in the connected supply chain while discrete manufacturers invest significantly in connected products. Automotive leaders forecast that nearly 25% of their manufacturing sites will be transformed into smart factories over the upcoming timeframe. Hence, the rising level of awareness among automotive manufacturers pertaining to the implementation of smart manufacturing technologies to boot their production is likely to impel the market growth for automotive segment.
Key Companies & Market Share Insights
The global smart manufacturing market is highly diverse and competitive in nature. This is predominantly because of rising penetration of large number of market players in the product offerings. Further, significant number of partnerships, collaborations, and joint ventures between end-use industry players and smart manufacturing solution providers is likely to impart high rate of competition in the global market.
Some of the prominent players in the smart manufacturing market include:
Emerson Electric Co.
ABB Ltd.
Fanuc Corporation
Honeywell International, Inc.
General Electric Co.
Mitsubishi Electric Corporation
Rockwell Automation, Inc.
Robert Bosch GmbH
Schneider Electric SE
Yokogawa Electric Corporation
Siemens AG
Segments Covered in the Report
This research study comprises complete assessment of the market by means of far-reaching qualitative and quantitative perceptions, and predictions regarding the market. This report delivers classification of marketplace into impending and niche sectors. Further, this research study calculates market size and its development drift at global, regional, and country from 2020 to 2032. This report contains market breakdown and its revenue estimation by classifying it on the basis of technology, component, end-use, and region:
By Technology
Programmable Logic Controller
Machine Execution Systems
Enterprise Resource Planning
Discrete Control Systems
Human Machine Interface
3D Printing
Machine Vision
Plant Asset Management
Product Lifecycle Management
By Component
Software
Hardware
Services
By End-Use
Aerospace & Defense
Automotive
Chemicals & Materials
Industrial Equipment
Healthcare
Electronics
Oil & Gas
Food & Agriculture
Others
By Regional Outlook
North America
Europe
Asia Pacific

China
India
Japan
South Korea

Rest of the World