The global smart building market size was estimated at USD 81.19 billion in 2022 and it is anticipated to hit around USD 232.23 billion by 2032 with a registered CAGR of 11.3% from 2023 to 2032.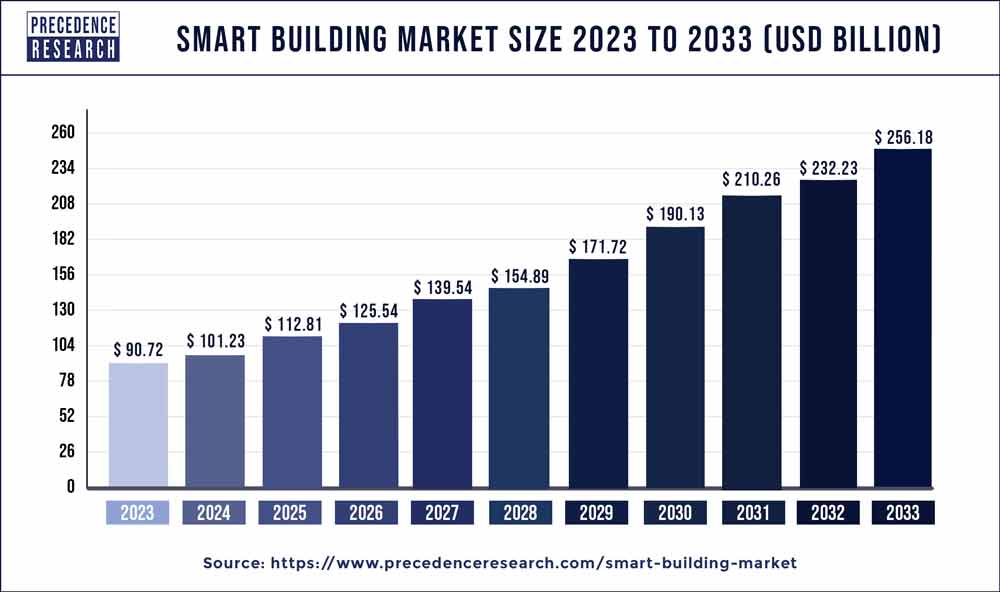 Key Takeaway:
North America region has dominated the market in 2022 and accounted for revenue share of 33.6%.
Asia Pacific is anticipated to grow at a CAGR of 27.4% from 2023 to 2032.
By solution, safety & security management segment has generated revenue share of 35.5% in 2022.
The energy solution segment is poised to grow at a CAGR of 26.7% over the forecast period.
By service, implementation segment has accounted maximum revenue share of over 39.7% in 2022.
The support and maintenance service segment are expected to grow at a CAGR of 28.6% during the forecast period.
By end-use, commercial segment has held revenue share of 53.4% in 2022.
The residential end-use segment is growing at a CAGR of 25.3% over the forecast period.
A smart building is a term that talks about a building that automates its processes to take charge of its infrastructure, air conditioning system, heating, security systems, lighting, and others. A smart building deploys technology for making buildings more maintainable, effective, and safer. One of the useful trends of smart building market in the financing field is the model of Energy Services Company (ESCO) that offer inventive financial plan coupled with a full suite of energy conservation measures. In addition, the increasing trend of the smart city play a vital role to create more opportunities for the smart building industry.
One of the key factors driving the growth of smart building market is growing government initiatives for reducing energy consumption. According to the U.S., China Economic and Security Review Commission, government investment on smart city initiatives in China will exceed $38.92 billion in 2023. Such advancements also reveal a country's proclivity for implementing energy-saving technologies. In addition, the Canadian government is putting a strong emphasis on energy conservation, particularly in smart buildings, such as workplaces and houses. Furthermore, the UK has made noteworthy funding in smart building technologies, especially to lower the building sector's energy usage and carbon footprint.
Growth Factors
Rising adoption of Internet of Things (IoT) devices in building management system expected to propel the market growth. Increasing cost of energy and rising environmental concern such as carbon emission & pollution are forcing builder to move towards smart building infrastructure that provides better security and cost saving wherever required. Smart buildings leverage cloud technology, sensors, and IoT connectivity that facilitates the user to remotely manage and control the lighting, air conditioning, security, and other house functioning. Smart buildings are more sustainable and energy efficient. However, lack of skilled professionals and coupled with increasing concern regarding IoT devices security may hinder the market growth.
The increasing interest of consumers in building technology that reduces the operating cost, and the growing awareness of individuals towards the need for energy consumption are the key factors driving the revenue growth of this industry. In addition, numerous key vendors funding in progressive solutions for smart homes is augmenting the market growth during the forecast period. However, dearth of concurrence among standard bodies, and high cost of installation along with concerns over interactivity are hampering the market growth.
COVID-19 Impact Analysis
The outbreak of COVID-19 pandemic has impacted several markets and consumer behaviors, and predominantly affected societies, and economies. Verticals such as healthcare, media and entertainment, government, utilities, and telecommunication operate round-the-clock to normalize conditions and provide prerequisite services to every individual. The telecommunication sector above all is playing an important role to aid digital infrastructure of countries throughout the pandemic.
Market Dynamics
Drivers
Growing trend of smart city
Smart buildings play an important part in smart cities, but their development is separate from that of smart cities. Sensor networks in structures allow for real-time monitoring of electricity and water usage, tracking of sustainability performance, and interaction with other smart city components. As a result, the growing trend of smart city is driving the growth of global smart building market.
Restraints
Concerns regarding data privacy and security
Tenants and landlords benefit greatly from the deployment of technology like internet of things and sensors. The deployment of these technologies, however, poses a security risk to structures. Most IoT devices and sensors have insecure security, use non-standard communication protocols, and run on outdated, unpatched software, exposing smart buildings to a variety of vulnerabilities. Hackers constantly scan targets for technological flaws in order to gain access to a network and steal important data or take control of a facility.
Opportunities
Growing adoption of internet of things technology
Sensor-generated data is used to improve the building user experience, and internet of things-enabled devices are installed and used to increase building performance efficiency. It can also run all building management solutions on a single infrastructure with little to no manual intervention. Internet of things-enabled systems can be utilized for a variety of tasks, including lowering energy consumption, repairing and maintaining building systems, and lowering building administration costs.
Challenges
Lack of coordination between government and organizations
For internet of things and existing smart building technologies to operate together, there will be a lot of collaboration between standard organizations, enterprises, city governments, and other stakeholders.
Segments Insights
Component Insights
The services segment is expected to account for the largest share over the next decade due to upsurge in the implementation of intelligent building solutions, and growing demand for professional services such as system integration, support and maintenance, consulting services, and deployment. Market solution suppliers for smart buildings provide a wide range of services. Smart building service providers assist in the implementation of intelligent automation and technology for cost-effective building operation and maintenance.
Solutions segment is projected to continue its dominance during the forecast period. The augmented share of the solutions segment is mainly due to the rising demand for smart infrastructure across the public. Moreover, the rising trend along with increasing awareness among the public for the reliable and energy saving home appliances and features analyzed to open up new opportunities for the market players.
Solutions segment is further sub-segmented into building infrastructure management, security & emergency management, and energy management. Building infrastructure management held the largest revenue share in 2019 owing to rising need for a platform to optimize and control the large building infrastructure.
Building infrastructure management is further bifurcated into elevators and escalators system, smart water management system, parking management system, and others. Out of them, elevators & escalators system expected to flourish rapidly in the market owing to its increasing application in malls, residential societies, shopping centers, and large showrooms.
Application Insights
Commercial segment dominated the global smart building market in 2022 owing to rising concern of energy consumption along with several government regulations for the real estate sector to increase their focus on reducing energy consumption. Hotels, healthcare centers, and other commercial sectors are increasingly focused towards reducing IoT-enabled devices to reduce energy consumption. For instance, in September 2019, Marriott International partnered with Samsung and Legrand to convert their guest rooms into smart rooms where all devices were voice activated. The partnership aimed to uplift the global sustainability efforts of the hotel by elevating the gest experience.
This is due to increased energy consumption concerns, as well as many government rules requiring the real estate sector to focus more on lowering energy usage.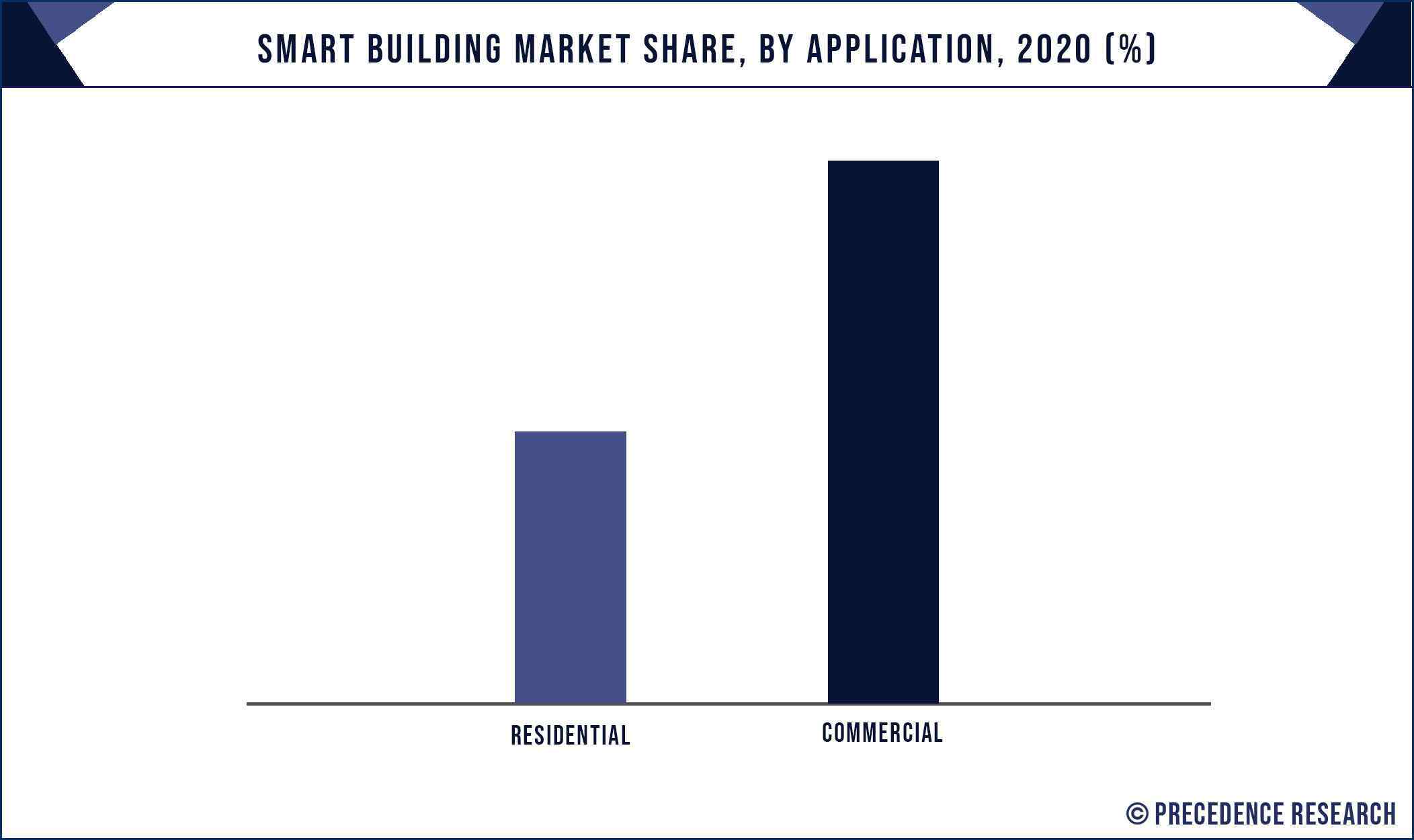 On the other hand, residential segment expected to witness the fastest growth over the forecast period due to rising trend of smart home devices along with increasing security concerns in the building. Additionally, sensors, voice & mobile control devices facilitate users to have the access of major home appliances and areas under continuous surveillance and control.
Regional Insights
North America captured the major revenue share in 2022 and analyzed to augment the market during the forecast period. This is majorly attributed to rapid adoption of advanced technologies in the region such as IoT, big data, cloud computing, deep learning, data analytics, and artificial intelligence. In addition, the organizations in U.S. are significantly investing on smart infrastructure to reduce the energy consumption. As per a report published by Memoori in 2019, total funding rounds for smart building was 184 in 2018, out of which North America accounted for nearly half of the total funding rounds.
The growth is attributed to the advanced infrastructure that can board smart automated solutions, strong presence of key market players in this region, rising investments in green building technology, and environmental awareness within this region.
The growth of smart building market in North America region is being driven by rising government efforts for acceptance and adoption of smart systems and solutions. The 'LEED' initiative, run by the U.S. Green Building Council in partnership with the Bank of America Charitable Foundation, assists local governments in adopting sustainable solutions. It is so essential to condense energy consumption in constructions in order to encounternationwide energy and ecological challenges while also droppingprices for building owners and tenants.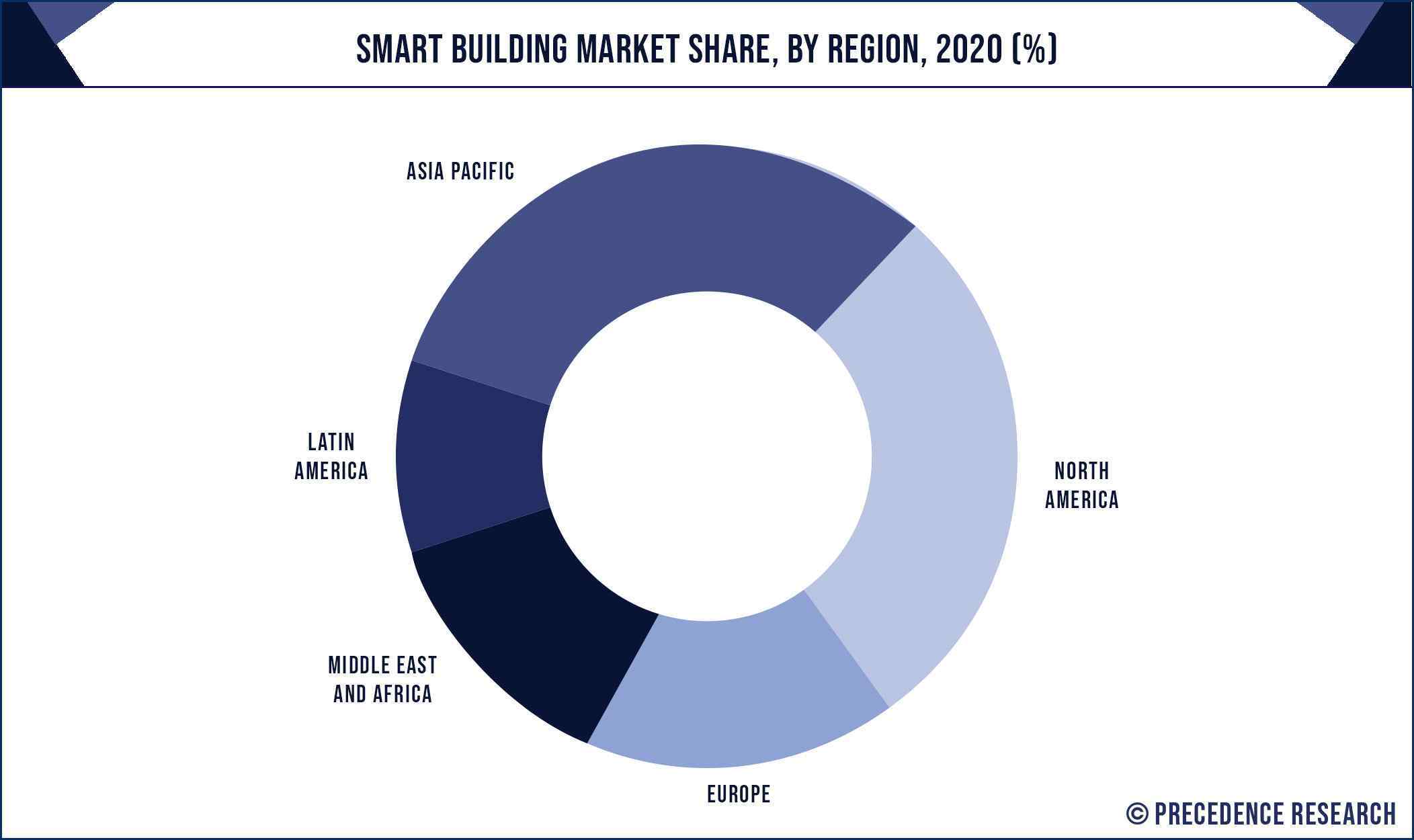 On the contrary, the Asia Pacific registered fastest growth during the forecast period. Rising initiatives for shopping malls, localities, and commercial offices with smart technologies projected to offer lucrative opportunities for the smart building market growth. In addition, the players in the Asia Pacific region are working towards enhancing the smart building services by developing the IoT-enabled building management systems across the region.
China and Japan are major contributors to regional technology development; for example, the establishments are profoundlycapitalizing in smart building dealings such as building system and building controls incorporation to influence energy effectiveness and energy storage and distribute safer, smarter, and more supportable buildings. Simultaneously, the government is taking steps to assist the government's commitment to safeguarding the environment and its resources by making federal buildings more energy-efficient and decreasing greenhouse gas emissions, thereby accelerating the expansion of smart buildings.
Key Companies & Market Share Insights
The global smart building market is fragmented and highly competitive owing to presence of significant number of players in the market. Some well-established market players are highly focused towards strengthening their market position by new development and investments in the market. For instance, IBM Corporation is actively providing smart building solutions and analytics for various types of commercial, residential, and industrial infrastructures. In June 2018, IBM Corp. announced that several new clients have deployed cutting-edge smart building solutions build on cloud using IoT technology. New clients such as Karantis, Sodexo, HUF Haus, and R +V Versicherung have signed an agreement with IBM Corp. to provide smart building solutions. In spite of growth prospects in the market, not all technology sectors experience the equivalent rate of adoption. Hence, utmost prospect subsists for industrialists by differentiating among segments and shine in those sections bestowing the highest growth probable, and commercialize different market-ready solutions.
In May 2021, Honeywell International Inc. launched connected buildings solution to help operators make smarter real estate decisions.
In June 2020, Honeywell International Inc. and SAP Cloudpartnered together to improve building performance with integrated, cloud-based business and operational technology data.
In February, 2020, Honeywell International Inc. launched first autonomous building sustainability solution to fight rising global energy consumption.
Honeywell and Nexii Building Solutions Inc. formed a strategic partnership in July 2021 to advance the development of low-impact structures. Honeywell will be the only building technology supplier for Nexii's new buildings under this agreement, including equipment that help save energy and money.
Hitachi, Ltd. declared the creation of an internet of things platform in December 2020, which will provide buildings with the high added value necessary for the new normal, such as increased building management efficiency and improved user comfort.
Some of the prominent players in the smart building market include:
Siemens AG
Schneider Electric
ABB Ltd.
Cisco Systems Ltd.
IBM Corp.
United Technologies
Delta Controls
Building IQ
Johnson Controls
Honeywell International Inc.
Legrand
Hitachi Ltd.
Thales Group
Accenture
Emerson Electric Company
Report Scope of the Smart Building Market
| | |
| --- | --- |
| Report Coverage | Details |
| Market Size by 2032 | USD 232.23 Billion |
| Growth Rate from 2023 to 2032 | CAGR of 11.3% |
| Base Year | 2022 |
| Historic Data | 2019 to 2022 |
| Forecast Period | 2023 to 2032 |
| Segments Covered | Component, Application, System, Technology |
| Regional Scope | North America, Europe, APAC, Latin America, MEAN |
| Companies Mentioned | Siemens AG, Schneider Electric, ABB Ltd., Cisco Systems Ltd., IBM Corp., United Technologies, Delta Controls, Building IQ, Johnson Controls, Honeywell International Inc., Legrand, Hitachi Ltd., Thales Group, Accenture, Emerson Electric Company |
Segments Covered in the Report
This research report analyzes and predicts growth of market size at global, regional, and country levels. It also offers comprehensive study of the up-to-date industry developments in all of the sub-segments from 2020 to 2032. In order to study thoroughly this research study classified global smart building market depending upon different parameters such as component, application and region: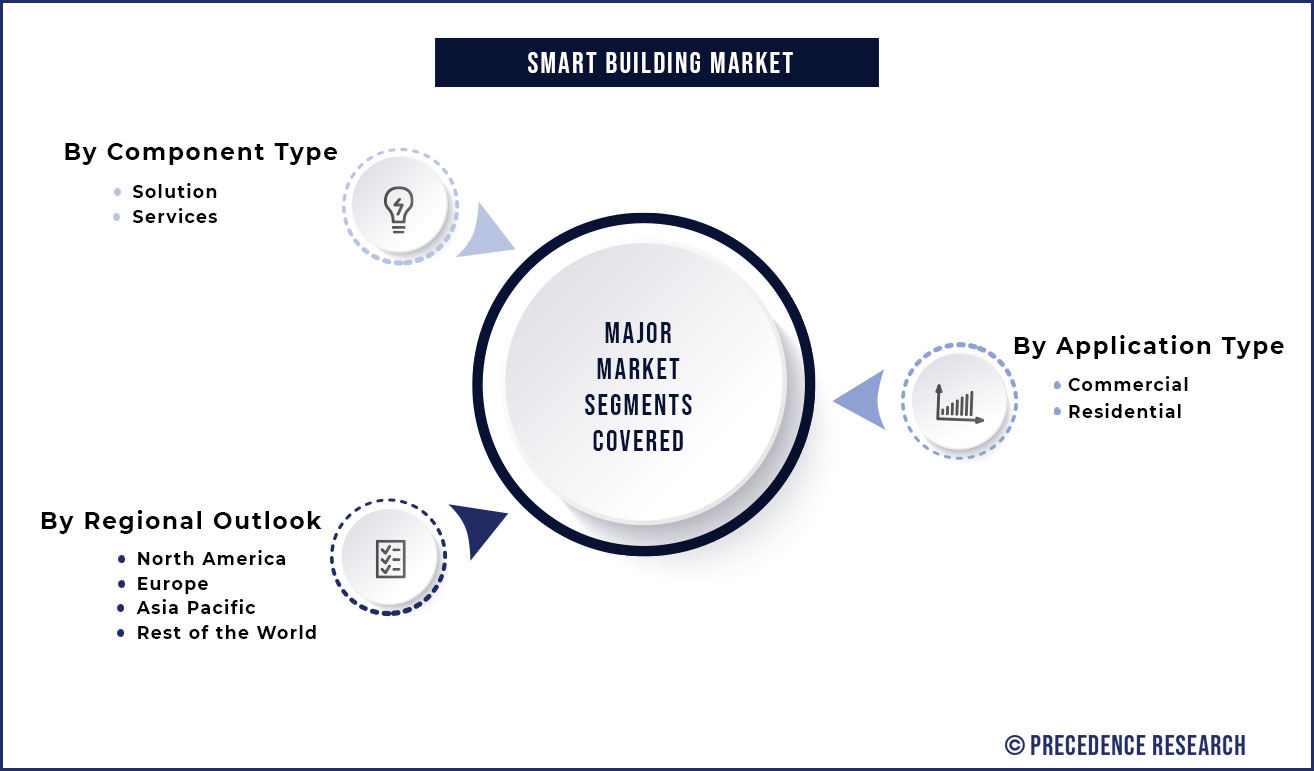 By Component
Solutions

Safety and security management

Access control system
Video surveillance system
Fire and life safety system

Energy management

HVAC control system
Lighting management system

Building infrastructure management

Parking management system
Smart water management system
Elevator and escalator management system

Network management

Wired technology
Wireless technology

IWMS

Operations and services management
Real estate management
Environment and energy management
Facility management
Capital project management

Services

Consulting
Implementation
Support and maintenance
By System
Parking Management System
Physical Security System
BEMS
Others
By Technology
Wireless Technology
Bus Technology
Others
By Application
Commercial

Retail
Hotel
Healthcare
Others

Residential
Industrial
By Geography
North America
Europe
Asia-Pacific

China
India
Japan
South Korea
Malaysia
Philippines

Latin America

Brazil
Rest of Latin America

Middle East & Africa (MEA)

GCC
North Africa
South Africa
Rest of the Middle East & Africa