The global parking management market size accounted for USD 5.38 billion in 2022 and it is expected to touch around USD 12.91 billion by 2032, expanding at a CAGR of 9.15% from 2023 to 2032.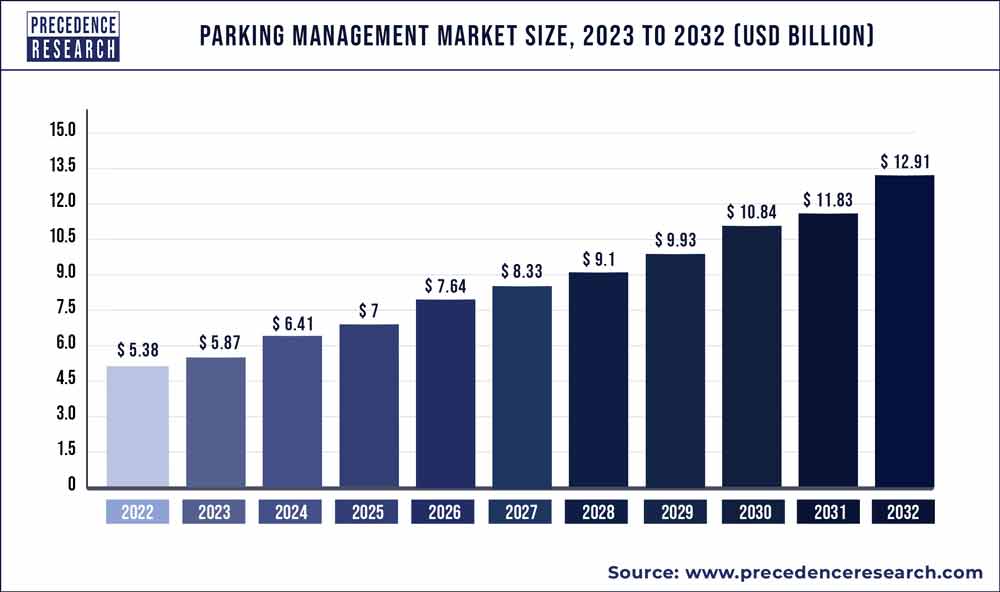 A vital element of the transportation system is parking. Parking accessibility affects how easily locations may be reached, which alters accessibility. Parking management refers to organizing and fully utilizing the resources available for parking cars. The parking of automobiles grew challenging due to urbanization, the development of infrastructure in metropolises, tier 2 and tier 3 towns, and towns themselves.
Additionally, despite the increasing number of car users, the available parking space isn't large enough to accommodate many vehicles. Planning for more practical and effective land use patterns and other land use planning objectives are both supported by parking management.
Parking is a crucial component of the transportation system. Accessibility is affected by parking accessibility, which changes accessibility overall. The term "parking management" relates to planning and efficient use of parking facilities. Urbanization, the growth of infrastructure in metropolises, tier 2 and tier 3 towns, and towns themselves, made parking cars more complicated. In addition, despite an increase in car usage, there need to be more parking spaces to accommodate many vehicles. Parking management contributes to developing more sensible and efficient land use patterns and other land use planning goals.
Key Takeaways:
By geography, the North America generated more than 36% revenue share in 2022.
By solution, the revenue management segment captured more than 26% of revenue share in 2022.
By service, the support and maintenance segment generated more than 41% revenue share in 2022.
By deployment type, the on-premise segment captured more than 61% of revenue share in 2022.
By parking site, the off-street parking site segment generated more than 71% of revenue share in 2022.
By application, the government segment dominated the market and captured more than 56% of the revenue share in 2022.
Market Growth
The market is expanding due to factors such as the expanding global vehicle population, rising demand for efficient traffic management strategies, and the quickening creation of smart cities. The COVID-19 epidemic caused many governments to announce a complete lockdown, so growth activities had to decline. To detect the symptoms of the virus and stop its spread, the governments of several countries also made significant investments in their healthcare systems.
These investments included restriction measures like prohibiting overcrowding in public transportation stations and vehicles, which temporarily slowed the development of parking management. However, as most venues are opening with full occupancy, the recent relaxation of travel restrictions is anticipated to increase market demand.
Parking operators are hosting their infrastructure on the cloud due to benefits like easy scalability and a pay-as-you-go strategy, which enable cloud-native parking management to keep up with the times. Organizations use parking management because ineffective parking management can result in problems like traffic congestion and noise pollution, which hurt their brand's reputation. Throughout the projection period, it is anticipated that the rising usage of smartphones, GPS, digital payments, and cloud services will propel market expansion.
Report Scope of the Parking Management Market
| | |
| --- | --- |
| Report Coverage | Details |
| Market Size in 2023 | USD 5.87 Billion |
| Market Size by 2032 | USD 12.91 Billion |
| Growth Rate from 2023 to 2032 | CAGR of 9.15% |
| Largest Market | North America |
| Base Year | 2022 |
| Forecast Period | 2023 to 2032 |
| Segments Covered | By Solution, By Service, By Deployment Type, By Parking Site, By Off-Street Parking and By Application |
| Regions Covered | North America, Europe, Asia-Pacific, Latin America and Middle East & Africa |

Market Dynamics:
Drivers
Technology developments like the Internet of Things (IoT), parking sensors, and electronic payment systems also expand the market. Businesses strive to offer a better customer experience and hassle-free parking since doing so can give them a competitive advantage over rivals. Enterprises can use real-time data and analytics to assign parking spaces, regulate access, and save administrative costs associated with parking.
Through better revenue management, which distinguishes between overpriced and underpriced parking spaces, parking management also leads to more effective use of resources. By reducing parking issues by 20–40%, an effective parking management solution can improve local infrastructure and boost tax revenue for the government.
Restraints
Wireless and wired telecommunications systems, traffic control devices, various hardware sensors, computer servers, and application interfaces are all included in parking management. The software and hardware used for parking management are incredibly diverse and variable. Parking data must also be gathered and analyzed from various systems to put the idea of dynamically priced parking into practice.
Combining the data from these separate parking data repositories is challenging, which are sometimes spread across incompatible hardware and software platforms. Integrating all the technology and software used in parking management onto a single platform is a barrier to the market's expansion.
Opportunities
Major urban areas are being transformed into "smart cities" due to the explosion of developing technology. By leveraging cutting-edge information and communications technologies, smart cities integrate their housing, mobility, and economic activities.
The adoption of innovative city initiatives by governments worldwide is anticipated to open up new markets for companies that offer smart parking management systems that can connect with smart city solutions. Intelligent parking management systems can provide adaptable, scalable, manageable, and space-efficient parking solutions.
Challenges
The input/output devices and processors used in the complicated parking management architecture are numerous. It has the effect of decreasing parking lot managers' motivation to embrace new parking management technologies. Parking management solutions are expensive to implement, even though they increase the parking operator's profitability over time.
A parking management system comprises numerous hardware elements, including system planning, design, system development, management and coordination, test evaluation, electronic signs, static signs, communication lines, parking facility equipment, and testing/training. A software component that requires significant upfront investments is also involved in the parking management system.
Segments Insight:
Solution Insights
The revenue management industry had the largest market share of around 26% in 2022 due to several benefits, such as demand-driven dynamic pricing, ongoing monitoring, and redesign. The section used sophisticated daily analytics to predict and advise future prices based on historical data, algorithms, and commercial laws. Examples of revenue management services include client banking, auditing, validating transactions, accepting digital payments, and extensive reporting. By enabling facility providers to contrast their fees with those of competitors, revenue management helps them manage their pricing strategy.
Over the projected period, the segment that is expected to develop the fastest is parking reservation management. Drivers can reserve spaces in advance and prevent inconvenience with the help of these solutions, which are primarily responsible for the lack of parking spaces in residential and business areas.
Systems for managing reservations include hardware and software, including cameras, parking meters, wireless sensors, and automatic gates, which contribute to an area's security and traffic flow. Businesses that use this solution may benefit from several factors, including improved customer satisfaction, increased client loyalty, lower operational costs, and less need for human intervention, which is anticipated further to support the expansion of the parking management market.
Service Insights
The support and maintenance industry had the largest market share of around 41% in 2022. Staff members require guidance and training before and after implementing parking management systems. To make apps more compatible with the most recent operating system (O.S.) update, the support and maintenance area also provides services for mobile application enhancement. Preventive maintenance is required for the software and hardware used in parking management to minimize downtime and guarantee the smooth running of systems, which is expected to fuel the segment's continuous growth.
Due to advantages including customization, add-on functionality, and centralized data management strategies, the system integration and deployment segment is anticipated to develop at the quickest rate over the projection period. Features like digital signs, license plate recognition, and rapid upgrades without requiring existing hardware to be changed can improve the customer experience and provide businesses with a competitive edge. Integration and deployment of the system make it easier to import payments, import demographic data, export receivables, locate car owners, and authenticate users.
Deployment Insights
The on-premise category will hold more than 61% of the market share in 2022 because of its various benefits, including enhanced security, reduced downtime risks, and better accessibility. Data is kept on the firm's premises, allowing it better control and data protection. The on-premise implementation may offer an advantage in terms of compliance issues. Another reason why many firms use this distribution method is that it is more stable; staff members can still access the data even in the case of a network failure or a lost internet connection, preventing downtime.
Over the projected period, cloud adoption is anticipated to rise the fastest. This is because cloud solutions are simple to deploy and don't need to install hardware. They're also simple to customize, allowing businesses to create solutions ideally suited to their needs. Many companies choose a model that will enable them to scale up as needed because they want to invest less in infrastructure initially. One of the most important factors influencing the growth of this market is cloud deployment, which offers a pay-as-you-use approach where businesses only pay for what they use.
Parking Site Insights
The off-street parking site category will command a market share of more than 71% in 2022 due to the growing number of vehicles on the road, which poses infrastructure challenges. Off-street parking is usually selected because it is a quicker, easier, and more dependable solution that helps with traffic control. Factors such as low installation and upkeep costs, predetermined infrastructure, advanced software, communication protocols, and the proliferation of smart city initiatives promote the market's expansion. Additionally, the addition of cell phones and electronic payment systems is market expansion.
Moreover, the rising demand for pleasant public areas and improved paths for walking are expected to boost the market's growth. On-street parking sites and enhanced access to public transportation stops are a few other factors that help the market grow over the projected period, with a CAGR of 12.9%. Additionally, on-street parking locations lessen the saturation of on-street parking and the urgency of expenditures in parking supply.
The growth of this market will be fueled by a suitable on-street parking location, which increases the financial viability of off-street parking facilities and eases the load on common property resources.
Application Insights
In 2022, the government sector dominated the market and generated more than 56% of the revenue share in 2022. This is because citywide public parking facilities must be built and maintained to be secure, sanitary, and effective. By effectively utilizing the resources at its disposal, the government is pursuing several efforts to lessen the strain on public property.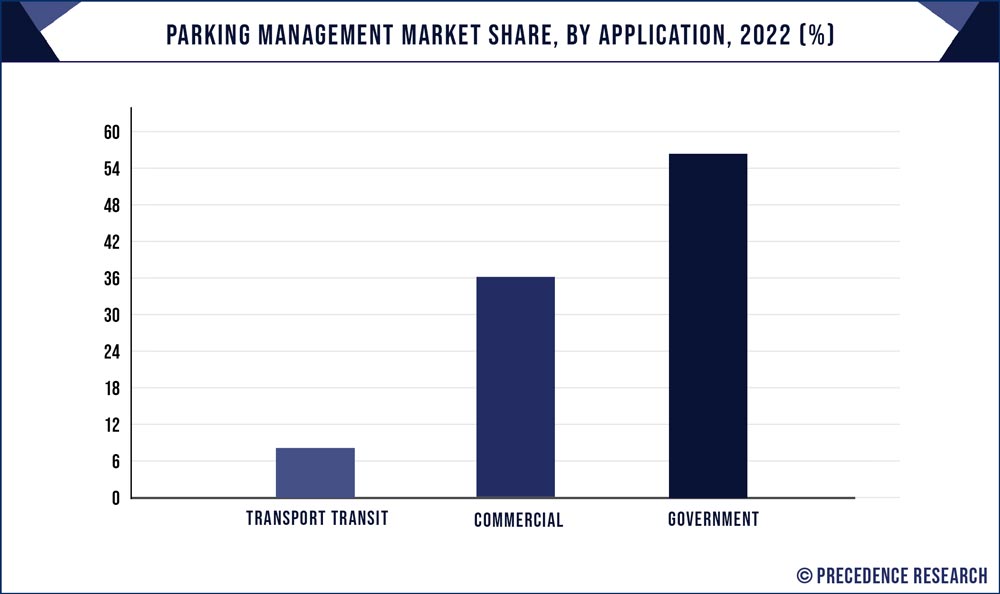 For instance, in October 2021, the South Delhi Municipal Corporation (SDMC) released a smartphone app to inform users of available parking spaces. Additionally, the government intends to connect this app with programs like Fastag, the Vahan app, and the traffic police's e-challan. Users will be able to reserve available parking spaces by paying online.
Over the projected period, the commercial category is anticipated to grow the fastest. This is because of several things: making the most of the space already there, improving security and vehicle protection, and generating more money. Commercial parking management is crucial for many businesses since it enhances the user experience by saving customers time and energy when looking for available parking spaces. Digital signs, online payments, self-ticketing options, electric vehicle charging stations, and car sharing are all part of commercial parking management.
Parking Management Market Share, By Region, 2022 (%)
| | |
| --- | --- |
| Region | Revenue Share In 2022 (%) |
| Asia Pacific | 27% |
| North America | 36% |
| Europe | 29% |
| Latin America | 5% |
| MEA | 3% |

Regional Insights
In terms of market share, North America generated more than 36% in 2022. To lessen traffic congestion, the rising car population in nations like Canada and the U.S. calls for a smart parking solution. Additionally, people are quickly acclimating to contemporary parking solutions due to the convenience offered by the surge in smartphone adoption and the release of mobile apps for finding parking spaces. The region's growing commercialization and the need to provide users with a tailored experience are driving up demand for parking management.
It is projected that the Asia Pacific region will increase during the forecast period. The government's growing interest is aiding growth in creating smart cities and the public's growing need for an orderly, efficient traffic flow. Development requires smart logistics and transportation. The Asia Pacific region is undergoing rapid urbanization and industrialization, which promotes the expansion of parking management. Additionally, more municipalities in developing nations like China, South Korea, and India promote innovative traffic management strategies.
Recent Development
July 2020 – To help safeguard possibly millions of drivers and passengers from the risks connected with the spread of COVID-19, Flowbird Group launched Park and Sanitize, a contactless hydro-alcoholic gel dispenser attached to Flowbird parking and transportation ticketing terminals.
June 2020 – The Panama City Beach neighborhood and Passport Inc. worked together to give the city the necessary technology to improve parking.
May 2020 – APCOA PARKING and HERE Technologies have joined forces to create and market digital parking services and H.D. indoor maps of parking facilities in Europe. HERE Technologies is a prominent provider of location data and technology platforms.
March 2020 – A comprehensive parking guidance system was implemented by Q-Free in the Victorian Square parking garage in Sparks, Nevada. Vehicles will find parking spots more easily thanks to this technology, providing real-time information on available places. With the help of this arrangement, Q-Free will be better able to compete in the U.S. market.
Competitive Landscape
Additionally, the industry's competitive environment has been examined, along with the company profiles of the major players, including:
3M Company
Amano Corporation
Cubic Corporation
FlashParking Inc. (Arrive Mobility Inc.)
Infocomm Group LLC
International Business Machines Corporation
Passport Labs Inc.
Q-Free ASA
Robert Bosch GmbH
SAP SE
Siemens AG
Ta2 Systems Inc. (Verra Mobility)
Segments Covered in the Report
(Note*: We offer report based on sub segments as well. Kindly, let us know if you are interested)
By Solution
Access Control
Security & Surveillance
Revenue Management
Parking Reservation Management
Valet Parking Management
Others
By Service
Consulting Services
System Integration and Deployment
Support and Maintenance
By Deployment Type
By Parking Site
By Off-Street Parking
Garage Parking
Lot Parking
By Application Insights
Transport Transit
Commercial
Government
By Geography
North America
Europe
Asia-Pacific
Latin America
The Middle East and Africa