The global business document work process management market size was valued at USD 2,727.6 million in 2020 and is predicted to reach USD 10,321 million by the end of 2030, representing impressive CAGR of 14.2% during the forecast period 2021 to 2030.
Crucial factors accountable for market growth are:
High demand due to increased IT spending across the globe
Increasing adoption from small and medium organizations worldwide
Increasing demand for management of cloud documents
Growing demand for all-in-one document management solutions across the globe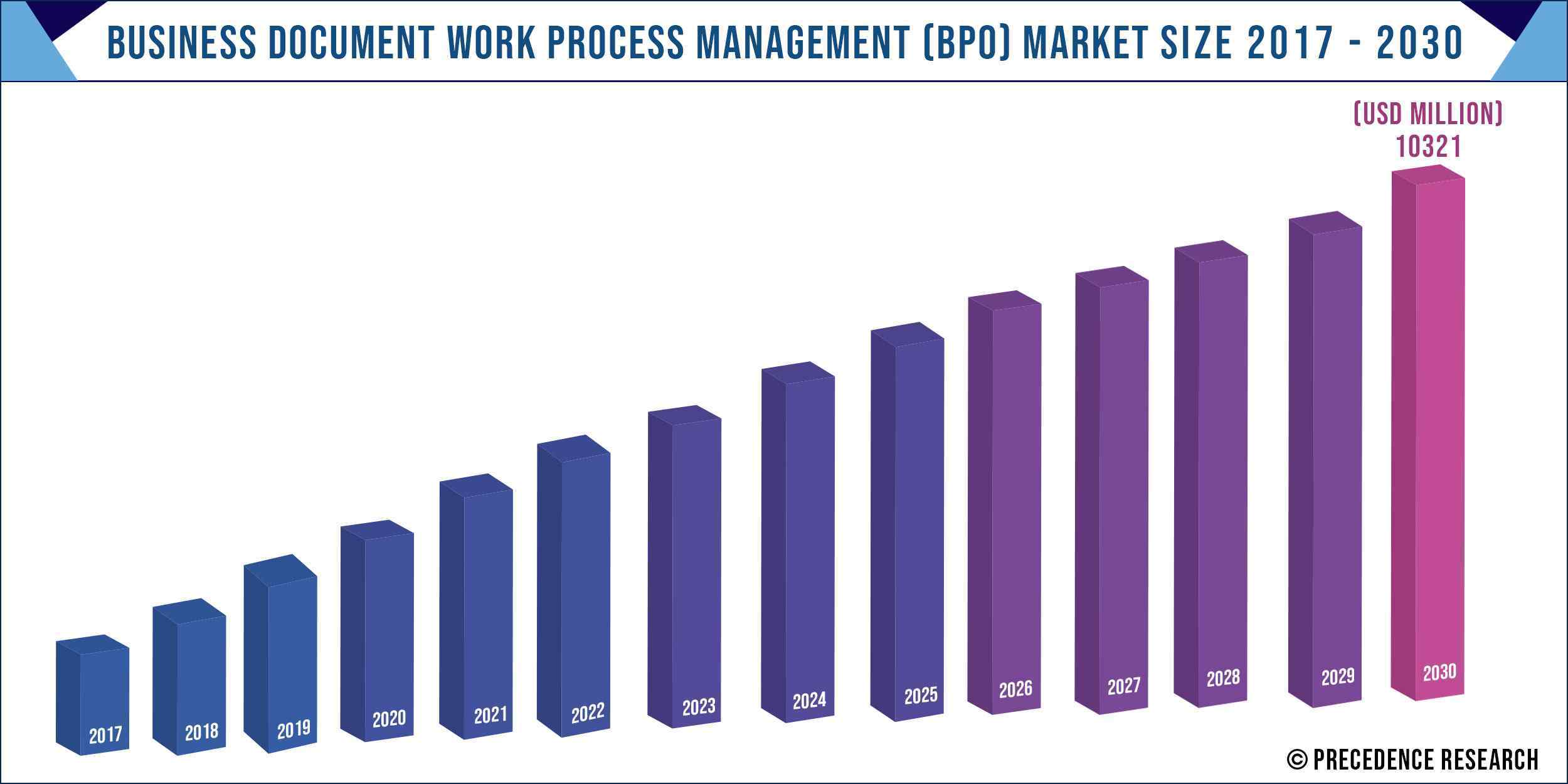 Key market Insights:
Integrating robotics and blockchain technology into document management will generate lucrative growth opportunities for key players in the BPO (Business Paper Work Process Management) industry worldwide. The flow of records has now become one of the big headaches for organizations. An alternative to manual handling and processing of inbound documents has been offered by robotic integration.In addition, Blockchain guarantees something similar in the case of record flows in businesses. In order to review and verify all the documents entering and exiting our organization, it is about using these distributed networks of equipment. Another development expected to drive target market growth over the forecast period is a growing requirement for real-time data accessibility. With real-time data, an organization can process and analyses information easily and provide up-to-the-minute information about an enterprise's customers. This helps the company to quickly take decisions, hence increasing the productivity of an organization. In addition, the modifications made in every activity of a company can be instantly mirrored by its personnel. These factors increase the technology's acceptance rate.
Future of Global Business Document Work Process Management (BPO) Market
The major trend witnessed in the global market in growing numbers of strategic partnerships among major key players. This trend is anticipated to continue and will boost growth of the market in the near future. In September 2019, Parascript Launched CheckXpert.AI for France.In June 2020, Parascript launched FieldXpert.AI for Enhanced RPA Handwriting Recognition. In October 2019, Oracle acquired CrowdTwist, it is an industry-leading provider of comprehensive multichannel loyalty and analytics solutions. In June 2019, Oracle acquired Oxygen Systems, it is specializing in the NetSuite cloud management system.In March 2015, Lexmark acquired Kofax Document Capture, it develops and markets intelligent capture and exchange related solutions and services.In January 2015, Lexmark acquired Claron Technology, it is dedicated to the development of medical image processing solutions
| | |
| --- | --- |
| Report Highlights | Details |
| Market Size | US$ 10,321 Million by 2030 |
| Growth Rate | CAGR of 14.2% From 2021 to 2030 |
| Base Year | 2020 |
| Historic Data | 2017 to 2020 |
| Forecast Period | 2021 to 2030 |
| Segments Covered | Offering, Organization Size, Application, Deployment |
| Regional Scope | North America, Europe, Asia Pacific, Latin America, Middle East & Africa (MEA) |
| Companies Mentioned | Xerox Corporation, Eastman Kodak Company, Bitrix24, Exela Technologies, Adobe, Dynamik-Gen, IBM Corp, Oracle, LogicalDOC, Ricoh India Ltd, Canon, Revvsales, Inc, Parascript |
Segment Trends:
Services Offerings Segment Testified Leading Market Stake in Year 2020
Services offerings is anticipated to register highest growth rate as well as market share over the forecast period of time. The services segment is expected to register revenue share of 69.9% in year 2021. Along with this the solutions offerings segment will be growing at considerable pace and will fuel growth of the business document work process management (BPO) industry in the near future.
IT and Telecommunication Industry Segment Reported Foremost Market Stake in 2020
IT and telecommunication application segment is expected to account for the major share in the target market. IT and telecommunication industry is adopting business document work process management (BPO) owing to the excellent benefits offered by the business document work process management (BPO). Along with this the banking, financial services and insurance segment is anticipated to grow at the important growth rate approximately 15% and will expand the market revenue in the coming future.
North America is Likely to be the Largest Market for Business Document Work Process Management (BPO)
The study report contracts with the business predictions of business document work process management (BPO) products around are as counting Europe, Latin America, Asia-Pacific, North America, Middle East and Africa. Business Document Work Process Management (BPO) market is occupied by North America due to augmented intake of the business document work process management (BPO) in various end use applications, coupled with presence of major companies in the North America and business plans that are executed by the chief players in the nations. Asia Pacific is probable to list the remarkable CAGR, on account of growing demand for the business document work process management (BPO) in IT telecommunication industry. Likewise, utmost of the companies functioning in the market are advancing heavily in order to get the modest edge in the business document work process management (BPO) market in North America. Further, the Latin America as well as Middle East and Africa regions will likely to register moderate growth in the coming.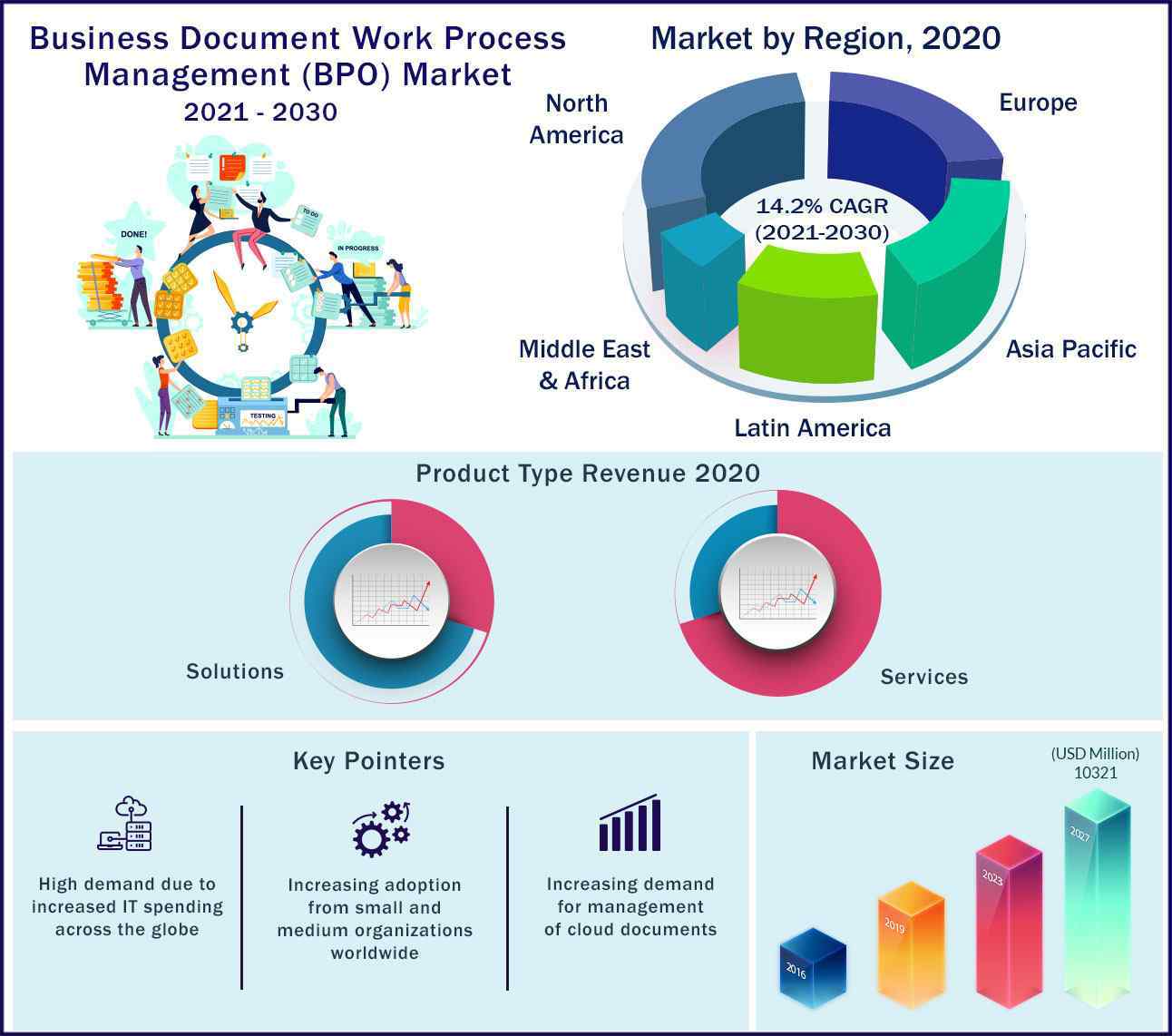 Top Players contending in the Market:
Main market firms are pointing towards the advanced developments in order to enrich place in the aiming industry. The major firms are:
Xerox Corporation
Eastman Kodak Company
Bitrix24
Exela Technologies
Adobe
Dynamik-Gen
Lexmark International, Inc
IBM Corp
Oracle
Konica Minolta Business Solutions Australia Pty Ltd
LogicalDOC
DOMA Document Solutions of Indiana
Ricoh India Ltd
Canon
Revvsales, Inc
Parascript
For upgraded status of business document work process management (BPO), and strategies accepted by Precedence Research projected the upcoming growth of the business document work process management (BPO) market.
Major Market Segments Covered:
By Offering
By Organization Size
Small and Medium Sized Enterprises
Large Enterprises
By Application
Education and Training
IT and Telecommunication
Banking, Financial Services and Insurance
Government
Healthcare and Pharmaceuticals
Marketing and Advertising
Manufacturing and Automotive
Transportation and Logistics
Media and Entertainment
Travel and Hospitality
Retail and Consumer Goods
Legal
Others
By Deployment
By Geography
North America
Europe
Germany
France
United Kingdom
Rest of Europe
Asia Pacific
China
Japan
India
Southeast Asia
Rest of Asia Pacific
Latin America
Brazil
Rest of Latin America
Middle East & Africa (MEA)
GCC
North Africa
South Africa
Rest of Middle East & Africa