The global augmented intelligence market size accounted for USD 14.74 billion in 2022 and is projected to hit around USD 142.3 billion by 2032, growing at a CAGR of 25.5% during the forecast period from 2023 to 2032.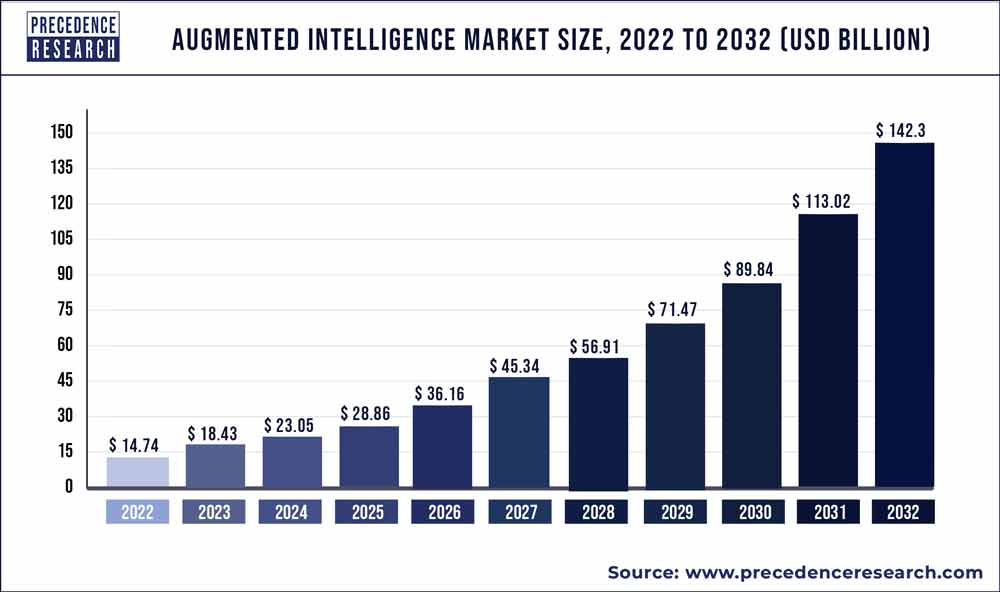 Access our Premium Real Time Data Intelligence Tool, Visit: Precedence Statistics
Key Takeaways:
North American market generated for the largest revenue share 43% in 2022.
By Component, the cloud segment captured the highest revenue share in 2022.
By Technology, the machine learning segment recorded the maximum revenue share in 2022.
By End User, the large enterprises segment contributed the biggest revenue share in 2022.
Market Overview:
The connection between humans and intelligent systems to improve cognitive performance by striving for new heights is at the heart of the definition of augmented intelligence. Using machine learning and artificial intelligence to enrich programmers and systems is exactly what is meant when something is said to be "augmented," which means to enhance or improve anything. Cognitive augmentation and intelligence amplification (IA) are other terms for enhanced intellect.
A type of machine learning called augmented intelligence seeks to enhance human decision-making and associated activities. Data mining is often the source of big data. It includes a substantial volume of structured and unstructured data. Data is coming in nonstop. Data analytics are required to inform corporate decisions and generate reliable forecasts. In the world, 181 zettabytes of data are anticipated to be produced by 2025.
The development of cloud services and the Internet - Of - things (IoT) has expanded the amount of digital data being collected, stored, and analyzed. Big data must be sorted through using specialized techniques and technologies due to its sheer bulk. These enormous amounts of data can be processed in a much more timely and effective manner using augmented intelligence. This factor will significantly grow the augmented intelligence market.
Growth Factors:
Robotic process automation (RPA) software robots are now able to focus on improving automation efforts with machine learning and artificial intelligence (AI) to operate alongside humans. In fact, it is predicted that the contribution of digital workers will increase by around 50% over the next two years, indicating a true shift towards a future based on human-machine cooperation. Also, as company leaders increasingly see the benefits of investing in intelligent automation, it is anticipated that significant investment in augmented intelligence technology for delivering digital intelligence will explode in the coming days. To cut costs, many firms are implementing technology for digitizing, automating, and improving document workflows.
Because more business organizations are utilizing cutting-edge technologies like blockchain, big data, the Internet of Things (IoT), and artificial intelligence in order to meet consumer expectations, there is a growing need for augmented intelligence products. The rising demand for corporate intelligence tools has increased the demand for global intelligence technologies. The diversity, volume, and arrival of modern, automated processing have all contributed to an increase in sales in the worldwide augmented intelligence market during the following years. Through enhanced intelligence, associations are produced with more precise information-driven decisions for business and everyday life.
Report Scope of the Augmented Intelligence Market:
| | |
| --- | --- |
| Report Coverage | Details |
| Market Size in 2023 | USD 18.43 Billion |
| Market Size by 2032 | USD 142.3 Billion |
| Growth Rate from 2023 to 2032 | CAGR of 25.5% |
| Largest Market | North America |
| Base Year | 2022 |
| Forecast Period | 2023 to 2032 |
| Segments Covered | By Component, By Technology, By Enterprise Size, and By End User |
| Regions Covered | North America, Europe, Asia-Pacific, Latin America and Middle East & Africa |

Market Dynamic:
Drivers:
Increasing reliance on digital technology to meet customer expectations
Digital technologies speed up business growth by enabling organizations to reach a wide audience and create enduring relationships with customers that increase brand reliability. Additionally, technology assists companies in achieving a number of goals, including providing high-quality customer service, lowering operating expenses, and raising revenues, all of which contribute to the market's expansion. Also, the increased use of digital technology by companies that collaborate with distributors, suppliers, specialist consultants, and subcontractors to provide a wide range of goods and services presents attractive market opportunities.
Also, a number of businesses have been employing digital marketing to expand their reach into new regions through creative marketing techniques, which accelerates the market's expansion. Also, it enables clients to get more pertinent and accurate product information. In order to meet customer expectations, businesses are increasing their usage of digital technology, which is a key driver of the global market for augmented intelligence.
Restrain:
Data integration from data silos
Integration and data aggregation and data analytics systems are offered by various providers of augmented intelligence, assisting users in successfully combining and analyzing data from various data sources. Industries that handle sensitive personal data about individuals, like the BFSI and healthcare sectors, are very concerned about data interchange.
As the demand for data exchange grows, it must be balanced with tools for risk reduction. Data exchange is not anticipated to be a significant concern in the foreseeable future thanks to businesses using augmented intelligence software linked with data protection features. Companies now need to properly extract value from data in order to reduce risks, target important consumers, and assess business performance.
It takes enough data to be available in order to monetize these data assets. Yet, companies, especially centralized corporate businesses, may face additional difficulties when combining data from diverse data sources into relevant information. Data interchange and data ecosystems provide the instruments needed to examine the gathered data in a single location and assist in extracting and cross-referencing its essential elements for company operations. The assumptions made on the value of the data for each client segment influence how data exchanges and data ecosystems grow.
Opportunity:
Construction of convenience shops that are completely automated
Several retail advancements are trying to demonstrate the future of the retail sector in both the offline and digital markets. For instance, a touchscreen corridor established by the Inspiration Corridor utilizes image recognition and acquires histories for implying products to consumers as well as locating these items. Moreover, the Foodstuffs-developed SMARTCART uses machine vision technology to identify items as they are placed in the basket.
The customers can then use the mobile application connected to their payment information to immediately pay for the merchandise. In addition, a recent firm called DeepMagic makes use of technological advancements to improve the experience of actual stores. DeepMagic is enabling businesses to create fully automated, unattended physical storefronts thanks to deep-learning artificial intelligence.
Qick Kiosk, a pop-up store by DeepMagic, is fully automated and equipped with image recognition technology, enabling these unattended mini-stores to operate safely. Convenience stores in the US and Europe are putting a lot of effort into integrating new technology, including artificial intelligence (AI), to improve their demand forecasts, restructure their supply chains, improve their assortments, and plan their store layouts better. Additionally, the experts in the field emphasize that augmented intelligence is anticipated to have a transformative impact on business in the years to come.
Impact of covid-19:
Digital infrastructure is crucial for visualizing and simulating breakouts in the COVID-19 situation. Businesses must now look for cutting-edge solutions if they want to stay competitive as the outbreak continues to spread around the globe. Businesses see this as a profitable opportunity. Companies are neglecting to invest in digital strategy and long-term resilience in favor of everyday operational needs.
The capacity to market products on the internet and grow businesses, as well as the better corporate capacity of long-distance collaborative work and widespread workforce acceptance of the importance of digital transformation and IT, have all had a significant impact on the current state of the digital market. For instance, banks are focused on implementing cutting-edge technologies like AI, deep learning, cloud, human-machine interface, the internet of things, and blockchain in order to enhance the value chain for digital payment and banking products/services.
In order to achieve a substantial competitive advantage, firms are now concentrating on fast integrating digital infrastructure into their automation platforms, which generates attractive chances for the augmented intelligence market to expand in the near future.
Segments Insight:
Technology Insights:
The global market for augmented intelligence is divided into machine learning (ML), machine learning for natural language processing (NLP), machine vision, and other technologies on the basis of technology. In 2022, the ML category had the biggest revenue share. The segment's revenue growth is mostly being driven by factors like expanding data volume and variety.
The importance of machine learning is growing as a result of the abundance and variety of data, the accessibility and affordability of computing power, and the accessibility of the fast Internet. These aspects of digital transformation make it possible to build models that analyze very large and complex data sets quickly and automatically.
ML can be used for a range of use cases, such as recommending goods and services, detecting cybersecurity breaches, and facilitating self-driving cars, to save costs, control risks, and enhance the overall quality of life. As processing power and data access expand, machine learning (ML) is becoming more widespread and will soon be incorporated into many facets of daily life. The need for cyber-resilient technologies is a significant driver of the segment's revenue growth.
A further important aspect driving the segment's revenue growth is the increased demand for medical devices that are wearable. Wearable medical technologies make it easier to collect important data in real time for use in continuously gauging patient health.
Deployment Insights:
The global augmented intelligence market is divided into on-premises and cloud deployment modes. In 2022, the cloud segment was responsible for the greatest revenue share. To meet growing client demand, businesses are quickly utilizing cutting-edge technologies like big data, blockchain, AI, and others. This is a significant component influencing the segment's revenue growth.
Another important element fueling the segment's revenue growth is the growing use of business intelligence (BI) solutions to streamline corporate operations and take wise business decisions. Big data, automation, and other technology, together with cloud solutions, have changed how management teams at companies respond to the brisk pace of industry innovation.
The segment's revenue increase is mostly attributed to business initiatives targeted at reaching sustainability goals. In a time of upheaval and uncertainty, clients, employees, partners, and investors are increasingly demanding that businesses concentrate on creating long-term value. In order to build resilient, purpose-driven businesses that emphasize communities, workers, and the ecosystem in addition to customers, industry leaders have adopted a new mission and turned to AI.
Businesses can find opportunities to offer excellent experiences and services, advance workforce equity, equality, and inclusion, and redesign supply chains to decrease disruptions and waste, among other things, thanks to cloud-enabled augmented intelligence.
Enterprise Insights:
The global augmented intelligence market is divided into small and medium businesses (SMEs) and large enterprises based on the size of the company. In 2022, the large enterprise's sector had the largest revenue share. The end-users' growing awareness of the various applications of augmented intelligence and its advantages is a key factor fueling this segment's revenue growth. The goal of artificial intelligence is to enhance human capabilities, not to replace them. While artificial intelligence is thought of as an autonomous system, augmented intelligence uses machine learning and deep learning to provide humans the knowledge they need to take action. A video streaming service, for instance, might offer recommendations, but the customer gets to decide how to act on them.
Contrarily, AI is capable of acting independently, as seen in spam filters and plagiarism detectors. One of the main factors influencing the segment's revenue growth is strategic agreements and collaborations aimed at enhancing the skills of augmented analysis tools for decision intelligence. For instance, Keyrus, a consultancy partner for Augmented Intelligence Market analytics within the Amazon Web Services (AWS) cloud, announced a relationship with Pyramid Analytics on January 12, 2023. This partnership is supported by Keyrus' outstanding track record of developing and delivering BI solutions, in addition to their general standing as a leader in data and digital consulting.
Regional Insights:
In 2022, the North American market accounted for the greatest revenue share. One of the main factors propelling the market's revenue growth in the area is the quick uptake of augmented reality (AR) & virtual reality (VR) technologies in the healthcare industry. Business objectives, including those involving autonomous analytics, cloud technologies, and deep learning, among others, are also major drivers of the market's expansion in terms of revenue in the area.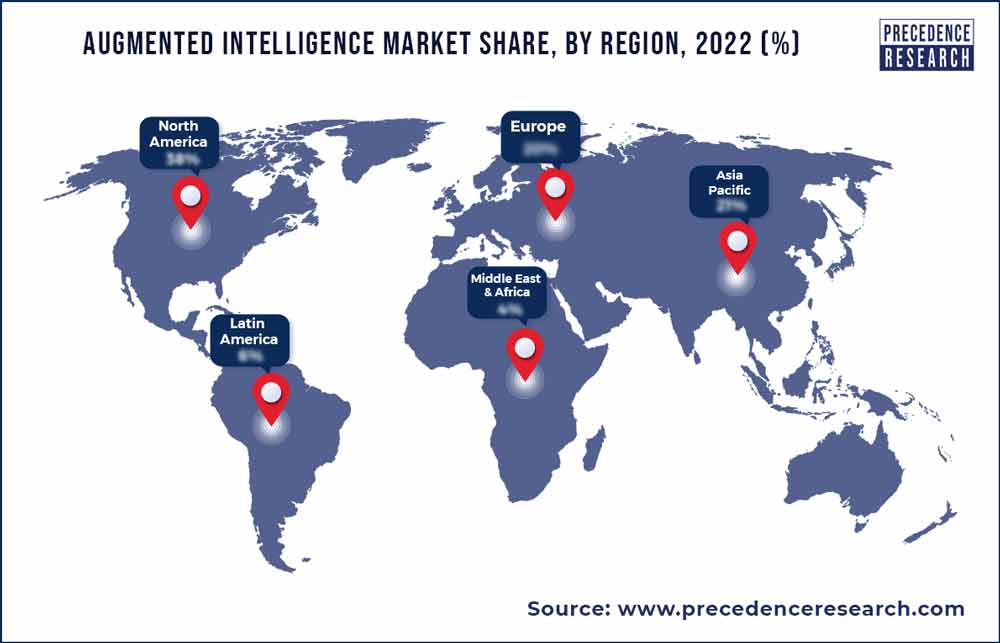 In order to gain a competitive edge, end-use companies in the area are hedging their bets by concentrating on technologies with proven use cases, like 5G or 6G, in addition to investing in developing technologies.
Recent Development:
In order to help clients, make sure that their priceless data is always accessible and usable for real-time analysis, Oracle, a leading provider of a full suite of integrated cloud services and a cloud infrastructure platform based in the United States, announced the arrival of its trusted GoldenGate innovation as a fully automated, managed service cloud service on April 21, 2021. Clients may design, execute, organize, and analyze their synchronization and broadcasting data events using the new Oracle Cloud Institutional (OCI) GoldenGate service. The first significant cloud service to offer an elastic, pay-per-use solution for data integration, general-purpose database replication, actual data intake to the cloud, and capability for time-series insights while data is in flight is OCI GoldenGate.
Key Market Players:
Salesforce.com, Inc.
Samsung
SAP SE
Sisense Inc.
TIBCO Software Inc.
Amazon Web Services, Inc.
International Business Machines Corporation
Micron Technology, Inc.
Microsoft Corporation
QlikTech International AB
Segment Covered in the Report:
(Note*: We offer report based on sub segments as well. Kindly, let us know if you are interested)
By Component
By Technology
Machine Learning
Natural Language Processing
Computer Vision
Others
By Enterprise Size
Large Enterprises
Small & Medium Enterprises
By End User
IT & Telecom
Retail & E-Commerce
BFSI
Healthcare
Manufacturing
Automotive
Others
By Geography
North America
Europe
Asia-Pacific
Latin America
The Middle East and Africa