The global propylene market size was estimated at USD 104.05 billion in 2022 and it is expected to hit around USD 150.54 billion by 2032, growing at a CAGR of 3.76% between 2023 and 2032.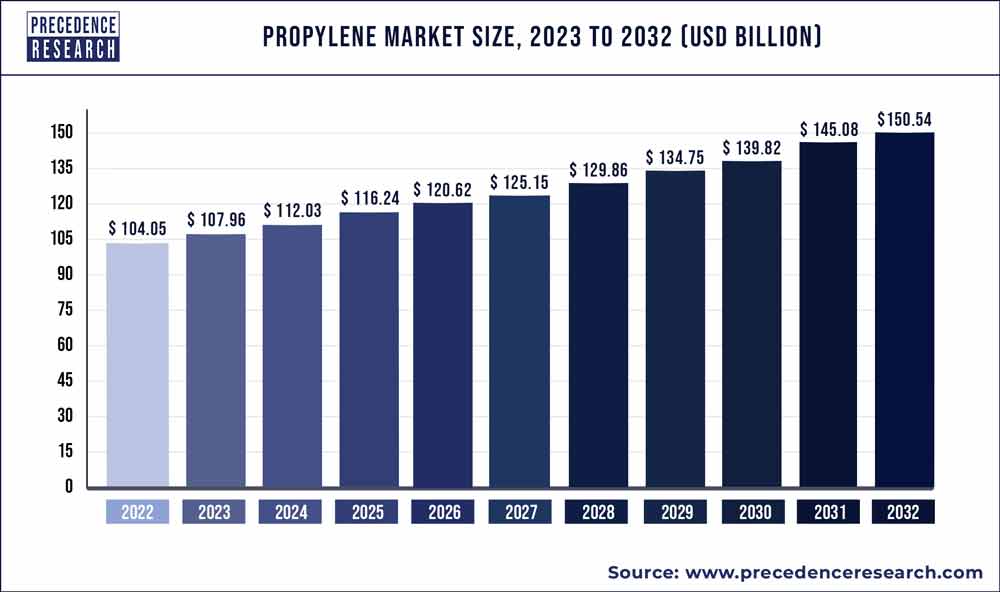 Access our Premium Real Time Data Intelligence Tool, Visit: Precedence Statistics
Key Takeaways:
Asia Pacific regions captured the largest revenue share in 2022.
By derivatives, polypropylene is expected to hold the maximum market share in 2022.
By type, the homopolymer segment held the major remarkable share in 2022.
By application, the injection molding segment generated the most significant market share in 2022, in volume and value.
By end user, the packaging segment captured the maximum revenue share in 2022.
Market Overview:
Propylene is a colorless chemical substance that exists as a gas and is an organic component. It is a flammable hydrocarbon that is widely used as fuel. The majority of the propylene is removed during the refinement of crude oil. Propylene's molecular weight and chemical formula are 42.08 g/mol and C3H6, respectively. Propylene, also known as propene and derived from petroleum, is widely utilized in the production of resins, fibers, elastomers, and other chemical goods.
Growth Factors:
The rising need for effective plastic packaging materials drives global demand for polypropylene. PP offers a wide variety of characteristics that enable its use in several applications, including improved operating temperature, tensile strength, strong chemical resistance, and low moisture absorption. PP is widely utilized in injection moulding applications nowadays due to its ease of melting and moulding into any form or size without losing its original quality.
The market for PP is expanding due to the increased demand for lightweight polymers from the automotive, consumer goods, and electronics sectors. Spheripol, Unipol PP, Novolen, Innovene PP, Sherizone, and Borstar PP are just a few of the technologies that help businesses generate high-quality PP in accordance with customer specifications.
Report Scope of the Propylene Market
| | |
| --- | --- |
| Report Coverage | Details |
| Market Size in 2023 | USD 107.96 Billion |
| Market Size by 2032 | USD 150.54 Billion |
| Growth Rate from 2023 to 2032 | CAGR of 3.76% |
| Largest Market | Asia Pacific |
| Base Year | 2022 |
| Forecast Period | 2023 to 2032 |
| Segments Covered | By Derivatives, By Type, By Application and By End User |
| Regions Covered | North America, Europe, Asia-Pacific, Latin America and Middle East & Africa |

Market Dynamics:
Driver:
Increasing demand of propylene derivatives
The propylene derivative used in polymers and viscoelastic fiber is acrylonitrile. Sweaters, socks, athletics, and home furnishings are among the products made of acrylic that account for the lion's share of the industry due to the global coronavirus pandemic expanding the need for medical equipment, acrylonitrile and propylene demand in the market. Acrylonitrile is also used in medical equipment such as valves, mechanical seals, and pumps.
Rise the demand in automobile sector
Throughout the projected period, the propylene market is going to expand due to the fast-rising demand for propylene in the automotive industry. The monomer of propylene, utilized in the automotive sector, is converted into polypropylene, a propylene polymer. The need for polypropylene goods, which are used to make bumpers, interior trim, instrument panels, battery boxes and trays, fender liners, door trims, and other machinery, has increased as a result of the large-scale manufacture of vehicles.
Restraints:
Government rules and regulation concerns about safety
A significant barrier to the growth of the propylene industry has been the implementation of strict safety regulations in the manufacture and transportation of propylene. When subjected to high pressures and temperatures, propylene is poisonous, extremely flammable, and dangerous.
Propylene dealers should invest in technology, equipment, and procedures to reduce chemical and hazardous levels. These limitations raised the cost of manufacturing in the propylene sector, restricting opportunities for investments in product expansion, the introduction of new goods, and entry into new markets, which has an impact on market expansion.
Opportunities:
Rising petrochemical industry
In order to expand the market share of propylene as a stand-alone product rather than an alternative or co-product, petrochemical firms are increasingly using on-purpose propylene manufacturing methods. A modified version of the conventional fluid catalytic cracking unit called on-purpose propylene technology increases propylene production to 20% or more of this output.
Oil refineries and steam crackers, which are the traditional sources of propylene, produce less propylene as a byproduct. Petrochemical businesses are investing in on-purpose technology growth to sustain the gap in propylene output to keep up with the increased demand for propylene. These elements will produce opportunities and accelerate propylene market growth.
Impact of COVID-19:
Due to the rising demand for N95 masks caused by the COVID-19 pandemic, the propylene industry is also benefiting from the global outbreak. Nevertheless, the limited propylene supply needs to be improved by the market's expansion due to scarce labor and logistical challenges. Several businesses are working on a frequently reusable mask that will raise the need for propylene. Also, the coronavirus outbreak and accompanying lockdown enforced in several nations have strengthened the demand for autonomous delivery vehicles. Also, a strong demand for propylene is being driven by the market's continued growth in the packaging industry.
Segments Insight:
Derivatives Insights:
Based on the derivatives, polypropylene is anticipated to hold the largest market share in 2022. The reason for this growth in the market is an increase in demand for derivatives, particularly polypropylene and propylene oxide. Naphtha cracking, which arises from refinery cracking production of other products and is used to manufacture ethylene, is a significant source of propylene. Propane dehydrogenation produces hydrogen as a byproduct while converting propane to propylene.
The two most often utilized propylene manufacturing processes globally are fluid catalytic cracking splitters and on-purpose technology (OPT). Films, fibers, containers, packaging, caps, and closures are a few examples of its final products. The automobile sector makes substantial use of polypropylene and its alloys. Several elastomeric fibers and polymers employ another derivative, acrylonitrile. It is utilized for acrylic fibers in clothing, such as sweaters, socks, beds, carpets, sportswear, pillows, and blankets.
Type Insights:
Based on type, the homopolymer segment held the more significant share of the propylene market in 2022. Over the projection period, the homopolymer category is expected to maintain its market dominance. Homopolymer polypropylene, which has a higher strength-to-weight ratio and is stiffer and more resilient than copolymer polypropylene, is mostly to blame. These qualities make it popular in many corrosion-resistant constructions, with strong chemical resistance and weldability.
Application Insights:
Based on application, the injection moulding segment commanded the most significant market share for propylene in 2022 in volume and value. It will continue to hold this position, linked to the extensive use of injection molding. Polypropylene is used to make items of various sizes and forms, including home goods, automotive, marine, and recreational vehicle (RV) products. As a result, throughout the projected period, the market expansion in this category would be driven by the increased demand for moulded goods, such as rigid containers.
End User Insights:
The end-user industry sector of the propylene market had the most considerable revenue in the packaging category in 2022, and this trend is anticipated to continue during the forecast period. It is due to the widespread use of propylene in food packaging, which comes into touch with food and drinks. Injection-moulded pots, thermoformed pots, and thermoformed trays are just a few examples of food packing containers that may safely use this rigid polymer since it is resistant to many chemical solvents.
Similarly, the increased manufacturing of vehicles is anticipated to drive up material sales in the automotive industry throughout the forecast period. The easy availability of PP and its attributes, like stain resistance, high durability, and flexibility, will facilitate the production of lightweight automobiles, lowering the cost and increasing the vehicle's energy efficiency. These elements will fuel market expansion in the automobile sector.
Regional Insights:
In 2022, the market in Asia Pacific holds the maximum revenue share. Due to rising demand from the packaging and automobile production industries, Asia Pacific is anticipated to expand rapidly in this market. Due to the growing use of PP in these nations' food & beverage, packaging, and care sectors, China, Japan, and India are significant contributors to the market growth in the area.
Due to the enormous prospects presented by the expanding automotive and construction sectors, major market players are attempting to increase their presence in the area.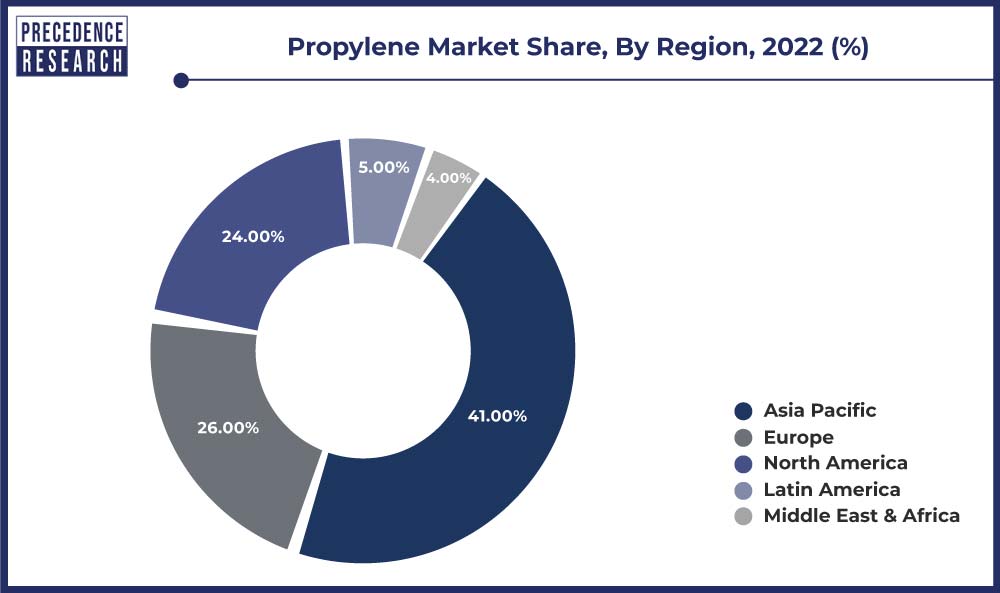 Over the projected period, North America is expected to account for a sizable percentage of the worldwide market. A significant market driver in the area is the expansion of the medical and electrical, and electronics manufacturing industries. Nonetheless, this region's market is expected to display a considerably lower CAGR compared to Asia Pacific.
The need for food and beverage packaging as well as the production of vehicles, would both increase propylene use in Europe. The region's leading producers, processors, and compounders are constantly working to develop new products for the automotive industry. The usage of goods in the healthcare and pharmaceutical, electrical and electronic, and other industries is another essential element boosting the growth of the PP market in Europe.
The market will experience considerable expansion in South America, the Middle East, and Africa due to rising infrastructure & development activity as well as shifting consumer lifestyle choices. Moreover, the Middle East and Africa will produce more PP due to the simple access to raw materials.
Recent Developments:
July 2022: The Canadian company Heartland Polymers fully commissioned its polypropylene (PP) plant with a planned production capacity of 525,000 tons/year of polypropylene at the Heartland Petrochemical Complex in Alberta, Canada.
June 2022: Linde Engineering announced that the company started working on a large-scale revamp of a polypropylene (PP3) plant of Slovnaft, a member of the MOL Group situated in Bratislava, Slovakia. The revamp will extend the plant's production capacity by 18% to 300 kilotons of polypropylene per year and the expansion of the storage facility from 45 to 61 silos in total.
In February 2022, Braskem which is one of the major polyolefins manufacturers companies, as well as also a market leader of biopolymers has declared the enlargement of its circular polymer portfolio and include two new polypropylene (PP) grades with post-consumer recycled (PCR) content. Braskem's new PCR polypropylene grades would be used in an extensive array of U.S based Food and Drug Administration (FDA) food contact applications where polypropylene is used today, like in housewares, caps and closures, consumer packaging, and others.
In January 2022: INVISTA is a Koch company and this company is associate either Flint Hills Resources which has attained the Flint Hills Resources propylene business efficiently from Jan. 1, 2022. This includes the chemical facilities in Texas, Longview and Houston, along with the employee's support. The possession of the pipelines which deliver these facilities also moved their business to INVISTA but will continue to be worked by Flint Hills Resources under an agreement.
In February 2022, ExxonMobil announced that they will tart polypropylene capacity in Louisiana, U.S. by the end of 2022. This expansion is budgeted at US$ 500 million. Through this expansion, ExxonMobil will enhance their market presence in the U.S. and adjoining countries.
In April 2021, Braskem S.A. launched a carbon-fiber-reinforced polypropylene filament for additive manufacturing. The filament is lightweight and rigid, thus ideal for automotive, aerospace, marine, and sporting goods applications.
In April 2021, Sulzer Ltd. and Borealis AG launched a new polypropylene foam extrusion technology, enabling lower cost and increased efficiency across the value chain. The companies have completed the development of an advanced process for the cost-effective extrusion of expanded polypropylene (ePP) beads.
In December 2020, LyondellBasell launched Beon3D, an innovative PP product range that will provide unique design and allow the production of high-quality, complex 3D printed objects within one step. This product was produced by combining polymer technologies and additive manufacturing. This product range will serve transportation, industrial, building & construction, and consumer goods markets.
Key Market Players:
BASF SE
Repsol
Borouge
Borealis AG
MOL Group
Beaulieu International Group
LyondellBasell Industries N.V.
ExxonMobil Chemical
China National Petroleum Corporation
INEOS
China Petroleum & Chemical Corporation
SABIC
Ducor Petrochemicals
Reliance Industries Limited
Formosa Plastic Group
Total S.A.
Braskem
Segment Covered in the Report:
(Note*: We offer report based on sub segments as well. Kindly, let us know if you are interested)
By Derivatives
Polypropylene
Propylene Oxide
Cumene/Phenol
Acrylonitrile
Acrylic Acid
Oligomers
Alcohols
Acrylates
Others
By Type
By Application
Injection Molding
Film & Sheet
Raffia
Fiber
Blow Molding
By End User
Packaging
Electronics
Medical
Consumer Goods
Automotive
Construction
Textile
Agriculture
Other
By Geography
North America
Europe
Asia-Pacific
Latin America
The Middle East and Africa