The global benzene market size was exhibited at USD 36.55 billion in 2022 and is expected to reach around USD 63.32 billion by the end of 2032, poised to grow at a compound annual growth rate (CAGR) of 5.7% from 2023 to 2032.
Access our Premium Real Time Data Intelligence Tool, Visit: Precedence Statistics
A hazardous petrochemical industrial solvent, benzene is described as a highly flammable, colorless, aromatic hydrocarbon with a pleasant fragrance. It is a petrochemical product that tends to evaporate quickly when exposed to air and has a number of subsidiaries, including aniline, cumene, cyclohexane, alkyl benzene, ethyl benzene, chlorobenzene, nitrobenzene, and phenol. It is utilized throughout a wide range of commercial and economic businesses, including those in the consumer goods, transportation, construction, electrical & electronics, and medical sectors.
Despite being widely used for several industrial applications, its caustic toxicity prevents its employment in non-industrial settings. It has been determined that benzene is a carcinogen, or a substance that may cause cancer, and that continued exposure to it might be harmful to one's health. Prior until recently, benzene was frequently used to decaffeinate coffee and clean metals, but less dangerous substances are now swiftly replacing it. One of the major drivers of market expansion is a rise in the use of insulating materials in building operations. Additionally, the demand for consumer goods like furniture wax and thinners has increased globally as a result of expanding urbanization and rising disposable incomes.
Growth Factors
Due to the solid expansion of the automotive sector is projected that demand for the product will continue to rise. Due to growing use of benzene derivatives in the automobile industry for the production of synthetic rubber has driven demand in the benzene market.
The growing applications of benzene and its derivatives
Increasing demand from household for cleaning
Report Scope of the Benzene Market
| | |
| --- | --- |
| Report Coverage | Details |
| Market Size in 2023 | USD 38.45 Billion |
| Market Size by 2032 | USD 63.32 Billion |
| Growth Rate from 2023 to 2032 | CAGR of 5.7% |
| Base Year | 2022 |
| Forecast Period | 2023 to 2032 |
| Segments Covered | Derivative, Manufacturing Process, Application, End-use, and Geography |
| Companies Mentioned | BASF SE, Braskem, Reliance Industries Limited, Shell PLC, SABIC, SIBUR, Chevron Phillips Chemical Company LLC, China Petroleum & Chemical Corporation, Eastman Chemical Company, Exxon Mobil Corporation, Flint Hills Resources, Hengyi Industries Sdn Bhd, INEOS, LG Chem, LyondellBasell Industries Holdings BV, Marathon Petroleum Company, Maruzen Petrochemical, Mitsubishi Chemical Corporation |

Key Market Drivers
Rising demand for styrene polymers from various end-use industries
Styrene is used in many different sectors, including packaging, automotive, construction, and electronics, when it has been polymerized or co-polymerized. The majority of the world's styrene production goes towards making polystyrene, a polymerized form of styrene that is available in foam, solid, and film forms.
The packaging industry makes extensive use of polystyrene because of its superior durability, light weight, flexibility, and moisture resistance. Emerging economies like India and China have experienced rapid e-commerce growth during the past ten years. Due to the increasing purchasing power and improved accessibility provided by e-commerce firms like Alibaba, Flipkart, and Amazon this expansion is most likely to continue. One of the world's fastest-growing e-commerce markets is India.
The National Investment Promotion and Facilitation Agency projects that by 2030, internet retail in India would make up 37% of the whole organized retail market. Increased smartphone and internet usage, as well as creative marketing tactics, are expected to encourage more people to purchase online. The packaging industry is likely to increase concurrently with the ecommerce sector throughout the forecast period, propelling the market growth.
Increasing demand of domestic cleaning product use
In order to create linear Alkyl Benzene sulfonate (LAS), a surfactant used in detergents, linear Alkyl Benzene is predominantly utilised as a raw ingredient. It is one of the ingredients that liquid and powder detergents use the most. The market will see growth during the projected period as a result of the rising demand for home and industrial cleaners. Due to the LAS's complete biodegradability and lack of environmental impact, which makes it one of the primary application products of the linear Alkyl Benzene market, the linear Alkyl Benzene market will be able to continue sustainable growth during the anticipated time period.
The market for linear Alkyl Benzene will be able to enter the home cleaning industry owning to the general public's growing knowledge of the benefits of cleanliness. This will help to rise the demand of benzene in the household applications.
Key Market Challenges
fluctuating crude oil prices and benzene's dangers
One of the biggest problems the benzene market has is the dependency on crude oil for its production. Since the price of benzene is directly influenced by these changes, the market has been severely constrained by the rise in crude oil prices and their frequent volatility. Market expansion is also likely to be constrained by rising health and environmental problems associated with benzene exposure. The International Agency for Research on Cancer has identified the chemical benzene as being human carcinogenic (IARC). Short-term exposure can cause eye irritation, narcosis, and skin irritation.
OSHA benzene standards state that the maximum time-weighted average (TWA) exposure limit for benzene is 1 ppm for an 8-hour workday and the maximum short-term exposure limit is 5 ppm for 15 minutes. In order to ensure worker safety, producers must closely abide by these regulations. The US and the UK adhere to them, while Europe has its own set of comparable criteria. Like other synthetic polymers, benzene-derived polymers and resins have an issue with biodegradability, which leads to plastic pollution.
The need for eco-friendly substitutes for these styrene polymers has been continuously increasing as a result of rising consumer awareness. More stringent environmental and health restrictions may restrict the use of derivatives, hence limiting market expansion in general.
Key Market Opportunities
Downstream expansion - Due to planned petrochemical facilities or downstream expansion, the industry may have opportunities in the upcoming years. The establishment of new facilities and the increasing market demand for petrochemical products are related to the increasing demand for benzene and its derivatives.
Segments Insight
Derivative Insights
On the basis of derivative, the ethylbenzene segment is expected to have the largest market share in the coming years period, this segment has dominated the market in the past with the maximum share in terms of revenue and it will continue to grow well in the coming years. Natural sources of it include coal tar and petroleum, as well as manufactured goods like paints, pesticides, and inks. Chemical styrene is mostly produced from ethylbenzene. As a solvent, in fuels, and in the synthesis of other chemicals are some further uses. Polystyrene, acrylonitrile-butadiene-styrene (ABS), styrene-acrylonitrile (SAN) resins, styrene-butadiene elastomers, latexes, and unsaturated polyester resins are just a few of the products that may be made from styrene.
Application Insights
On the basis of application, the industrial chemical segment has held the largest market share in 2022 in terms of revenue. The majority of industries employ benzene and its derivatives to produce chemicals that are used in nylon, resins, and plastic. Many painkillers, including analgesic medications like aspirin, naproxen, ibuprofen, and rofecoxib among others that are used to alleviate pain, lower fever, and reduce inflammation, include benzene derivatives. Nasal congestion has been treated using phenylpropanolamine, a decongestant made from benzene. In addition, polystyrene is frequently utilized to make medical equipment in the healthcare sector since it is simple to sterilize. Test kits, petri dishes, test tubes, and diagnostic elements are just a few of the medical gadgets made from polystyrene.
The manufacturing of styrene butadiene rubber heavily utilizes the derivative styrene (SBR). SBR is mostly used to make tires for automobiles and other light-weight vehicles. SBR is an excellent material for meeting the high performance and durability requirements of the tire industry since it has special qualities including reduced rolling friction, good grip during braking, and abrasion resistance. In addition to tires, SBR is used to make shoe bottoms, pipes, gaskets, wire insulation, and conveyor belts.
Regional Insights
Due to the developing petrochemical industry, the North America region has accounted for the majority revenue share in the market throughout the projection period. The production of benzene, a widely used feedstock in the petrochemical sector for the creation of a variety of chemicals, principally involves the catalytic reforming and steam cracking of crude oil. The upstream petroleum industry in the area has grown dramatically over the past ten years as a result of technical advancements, particularly the hydraulic fracturing method for extracting shale oil. Investors are focusing their efforts on value addition and the development of new petrochemical complexes since the region's oil and gas output has outpaced domestic fuel demand. The availability of excess crude oil and rising demand from the developing petrochemical industry are expected to support market expansion.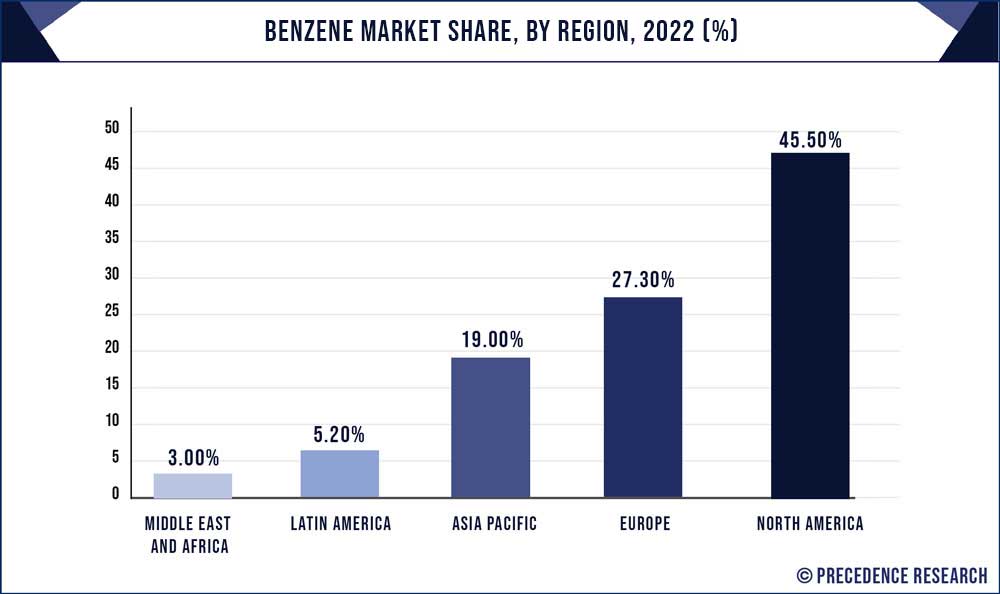 The Asia-Pacific region is predicted to see a considerable growth rate. Because of the expanding end-user markets for electronics and home appliances, construction, and textiles in India, China, and other Asian nations, the Asia-Pacific area is anticipated to have the fastest rate of growth in the whole region throughout the time of forecasting. Additionally, benzene is widely utilized in the manufacturing of goods for the construction industry, including paints, carpeting, adhesives, fiberglass, and others. The National Bureau of Statistics of China estimates that in 2021, China's construction production was roughly CNY 29.31 trillion. The Asia-Pacific region's demand for benzene is projected to increase as a result.
Recent Developments
In February 2021 – As part of its refining and petrochemical development project on Pulau Muara Besar of Brunei, Hengyi Petrochemical intended to build a benzene plant to raise the yearly capacity from 500 kiloton to 800 kiloton. Through this action, the corporation hopes to grow its petrochemical division.
Segments Covered in the Report
(Note*: We offer report based on sub segments as well. Kindly, let us know if you are interested)
By Derivative
Ethylbenzene
Cumene
Alkylbenzene
Cyclohexane
Nitrobenzene
Others
By Manufacturing Process
Catalytic Reforming
Toluene Disproportionation
Toluene Hydrodealkylation
Pyrolysis
Steam Cracking of Naphtha
From Biomass
By Application
Plastics
Solvent
Chemical Intermediates
Surfactants
Rubber Manufacturing
Detergents
Explosives
Lubricants
Pesticides
Others
By End-Use
Packaging
Pharmaceuticals
Agriculture
Constructions
Textiles
Others
By Geography
North America
Europe
Asia-Pacific
Latin America
Middle East & Africa (MEA)