The global propane market size was evaluated at USD 82.44 billion in 2022 and is projected to hit around USD 122.61 billion by 2032 with a registered CAGR of 4.1% during the forecast period 2023 to 2032.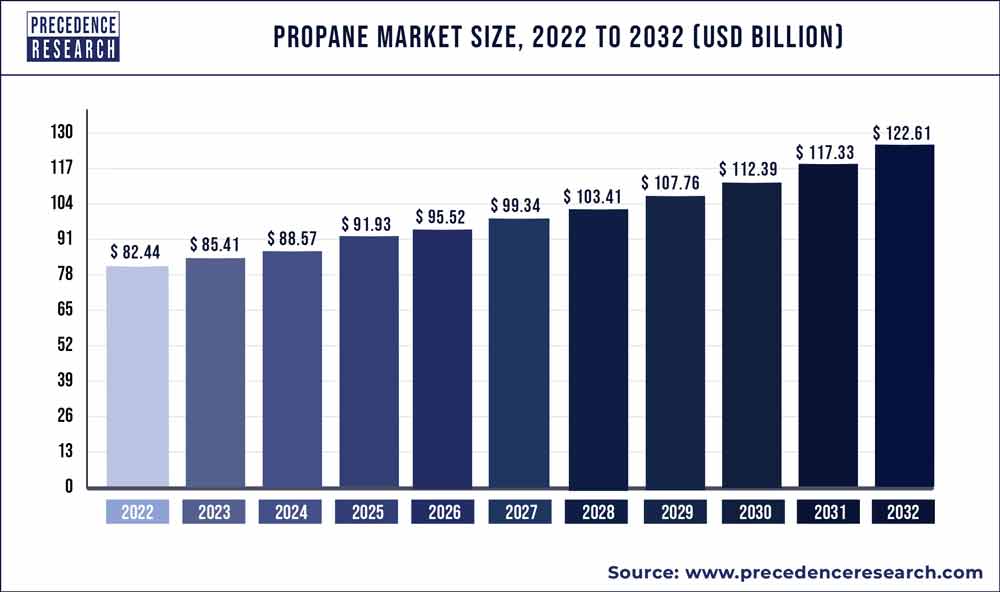 Access our Premium Real Time Data Intelligence Tool, Visit: Precedence Statistics
Key Takeaways:
In end-use segments, the industry contributed more than 39% of total sales in 2022.
The residential category is anticipated to rise at a CAGR of more than 5.2% from 2023 to 2032.
The propane market's highest share belonged to the HD-5 category in 2022.
Europe was the top-performing area, contributing more than 30.2% of the total income in 2022.
In 2022, The Asia Pacific accounted for more than 21% of total sales.
Growth Factors
The residential sector's rising demand for furnaces, water heaters, air conditioners, fireplaces, and other home appliances, the automotive industry's rising demand for low-sustainability fuel, and rising construction activity demand in both developing and developed regions are all anticipated to support the growth of the global propane market. Additionally, it is projected that increased demand for uses such as metal-cutting torches and snow melting will fuel market expansion throughout the projection period. The total market, however, may be hampered by considerations including expensive installation and maintenance costs, safety concerns with propane handling, and the depletion of fossil resources.
Emerging markets' unrealized potential presents promising growth prospects. Due to its low carbon content, propane is gradually becoming a favored alternative to fossil fuels like gasoline and diesel. Because it is more widely accessible, affordable, and steady than other energy sources, propane is in high demand and its market is expanding quickly. Due to increased investments and the implementation of government initiatives to use cleaner fuel, the residential and commercial sectors are some of the predominant users of propane as a result of the rapid industrialization and urbanization in developing countries, supporting the industry's growth. Making the best use of natural resources is becoming increasingly important in the industrial sector in order to boost overall efficiency and profitability. As a result, the propane business is expanding at a faster rate.
Additionally, due to a significant rise in home demand for propane for domestic cooking during the COVID-19 epidemic, the market expanded positively. Additionally, the demand for propane in the Asia Pacific area is sharply increasing due to the growing pollution levels in nations like China and India. Propane's market growth is being positively impacted by the launch of several municipal programs that promote the use of alternative fuel as a way to reduce pollution in China, where the Autogas industry has grown significantly.
Rising LPG usage for home purposes will propel the global propane market.
Due to the cleaner form of existence of propane compared to oil, the consumption of propane as a fuel is increasing.
The numerous areas' well-developed economies and rising commercial and industrial propane consumption
The convenience and environmental friendliness of propane gas are boosting consumer demand for it.
The worldwide propane market is expanding as a result of the rising demand for low-emission sustainable fuel in the automotive and transportation industries.
Report Scope of the Propane Market
Report Coverage
Details
Market Size in 2023
USD 85.41 Billion
Market Size by 2032
USD 122.61 Billion
Growth Rate from 2023 to 2032
CAGR of 4.1%
Base Year
2022
Forecast Period
2023 to 2032
Segments Covered
Regions Covered

North America
Europe
Asia-Pacific
Latin America
Middle East & Africa

Key Market Drivers
Increasing propane demand in the agriculture sector
For its needs, the agriculture industry employs propane in irrigation pumps, generators, dryers, and any other agricultural machinery that may run on oil. All kinds of agricultural machinery, including lawnmowers, forklifts, tractors, delivery trucks, and others, may run efficiently on propane. Propane burns cleaner and has lower per-mile operating expenses. It also requires less maintenance for vehicles. The market for propane is being driven by the agriculture sector's expanding expansion. For instance, India is anticipated to have accomplished the ambitious objective of doubling agricultural income by 2022, according to the Indian Brand Equity Foundation (IBEF). In the future years, it is anticipated that increased investment in agricultural infrastructure, such as irrigation systems, warehouses, and cold storage, would strengthen India's agriculture industry. Consequently, during the course of the projection period, the market for propane will continue to develop along with the agriculture sector.
Key Market Challenges
Propane's status as a finite fossil fuel
Given that propane is a clean-burning fossil fuel, its availability is the primary issue on the market. Most of it is taken out of declining non-renewable natural sources and recovered from them. Propane cannot be used as a replacement when there is a shortage of petroleum since its supply and availability are linked to those of petroleum. Due to its limited supply and declining supply, propane's price is likewise rising as a result. For instance, the price of residential propane in the United States has grown, according to the U.S. Energy Information Administration (EIA), from 2.295 Dollars per Gallon in 2021 to 3.024 Dollars per Gallon in 2022. As a result, the expansion of the propane market will be hampered by the diminishing amounts of non-renewable natural resources.
Key Market Opportunities
LPG consumption will rise in residential applications
A combination of combustible hydrocarbon gases, which includes the often-used fuel propane, make up liquefied petroleum gas (LPG). The main component of LPG is propane. In certain countries, it makes up very close to 100% of the LPG component. The need for LPG for domestic energy needs is being driven by the rapid growth in disposable income around the world, especially in developing nations like India. A modern energy source with no impact on the atmosphere is LPG. It is used for a variety of purposes, including heating, cooking, agriculture, and entertainment. LPG supply has increased as shale gas extraction has increased. Global LPG usage has increased as a result of initiatives by local and international organizations to encourage consumers to convert from dirty to clean energy sources. Thus, throughout the projection period, growth in LPG usage for home purposes is expected to fuel propane demand all over the world.
Segments Insight
End Use Insights
In 2022, industrial grew to become a significant end-use sector and contributed to more than 39% of total sales. The expansion of the metal manufacturing industry is seen as a significant demand generator for the industrial sector during the next coming years, notably in Middle Eastern and Asian nations. In the Asia Pacific area, end-use businesses can afford to utilize pricey items because of low labor costs and reasonable operational costs. Because of the rising demand for manufactured goods, the industrial category is expected to continue to be a quickly expanding end-use industry. Metalworkers utilize tiny tanks with cutting torches in the industrial section. Wintertime comfort for construction and road workers is provided by gas-powered semi-portable as well as portable heaters. In addition, it is utilized to provide heat for new roadway construction and maintenance. Because propane burns cleanly, forklift trucks fueled by propane may securely work inside factories and warehouses. Additionally, because of its clean-burning properties, it is perfect for a variety of industrial applications, including cutting and brazing, soldering, preheating, shrink-wrapping, and heat treatment. It is a specialized gas that is blended and used in the petrochemical sector to standardize process control analyzers.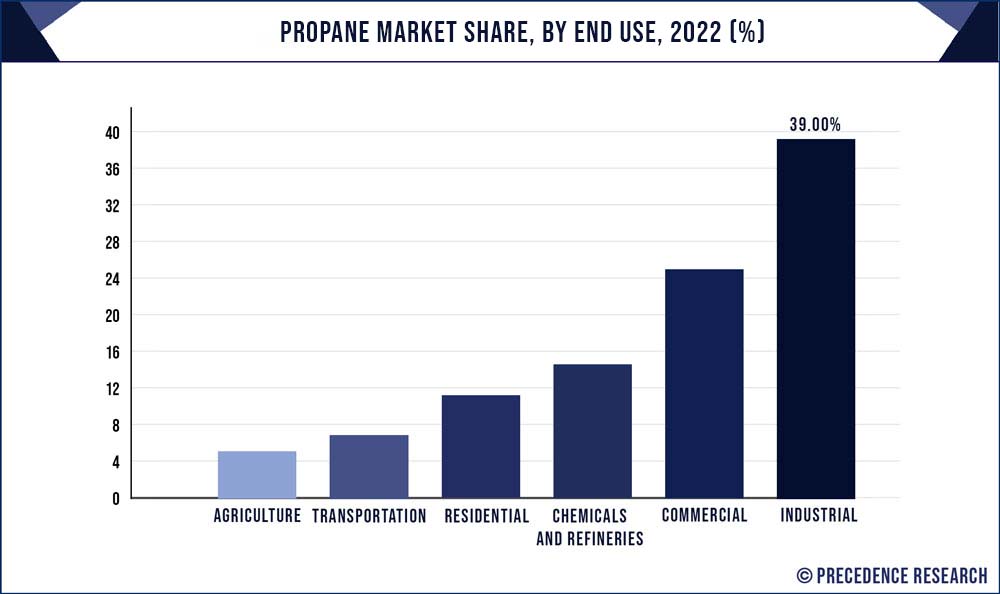 The item is also utilized in refrigerant blends, as an aerosol propellant, or as a refrigerant. Due to extensive use in hotels and restaurants for food preparation, commercial end-use is the second-largest market. During the projection period, the residential category is anticipated to rise at a CAGR of more than 5.2%. Propane is used for space heating, cooking, and burning in homes. In several nations, propane is utilized extensively for heating water as well as other purposes. The demand for propane will probably increase as a result in the coming years.
Grade Type Insights
In 2022, the propane market's highest share belonged to the HD-5 category. Consumer-grade propane is referred to as HD-5-grade propane. Compared to HD-10 propane, commercial propane, and other types of accessible propane, it is the highest grade. HD-5 designates that propane can be used as an engine fuel. Propane that meets the HD-5 criteria must include at least 90% propane, no more than 5% propylene, and additional gases such as isobutane, butane, methane, and others in the remaining percentages. The term "highest quality propane" refers to propane that complies with the requirements necessary to sell and label as HD-5 propane. As a result, during the course of the projected period, the market for propane will expand in tandem with the expansion of the HD-5 propane sector.
Propane Market Share, By Region, 2022 (%)
| | |
| --- | --- |
| Regions | Revenue Share in 2022 (%) |
| North America | 11% |
| Asia Pacific | 51.8% |
| Europe | 30.2% |
| Latin America | 4% |
| MEA | 3% |

Regional Insights
Manufacturing and commercial sectors are anticipated to increase as a result of rising countries like China, India, and Mexico's rapid industrialization and high GDP growth rate. India saw the maximum GDP growth rate in 2015, at 7.5%. Over the projection period, it is anticipated to increase production activities throughout the Asia Pacific, leading to a rise in the need for downstream chemical processing. In 2022, Europe was the top-performing area, contributing more than 30.2% of the total income. Eastern Europe's emerging economies, in particular, have been seeing rapid economic expansion. Future demand patterns in the area will be shaped by population increase and rising living standards. It is used in homes for cooking, lighting, chilling food, heating water, and air conditioning. Homes in Europe and North America frequently include a large tank that holds the gas under pressure as a liquid. Liquid gasoline may be stored in a conventional residential fuel tank for 500 - 1,000 gallons. Many people use propane-fueled grills all around the world. Recreational vehicles (RVs) are also equipped with technology that runs on this fuel as a portable energy source for hot water, cooking, and refrigeration. The United States was the largest manufacturer and user in the world. High economic growth in the United States is a contributing factor to the country's rapid urbanization and growing housing demand. People from rural regions are migrating to cities in pursuit of higher-paying jobs.
Following North America, Asia Pacific accounted for more than 21% of total sales in 2022. Regulations pertaining to quality and safety are what mostly determines the progress of consumption in the United States and Canada. Standardized regulations for the production, storage, and delivery of gases define the area. Additionally, the availability of raw materials and a sizable shale gas reserve are anticipated to fuel expansion throughout the projection period.
Recent Developments
NGL Energy Partners stated in January 2019 that it will buy the wholesale propane division of DCP Midstream. In accordance with the arrangement, NGL will possess all five propane rail terminals, which are run by a DCP subsidiary business called Gas Supply Resources, on the whole.
In October 2018, Powell-Clinch Utility District's propane division was bought by Holston Gases, a local distributor of medical, industrial, and propane gas. Additionally, it has all of Powell Clinch's vehicles, tanks, and storage facilities.
Key Market Players
BP plc
Chevron Corporation,
Royal Dutch Shell plc,
Anadarko Petroleum Corporation,
ConocoPhillips,
Reliance Industries Ltd.,
PetroChina Company Limited,
Sinopec,
Evonik, Sika AG,
Total SA,
Eni S.p.A,
Marsh LP Gas Company Inc.,
Statoil ASA,
Ferrellgas Partners L.P.
Segment Covered in the Report
(Note*: We offer reports based on sub-segments as well. Kindly, let us know if you are interested)
By End Use
Industrial
Commercial
Residential
Transportation
Agriculture
Chemicals and Refineries
By Grade
By Geography
North America
Europe
Asia-Pacific
Latin America
Middle East & Africa (MEA)