The global vehicle roadside assistance market size estimated for USD 23.61 billion in 2022 and it is projected to reach over USD 39.65 billion by 2032, poised to grow at a compound annual growth rate (CAGR) of 5.3% during the forecast period 2023 to 2032.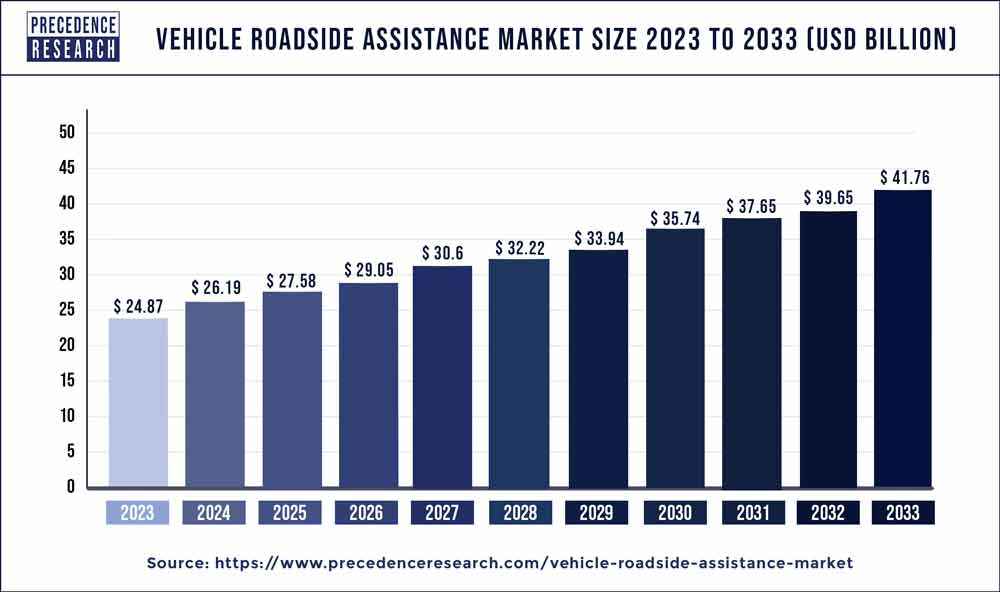 Access our Premium Real Time Data Intelligence Tool, Visit: Precedence Statistics
Key Takeaways
Europe contributed more than 38% of revenue share in 2022.
By Service, the towing service segment captured the biggest revenue share in the global market in the year 2022.
By Provider, the auto manufacturer segment is likely to dominate the market in the forecast years.
By Vehicle, the passenger vehicle is a significant revenue share in the market
Vehicle roadside assistance may help with everything from a flat tire to a motorized problem. According to the National Highway Traffic Safety Administration, an estimated 38,680 persons died in motor vehicle traffic crashes in 2019, accounting for approximately 7.2% of the 36,096 fatalities in the year. Faster driving contributed to an increase in road fatalities per 100 vehicle kilometers travelled, according to the Triple-I research. In addition, the fatality rate mileage climbed by almost 24% in 2018, marking the biggest yearly growth since the National Safety Council anticipated 42,060 persons expired in motor vehicle clatters in 2020, up 8% from 2019.
Vehicle roadside assistance is a service offered by automakers or other service providers. This service provides assistance in case of breakdown or crash of the vehicle. Roadside vehicle benefits onsite support namely mechanical and electrical repairs and other common roadside problems, involving dead batteries, flat tires, etc. The mobile fuel delivery service is creating a phenomenal change in the vehicle roadside assistance market. The US based startup in the mobile fuel delivery "Booster" is gaining traction for servicing corporate campuses, residential consumers, fleet operators, and others.
Augmented demand for vehicle roadside assistance service is primarily due to the increasing number of aging vehicles that faces several electrical & mechanical issues. Moreover, app-based services have reduced the response time for roadside assistance services that propels the market growth. Extreme weather condition impacts several drivers across the world, especially during cold weather, battery power drain-out that leads to battery jump start. As well as the icy and snowy terrain in several regions leads to risky driving that increases the chance of fatal road accidents and thus needs roadside vehicle assistance.
However, the pay-per-use service of roadside vehicle assistance is likely to restrain the market growth. This is mainly due to the service and labor charges that are included in the membership plan also user need to pay per use service charges. Each service provider offers all the services under their membership plan, though every player has their own terms and conditions. Nonetheless, a spike in vehicle registration along with rise in per capita income are likely to boost the demand for vehicle roadside assistance in the coming years.
Vehicle Roadside Assistance Market in Europe 2023 To 2032
The Europe vehicle roadside assistance market size reached USD 8.97 billion in 2022 and is predicted to hit over USD 15.11 billion by 2032, growing at a CAGR of 5.40% from 2023 to 2032.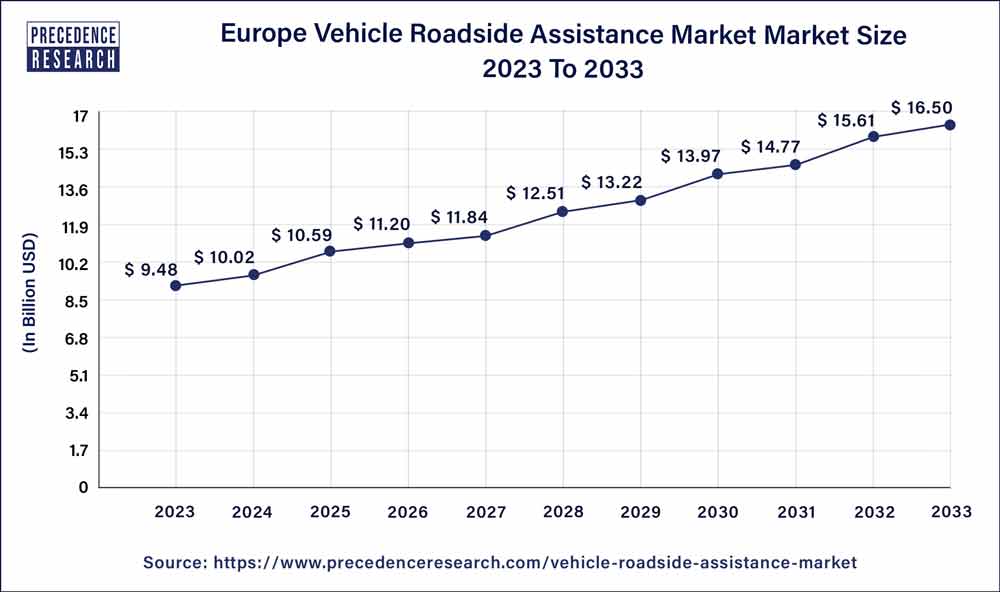 Rapid growth of the automobile sector in Europe has led the region as the most prominent revenue generator for the global vehicle roadside assistance market in 2022. Rising sales of vehicles across Europe coupled with significant number of on-road vehicle in the region are some of the prime factors driving the growth of the market. Escalated per capita income, consumer preference for lavishness, high standard of living, and rise in sale of premium vehicles are flourishing the demand for vehicle roadside assistance services in the region. Furthermore, North America roadside vehicle assistance market growth is also high owing to rising number of aging vehicles and adverse weather condition in several areas. The growing demand for car safety and assistance solutions, combined with advanced automobile production units, is propelling demand for vehicle roadside assistance in North America.
Markets in the Europe region are expected account for the largest share in the years to come owing to speedy growth of automobile sector, rising sales of vehicles across the region, preferences of individuals for improvidence, and growth in sales of luxury vehicles in this region. The European automobile roadside assistance market is driven by the presence of economically strong industrial units, an plenty of raw resources, and the availability of skilled labor, among other things. The European market will continue to be dominant, with Germany emerging as the leading country.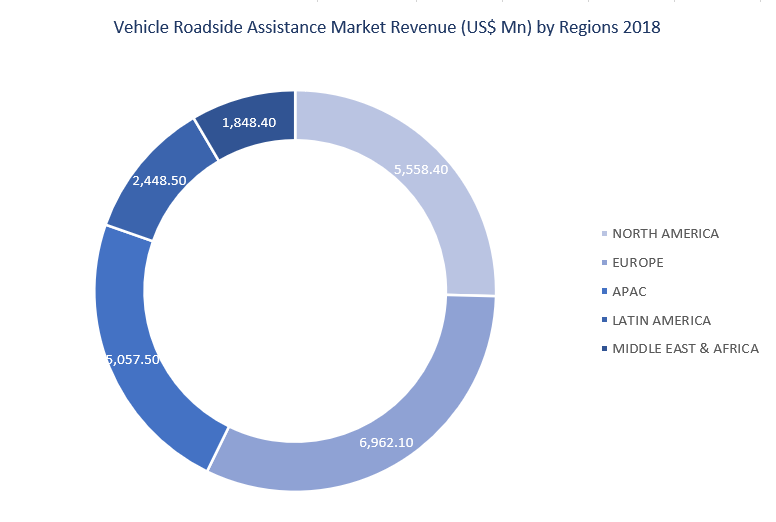 Asia Pacific is likely to observe the finest CAGR compared with other regions in the next few years. Increasing demand for vehicles along with rising per capita income are the significant factors that drives the market growth. In addition, this region is the most attractive automotive market for numerous market players. Penetration of advanced driver assistance, and electric vehicles have encountered significant automotive sales in the region and that in turn has increased the vehicle roadside assistance service demand.
Asia Pacific is anticipated to register for the highest CAGR over the next decade due to growing demand of vehicles, an increase in per capita income, and the strong presence of automotive market players.
Vehicle Roadside Assistance Market Scope
| | |
| --- | --- |
| Report Scope | Details |
| Market Size By 2032 | USD 39.65 Billion |
| Growth Rate from 2023 to 2032 | CAGR of 5.3% |
| Base Year | 2022 |
| Largest Market | Europe |
| Fastest Growing Region | Asia Pacific |
| Segments Covered | Service, Providers, Vehicle, Region |
| Companies Mentioned | Viking Assistance Group AS, ARC Europe SA, Swedish Auto, SOS International A/S, Allianz Global Assistance, Falck A/S, Allstate Insurance Company, AAA, Agero, Inc., Best Roadside Service, AutoVantage |
Growth Factors
The rise in the number of aging vehicles is one major factors driving the growth of vehicle roadside assistance market. Vehicles more than a decade old are twice as likely to end up grounded on the roads in comparison with newer automobiles. In addition, growing production of automobiles, and an upsurge in per capita income of individuals are bolstering the revenue growth trajectory during the forecast period. However, infrastructural issues that lead to connectivity in remote areas is hampering the market growth over the period of time.
COVID-19 Impact Analysis
The outbreak of COVID-19 has negatively impacted the roadside vehicle assistance market owing to temporary stoppage of manufacturing units due to imposed lockdowns, unavailability of manpower, and reduced market demand. Though facing few constraints because of the novel coronavirus, this market is projected to boost consistently in the coming years.
Vehicle Roadside Assistance Market Dynamics
Drivers: Growing demand for vehicle roadside assistance systems
The rising quantity of vehicle issues, such as worn tires, tire blowouts, and worn brake lines, causes a significant demand for roadside help. Highways England expects to respond to 700 more breakdowns this week, raising the weekly average to nearly 5,000. When a result, as the number of car breakdowns rises, demand for vehicle roadside help rises as well.
Increasing vehicle ownership
The growing number of vehicles on the road has led to an increase in the demand for roadside assistance services.
According to Gov.UK, there were 551,000 vehicles registered in the U.K. in 2022.
| | |
| --- | --- |
| Date | New registrations of vehicles |
| October 2021 | 156 |
| November 2021 | 170 |
| December 2021 | 155 |
| January 2022 | 150 |
| February 2022 | 91 |
| March 2022 | 320 |
| April 2022 | 166 |
| May 2022 | 172 |
| June 2022 | 194 |
| July 2022 | 156 |
| August 2022 | 106 |
| September 2022 | 289 |
Moreover, the increase in vehicle production and sales has a larger customer base and potential demand for roadside assistance services. With more vehicles on the road, there is a greater need for assistance in case of breakdowns or emergencies, which aligns with the services provided by Vehicle Roadside Assistance.
According to the Society of Indian Automobile Manufacturers,
From April 2022 to March 2023, the vehicle industry produced a total of 259,31,867 vehicles, including Passenger Vehicles, Commercial Vehicles, Three Wheelers, Two Wheelers, and Quadricycles. This marked an increase from the 230,40,066 units produced in the previous year (April 2021 to March 2022).
In the fiscal year 2022-23, Total Passenger Vehicle Sales saw a rise from 30,69,523 units to 38,90,114 units. Sales of Passenger Cars increased from 14,67,039 units to 17,47,376 units, Utility Vehicles from 14,89,219 units to 20,03,718 units, and Vans from 1,13,265 units to 1,39,020 units, compared to the previous year.
The overall Commercial Vehicles sales increased from 7,16,566 units to 9,62,468 units. Sales of Medium and Heavy Commercial Vehicles rose from 2,40,577 units to 3,59,003 units, while Light Commercial Vehicles increased from 4,75,989 units to 6,03,465 units, in the fiscal year 2022-23, compared to the previous year.
Sales of Three Wheelers showed a significant increase from 2,61,385 units to 4,88,768 units in the fiscal year 2022-23, compared to the previous year.
Two-Wheeler sales experienced growth from 1,35,70,008 units to 1,58,62,087 units in the fiscal year 2022-23, compared to the previous year.
Rising Urbanization
According to the world bank, approximately 56% of the global population, equivalent to around 4.4 billion people, resides in urban areas. Projections suggest that this trend will persist, and by 2050, the urban population is anticipated to more than double its current size. Rapid urbanization and the resulting increase in traffic congestion have amplified the need for roadside assistance services. In urban areas, limited parking space, complex road networks, and higher vehicle density lead to more breakdowns and emergencies. Urban dwellers often have limited DIY repair options and rely on their vehicles for time-sensitive lifestyles. Safety concerns and the need for 24/7 availability further drive the demand for roadside assistance services in cities.
Restraints: Increasing insurance premiums
Insurance prices have risen, causing consumers to lose faith in the market. As a result, in nations like India, mandated auto insurance is helping to bridge the gap between insurers and customers. Furthermore, as both vehicle miles traveled and average vehicle age reach all-time highs, demand for roadside assistance is increasing. As a result, this factor is restricting the growth of the global vehicle roadside assistance market.
Increasing insurance premiums
As insurance costs rise, vehicle owners shift to reduce expenses, which leads to a decrease in demand for optional services like roadside assistance. Additionally, alternative options such as automobile clubs or independent service providers offer more competitive pricing, as a threat to traditional roadside assistance providers. Insurance companies also modify their coverage plans, potentially reducing or eliminating roadside assistance as part of their offerings. Furthermore, the perception of increasing insurance premiums as an added financial burden deter customers from opting for standalone roadside assistance plans.
Opportunities: Surge in demand for electric vehicles
One of the primary reasons influencing the growth of the market for car roadside assistance is the increased demand for hybrid and electric automobiles. Several governments have taken steps to encourage the use of hybrid and electric vehicles, such as granting subsidies and tax rebates, in order to reduce carbon emissions. As a result, hybrid and electric vehicle sales have increased, necessitating the expansion of vehicle roadside help services. Thus, this factor is supporting the growth of global vehicle roadside assistance market over the forecast period.
Technological advancement: On-demand auto repair & assistance
The introduction of smartphone app-based on-demand services has revolutionized the auto repair industry, allowing customers to conveniently request immediate assistance or schedule repairs without leaving their homes or offices. This advancement has greatly enhanced the overall customer experience, minimized wait times, and eliminated the hassle of searching for nearby repair shops. The integration of this has made it possible for customers to access the full spectrum of services with ease. Through integrating car data and the power of connected vehicles, companies offer immediate and convenient roadside assistance, proactive maintenance services, and additional offerings such as fuel delivery, car washing, and online car rental pickup. Moreover, the collaboration with e-commerce companies for in-car delivery services is fuelling market growth.
Challenges: Rising labor costs
When it comes to choosing a roadside help service provider, cost is a big consideration. The key elements driving the increase in roadside assistance service fees have been rising labor and gasoline costs. Salaries and benefits account for more than 35% of a service provider's total cost structure. Wage fluctuations can have a significant impact on a vendor's profitability. As a result, it is a major challenge for market expansion.
Service Insights
Towing service accounted for the highest revenue share in the global vehicle roadside assistance market in the year 2022. Breakdown and collision are the major cause for the rising demand for towing service. The U.S. department of Transportation and National Highway Traffic Safety Administration has declared that total motor vehicle crashes in 2018 were 6,734,000. Towing is the most common service provided during the emergency roadside assistance. In 2022, the U.S. registered almost all revenue only from towing services. In addition, technological advancements in towbars such as retractable, electric, and detachable towbars projected to flourish the towing services during the forecast period.
All types of vehicles, from light passenger vehicles to big commercial vehicles, require this type of servicing, and demand in this category is expected to drive market expansion. Vehicle towing service leads the service type sector due to its cost-effectiveness, speed, and lack of maintenance, and is predicted to maintain its position during the projection period.
On the other hand, tire replacement, battery assistance, Jump Start/Pull Start, Trip Routing/ Navigational Assistance, and other mechanical services contribute notably to the market revenue.
Provider Insights
The auto manufacturer segment is likely to dominate the global vehicle roadside assistance market in the next few years. This is mainly attributed to the warranty services and after sales assistance services offered by automobile manufacturers. Several auto manufacturers, for example Honda, provide vehicle roadside assistance services in many countries. Similarly, Toyota, Ford, Hyundai, General Motors, and many other auto manufacturers provide roadside assistance to their customers. Since this vehicle industry is rapidly evolving, offering a wide choice of fast, contemporary, efficient, cost-effective, and diverse solutions, this segment is projected to maintain its leadership in the near future.
Vehicle Insights
Passenger vehicle is the most lucrative segment with significant revenue share in the global vehicle roadside assistance market. The segment growth is primarily due to attractive after-sales services and warranty offered by the automobile manufacturers. The global vehicle roadside assistance market is currently led by passenger vehicles, which are cost-effective, widely preferred, require little maintenance, and can be customized for numerous applications. In addition, passenger vehicles recorded higher sales as compared to commercial vehicles that also contribute prominently to the segment revenue growth every year. As per the International Organization of Motor Vehicle Manufacturers (OICA), in 2019, total sales of passenger vehicles were 64 Mn, whereas, total sales of commercial vehicles were only 27 Mn.
In 2018, the passenger vehicle revenue was US$ 15,020.8 Mn and the market share was 68.67 %, and it will be US$ 20,158.0 Mn and 68.52 % in 2026, with a CAGR 3.76 % from 2019 to 2026.
Passenger vehicles held the largest market share in 2022 and the segment will remain dominant until 2032. The purchase of passenger vehicles is increasing in countries such as Brazil, India, China, the UAE, Qatar, and South Africa because of the rising disposable income. Consequently, there has been a rise in investments in vehicle insurance and related services such as vehicle roadside assistance. Luxury car owners are readily availing premium rapid services. Moreover, the increasing sales of electric vehicles will also drive the need for roadside assistance services. Additionally, growing consumer preference for luxury and hybrid vehicles with advanced safety systems such as assisting at point and increasing deployment of different income class people in passenger cars is expected to drive the growth of the vehicle road assistance market over the forecast period.
Passenger vehicles segment is predicted to account for the largest share of the global market due to its cost-effectiveness, it's widely preferred, not much hassle in maintenance, and, it can be customized for various purposes. The demand for this vehicle is projected to increase rapidly keeping it dominant in the market.
In 2018, the commercial vehicle revenue was US$ 6,854.2 Mn and the market share was 31.33 %, and it will be US$ 9,262.4 Mn and 31.48 % in 2026, with a CAGR 3.85 % from 2019 to 2026.
Commercial vehicle is further bifurcated as light commercial vehicle, heavy commercial vehicle. Light commercial vehicle hold 64.05 % share of total commercial vehicle share in 2018 and is anticipated to continue its dominance through the forecast period.
Key Companies & Market Share Insights
The global vehicle roadside assistance market is highly competitive and fragmented owing to presence of large number of service providers. The market growth is sluggish with less development aspects in future. However, increasing warranty and after-sales services by automotive dealers and manufacturers to deliver quality service to their customers is expected to fuel the market growth during years to come.
Recent Developments
In March 2022, One Moto India, a British Electric Vehicle brand partnered with a roadside assistance company Global Assure to provide 24*7 customer support for any automotive breakdown along with other assistance services.
In November 2021, Omega Seiki Mobility, an electric vehicle maker partnered with Europ Assistance to offer roadside assistance to create a secure environment for its entire range of vehicles and customers.
In November 2021, Force Motors announced the introduction of free roadside assistance for all its Gurkha SUV owners.
Some of the noticeable market participants in the vehicle roadside assistance market include:
Viking Assistance Group AS
ARC Europe SA
Swedish Auto
SOS International A/S
Allianz Global Assistance
Falck A/S
Allstate Insurance Company
AAA
Agero, Inc.
Best Roadside Service
AutoVantage
Roadside Masters
Paragon Motor Club
Good Sam Enterprise, LLC
Access Roadside Assistance
Better World Club
Emergency Road Services Corporation
Honk technologies
National General Insurance
span wings
LY INC.
Twenty Four OTR Pvt Ltd
TVS Auto Assist India Limited
ASSURANT, INC.
RESCUE Vehicle Services Private Ltd.
Emirates Insurance Co. (PSC)
CHUBB LIMITED
Prime Assistance Inc.
Arabian Automobile Association
Segments Covered in the Report
The global vehicle roadside assistance market analyzes and predicts report market size and its growth trend at global, regional, and country levels. This research study also offers assessment of the cutting-edge trends in all of the market sub-segments from 2016 to 2027. In order to provide comprehensive analysis this research report segments market on the basis of service, provider, vehicles, and region:
By Service
Tire Replacement
Towing
Jump Start/Pull Start
Fuel Delivery
Lockout/Replacement Key Service
Battery Assistance
Winch
Trip Routing/Navigational Assistance
Other Mechanic Service
By Provider
Motor Insurance
Auto Manufacturer
Automotive Clubs
Independent Warranty
By Vehicle
Commercial Vehicle

Light Commercial Vehicle
Heavy Commercial Vehicle

Passenger Vehicles

Hatchback
Sedan
Utility Vehicles
By Geography
North America
Europe
Asia-Pacific

China
India
Japan
South Korea
Malaysia
Philippines

Latin America

Brazil
Rest of Latin America

Middle East & Africa (MEA)

GCC
North Africa
South Africa
Rest of the Middle East & Africa